Rabbi Schneider - Are Your Thoughts Tied to Spirits?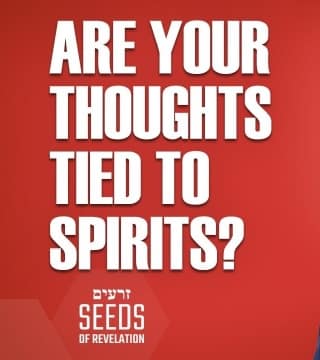 TOPICS:


You know, we really need, you and I beloved, to more and more gain what the Bible calls, spiritual discernment. Too many of us think that thoughts are just thoughts without recognizing that thoughts are tied to spirit. So the thoughts that we have are tied to spirit. Now keep that in mind. What I just said is I read now Romans chapter eight, verse 15, "for you have not received a spirit of slavery leading to fear again, but you are received a spirit of adoption as sons, by which we cry out Abba Father".

So what we can glean from this verse is thoughts that produce fear are tied to a spirit. You have not received a spirit of slavery leading to fear. And as I'm growing in grace, and as I'm maturing in my spiritual discernment, I'm beginning to recognize more and more how thoughts are tied to different spirits. In other words, thoughts that make you anxious, those thoughts that make you anxious, beloved, they're tied to a spirit and you can reject them. And God wants us to not be married to our thoughts. You are not your thoughts. Just because you have a thought of fear, that doesn't mean that you are fearful because God has not given you a spirit of fear, but of love and power and of sound mind, and a spirit by which you cry out Abba, Daddy a spirit of freedom.

So we need to recognize that our thoughts are tied to spirits. And as we grow in grace and grow in self-awareness, we're gonna begin to recognize the thoughts that cripple us. Thoughts that produce anxiety, thoughts that bring us down to operate in the realm of the flesh. They might be thoughts of animosity towards somebody, thoughts of small mindedness, thoughts of fear, thoughts of jealousy, thoughts of accusation, thoughts of wanting to control. Just wrong perceptions of reality are based in delusion. They're based in darkness and they are thoughts that are produced by a spirit.

So the goal is to learn how to recognize that we don't own the thoughts that we don't identify with the thoughts that we don't allow ourselves to become one with thoughts that are not of the Lord. We recognize that the thoughts are not us, that the thoughts are coming to us from a spirit. And we have the authority and the ability to simply say no to that spirit. No, I'm not gonna receive that spirit. You know what it's defeated me for too long. I've allowed it a place in my mind for too long. I've allowed it dominion over me for too long. And I reject it today. I'm no longer gonna allow it into my space. And we seize God's word, what his truth is, and we stay there.

Beloved, you've not received a spirit of slavery leading to fear. You've received a spirit of power and love and a sound mind by which you cry forth, Abba, Daddy, God is called you and I in reality to freedom. And that is beloved your destiny. So continue to warfare and overcome and you'll enter more and more into it. Baruch HaShem, blessed be the name of the Lord and I speak his blessing and release supernatural victory and cleansing over your life.