Rabbi Schneider - Get Focused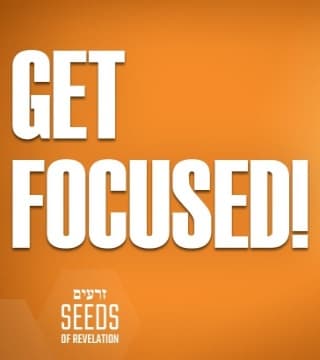 TOPICS:


Shalom. We're looking to the Lord's word today. In the wisdom literature of Scripture, Solomon, as most of us know, had a supernatural weight of divine wisdom upon him to such a degree that the Lord said that there never been anyone on the earth that had received such a divine download of divine insight and wisdom. Listen to what Solomon wrote in the book of Proverbs 4:25. It's much deeper. We're going to look at this more closely, but it's much deeper than it sounds like upon first reading. Hear the word of God. Solomon wrote, "Let your eyes look directly ahead and let your gaze be fixed straight in front of you".

Now let's listen again. "Let your eyes look directly ahead and let your gaze be fixed straight in front of you". What this means is that we need to guard ourselves from distraction. We are continually bombarded with distraction from the outer world, all the lights around us, whether it's the internet, whether it's social media, whether it's television, whether it's people calling us, people texting us, continually bombarded with distractions from the surface of the earth.

And then we're being distracted by the enemy to try to take us off course. Whether it be him trying to put a false light in our mind causing us to think about something that leads to death, causing us to think about something that holds no real depth to it, causing us to fear or be in anxiety or be worried or be preoccupied with some relationship. But Solomon here, under the unction of the Ruach HaKodesh (the Holy Spirit), is telling us to keep our eyes straight ahead, to keep our gaze straight in front of us. What this is saying to us is, don't allow yourself to be distracted. The Scripture also says this. "A wise man's eyes are in his own head".

In other words, a wise man is not constantly looking out here. A wise man is self-possessed, he keeps his eyes in his own head. I want to encourage you to pray about what I've just shared with you. Ask the Holy Spirit, ask Father and Yeshua to teach you and to train you how to keep your eyes in your own head so that your focus is straight ahead on Jesus alone. Until next week, beloved, God bless you. Shalom. And you might be led by the Spirit to share this with a friend.