Michael Youssef - I'm Struggling to Stay Spiritually Disciplined. How Can I Get Back on Track?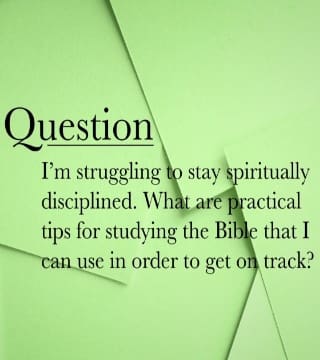 TOPICS:


I've been saying this for years. I need discipline in my life. So does everybody else. We all need discipline. If you have to get up early, if you have to stay up late, stop watching television. If you look at your life, you're gonna discover that you're wasting a lot of time. If you take some of that time and set it aside for studying the Scripture.

Now, why do I need discipline? How I go about it is I have a Bible that's daily Bible reading, goes January 1, December 31. And I go through it every day. I spend time, not only reading the Scriptures, studying the Scripture, day by day by day, but also praying the Scripture and spend time praying as I'm reading the Scripture.

And so, start with the Bible like that some sort of... there are a lot of good programs out there, a lot of good systems and plans for Bible reading. Get something that's gonna discipline you daily, and so you know that when you miss a day it's like you're missing a meal and you want to go back, and so, we all need discipline.

So you're not the only one who need discipline, we all need discipline; and therefore, I encourage you, if you put it on your calendar, that's fine. Whatever you need to do, you need to do it because if you go without food for a few more days, you're gonna find that yourself starving and losing weight and no nutrition, and the same thing spiritually.

If you go several days without spending time feeding on the Word of God, you're gonna find yourself spiritually malnourished, and then you are open to temptation and open to falling into temptation. So I wanna encourage you: get a Bible that has got daily reading so that you can read every day.