Levi Lusko - All Dressed Up and Everywhere to Go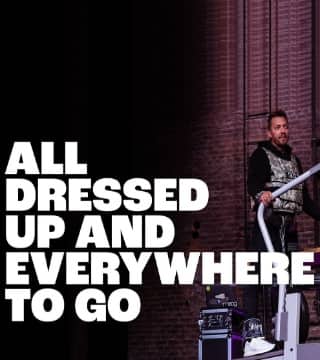 TOPICS:


Well, if you have a Bible today, we are going to be in Isaiah chapter 61, Isaiah 61. We were in the car yesterday, and my daughter Clover asked a question of the car. She said, would you guys rather wear a bathing suit all winter or have to wear a ski suit all summer? And I was like, ooh, that's a tough one. No one wants to be inappropriately dressed. And that's why we stress out so much when we're packing, right? The stress is like, if I pack too much, it's not going to fit in the overhead bin. I'm going to be doing that shameful shuffle at the counter, right? You got to open the bag up and pull four things out that weight 11 pounds in front of 30 angry people in line who are like, do your work at home, right?

And it's just a terrible feeling. But then you pack too little, and you feel like, I'm so strong. I did such a good job. I was minimal, and I wore a uniform. And then you end up, and it's raining, and you didn't bring the rain jacket. And you remember vividly thinking, should I bring the rain jacket? Or you're going somewhere hot, and you're so excited. And so you only bring shorts and T-shirts. And it's freezing because no one told the hot place you were coming and that it needed to stay on brand, right?

We were in Florida one time on a preaching tour, and they had a free day. And so we thought, let's go to Animal Kingdom. It's one of those Disney places. And I've never been colder. It was in the 30s, right? I'm like, Florida, right? This is not right. They took all the animals away. It's a safari-themed place. They put all the animals inside with a space heater. We were on a safari. Literally, it's the funniest thing ever. We're on a safari. This is where the lion would be. There's no lion. This is where the elephants would be. There are no elephants. It was like Jurassic Park. Are there ever going to be dinosaurs on your dinosaur tour here? It was too cold, and we were freezing. And these are the things that can happen when you're wearing the wrong thing. And this is why being on airplanes is so frustrating because I don't know if it's Boeing I need to talk to. But what is it with the airplane thermostat that seems to have two settings, meat locker and surface of the sun? And it just switches back and forth between these two with no gradient in between. It's like you get on. You're like, oh, I am so hot right now. And it's like, oh, I'm going to die of hypothermia. It's just instantly so cold. Would you rather? Isaiah chapter 61 compares worship to our wardrobe, what we're wearing to our singing praises to God. And so I've titled this message "All Dressed Up and Everywhere to Go".

Would you stand with me, as we have throughout this series, to honor God's word as we read it, to elevate it, to say this is higher than opinion, this is higher than man's word? Isaiah chapter 61. "The Spirit of the Lord GOD is upon me, because the LORD has anointed me to preach good tidings to the poor; he has sent me to heal the brokenhearted, to proclaim liberty to the captives; and the opening of the prison to those who are bound; to proclaim the acceptable year of the LORD, and the day of vengeance of our God; to comfort all who mourn; to console those who mourn in Zion, to give them beauty for ashes, the oil of joy for mourning, the garment of praise for the spirit of heaviness; that they may be called trees of righteousness, the planting of the LORD, that he may be glorified. And then they can rebuild the old ruins. They shall raze up the former desolation. They shall repair the ruined cities, the desolations of many generations. Strangers shall stand and feed your flocks, and the sons of the foreigner shall be your plowman and your vinedressers. But you shall be named the priests of the LORD. They shall call you the servants of our God. You shall eat the riches of the Gentiles. And in their glory you shall boast". I love this. "Instead of your shame, you shall have double honor".

That sounds better, right? It's like, would you rather shame or double honor? Thank you Jesus. "And instead of confusion, they shall rejoice in their portion. Therefore in their land, they shall possess double; everlasting joy shall be theirs". And then we jump down to verse 10 and conclude, "I will greatly rejoice in the LORD. My soul shall be joyful in my God, for he has", notice, "clothed me with the garments of salvation. He has covered me with the robe of righteousness. As a bridegroom decks himself out with ornaments, and as a bride adorns herself with her jewels".



And thank you, God, for your word. Thank you, God, even just for the reading of it, how it blesses, how it changes, how it warms, how it warns, how it steers, how it corrects, how it convicts, and how it saves. and God, we're in need of your Swiss army knife of tools, God. There are various parts of every one of our hearts, from Wyoming, to Utah, to Oregon, to Montana, church online spread out, even, as this word goes out on the four corners of the wind, on the Podcasts, and Spotify, and YouTube, God, you're bringing it to those who need it, the desert places in our heart that you want to bring to bloom like a rose. And here we sit, God, completely unaware of exactly what we need from you, but all at once overwhelmed by the reality of your glory. So we ask for you to speak to us. Draw us to yourself. Do your eternal unseen work, we pray, in Jesus' name. Amen.



You may be seated in God's presence. What a joy to be with you today. This is an important chapter of the Bible and, of course, that's true of every part of the Bible. I like how it's been said that all of the Bible is inspired, but not all equally inspiring. Every bit of it written by God, but some of it just has obvious nuggets of truth that you see and you just notice it. And there are parts that are, at times, more tedious. Still inspired by God, not necessarily as apparently inspiring as you read it, but this is both inspired and inspiring. And it has the distinction of being the text from the Old Testament Jesus chose to use when he was writing the first sermon he ever preached. Much has been said of Jesus's first miracle, performing the turning of water into wine at the wedding in Canaan in Galilee, John Chapter 2, for the table, for the party, for the feast to continue as he intends for his kingdom to be like.

But not as much is said about Luke Chapter 4, how Jesus began his messianic ministry by preaching. And he began by the reading of God's word. And he did so turning the attention of his audience, and us today, to Isaiah Chapter 61. Now, no leader gives their first public address without seriously considering how significant the words and how weighty the words are and how all of history will have their eyes on that moment. And there have been some very memorable inaugural addresses given, from FDR, there's nothing to fear but fear itself, to JFK's ask not what your country can do for you, but what you can do for your country, both given at their inaugurations. Perhaps the most famous of all is President Lincoln when he began his second term as president, only a month left to live. Civil War just about over, and he chose to send a message to the entire country that there needs to be malice toward none, charity towards all, provision for the widow and the orphan.

He chose to wrap his long old Abraham Lincoln arms around this country and give it a hug in a time when it could have split into two out of a sense of division and stayed that way, holding and nursing the grudges, as opposed to having there be a time, and a reconciliation, a message of peace. It's interesting to me, also, that, for sure, is one of the most monumental speeches ever given, perhaps alongside his remarks when he dedicated the cemetery at Gettysburg. But two, both of those are two of the shortest speeches really in history. Lincoln's second inaugural was only 700 words. So it certainly wasn't the length that gave it its strength. It was concise, and yet powerful.

Well, we just read what Jesus chose for his inaugural address, his first day, you could say, on the job as Messiah when, in Nazareth, he read this portion of scripture, interestingly enough stopping mid-verse. There's one verse that we read that Jesus only read half of the verse and we'll wonder about why that might be in just a moment. But as he finished it, he closed his portion that he was reading and he spoke to the audience words that have reverberated through history and into the corridors of eternity. Today, in your hearing, these words are fulfilled. Holy cow. What that means is that whatever Jesus opened up as he stepped onto this planet to die on the cross, to rise from the dead, to send his spirit into his church, whatever it was that was so exciting to Isaiah way back when looking forward prophetically, that, apparently, is the day that we are currently living in.

You don't have to stay in bondage to sin. Jesus opens up the doors for the captives to be free. What a thought. What a thought, for all of us are captive on some level, captive to things, locked up in certain things. And of course, every week as we preach, we're preaching into prisons. We're preaching into our God Behind Bars location in Deer Lodge. We're preaching into prisons with regard to the PandoApp as the message goes out. We're aware of the weight of speaking of these themes. And some people are captive on the outside, but all of us are held down by things on the inside. And Jesus said that day can end. There can be freedom for the captive. The gospel goes out and proclaims good tidings for the broken in heart. Jesus said, we are living in this age now.

Now what does this have to do with worship? For we are in a series of messages where we're examining seven different words in the Hebrew language that we get our Old Testament in. The New Testament primarily written in Greek, the Old Testament primarily written into Hebrew. They get translated into the language we speak, and I'm thankful for that. Anybody with me? It's not sexy to be a Bible translator, but our lives would be a lot different without them. And at times, they don't have the right word in English to pick because we may not have a word that says what their word did, A lot of people know about the four Greek words for love. So there's not just one kind of love. In English, it's just I love. I love sushi. I love my mom. I love hunting. Right? Ye, ye, right? There's things we like. And we just get the English word love. But in Greek, there's four different words for love. Not as much has been said about the seven Hebrew words for praise.

So when you bump up against the word praise during your devotions, you might be actually reading one of seven different words that carries slightly different, overlapping intensities with regard to what praise means. And I believe that we need to collect all of them and understand what's at the core of all of them and what they teach to really understand what it means to praise God as we are called to do. And this is the final of the seven. And if this series has been a blessing to you, and if you've missed any, they're, of course, all available on YouTube and Spotify, but if this has been a blessing, then I point you to the resource that inspired the series for me, and that's a book called, "Holy Roar" by Chris Tomlin and Darren Whitehead. Darren's his pastor there in Franklin, Tennessee. They wrote a book together on these seven words. I didn't know about it until I read this book. It blessed me like crazy.

And so if this is like, dang, I want more of this, I point you to that terrific resource that ends with great devotional questions. It would be perfect for a small group. But the reason I point you to Isaiah 61 is because it contains one of these seven words. It's in verse 3. Jesus unrolled a life, and a kingdom, and an age of grace where those who are mourning can be comforted or consoled in Zion to give them, and that's, by the way, shorthand for Jerusalem, or the location where Jesus died on the cross, and now the kingdom of God. Hebrews calls the church Mount Zion, so these things connect, to give them beauty for ashes. Would you rather have beauty or ashes, right? Yeah, a beauty, right? The oil of joy, which is anointing, or you could say cologne or perfume, to get gussied up for a nice occasion or mourning? Yeah, I'd rather have the oil of joy.

OK, here's your last would you rather, the garment of praise, or some translations say the mantle of praise, or the spirit of heaviness? I'm not a smart man, Jennie, right? But and I'll have you know that the Hebrew word praise that's used here in verse 3, is the Hebrew word, you see it on the screen, tehilla. Tehilla. You sinners, I know exactly where you went as you read that. You're like dude, Jose Cuervo up in the Bible, unbelievable. What is tehilla? Tehilla is to praise God, or more to the point, it's proclaiming excellence, its renown, glorifying a person or an object. It's a hymn. It's a song that contains that praise. It's sincere and deep thankfulness, gratitude, and/or the satisfaction that comes when you laud or when you lift up the superior qualities of, or great acts of, the object. So it's to, basically, need to put a song together and then the satisfaction you receive from doing so.

So as you lift up the object, and of course, for us, we to tehilla the Lord. We praise God. We choose to say, there's no one like you. Who does the things that you do? We need to write a song about it. We need, there needs to be a hymn about this. There needs to be worship that goes along with these acts that you do that are so incredible. It's used 57 times in the Bible. Heinz 57, that's how you can remember tehilla, Heinz 57. Oftentimes, it's in the Book of Psalms, but as we're reading here, it's outside of that as well. And usually, most often, it gets translated as praise. Although sometimes it is translated as hymn. And other times it's translated as glory or awesome in glory.

There's a great example of it in Exodus 15 where we read, "Who among the gods is like you, Lord?" All those other gods, they suck, is what he's saying. "Who is like you, majestic in holiness", and then notice, "awesome in glory?" Who is like you? Tehilla. Tehilla. Who is like you? Tehilla. Who does the things that you do? Who works the wonders that you work? Who can save? Who can heal? Who can bless? Who can feed? Who can encourage? Who can comfort? Who can raise the dead? Who gives us heaven? Who offers us a life after our worst mistake? Tehilla, awesome and glory, you work wonders, miracle worker, promise keeper, light in the darkness, tehilla. I need to put a song to it. I need to laud you. I need to I need to lift up your attributes. I need to put you in your own class. No one's like you. No one deserves to be even in the same conversation.

It also can be translated as Psalm, Psalm. In fact, that's the heart behind the whole book of the Bible, full of Tehilla. It's a whole book full of tehilla, so you know what they named it? Tehillim. Tehillim is a bunch of tehillas. So now you know what the book, your whole life, you're like the Book of Psalms, right? What does that even mean? It means tehilla. That's, literally, the name of, there's so much tehilla in that book, they just called it Tehillim. And that's what Psalm means, Psalms means. Psalm 145:1 it says, a praise. That's the title, tehilla of David. And then he begins, I extol you, my God. I extol you, my King. He's just spontaneously breaking out worshipping God accompanied to music. I will bless Your name forever. I'm tehillaing God. This is my tehilla. You need to have your own tehilla, is the point. You need to have your song of praise, your way to articulate how good God has been to you.

It's amazing. At the root of tehilla, though, is a friend to us because as we end the series with the seventh of the words for worship, it nods back to the first. The first word we began with was the word halal, like hallelujah, praise the Lord. Halal is the verb form of the noun, tehilla. And so as you spell tehilla, it's got the H-E-L in the middle of it. So at the root of tehilla is your halal, is your praise the Lord, is that sense of I don't care how stupid I look I got to worship God. I got to praise God. Like if I just won the lottery, I'm going to dance. If I just caught some huge fish, I'm going to act like a freak. I'm going to go nuts in the woods if I get the deer. And now I can follow their snow trail, right? You see what I'm saying? You're going to be excited. You're going to show it with your body, that's halal. And tehilla is the song you sing with the root of it is that halal. I can't believe how good God is.

So it is an envelope series. It ends how it begins. And by the way, it's what God made you for. Isn't it awesome that you don't ever have to go to bed at night with your head in the pillow, going what's the meaning of life? What's the purpose? What should I do tomorrow? Just like, I'm out of college, and I thought I'd be further my career by now. And I just feel, just feel aimless. I've accumulated some things. I've done some stuff. I just don't know, I didn't know what the point is of it all. You never need to ask that again because you can remind yourself, tehilla. You were created to praise. You were created to give God glory. You weren't created to live for yourself. Do you realize what a bad god you are? You're the worst god I've ever seen. But He is such a good God. And when you bring him praise, you get to live a brighter life.

Welcome to being the moon. The moon is two choices, reflect the sun's light or live in darkness, in obscurity. You would never have seen the moon, never have noticed the moon, had it not been for the light of another that it humbly broadcasts to the world. I wish there was a book that I could point you to you could read more about that, but I can't think of any, none comes to mind. Isaiah 43:21, This people, look at this, look at this, I have formed for myself, they shall declare My praise. Tehilla. You were formed to reflect. You were built to shine. You were created to give glory. And so in seeking to better understand what praise is, in your whole life, you thought there was just one kind of praise. So the thing you were created to do, you and I now are invited into a life where we have a far more sophisticated worship vocabulary. We can understand the nuance. Everything doesn't look like a nail anymore because we got more in our tool bag than just a hammer.

How great is it today to receive the gift called, tehilla, to know there is something called the song of praise, a hymn of praise that springs forth from the glorious of God in his identity and in his activity. Have you ever been shopping for a gift for somebody and been stumped because you didn't know what to get them? What do I get a guy who's try shopping for God. The Bible, literally, says He owns the cattle on 1,000 hills. And I was going to get him a cow. What in the world? Well God is so good that he told us exactly what to get Him, how to bless Him. Psalm 100:4, Enter into His gates with thanksgiving and into His courts with, say it with me, praise. Tehilla.

How should we begin our church service? How should we begin our personal devotion? How should you begin your week? How should you begin your day? Tehilla. We should begin with that sense of God, I got my requests, but I'm going to start by praising you. If you never did another thing for me, so I'm not rushing into my devotional life. God, I got problems. My back still hurts. Jennie's acting funny. My money, is... where'd it go? My kids are demon-possessed. That's not how I'm starting my devotional life. I'm starting my devotions by saying tehilla. I'm praising you. I'm giving you some glory because of who you are. If you never did another thing for me, you gave me life. You gave me breath. You gave me this world to live on. You gave me the blood of your son, Jesus, to say come on, church, are we not thankful? Enter into His gates with thanksgiving and into His courts with praise. Be thankful to him.

We're back in Psalm 100:4 and barak, bless, His name. That's another word for praise. That blessing, that always carries with it the idea of the knee, of stooping down in humility, of bending low. You know what I love, too, about once you get down to praise God? You get up and you remember you're a servant because it's impossible to wash feet without getting down low. And we remember that Jesus came down. Jesus stooped down. He's the Lord of glory with lightning shooting from his fingertips, but he sat down on his knee and washed the feet of the disciples, and then said go and do likewise. So when we enter into God's courts with praise, and there's that tehilla in our hearts, and there's that thankful spirit, and we barak his Holy name, when we get back up, we remember to go and do likewise. We're a little bit better for the activity.

I want to, today, just give you a few things that praise will clothe you in, praise will clothe you in because we're using the analogy of wardrobe and how it relates to worship. So I wrote down just a list of some things you get clothed in when you praise God. The first is newness. Let me point you to the newness of praise. That is to say, worship doesn't ever get old because our songs are meant to be continually new. In fact. Psalm 40:3 says, He has put a new song in my mouth. Praise to our God. Many will, tehilla, see it in fear. And we will trust in the Lord. And that's why we're continually asking the question, what gifts has God given the body of Christ Lord? What new songs have been given for us to sing? God put a song in their mouth, a new song in Maverick City's mouth, or this worship team, our worship team, these new songs that are broken out that are not just for local churches, but for the church.

Thank God for "Waymaker". thank God for "Good, Good Father". Thank God for "Our God Is An Awesome God". Come on, because a little old school blast from the past, but these new songs that are given, as we sing them, we're participating in songs God has given, many are getting to see and to be blessed by something God gave to Phil Wickham or to Brook Ligertwood, or to Leon and Liz, and the team. And so many people get to sing out these gifts that are given. So that answers the question, maybe you've emailed it. It got put into our special filing drawer. Why don't we sing more hymns? Why don't we just sing hymns? Some would have just in the church, you only sing traditional hymns.

Well I would just have to stop for a second and ask you a question. What do you mean by old hymns? What period of church history is the one that you think is the most important? Because my God is doing a new thing. And while we will never disrespect the past. And I'm grateful for the Tehillim, the Book of Psalms, that God gave, but they were written out of specific things God was doing. God delivered them over David and Goliath. God got the victory. God delivered them in the battle of Moses going through the Red Sea. And these songs, they wrote a new songs for the new things God was doing. And He doesn't intend for us to only glorify him for things he did before we were born, because He's still moving. He's still building. He's still working. So we have to sing new songs. If you only want the hymns, you're going to hate heaven because Revelation 5:9 says, in heaven, they're singing, look at it, new songs, new songs in heaven because God is still working.

God is still doing things. Yes, they're looking back to the past. You are worthy to take the scroll, open it seals for you, past tense, were slain. You have redeemed us to God by our your blood out of every tribe, tongue, people in nation. So in heaven we will be mindful of what God did in the past, but notice verse 10. And now as they continue their song, you have made us kings and priests to our God, present work he's doing. And notice, and we shall reign on the earth. Heaven's a place of anticipation. Heaven's a place of tehilla over what God hasn't even done yet. So if you think heaven's boring because we're just going to sing from one end of the hymnal to the other, and then go back to the beginning, I got news for you, eye has not seen, ear has not heard, nor has it entered into the heart of a man, the things God has prepared, future tense, for those who love Him.

And if you think life was good on this earth, which has its great moments, but is full of brokenness, and disappointment, and pain. Then wait till you see the new heavens and the new earth that he's going to create where the former things, sin, and death, and evil will have, once and for all, passed away. Oh come on, tehilla. Who's excited? Let's bring up a song of glory over what God's going to do. The funny thing about this, to me, is the way we tend to think about the past as classic, right? But no one writes oldies. Whatever's playing on the oldies station, wasn't oldies when they wrote it. Here's the one that really blow your mind. Beethoven, Bach, Mozart, none of them wrote classical music. They thought they were writing pop. Pop, this is current, this is cutting edge in the 17th, 18th century. They were the Justin Biebers of their day, bro. So there's always something new. And that's what God wants us to be aware of as well. All right, the nearness of praise.

Number two, not just newness, but nearness. There's a sense in which this is true, theologically speaking, the omnipresent God can come close. Now, you can't understand this, so don't try. But you can believe it's true, the God who is everywhere. Psalm says the heavens, he's there. Earth, he's there. The winds of the morning, take you to the furthest parts of the sea, guess what, he's there. Translation, God is the worst person ever to play hide and go seek with. Just ask Jonah, OK? He ran from God and He was like, hello, I've been waiting for you. I'm also where you were and where you're going. Would you like peanuts with that? Jonah was like, ugh. And yeah, that's true, but and yet God also declares he can come near. And one of the ways God comes near is through our worship. Psalm 22:3, You are holy, enthroned in the praises, tehilla, of Israel. The word enthroned is a unique word that can either be translated as to make someone sit down or to get married. Why? Because I think the best translation of it would be our praises lets God settle down.

When someone gets married, they're settling down. It's sitting down. It's settling down. It's this idea of coming together in a unique, beautiful way. If I came to a restaurant and saw you sitting there with your spouse, and say, hey what are you guys doing? How are you guys doing? And you say, oh it's our anniversary. I've got a babysitter. Just good to see you. Like you're kind of like, keep on moving, pal. We're having a moment here. And I was like, no, no how, how's it going? And I said, can I sit down? You have one or two choices. You either go, yeah, let's get another chair over here. Or you be like, hey look, it's kind of like our moment, right? But you have a choice. And only in bringing the chair would you give me the space to come down. I already was there at your table, but I'm only coming near to the table if you pull up a seat for me.

Praise allows the always there God to come near, to come sit at your table, to be enthroned in your praises, to inhabit your worship. So when you sit there with your hands in your pockets not engaging, when you allow other people to worship, and you're just kind of observing, yes God is there, and he can still residually bless you, almost like it can bounce off of you. But I'm telling you, when you enter in, when you lift up your voice, when you lift up your life, when you lift up your tehilla. When you let your experience, your pain, the things you've gone through become the song that rushes to heaven from your lips to God's ears, I'm telling you He comes near. It allows him to pull up a seat in your life, in that gathering, in a way that, quite frankly, no other part of scripture says we can engage with him.

Nowhere is it said just behold in the beauty of creation allows that nearness. But for some reason, God chose it to be to the instrument of us lifting up a song that allows him to take a seat and come up to our table, which is why tehilla and kavod are always connected. Some of you might have perked up because you've heard it said before, kavod is the Hebrew word for glory. So as we tehilla God, the other yin yang of that, the equal and opposite reaction of that is always glory. So God coming up to your life, there's always a glory that is felt. So if you would say, I want to be closer to God. I want to grow in my walk with God. I want to experience his glory. That praising and lifting up of his name, the aftermath of that is always God's glory in your story. CS Lewis said, "It is in the process of being worshiped that God communicates his presence to men".

All right, so that's the nearness of praise. Let's now talk about happiness. Why is it that praise gives us a lift? Why is it praise gives us joy? Why is it there's always a sense of mirth, and gladness, and feasting, and really happiness? Behold how good and how pleasant it is for us to dwell together in unity to live a life of praise. Why is there this sense of positive emotion? Here's why. Because in worshipping God, we are actually positioned to enjoy him. And he is the greatest being in the universe. And only when CS Lewis, to quote him again, when we praise something we like, do we actually fully get our teeth into and our taste buds activated in what we're seeing, what we're sensing.

One of the most formative quotes I've ever come across is from a book called, Reflections On the Psalms, which is CS Lewis just musing on the book of Tehillim. And get your phones ready because you're going to get picture a screenshot of this one, those of you watching online. He wrote, and I've had to read this 1,000 times, and every time it hits me different. "I think," he says, "we delight to praise what we enjoy because praise not merely expresses, but completes the enjoyment. It is its appointed consummation". Pause right there. If you go climb a peak in Glacier, or Yellowstone, or the Tetons, it's amazing. But aren't you kind of tripping over yourself to get back to service, to get the post about it, tell about it, text about it, just go off about it? And in so doing, the experience takes on new life, even more so than just having seen it yourself.

In the reliving and the sort of exalting of it, in the sort of tehillaing, the thing, it was amazing. I was in this green field and I almost died, but then we didn't' and then, and then, and then, it's like, you're almost now are tasting it more than when you were up there on the peak. That's how God built you. CS Lewis continues, "It is not out of a compliment that lovers keep on telling one another how beautiful they are, the delight is incomplete until it is expressed". Then he gets like three or four examples. And then he ends with this bombshell statement. "So in commanding us to glorify him, God is inviting us to enjoy him".

I said throughout the series, your worship isn't for you, it's for God. So let's not walk out of church going, church is all right this week. We should be walking in a church every week going, what did God think of my praise? What did God think of my worship? It's not, well, how did the band do? Or how was the message? Or he seemed a little off this week. Or I don't like his sweat pants. Or hold on a second, my sweatpants aren't for you, they're for God, OK? But now let me twist that around. Yes, your worship is not for you, it's for God. But it also strangely does nothing for God but does everything for you. I'm going to need you to explain that. I'm prepared to. Does God cease to be any of his attributes if you don't notice them? The whole tree falls in a forest thing, right? Does it make a noise? Well, of course it does, right? If you don't say, God you're Holy, God doesn't stop being Holy.

If you don't praise him for what he did in your marriage or what he wants to do, God doesn't cease to be healer, redeemer, and perfect, right? He doesn't cease to be at the beginning from the end. Any praise you don't give to him, risked that blessing turning to an idol in your heart, but it doesn't change him. So while your worship is for him, it does nothing to change him, but can do everything to change you because as you lift up the praise, you fully get to be satisfied and enjoy the goodness, and the bigness, and the richness, and the amazing transcendence of his glory and his power. And he comes close, and he sits down, and he's enthroned, and he inhabits the praise, and you cannot help but to be changed by the process. So there's not just a nearness and a newness, there's also a happiness of praise because walking away from having praise something so wonderful, you cannot help but be changed by the process.

So there's a happiness. There's also a friendliness. Friendliness because, as I read it in the Hebrew, there's almost zero examples of the word tehilla in the singular. It's always plural, meaning it's not just you. It's not just you. It's not just you. It's the praises rising, plural. And we get to praise him together. We get to worship, we get to say to each other, isn't he good? Hasn't he been good to you? And I get to see you worshipping, man, God must have really been doing a work in your life. That inspires me. That encourages me. In the book of Acts, someone got unlocked because of someone else's praise who was just in the room. A captive person got free. They weren't even praising God. It just was so good in that environment, the praise was so thick, God was so near, they got freed. And they weren't even worshiping God. And God wants to do that.

There's a power in being together. There's a power in being called the church, priests to our God together, with Jesus as our King. There's a friendliness to it. And secular studies have shown that singing with other people is good for you. In fact, it lowers stress like cortisol. It raises good feelings like oxytocin. There's a number of secular studies pointing to the physical, emotional, mental benefits of health, which is why I just always laugh. I read these books, and I'm not throwing shade, but read this one article by a guy. He's like, I'm an atheist. I'm secular. But I have to admit there's some common sense in taking one day out of seven and just relaxing. Like I'm not doing it for God, I'm doing it for me. But one in seven actually, all right, biblically, OK.

So he calls he calls it a secular Sabbath. There's a movement of people who are saying, we're taking a secular Sabbath. Day off for the soul, not working because it's good for the soul, but not for God, because it's just, it seems to be how we were not made, but you know. And then I come across this other site, it says, you know what's funny is, I discovered this literature, a study was done how good it is to sing together, but I'm going to sing for God. So I'm getting together with a secular choir. We're just going to sing songs. It would be so much easier to get saved, OK? How hard you have to work to get all the benefit. Now I need a small group, so I'm going to yoga. And I need this for this, just walk with Jesus. He's got all these things. He seems to have sorted it out. All right.

The persuasiveness of praise, how about next point, number five, the persuasiveness of praise? Music evangelizes. It persuades those who are far from God. As we've said throughout the series, there are so many examples of people who don't want to walk with God, but something in music tugged at them in a way the sermon didn't. The music penetrated. Someone on our team sent me, while I was preparing, this series of messages, this unbelievable interview that was done with singer, songwriter Shawn Mendes. And I wanted to show you just a tiny clip from that interview.



Only in the last two years I've realized like the real power that comes that music is. And there's something so interesting because I grew up kind of more-or-less atheist. And now becoming much more spiritual, and really being sure there's a God or sure there's a higher thing, and there's the universe, or whatever you like to call it, music was the thing that did that for me. Watching Maverick City Choir, I think they're called Maverick City Choir singing about God, singing about Jesus. I'm sitting there watching this YouTube video and they're singing about Jesus. And I just start crying, like crying my eyes out. And I'm like, you know when you're crying, and it's like this is like something leaving me?

- Yeah.

- This is like that type of cry. It's like, and I'm like how is something, that my whole life, I've grown up to believe is fanatic, and not science, and not the truth, feel like home because of this song?



Whoa. What a question. What a beautiful, beautiful example of the persuasiveness of worship. Wasn't someone rubbing his nose in the Bible, and you're going to burn in hell. He ends up on YouTube. That's the Holy Spirit brings to the algorithm him watching a group of people, Maverick City, we sing their songs regularly. In fact, today we're going to end with one of their songs. This song melts this heart that's frozen. This heart makes him feel home. It's been said that God gave our breath to us. And the reason we feel so comforted when we sing to him is because we're allowing our breath to go back home to His presence where it came from. And there's a sense in which we'll always feel homeless. We'll always feel, we'll always feel out in the cold by ourselves when we're not bringing God our praise.

So that's the persuasiveness of praise. Let's end with this. What about the lightness of praise? What about the fact that, at times, we get burdened down. We get bogged down. And God wants to use praise to give us a lift, to make us feel light. As we read, as we began, there is a garment we were meant to wear called praise, tehilla, and we're to be given it in exchange for a spirit of heaviness. As an experiment this week, as I read this verse, and it just stuck out to me, and I felt impressed that God really wanted me to tell you that he's asking you today, would you rather wear a heavy spirit or a garment of praise? So what I did was I took a weight vest, these things that these crazy CrossFit people go run a mile and do a million burpees in. And I wore it the whole time I wrote this sermon. And here's what happened.



Extra 38 pounds on today. And I'm going to try and do everything I do. I'm just making coffee in my favorite mug, better together. Oh I'm just going to relax here while I'm here. So much easier than standing upright. I'm going to pop out a cord. I have a visitor in my office, the world's slowest bug. So my ergonomics is all thrown off. I got my little ritual. I always light my little candle. And I'm not at the right height, so I feel like I'm going to throw up. A captain's log, getting close to the end of the day, and I got to be honest with you, I'm kind of getting used to this. I mean I'm obviously aware of it here and there, but there goes stretches of time where I completely forget. I get absorbed in what I'm doing. I'm all up in this language situation. For doing that. I appreciate that. That's good. Thanks a lot, all right. Here's the most disturbing part of this whole thing. I was trying to like hide it at first so no one would be made to feel uncomfortable, trying to serve people. So I put a hoodie on. And nobody noticed. Jennie even talked to me for like 3 minutes. And I'm like, how does this look, woo not even out of breath. Not feeling good, feeling power move.



So the Bible says that we're to walk with God. The Bible uses that analogy oftentimes. Abraham walked with God. We're two walk worthy of the calling that we've been called with. At your job, and your family, as we walk, that's to be an act of worship. But at times, living in the world that we live in, we get we get weighed down. We end up with these heavy things. Not only these vests, that I kind of thought could kind of represent self. So the heavy weight we wear comes from, probably springs from most of all, just us just focusing and being preoccupied with ourselves. All of us have a self. And to live focused on yourself, to live just with your eyes on yourself, what you can do for yourself, how you can be served, what they didn't do for you, how no one looked out for you, what you deserve to win, it just weighs you down. But that's not the only kind of thing that weighs us down.

In fact, and I got these weight wristbands. We end up, all of a sudden, our hands, to the things we're meant to touch, how we're meant to live, we end up with these weights on our hands like with fear, for example, fear for our kids, fear for our future, fear for the most random things. And we've all been there lying in bed, just afraid, just doing the math. What if I lost my job? And how are my kids going to even be able to afford to buy a house if property values, just random things just go through your mind and worry. What if what if my kids marry a weirdo, but we don't know they're a weirdo right away? And then pretty soon, you're mind's racing. And you're not able to really do and be all you're called to do because you're afraid. You're anxious. You're scared that the God, somehow, doesn't see the future like he promises he does. And man, now you're like, it's like, OK, and just kind of thrown off by it. But that's not even the only thing that can weigh us down. Because all of us, at times, have done things we shouldn't do, even as Christians, gone places we shouldn't go, seen things we shouldn't see.

And we feel a sense of guilt. And that guilt, man, how did I do it again? I said I wasn't going to do that anymore. And you're just, it's just life just starts getting heavy. I did wrong. I'm afraid. Now I'm focused on me. How can I deal with of these situations? But that's not even the end because, at times, our feet get locked up with shame. And shame is distinct from guilt. Because guilt says, I did wrong. Shame says, I am wrong. So I don't deserve good things. I am worthless. This is who I am. I am the worst things that I've done. I am the worst mistakes that I made, yelled at your kids. And now there's a shame. You can even feel shame for things you didn't do, shame that other people have done. And now you're in this toxic generational cycle. You end up with other things locking up your legs and your life like, how about this one, oh this is real, grudges.

And you just replay, over and over again, the harmful things that have done, the little injuries. I can't believe that. I can't believe they did that. I can't believe they weren't there. I can't believe they betrayed me. They said they were my friend. They said they went through thick and thin. They said Winnie the Pooh said, friend is who walks when and everyone walks out, and then you're walking out, too. You suck, Winnie the Pooh. Grudges. You believe, believe it or not, porcupines are more dangerous to lions than any other animal in the African savanna because the little quills get in and they lead to infections. And the Bible says, be careful lest a little thing cause there to be a big root of bitterness in your life. And gosh, pretty soon, you're like, I'm walking with God, just trying to serve the Lord, brothers. But it becomes hard to walk with God wearing all of this heaviness.

And you can, here's the worst part of it, you can get used to it. And some of you, today, have been carrying some of these things for so long. Like I said at the end of the video, you don't even really notice them anymore because you have long forgotten how it feels to be free. You've long forgotten what it even, you don't even see a future where you're disillusioned. You don't even see a better or brighter tomorrow. And I wish I could say to you that was the end, but it's not. Because we eventually get things strapped to us. We end up though, we're fine. Everything's fine. No, it's good. It's worth it. It's a good point I'm going to make.

So here's what happens to us. We're like trying to walk with God, but we have the double sided coin of pain that we've accumulated just from the nicks and bruises of life. Pain's going in there. And how about this one? How about regret? How about regret looking back on when our kids were young? How about regret on what we wish we would have done, when we knew God was calling us to do something, but we were scared. Regrets. And eventually, I should have, and I didn't, and now man, we are, we're trying to walk with God. And yet, we are wearing these heavy garments. And when God sees us from heaven, he is going, there is a better way. I'd never intended you to carry that heavy burden. That's why he said, come to me all ye who are tired, all those of you who are heavy-laden. He says, if you will bring me praise, I will give you, instead, garments of praise for the spirit of heaviness.

And I'm just telling you something, if we just take God at His word, we will hear him saying, an age of grace has come. You don't have to be heavy-laden for one second longer. Why? Because this spirit of the Lord is upon... I'm out of breath so bad right now. He says, the spirit of the Lord is upon me to announce to the poor, to the struggling, to the tired, to the burdened, that Jubilee has come. Jubilee has come. You see, you know that the Jewish people took this day off every seven because God said to. That's how he set creation up. We would work six days and take that seventh day and rest, and be restored, and worship, and trust Him. But many, less people know about the year of Sabbath. And that is to say, every six years, they were to take that whole year and to trust God, and to rest. And then every time that happened seven times, it got to 49, the 50th year, according to Leviticus, was supposed to be a time called Jubilee.

In Jubilee, any debts you had accumulated, that you just could not get out from, were released on the year of Jubilee. Any family land that was supposed to stay in the tribe that you couldn't make the payment on, at the year of Jubilee, when the trumpet sounded on the Day of Atonement, that land went back to the ancestral family ownership lines. And then, as well, anybody who had had no choice but to allow themselves to become an indentured servant, they were restored to their family on the year of Jubilee. So when you heard, and we never can find in history a record of the Jewish people actually practicing this, this is just how God set things up. So they were supposed to have God work in their finances, in their family, and in their fields. Or, as I've put it, areas that we want God desperately to work in. To bring us back to our people, to take care of our possessions, and to give us the birthright, the property, that he wants us to manage, to be good stewards of.

And these things all get wonky and out of order. And so the idea behind the time of Jubilee, was this trumpets blown on the Day of Atonement, and everything enters into this rest and reshuffles back to God's original design of peace, and selah, this idea of Sabbath, this idea of rest. And so Jesus, when he chooses Isaiah 61, it's all the language of Jubilee. And he chose to say, through me, this is all fulfilled. Through me, this is all given. That is to say, you don't have to be tired. You don't have to be bound up in fear. You can live by faith. You don't have to live a life of guilt. I died for you on the cross. That's the Day of Atonement. I'm telling you, you don't have to have your legs immobilized by grudges. Freely you've been forgiven, so freely you can forgive. And there's not a single thing that has to have shame on you.

Jesus says, shame off of you. Your identity is in Christ. So I'm giving you double honor. Who are you? You are not created, or you are not born or built to live for yourself. You were meant to live and to bring glory to Jesus, God's son. And what a wonderful thing it is to recognize that and to experience the peace and the lightness that comes from pain and that comes from regret. All of a sudden, being redeemed, and you're given a brand new beginning. The trumpet is sounding. The spirit is here. He wants to work. So how do we go, oh man, how much better does it feel when I'm running, and walking, and I'm light. I'm mounting up with wings of eagles. I'm ready. I'm comfortable. I'm ready for all that God has for me. I'm ready to do what God wants me to do because of what Jesus has done, because of the cross, because of His spirit. And you can, too. You are meant to see yourself as more than a champion, more than victorious. And this is what it means to be all dressed up and have everywhere to go.

And so each and every day, and each and every week, between now and heaven, we have the chance to trade our sorrows for His peace, our pain for His power. Because he's not just pretending these things didn't happen. He's saying, I see them, but I already paid for them at the cross. I took care of them. They've been canceled. Because as I hung there, I purchased these things. So you don't need to wear them on you because I wore them on me. He had ashes poured on his head. He mourned. He said, my God, my God, why have you forsaken me on the cross so you can live a life dressed in salvation, dressed in righteousness, dressed in power.

I want to close by reading that verse we read, verse 10, one more time but out of another translation. I will sing for joy in God, explode in praise from deep in my soul. He dressed me up in a suit of salvation. He outfitted me in a robe of righteousness, like a bridegroom who puts on a tux, like a bride who wears a jeweled tiara. How terrible it would be to be at your wedding, but not be wearing your tux, be your wedding and not have your gown on? Jesus doesn't want you to be inappropriately dressed. He's clothing you in salvation, clothing you in praise. For some of you, the thought of living without these weights feels so far off. That's how it felt for Isaiah when he wrote to the Jewish people in Babylon and said, hey, by the way, foreigners, they're going to be your field hands. Who were the foreigners? They were their masters. The Jewish people were slaves to this terrible Babylonian Empire. And he says, don't worry, there's a day coming when the trumpet will blast. And what you think controls you, will actually serve you.

What am I trying to say? I'm trying to say the thing today that weighs you down, can one day be a part of your story. If today feels like it's your master, it's going to work for you one day because you're going to be able to tell other people, I was at my darkest, too, I understand. I was addicted. I felt like there was no hope for me, but I'm telling you what Jesus did in my life, he can do in yours. Your worst mistake can end up working for you. The foreigner shall be your field hand. Come on, there's some gangster spirit up in that. And that's how Jesus wants you to live, not self confident, God confident.



So Father, we thank you. We bless your name. We revere you. We worship you. There is no one like you. We are formed by you to bring praise to you. And the great joy of that journey is learning to enjoy you and being changed in the process. Would you, God, trade our spirit of heaviness for that mantle of praise, that garment of praise, God?



If you relate to one of these pieces that is weighing you down today, church online, would you just write it right there in the chat? Write that word out, write that word out. Those of you in the building, could you just raise up a hand? If you're saying, "there's something weighing me down today, I want God to take it away and give me that light garment of praise for it".



Teach me to heal, oh God, when the enemy tries to smother me with regret, with guilt, with fear, with shame, with self. Help me to be the moon I was born to be, to shine the light of the sun. Thank you, Jesus. Bless these. May your face shine upon them. May you give them peace. May you be gracious to them.



You can put your hands down. I want to, now, give an opportunity for anybody here today watching online, who's never made a decision to follow Jesus, to do so. The part of the verse Jesus didn't read is the day of God's vengeance. He said this is the time of God's favor, and even double honor, but he did not read the phrase the day of God's vengeance because that day is still future, but it is coming. He came as a lamb to shed his blood. He will return as a lion. When we die and stand before Him, when He returns to this world, that's vengeance if we choose to reject Him, if we choose to die with our sins still on us and not paid for and receive that forgiveness from Jesus. That doesn't have to be your story. Today, in this day of grace and favor, you can receive salvation, be given the tux, the bridal gown for the feast that is coming.

What I'm really trying to say is would you like to give your life to Jesus? Do you not, even in the music, sense the persuasiveness of the spirit who's pleading with you, be saved, be forgiven, be healed, live for God's glory. Open up your heart to the sense of what it really means to be home, to be welcomed home. If that's you I'm describing, I'm going to pray a prayer. I want you to pray it out loud after me. God will hear you. You're going to hear voices around you, that's because the church is going to pray with you to say we celebrate you coming into the family. Welcome home. Say this to God, mean it in your heart, but let it come from your lips:



Dear God. I'm broken. I'm lost. I'm afraid. I've committed sins. I can't do anything about that. But thank you for loving me. For sending your Son to die for me. For raising him from the dead. I turn to you. Please come into my broken heart, Make it your home. Fill me with your spirit. And help me to live a life of praise in Jesus' name.