Kenneth Copeland - There Is No Fear in Love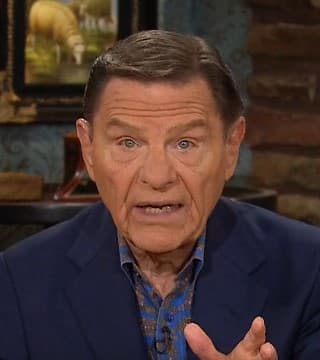 TOPICS:


Kenneth Copeland: Hello, everybody. I'm Kenneth Copeland. This is the Believer's Voice of Victory Broadcast. Now we're talking about all this week, love the secret to success or you could say love the gateway to success. We talked about it. We're talking about the love of God, the God kind of love. We could say this. Real love is to live and walk in love is to live a fear-free...

Greg Stephens: Yes.

— ...failure-free life because perfected love cast us out fear and love never fails according to the great love chapter, which is the 13th chapter of first Corinthians. When you look at that, of course, our golden text is John 3:16, for God to love the world, he gave his only begotten son. Love gives.

— Yes. That's true.

— From the Classic Amplified, "Love endures long and is kind. Love never is envious nor boils over with jealousy, is not boastful or vainglorious, does not display itself haughtily. It is not conceited, arrogant, inflated with pride. It is not rude, unmannerly, does not insist on its own way for it is not self-seeking. It is not touchy, nor fretful, or resentful. It takes no account of the evil done to it, pays no attention to a suffered wrong. It does not rejoice at injustice and unrighteousness but rejoices when right and truth prevail. Love bears up under anything and everything that comes, is ever ready to believe the best of every person. Its hopes are fadeless under all circumstances, and it endures everything without weakening. Love never fails, never fades out or comes to an end". Now, the love of God had been shared. It's brought in our hearts by the Holy Spirit. So, we could say, "I endure long. I'm kind. I'm never envious nor boil over with jealousy. I'm not boastful or vainglorious. I do not display myself haughtily. I'm not conceited, arrogant, and inflated with pride. I'm not rude or unmannerly". What I'm saying, I have the right to say that because Apostle John called himself the disciple that Jesus loves.

— Yes, sir.

— Amen. He said that all the time.

— That was his thing. He said that.

— He's the one disciple they couldn't kill.

— That's right.

— Lived out his life. He's the one disciple that Jesus turned his mother over to.

— Yes, sir.

— He took care of her. Now, you know why the Apostle Paul had to write to Timothy and say, "Don't let anybody despise your youth".

— They were sitting in his church.

— Yes.

— Imagine.

— The Apostle John and the mother of Jesus are in his church. In his eyes, I'm just a kid. What am I doing here? No, no. He wrote him two letters.

— He says, "Preach the Word".

— Preach the Word. You just keep preaching the Word. End season and out, you just keep preaching the Word. You just keep loving the people because they're supposed to be in your church.

— I know a little bit about that. I've spoken before when Brother Hagin was sitting right there.

— Oh, yes.

— When you were sitting right there.

— Now Kenneth Hagin, I preached at Sheridan Assembly the first time. This was the first large church that I had preached in. So, I went over there early that day. What? It seated something like 800 or 900 people. I went over there that day early, laid hands on all of the chairs. I knew Brother Hagin's going to be there. I just did the best I could. The anointing was so powerful.

— Praise God.

— That evening, it was so powerful. I prayed for the sick and so forth. I settled down and my legs. I walked out because someone came to help me and got out. My car was in the alley out, back behind the church. Well, it wasn't an alley but it was behind the church. Whoever it was, opened the door for me. I got in and sat down, and then came in and sat there and did this, "Are you okay"? I turned around and look. It was Brother Hagin. I thought, "Well, I must not have blown it as bad". The things that Oral Roberts would say to me, "Meet the needs of the people".

— Yes.

— You're not writing that Partner Letter to get your needs met. You're writing that Partner Letter to get their needs met. You meet the needs of the people. I preached a bit of this on the Navajo Reservation just a few days ago. My spiritual son, Ellson Bennett, when the first time Jerry Savelle and I preached out there, he was seven years old. I was talking about how do you love your enemies even in combat? I wish I had my phone on. I'd read it to you but maybe later on the week. One of the Navajo Code Talkers ... Are you familiar with who they were? He said, "A warrior without love is a dishonorable warrior". He was in combat, serious combat. A warrior without love. We know some things about that. How are we on time, Carol? Now, God's love is eternal. Let's go over there to first John. I mentioned that. Let's go over there. Remember now, this is the Apostle John writing letters. This is the first one. Now, come over. When you start out, he said, "That which was from the beginning which we have heard, which we have seen with our eyes, which we have looked upon, and our hands have handled of the Word of Life". We, he said we do. "I was there". So now, you come to the fourth chapter and I know this is in your notes, but I want to touch it here...

— In my notes.

— ...and then you can elaborate on it later. In this first chapter, this is the first time that we know that God is love. Verse seven, "Beloved, let us love one another for love is of God, and everyone that loveth is born of God, knows God. He that loveth not knoweth not God for God is love. In this was manifested the love of God towards us because that God sent his only begotten son into the world that we might live through him. Herein is love, not that we loved God, but that he loved us and send his son". Now, come down here. He's talking about we. The things that he knew. He knew these things because he heard Jesus teaching. Jesus is the one that taught him.

— Right.

— There he was, Peter, James, and John. I mean, the big three. So, now you come down. Verse 15, "Whosoever shall confess that Jesus is the Son of God, God dwelleth in him and he in God". He's talking about himself and the others that were there. "We have known and believed the love that God has to us. God is love, and he that dwells in love dwells in God, God in him. Herein is our love made perfect that we may have boldness in the day of judgment because as he is, so are we in this world. There is no fear in love, but perfected," or developed love, mature love, "cast out fear because fear has torment. He that fears is not developed in love". There you have it.

— There it is.

— He that fears is not developed in love. Fear can make a very selfish person out of you.

— That is the whole 2020 right there, the whole Covid thing. The Lord allowed us to see who was developed in love and who's not. There were people that never feared death. That never feared death...

— There are those that never did shut their churches down and violated the law when they didn't do it. They wouldn't do it.

— Right.

— They weren't afraid.

— They were not afraid. I love verse 19, first John four. We love him because he first loved us.

— I saw that in your notes.

— My love will fail him. I don't want it to, but it always had. When I got the realization that he first loved me and I'm able to even love because of his love in me, then that's the strength of me being able to love him.

— Yes.

— I can't do it any other direction.

— Now, look what he said. The love apostle wrote this.

— Yes.

— Jesus taught it to him. There is no fear in love, of course not. There is no fear in God.

— No.

— There is no fear in God, but perfect or mature love casts out fear. Why? Because fear has torment. Now, we know who the tormentor is. We know who the spirit of fear is.

— Right.

— If that cup did not have a handle on it and it's hot, I would have difficulty handling it. The fear is the handle that the spirit of fear takes and torments with. The fear is the handle on the pot. Once the fear is there and the fear takes precedent over the Word, takes precedent over what you know the Word says and you're not doing anything about it. Your words begin to see it and show it. I tell you what. I mean, people are dying from this thing. Well, there's more people getting healed of it than there are dying. It's got a 99% recovery rate.

— Right. Paul got to a place where death had lost the sting. He wasn't afraid of it anymore.

— Oh, yeah. He said, "Where's your sting"?

— See, I was tormented, Brother Copeland, trying to be perfect. That's not what he was looking for. He was looking for me to receive his perfect love.

— Yes, praise God.

— Then that will begin to transform me. It's not about Greg being perfect for him. I ran myself in circles for too long, trying to be perfect for God when that's not what he called me to be. He called me to receive perfect love. His perfection...

— The fact that he loves you.

— Yes.

— He just loves you.

— The fear doesn't exist in that realm.

— The Greek language having two forms of love. Agape is the God kind of love. In the book of Colossians, let's look at that.

— Okay.

— I remember when this hit me with such an impact, such force. This little, small book of Colossians.

— It's wonderful.

— It's just amazing that... Ninth verse, "For this cause also, since the day we heard it, do not cease to pray for you and to desire that you might be filled with the knowledge of his will in all wisdom and spiritual understanding. That you might walk worthy of the Lord unto all pleasing, being fruitful in every good work". All my partners know that, that's on the bottom of that part. I pray this for my partner. "Being fruitful and increasing in the knowledge of God, strengthened with all might according to his glorious power unto all patience and long suffering with joyfulness, giving thanks unto the Father, which has made us able to be partakers of the inheritance of the saints in light who hath delivered us from the authority of darkness and hath translated us into the kingdom of his dear Son". Look it up. Into the kingdom of the son of his agape. This is the agape kingdom. This is a love kingdom.

— Yes.

— Yes, it is.

— It is in us.

— It's in us.

— It's in you the moment you were born again.

— The Kingdom of God is in here, but you have to yield to the love for it to produce what it's supposed to produce. If you keep your eyes on the wrong things all the time.

— That's why you can't keep your eyes on the things of this world and loving them.

— That's right.

— The Pharisees were standing right in front of love personified and couldn't see it because they had a warped sense of God of who he really was.

— Greg, I did that with airplanes. I used to think about them. "What in the world would I do if I can't pass my physical? What will I do? I have to fly. I just have to fly". Then I realized what had happened to me. So, I just got on my knees and just dumped it. I said, "I'm through with it. I don't need that. That's not my God. You're my God. I just lay it on your altar. Here it is". He didn't say anything. "Well, that's over. It's just done and that's good". It went for a while. Then the Word of the Lord came to me. He said, "Now, I'm going to give you back your flying under certain conditions".

— Amen.

— Some of them were so simple that, "Really"?

— Praise.

— He said, "Your cockpit looks like a pig pen. Don't sling charts all over the thing. Get something to fold and put your charts in. Clean it up". "Okay. Yeah, I'll do that". I started cleaning things up and he said, "I don't care if it's the shortest trip. If you're only repositioning the airplane, you plan the trip. You plan it. You do due diligence over this. It's business to you". With those things, I accepted it and just about became a clean freak when it came to my cockpit.

— Amen.

— Of course, I have put everything in order and I thought, "This looks so much nicer than the way it used to look in here".

— Well, how does he do things? The spirit, decently.

— Decently and in order.

— That's all he's trying to get that atmosphere because John said it. We touched him. We know what he was like. We know what love sounded like.

— Oh, yes.

— Can I read you...

— Please do.

— ...that first John 4:18 and 19 Amplified?

— Yes.

— Listen to this. "There is no fear in love. Dread does not exist".

— Ain't that wonderful?

— "Perfect, complete, full-grown love drives out fear, because fear involves the expectation of divine punishment. So the one who's afraid of God's judgment is not perfected in love, has not grown into a sufficient understanding of God's love. We love, because He first loved us".

— Not afraid of God's judgment. That's huge.

— He judged Jesus. I'm in Christ...

— He's in you.

— ...and he's in me. So therefore, I've been judged. Now, my job is to conform into that image.

— Yes.

— That's all my job is. That's easy. It was easy to clean up the cockpit. It's easy now to clean up these little areas to conform into that image of love...

— Yes.

— ...so that other people around me can see him. Because I can say, "I've handled him. I've seen him. I've touched him. I know what love is. My heart is grounded and rooted in love of God, and I live with the expectation of his blessing".

— Let me ask you something in the audience. Does Jesus have the flu?

— No, of course not.

— As he is, so are we in this world. Does he have a real sore back? As he is, so are we in this world. It was the love of God that overwhelmed my disobedience that caused the disk to rupture. It literally exploded in my back. I did it because I just simply didn't obey what he told me. He told me in love. He already knew all this was coming.

— Right.

— Afghanistan didn't catch him off guard.

— No.

— So now, what do you have to do? Listen, you can't get into a place of even being mad at those people or mad at the administration. "Well, they made so many mistakes". "Well, when's the last time you were president"?

— That office magnifies mistakes.

— The whole world knows about it.

— Right.

— Now, I didn't vote for Mr. Biden but he's still my president. So now of all times, I need to be praying for him. I mean, he didn't have a tiger by the tail. He's got a full grown lion by the tail. There had been a lot of mistakes made, but they've been made. Now, you have to love him. You have to love him, and care for him, and pray for him, and think about him in love, and wrap him in love thoughts, and wrap him in faith thoughts, and hold him up before the Lord. He's hurting. He doesn't know what to do. He has to listen to other people and they don't know what to do either. Why? Because this has never been done before.

— Right. I've been praying for his heart to be softened and be established.

— Good prayer.

— For his heart to be softened and for his heart to be established. Now, those of you that just got mad at Brother Copeland for saying that he loves him and praying for him, you need to repent to that.

— Yes.

— We've got to come together.

— Does Jesus love Joe Biden?

— Yes, he does. Yes, he does. He died for Joe Biden. He loves him. I love him. We're out of time, but we'll be back tomorrow. Hallelujah. Come on, Jeremy. Help us here, son.