Kenneth Copeland - Fear Cannot Cross the Covenant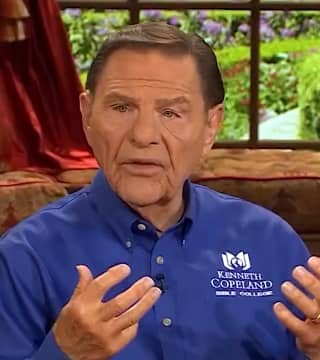 TOPICS:


— Hello, everybody. I'm Kenneth Copeland, and this is the Believer's Voice of Victory Broadcast. And we're here again today. How many broadcast have we done together?

— I don't know. I don't know the exact number. It's been a few. Yes, it's been a few. And it's been an honor and a pleasure.

— The general theme all the way through has been the power of the covenants of God and the covenant of faith and how it works. And so we're continuing in that this morning. Professor Greg Stephens, excuse me... and it's a really serious problem in the whole Christian community to not have a blood covenant mindset that I personally have a covenant mandate between my Father and me and I remind him of it and the blood that's between us and...

— Well, he told you to in scripture.

— That's right.

— Put me in remembrance. And why don't we just turn there 55th chapter or let's see, Isaiah 43:25. I like it when the Lord brings up the Scriptures, and then we'll go from there to James and right there... "I, even I, am he that blotteth out thy transgressions for mine own sake, and will not remember thy sins. Put me in remembrance: let us plead together: declare thou, that thou mayest be justified". I had trouble with that. I said, "No, no, no, no. You did it for my sake. No, no, he said. It's just like it was written". He said, "I did it for my sake". And notice here, he said, "Put me in remembrance and I will not remember your sins". That's first covenant promise. Well, Jesus bore our sins in his own body on the tree that we being dead to sin should live under righteousness by whose stripes we were healed. But there it is, right there. "Put me in remembrance: let us plead together: declare thou, that thou mayest be justified". And he said, "If I remember your sins, I can't bless you". He said, "Now, the moment you repent and you do it by faith and you depend on the blood of Jesus, the moment you repent, then it's a clean slate. Then you put me in remembrance. In other words, you take the covenant promises and remind me of them". Praise God.

— You go back even setting this up, a few chapters you get over in chapter 42 verse, it says, "I am the Lord, that is my name". And he said that again. "I am..." And he's reminding you, put me in remembrance. Once you realize that he is the great I am, that I am that he told Moses, then I'm identified with that. See, I just said, I'm identified with that. I am identified with that. Sometimes we take the Lord's name in vain. Don't even realize it. We'll say I am depressed. No, it's not. I am tired. No, it's not. If I'm identified with him, he's in me. I'm in him. That we may be one. He may be one like we are one as Jesus prayed. Then I've got to watch what I say when I use that word I am.

— Let the weak say I am strong.

— I am strong,

— Well we're right here in the book of Isaiah. Let's turn back to the 40th chapter 28. "Hast thou not known? Hast thou not heard, that the everlasting God, the Lord, the Creator of the ends of the earth, fainteth not, neither is weary? There is no searching of his understanding. He giveth power to the faint; and to them that have no might he increaseth strength. Even the youths shall faint and be weary, and the young men shall utterly fall: But they that wait..." or they that expect, they that hope, "they that trust upon the Lord shall renew their strength; they shall mount up with wings as eagles; they shall run, and not be weary; and they shall walk, and not faint". That's my treadmill Scripture. They're just right up there in front of me. I walk and I'm not faint.. And then you come on, end of the 41st. "But thou, Israel, art my servant, Jacob whom I have chosen, the seed of Abraham my friend. Thou whom I have taken from the ends of the earth, and called thee from the chief men thereof, and said unto thee, Thou art my servant; I have chosen thee, and not cast thee away. Fear thou not; for I am with thee: be not dismayed; for I am thy God: I will strengthen thee; yea, I will help thee; yea, I will uphold thee with the right hand of my righteousness".

— There it is.

— And I put my name in there. This word sent to me in Steamboat by Lindsey 10/3/11. I keep notes on things.

— You read it right there verse ten: "Fear thou not for I am". That is the Hebrew word Ehyeh Eshah Ehyeh. It means I will be what I will be. If if you need me to be strength, I'll be strength. If you need me to be a pillar of fire, I'll be a pillar of fire. If you need me to be manna, I'll be manna whatever you need. Your Father knows what you have need of, I will be what I need to be. And that is a covenant promise. And once you understand that, then all fear of death or whatever it is, cancer. They give you a cancer diagnosis... just laugh at,

— And you make certain notes like that?

— Yes, sir. And Second Peter 1:4 on the airplane, September 15th, 2009. And the promise that gave me strength I needed to carry out my mission. I made notes on that that day and took it.

— So here we are, September the 11th. A lot of people remembering September the 11th, 911 in fear today. No, I'm remembering 911 as I am.

— And a victory.

— Yes, sir. Glory to God. They did. They hit us hard, but we won it. We had the right president.

— And they took down every building around one building on that day.

— Yes. St Paul's Chapel. And in that chapel...

— Most valuable piece of real estate on that whole place. Yes, sir. That chapel,

— I dare say, in the United States because in that chapel, George Washington, the first president of the United States and the first elected official of the United States, which in God time was 15 minutes ago. This nation was dedicated to God and the 17th chapter of Genesis, when God promised Abram, changed his name to Abraham, nations will come from you. This nation came from that declaration.

— That's true. And so we carry out what we're told to do here. Put me in remembrance of that. I cry out to him about it. You'll remember this. You cannot forget it. I'll remind you of it. And I will have the opportunity and I will go to St Paul's Chapel and I'll stand on that spot.

— Yes, sir.

— Praise God.

— Yes, sir.

— That survived 911.

— The terrorist and the violence could not cross the covenant...

— No, they couldn't. The junk and stuff fell all the way around it. And I'll tell you something else it couldn't take down. Dan Stratton. And his teaching on the blood for weeks right there. And I've forgotten now something like 75, 80% of his congregation work in the World Trade Center. Not one of them touched. One of them never late to work. Dan said you could sit your watch by him, but his little daughter that morning, "Daddy, can't we just stop one time before you take me to school"? Because he'd take her to school and ride the train and come into the World Trade Center. And he said, "Well, let's just stop". So he wasn't there. And then all of the people in his church, one of them, and he was teaching on hearing the voice of God, and he got right up to the door and he heard "Run"!. So he didn't turn around to see why. He just ran down in the subway and there was another one that was in there. He walked out. He had on a suit and tie with a white shirt. He walked right out of there and everybody else is covered in ash. His white shirt was not even dirty. Well, a young woman, a colonel, United States Marine Corps in the Pentagon. Partner of this ministry. And she was just going about her routine and she just decided to get up and leave her office. So she got up and left her office. When that thing hit she could had been killed in her office. She just got up and actually before it hit, she started running because her husband and others knew that she's full of the Holy Ghost. They just started following her and they just kind of chased her out the side.

— Praise God. He watches over his Word to perform it. And these people are covenant minded. I've had people criticize me. All you do is think covenant all the time. Yeah, you're right. I'm guilty because every once I got the revelation of it, Everywhere I see, it, I see it. Everywhere in this book it is. There were people that were developers, if we get rid of that little church right here, we could develop something. Brother Copeland, when you said that about that first president, we're coming up on election season here. I'm believing God for the next president or a president soon to go back to that place. And rededicate. Time to get rededicated on that spot. and just redo it and get us back on this path. We're calling out for it. God's calling out. Put us in remembrance and we're doing that today. You had us going to James.

— Yes, sir. First chapter of James, "James, a servant of God and of the Lord Jesus Christ". Now tell us his relationship with the Lord Jesus Christ.

— He's his brother.

— Yeah, he's the one that thought he was crazy. He's the one of probably a lunatic who doesn't do what he's supposed to do.

— Until he rose from the dead. He's supposed to be out promoting himself, and he won't do that. But anyway, "My brethren, count it all joy when ye fall into divers temptations; tests and trials. Knowing this, that the trying of your faith worketh patience. But let patience have her perfect work, that ye may be perfect and entire, wanting nothing". That's one of the fruit of the Spirit. "If any of you lack wisdom, let him ask of God, that giveth to all men liberally, and upbraideth not; and it shall be given him. But let him ask in faith, nothing wavering. For he that wavereth is like a wave of the sea driven with the wind and tossed. For let not that man think that he shall receive any thing of the Lord". Now he just continued to teach here. "Do not err, my beloved brethren. Every good gift and every perfect gift is from above, and cometh down from the Father of lights, with whom is no variableness, neither shadow of turning". "Wherefore, my beloved brethren, let every man be swift to hear, slow to speak, slow to wrath:" Oh, if you just took that but here it is. "Be ye doers of the Word," In other words, act on it, "and not hearers only, deceiving your own selves". Verse 25. "Whoso looketh into the perfect law of liberty," it doesn't stop there... "and continueth therein, he being not a forgetful hearer, but a doer of the work, this man shall be blessed in his deed". Then he begins to talk about the work, and Weymouth translates work as corresponding action, the faith.

— It'll come directly out of you once you understand your covenants, once you understand God's willingness to bless you, willingness to heal you. I know you can heal, but will you?

— That's what the leper said.

— That's what he said to Jesus.

— Now, think about this. He fell down before him. I know you can, if you will. One translation says, Of course I will. Then Jesus broke the law by touching it.

— That's right.

— Then immediately the leprosy departed.

— It's exactly right. The Syrophoenician woman. Another thing, there's corresponding action.

— Yes.

— She would not take no for it. And it impressed him and he said, "Go, she's healed". You'll see that principle over and over and over.

— She refused to be insulted. She came there on purpose. And the disciples said, "Get rid of her. I'm paraphrasing, she's driving us nuts. And who is she"?

— Well, it was an interruption to their downtime. They went there to get away from people. But she's a Syrophoenician...

— No covenant.

— No covenant.

— She's never blessed the nation of Israel or God's people. There's no record that... centurion is a Gentile as well, who had great faith like her. But it said he has built us a synagogue. So in other words, he had done the covenant of Abraham. I will bless those that bless you. Curse...

— That was Cornelius, and he's the one at the crucifixion. He said this had to be the Son of God. But she said she called him Son of David. Have mercy on me. Son of David. Do hesed for me.

— That's right.

— And she just kept on. She wouldn't hush. She just got louder and louder. So she fit this. She asked in faith, nothing wavering. And she just absolutely wasn't going to leave. She got some action out of him.

— Brother Copeland, I had the Lord take me to task on this several years ago. I grew up in a family of waverers. They were professional waverers and worriers. They'd worry about wavering and waver about worry. No, I'm not joking on anything. On anything. Going out to eat at a restaurant, what to fix for dinner tonight. They would waver on it forever. Well, what do you want? I don't know, what do you want? And nobody can make the decision. And I heard the Lord speak to me. You've got to get that out of you. Because a double-minded man is unstable in all... his ways. So that may seem like a little trivial thing, but no, you better learn to be decisive. No, just speak, this is what I'd like to have,

— The business men, the Christian business man that had a lot to do with the development of industry in this country. One of them was J.C. Penney. He would take someone that he has in mind promoting to an executive position. He'd take him out to dinner with his family, put him in a situation and watch him. And if he salted his food before he tasted it, he'll jump to conclusions. And I think that I used to do that all the time until I quit using salt altogether. Yeah, you get addicted to it. It has the same addiction powers as sugar does. But anyway, to watch and see what developed habits are,

— Well, they'll become strongholds

— And strongholds are not bad unless they're the wrong strongholds and the apostle Paul said that in Second Corinthians chapter ten: "The weapons of our warfare are dunamis".

— Indecisive sergeant in combat is the worst thing you could have. I would dare say an indecisive pilot, flight instructor when you're trying to learn, you need to be decisive.

— Well, that's one of the first things you have to get rid of. But that's what a checklist does for you.

— And this is what this is. And Jerry Savelle... Something happened and there was a man in the church that was going to fly him over to his next appointment, not knowing that Jerry was a pilot and he was flying in a Beechcraft Baron and he taxied up to the engine checks and rudder... didn't take a checklist down, and he just went through some thing wing waggle the controls and Jerry said, "Where's your checklist"? Well, he said, "I have it all my memory". He said, "You don't use a checklist". He said no. He said, "Take me back to the FBO. I won't fly with you". Nobody's memory is that good. Those things are for a reason. So the bottom line to this, this is the perfect law of liberty.

— Yes, sir.

— Now, we brought up worry, so let's deal with it. Let's go to Second Corinthians.

— Okay. Chapter ten. "Now I Paul myself beseech you by the meekness and gentleness of Christ, who in presence am base among you, but being absent am bold toward you: But I beseech you, that I may not be bold when I am present with that confidence, wherewith I think to be bold against some, which think of us as if we walked according to the flesh. For though we walk in the flesh, we do not war after the flesh: For the weapons of our warfare are not carnal," I wrote up right above that, they're not human "but mighty"... That word mighty right there is dunamis. "They are powerful through God to the pulling down of stronghold". There it is. This is where you get rid of worry, "casting down imaginations", the cross reference says reasonings, "and everything that exalts itself against the knowledge of God". Against the Word of God. Against what you know. And I just got the sign. We're out. Well, we'll talk about it tomorrow. Amen, we will be back in a few moments.