Kenneth Copeland - Speak God's Word By Faith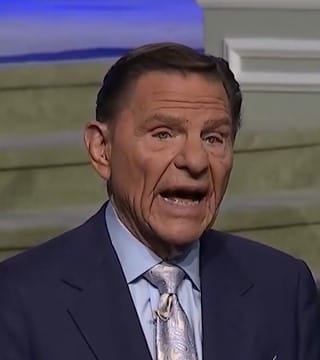 TOPICS:


Turn with me to the book of Ephesians. Praise God. And look at the first chapter there. And then we're going to pray, in verse 19, "What is the exceeding greatness of his power to us-ward who believe, according to the working of his mighty power, Which he wrought in Christ, when he raised him from the dead, and set him at his own right hand in the heavenly places, far above all principality, and power, and might, and dominion, and every name that is named, not only in this world, but also in that which is to come: And hath put all things under his feet, and gave him to be the head over all things to the church, which is his body, the fullness of him that filleth all in all". Glory to God, the name... the name of Jesus.

Turn with me to the Book of Isaiah 53, "Who hath believed our report? And to whom is the arm of the Lord revealed? For he shall grow up before him as a tender plant, and as a root out of a dry ground: he hath no form nor comeliness; and when we shall see him, there is no beauty that we should desire him". He's a good looking man of course. But if you met him on the street, he's very pleasant man and a very kind man. But there was no more any thing about him that would make him say, "Oh..." No more than there was about Samson. He's an ordinary looking man till a power of God came on him, David, just an ordinary young man until a bear and a lion tried to get his father's sheep. And he killed them with his bare hands.

And I'm convinced he had Samson on his heart when he did it. And claimed his power. He said, "I killed that bear with my bare hands and the lion with my bare hands. I'll kill this Philistine. I'll kill him". And the thing with the Philistine was his size. He roared out there for six weeks. They said, "Have you seen the size of this man"? David said, "What do I get if I kill him"? Saul... Saul was head and shoulders taller than anybody in Israel. Bible says so, and I'm convinced that Goliath was wanting to challenge him because he was known to be a powerful warrior. But that guy was, what, nine feet six. But the size didn't mean anything to him. Well, yes, sir. I'm going to have to do this... when I get to do this...

In First Samuel 17, verse 34, "And David said unto Saul, Thy servant kept his father's sheep, and there came a lion, and a bear, and took a lamb out of the flock: And I went out after him, and smote him, and delivered it out of his mouth: and when he arose against me, I caught him by his beard, and smote him, and killed him". Listen. "This uncircumcised... he does not have a covenant... This uncircumcised Philistine shall be as one of them, seeing he hath defied the armies of the living God. David said moreover, The Lord that delivered me out of the paw of the lion, and out of the paw of the bear, he will deliver me out of the hand of this Philistine. Saul said unto David, Go, and the Lord be with you".

Now let's come down to verse 40. "And he took his staff in his hand, and chose him five smooth stones out of the brook, and put them in a shepherd's bag which he had, even in a scrip; and his sling was in his hand: and he drew near to the Philistine. And the Philistine came on and drew near unto David; and the man that bare the shield went before him. And when the Philistine looked about, and saw David, he disdained him: for he was but a youth, and ruddy," he had to be less than 20, he would have been in the army if he'd had been 20, "and of a fair countenance. And the Philistine said unto David, Am I a dog, that thou comest to me with staves? And the Philistine cursed David by his gods. And the Philistine said to David, Come to me, and I will give thy flesh unto the fowls of the air, and to the beasts of the field". Famous last words. "Then said David to the Philistine, Thou comest to me with a sword, and with a spear, and with a shield: but I come to thee in the name of the Lord of hosts".

Who is that? The angelic armies of God. Okay, Mark 11. "And on the morrow, when they were come from Bethany, he was hungry: And seeing a fig tree afar off having leaves, he came, if haply he might find any thing thereon: and when he came to it, he found nothing but leaves; for the time of figs was not yet". That's in italics. Let's move over here to the Classic Amplified. "And seeing in the distance a fig tree covered with leaves, He went to see if He could find any fruit on it for in the fig tree the fruit appears at the same time as the leaves. But when He came up to it, He found nothing but leaves, for the fig season had not yet come". And Jesus answered. "He talked to that tree. No man eat fruit of thee hereafter for ever. And his disciples heard it".

I mean, he said it, "When they come to Jerusalem, he and Jesus went into the temple, and began to cast out them that sold and bought... and the moneychangers, and the seats of them that sold doves; And would not suffer that any man should carry any vessel through the temple and he taught..." So this is the whole thing right here is to teach things in that temple... "My house shall be called of all nations the house of prayer? But ye have made it a den of thieves. And the scribes and chief priests heard it, and sought how they might destroy him: for they feared him, because all the people was astonished at his doctrine. And when even was come, he went out of the city". How long has gone by, 12 hours. "And in the morning, as they passed by, they saw the fig tree dried up from the roots". That's 24 hours later.

"And Peter calling to remembrance saith unto him, Master, behold, the fig tree which thou cursedst is withered away. And Jesus answering saith unto them, Have faith in God". The cross-reference says, "Have the faith of God". Have faith in God. Well, what about the government? Have faith in God. What about my children? Have faith in God. What about my finances? Have faith in God? What about my church? Have faith in God. Well, what about... Well, what about it? Have faith in God or have the faith of God. Brother Hagin said, have the God kind of faith. What? The title deed. "For verily I say unto you, that whosoever shall say unto this mountain..." whosoever shall say... You notice all this saying going on, "Whosoever shall say unto this mountain, this mountain be thou removed..."

So obviously there was a mountain right there. "This mountain be thou removed, be thou cast into the sea shall not doubt in his heart, but shall believe that those things, those words that he says shall come to pass, he shall have whatsoever he said". Therefore I say it. So Jesus just turned it around. "Therefore I say unto you, what things soever ye desire, when ye pray, believe that ye receive them, and ye shall have them. And when ye stand praying, forgive, if ye have ought against any: that your Father also which is in heaven may forgive you your trespasses". That's where Christian people get hung up. A young man, fine... I mean, born again, Spirit-filled man came up to his employer, which was very close to me and said, "I can't support the Word of Faith anymore". He said, "Why"? He said, "Well, I just don't really think it makes that much difference what you say".

Jesus said you're condemned by your words, you're delivered by your words, and you do justice for every idle word you speak. What is that? Every word that doesn't have any faith in it. Didn't say you couldn't be humorous. You want me give you an idle word. I just don't believe him. It matters what you say. You're going to have to stand judgment for that, particularly if you own a Bible and care anything about it. I'll see you all tomorrow if a train don't hit me. Don't that just thrill you to death. No, you don't need to... The Spirit of God got on me about this. He said you don't need the words of my enemy to express yourself. Well, that just thrill you to life. What's wrong with that? You're just in the habit of saying the other one, the other one sounds right.

That's idle, bad stuff. You say something long enough it'll get down in your heart, it'll control your life. I know, I said I hate exercise all those years. And I got all excited and got in my exercise room and stood up there and I said, I just hate... No... Lord, forgive me. Forgive me, I love this. I physically felt that devil leave my body. He's not in my spirit... and I had said that since I was really young. I didn't want to get in there and work out, just lazy... and I said it over and over and that little low level devil had attached... not himself. I refuse to even speak good English. Attached itself to my flesh. Well, he's gone back to hell where he belongs. Or wherever else he's attached. He's not on me anymore because I love it. And I get in that exercise room and I just... Just go for it. And I enjoy what that scale says every morning too. Yes. And I said it... anyway, there you have it. And... "What things soever ye desire, when ye pray,"... When? When you believe it? When you pray...

Isaiah again 53. "Surely he has borne our griefs and carried our sorrows". So you and I don't have any business grieving over anything. Depression is grieving over something you haven't lost. I had a lot of depression before Gloria came into my life, and she turned it off. Praise God. "A man of sorrows, and acquainted with grief: and we hid as it were our faces from him; he was despised, and we esteemed him not. Surely he hath borne our griefs, and carried our sorrows: yet we did esteem him stricken, smitten of God, and afflicted. But he was wounded for our transgressions, he was bruised for our iniquities: the chastisement of our peace was upon him; and with his stripes we are healed".

Now in the Amplified, "Surely He has borne our griefs sicknesses, weaknesses, and distresses and carried our sorrows and pains of punishment, yet we ignorantly considered Him stricken, smitten, and afflicted by God as if with leprosy. But He was wounded for our transgressions, He was bruised for our iniquities; the chastisement needful to obtain peace and well-being for us was upon Him, and with the stripes that wounded Him we are healed and made whole". Praise God. Now let's go to Matthew Chapter 8, verse 14. "And when Jesus was come into Peter's house, he saw his wife's mother laid, and sick of a fever". Luke said a great fever. He touched her hand and well, let's look at Luke 4:38. Because of the way the Lord has directed this service this morning. "And he arose out of the synagogue, and entered into Simon's house. And Simon's wife's mother was taken with a great fever; and they besought him for her. And he stood over her, and rebuked the fever; and it left her: and immediately she arose and ministered unto them". So he spoke to it also. He rebuked it.

Now, here we are in Matthew 8. "And he touched her hand, and the fever left her: and she arose, and ministered unto them. When the even was come, they brought unto him many that were possessed with devils: and he cast out the spirits with his Word, and healed all that were sick: That it might be fulfilled which was spoken by Esaias the prophet, saying, Himself took our infirmities, and bare our sicknesses". Glory to God, it's fulfilled. It's fulfilled, I said it's fulfilled and it started out with surely. It started out with guaranteed. That was a blood backed promise by the Spirit of God and the Prophet Isaiah. But the Spirit of God in and on Jesus fulfilled it. Why? It had to be spoken before he could do it. Put the puzzle together. The first covenant called the Old Testament. That's... get away from that. Because you look it up in the BLB, look it up. They both mean covenant, and they both used the word covenant, but testament.

The only thing that I can come up with, I don't know the reason why that it was called that, Will and Testament. This is the will and testament of God. Jesus probated his own will and the bottom line of this is it has been fulfilled. Therefore, everything in that first covenant is fulfilled and ratified by the blood of the second. I will restore health to you and heal you of your wounds. And stop grieving. Don't be grieving and crying over the Word of God for the joy of the Lord is your strength. And the great apostle Paul writing at Philippi... that was a Roman garrison town. Anyway, he used joy one way or another in that little book 19 times. And he was in prison when he wrote it. Let's stand up and praise God. Hallelujah. Thank You, Jesus. Thank You, Lord Jesus.

Let's just raise your hands. Raise your hands and receive your healing. Raise your hands and receive your healing. Glory to God. All kind of stomach ailments we're back to the lungs again. Hallelujah. And bone disease of all kinds. Blood disease, all kinds. Leukemia is being healed right now. Hallelujah. Glory to God. Cancer. All kinds of cancer. All form of cancer is being healed and well, ears are being restored. Glory be to God. Feet are being restored. Ankle bones that are weak and they're strong now. Bones that were broken and didn't mend right are being made well right now. All forms... Oh, glory be... Yes. Everything that's under the curse of the law. Glory to God. We've been redeemed from the curse of the law. For Jesus was made a curse for us. For it is written: curse is everyone that hangeth on a tree that the blessing of Abraham might come on the Gentiles by faith.