John Gray - Faithing Your Fears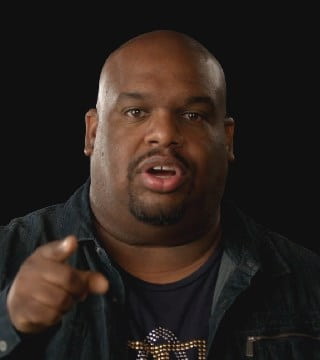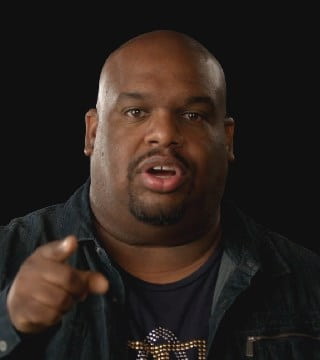 I want to jump right into the word tonight. I want to share some things that are on my heart, and I'm not sure how this is going to flow, but I'm going to follow behind the Holy Spirit if that's all right with you. Um, you know, tonight even in worship because I have an issue with time. A lot of times I'm kind of behind getting in service because we got two kids and it's a lot, and you know, black folk, we late a little bit. Pray for us. But tonight I really heard the Lord say I want you to get into service at the beginning so that you can be a part of worship.

There is something that I want to tell you. And as Fiona started ministering... Is she in here or somewhere in the back premium? Where is she? She's in the back. Well, thanks a lot, Fiona. But she began to minister about this fox in her yard and how the enemy sneaks in through cracks and tries to take what belongs to you. And I realized that God was setting something up for tonight because that's where the Lord had me all day realizing that the enemy wants to immobilize us through fear keeping us from accessing not only the promises of God but the potential that is inherent in our faith walk. It's not just about attaining promises. It's about believing God every day for the next thing, and in that, you grow going from faith to faith.

So it literally translates going from one place of faith, when you see that thing happen, then you're able to believe God for the next place of faith. You go from faith to faith, from glory or a certain aspect of God's glory to another dimension or aspect or awareness or understanding of God's glory. And this is a faith walk. And it's not easy. It's not easy to believe God when things are all going haywire. It's not easy to believe God when circumstances are screaming, it's over! Give up. Quit while you're ahead. As a matter of fact, you're not ahead. You've already lost, so cut your losses. Got one amen. Wasn't even an amen. It was like, yeah! Right on. People in front saying, what is right on?

Anyway, I needed to hear what Fiona said tonight. I'm so grateful that she hears from the Holy Ghost in declaring of the word of the Lord because the enemy tries to outfox us. He attempts to outsmart us, outmaneuver us, manipulate our emotions, manipulate the picture, causes distortion in the images hoping that you see the wrong thing in the right place. I feel the Holy Ghost. Something's about to break in here tonight. And I'm not just saying that to get an emotional response. I mean it with everything that I am. If I am a man of God, I'm going to say it again in the atmosphere, something is going to break in here tonight. I was believing God for something for my wife to just be a blessing to her. I've been believing God for it, and I saw what I was believing God for. I saw it and I declared, I said that's what I want for my wife.

And then the Lord said, you're going to see it again, and as soon as you see it speak it again, and literally within ten seconds I saw it again. Different thing. I said that's what I want for my life. I don't want that. I want that. And then literally about... Am I being honest? A few seconds after that I saw it again. I said, God, I know it's you. You confirmed it with an oath. I want that. I want to bless her with that. I want to do that. You know it's in my heart. And I'm going to continue to confess it and declare it until it shows up.

Now, it might not be a big deal to you, but what God was saying is because if I'm honest I've been believing for a while for this particular thing, but in circumstance and life and finances and family and kids and moving and transitions, some things that I want to do I'm just not able to do. That's just the way it is. You can't get everything you want when you want it. That's just a part of life, but it doesn't stop me from believing and it doesn't stop me from confessing. You don't want it with me tonight, devil. You don't want it with me tonight. Hey, God! I feel the Holy Ghost in here. I feel faith rising in here. So I saw it and I kept speaking it and declaring it because I know it would be a blessing to my family. I kept speaking it and declaring it, and today was a better faith day for me because if I'm honest I'd seen that same thing last week, the week before, but I wasn't confessing because I was looking at my circumstance as opposed to the promise.

How many of us have modified our confession based on our circumstance? I want you to understand a promise from God is as good as a fulfillment. Baby, if he said it, you can stamp it, take it to the bank, sign it, paid. Signed, sealed, delivered... It's yours... Thank you, Jesus... I got one person in here, but I noticed how fast the enemy tries to come and steal your faith confession. I love it. And for people who might be visiting with us, don't be alarmed if somebody shouts out next to you, hallelujah! Oh, God! They're not crazy. They're breaking free.

I will not leave here with fear on me. I'm not leaving this place afraid of anything. I will not fear one man. I won't fear one circumstance. I'm walking out of here tonight in about 20 minutes filled with the faith of the Holy Ghost. I'm walking out of herewith a confession in my mouth that is rooted in the Word of God, rooted in the confidence of God, rooted in the power of God who is able to do it, whose already done it, and who will continue to do it because I belong to him. You belong to him. We belong to him, and we are God's billboard for a lost and dying world, and he wants to bless you. He wants to prosper you in a dark and broken time so that men see that there is a God whose in charge of the affairs of men, there is a God who is keenly aware of your needs, there is a God who is able to meet and exceed all of your expectations according to his riches in glory and not just physical things, temporal things. I'm talking about eternal things like your mind. God can give you your mind back.

Will, God can give you your mind back. He can give you your peace back. He can break the back of addiction. He can break the chains of bondage. Generational curses are broken in the name of Jesus. The power of Jesus is alive and well in this church on a Wednesday night. Glory to the living God. Glory to the living God. Glory to the living God. He reigns! He reigns! He reigns! And the devil is defeated! And God is exalted! Hallelujah! I need it, steve. Every now and then I just can't give him a calm praise. I got to move an arm. I got to shift my expectation. I've got to get out of the doldrums of my fear. I'm not leaving here afraid. Fear has ruled too much of my life. I didn't even realize it how long I've been sitting up under fear. Who, you? But you preach. Yeah, so what.

See, the problem with pulpits is you think somehow we're invincible. That's one of the fallacies of today's contemporary plastic church culture where leaders want you to think that they're super heroes. We are not. And anybody that portrays that, woe to them. I'm walking this thing out with you. I ain't better than you. I'm walking with you. I've got to pray everyday, God, keep my family. Keep my marriage. God, protect my kids. God, I don't know how you're going to do it but I believe that you will. Nobody's immune from the circumstances of life, but I assessed my life, and I found, pastor Craig, that there were areas of my life that I thought I was free, but I was in bondage to fear.

So the battle between flesh and spirit continued to rage. Do I take God at his word or do I believe what I see with my eyes? Do I trust what he promised me, or do I believe what I have in my hand? Do I keep speaking to the future, or do I live in a broken past, looking at a stagnate present hoping that it changes in the future? Or do I know without a shadow of a doubt that he who promised is faithful? I just need a little help in here. Just a little. Just a little help. Can somebody give God a preemptive five second praise break? Just a few moments to bless him in here.

The battle between faith and fear, it's the seminole battle for believers. It is in that place where everything we do, everything we walk through is summed up in this epic battle. Do I believe God or do I believe man? Do I take the Word of God? Or do I hold as Bible the word of a doctor? Some of us get a report from the doctor and we'll hold onto that thing quicker than we'll hold on to the Word of God. God says, you're going to hold onto what they said? And I made him? I'd rather hold onto the maker than the product.

So tonight I want to talk from the subject heading faithing your fears. And for those who think I might have a lisp, I don't. It was daffy duck style, faithing your fears. Little Mike Tyson. No. It's ludicrous. I'm not facing my fears. No, Johnny, I'm not facing them because to face it means I gotta elevate it. My fears are beneath me. To face it means it's on my level, and I'm not going to give it authority to meet me eye to eye. I'm going to keep it where it is. Oh, help me, Holy Ghost. The enemy is under my feet. So I don't have to elevate. I'm going to faith my fears. So I made up a word, faithing. I'm faithing my fears. And I'm going to go ahead and share one of them because we talk about fear in broad strokes but I'm going to share one of mine.

Please don't be judgmental. I just want you to know I'm just like you. This is a deep one for me, so if there's a little emotion, you know, it is what it is. But you know, growing up I've shared many times that my mom and dad divorced when I was very young. My mother continues to this day to be a beacon of life, just a Holy Ghost filled, power house for God. At 71 years old she was an amazing mother, but she was not the greatest father because she was not designed to be a father, so she did more than her fair share, and in the earth God has predestined that living things, living organisms, most of them, humans in particular have a male and a female, a mother and a father.

And there is a need for fathers, and even though we are in a season in society that would try to minimize the impact of fathering and make fathers optional or make the nuclear family optional, live how you want, do what I want, whether you are a believer or not, every statistical metric from carnal psychologists who are nothing to do with God make it clear that children are promoted higher, they achieve better academically, they thrive socially, emotionally, psychologically, physically, relationally when a father is present.

How many of our young girls today struggle with identity because the father didn't love and hug on her and speak into her life? Your daddy's princess. I love you, sweetheart. You're the most beautiful thing I've ever seen in my life. How many of our young women right now have to go to clubs, dancing, parading so that men can tell them how beautiful they are because a father missed his assignment? My daughter is five and a half months old, and every day that I'm breathing I'm kissing her all over her big old cheeks and her eyes and her forehead. You're daddy's baby. I love you so much. I can't wait for somebody to try to holler at you. I'm gonna stab them. I don't even know what I'd do. I'm crazy. Oh! Yeah, yeah, yeah, yeah, yeah!

I love on her, and she's five and a half months, but with no teeth just smile. I love my baby because at first she was all up on mama but now she's with her daddy, and a couple days ago I came into town and I was holding her and my wife reached out for her. My doubt just looked letter, no, honey. My wife, was like that's my husband. I was like, that's right, girl. Fight for me. Fight for me. Don't let me go easy. Fight for your man, boo. Rrrrr! What I realized is that my daughter needs my affection, but what I also realized, doctor Paul, is that my son needs the same thing. And I find myself hugging on him and affirming him and kissing him and letting him know he's my son. He's my pride. He's my joy. He's my heir. He gets a double portion. I'm going to raise him to know the Lord. I'm speaking these things.

He's 17 months old, but I'm speaking it now because nobody ever spoke it to me. And let me tell you something it affected me. I am 40 years old. I am married. My father passed December 7 of 2000 in New York city, and there are times right now that I almost want to look out the window and see if he's going to pull up like he promised. I'm going to come get you, son, and take you to the park. Go to the circus. I'm going to buy you a car when you turn 16. I remember looking out the window looking up in the stands, never saw him. It affects you. And my fear was that I was going to repeat the cycle that I came from, and the enemy would whisper that into my ear. You can try all you want, you're going to go just like your daddy. You're going to be just like your daddy.

And I even told my wife before we got married, I said, my fear is that I'll repeat the cycle that I came from. No matter how hard I tried I just feel like it's in me. And then this scripture happened. Romans 8:12, "Therefore, brethren, we are debtors—not to the flesh, to live according to the flesh. For if you live according to the flesh you will die: but if by the spirit you put to death the deeds of the body, you will live. For as many as are led by the spirit of God, these are sons of God. For you did not receive the spirit of bondage again to fear".

The fear of failure, the fear of blowing my marriage up, the fear that I will be like many of the men that my family has produced, the fear of not being enough, that fear that drove me to over achieve, that fear that paralyzed me for so long this scripture now speaks and declares that I'm not in bondage to the past. I'm not in bondage to my natural blood line. Here's my freedom. Romans 8:15, "...But you received the spirit of adoption by whom we cry out, "Abba, Father." 16 the spirit himself bears witness with our spirit that we are children of God, 17 and if children, then heirs—heirs of God and joint heirs with Christ, if indeed we suffer with him, that we may also be glorified together". I had to faith my fear by speaking God's word over the broken place of my past.

"Yeah, you're going to be just like your father". Yep, I sure am because I've got a Heavenly Father that stepped in when my earthly father would not, because the Bible says he cares for widows and orphans. I was a spiritual orphan, and where my mother was not covered, the Heavenly Father stepped in and covered us. I am going to be just like my Father. I'm going to walk in faith. I'm going to walk in victory. I'm going to be just like my daddy. I'm going to declare, I'm going to confess, and it will be just what I say. And I mean heaven will respond to my voice and hell will bow down. That's right. I'm going to be just like my Father because I've been adopted, and this Father has no deficiencies and I've been given a blood transfusion to make sure that when the DNA test comes back it proves that he is the Father. I've got the blood of Jesus running through my spiritual veins because when I accepted Jesus as Savior, I was given his spirit.