Derek Prince - 4 Biblical Guidelines To Healing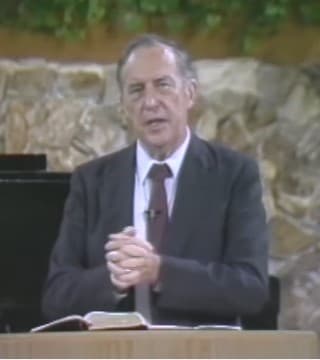 TOPICS:



And then suppose that you're challenged with something that you can't do, it's too much. You're not capable, you don't have the education you don't have the strength; it depends what it is. And yet, God has challenged you with it. Well, we resort to Philippians 4:13. But this is the Prince version. I happen to know Greek and I think the Lord gave me a really good rendering of the Greek that brings out the meaning better than any other version I've ever heard. But let me say it's not in print. I've got people coming up to me and saying, Where can we buy it? You can't. I can do all things through the one who empowers me within. I'll say that again. I can do all things through the one who empowers me within. I use the word 'empower' because the Greek word is from 'dunamis' which is normally translated 'power'.

So there's a source of power within you that is released by your proclamation. I can do all things through the one who empowers me within. I don't have the education, the strength; but when it's the will of God when it's a task assigned by God, there's one in me who empowers me from within. And then suppose the problem is sickness. One of our favorites is 1 Peter 2:24: Jesus himself bore our sins in his own body on the tree that we, having died to sins might live for righteousness by whose wounds we were healed.

See, it puts it in the past tense. If you notice when it speaks about healing in the atonement it never uses the future. 700 years before Jesus came Isaiah said through his stripes we are healed. After the atonement, looking back Peter said: By whose wounds you were healed. That gives you a totally new perspective. It doesn't mean you automatically cease to be sick but it gives you a different basis on which to encounter and challenge sickness. Sometimes you have to keep saying it a long while. You just have to decide which is more reliable, God's word or your symptoms.