Derek Prince - You've Got To Go On Proclaiming Until You Think It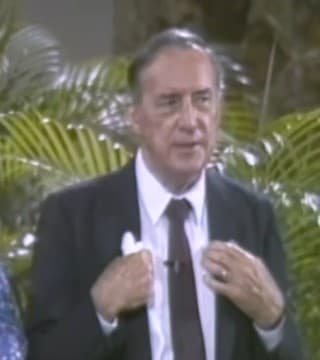 TOPICS:



So I'm going to take now a whole number of potential situations beginning with those that are personal and going on to those that are national and international and I'm simply going to show you different ways that we can stretch out the rod. Now, I'm going to ask Ruth to come again and stand beside me. And all the proclamations that we're going to make now are proclamations that we regularly make in our personal devotions. I tell you, our personal devotions are not always quiet times. Sometimes we shout. After all, to proclaim is to shout out. I don't say there's more power in shouting, it just depends on how the Holy Spirit prompts you. We probably have somewhere between one and two hundred proclamations that we make regularly. And when Ruth was fighting for her life this was our number one weapon.

Some of these proclamations we have done thousands of times. If you've got a lot of negative thinking in your background and a lot of negative influences, just saying it once doesn't change much. Maybe you've got to go on saying it until you think it. Until when any situation arises that's the way you react. I'm British by background, as most of you know. I tell my British people so I'm not afraid to say it to Americans; British people tend to be extremely negative. They're pessimists by nature. And I was a pessimist of the pessimists. God has been gradually revolutionizing me; it's taken Him a long while. But one of my strange mental habits, I think it must go back to childhood when I'm in a situation I automatically begin to think of all the trouble that could happen, all the problems that could arise. I get in a car to drive and I think now if there was an accident, et cetera.

Maybe some of you have the same problem. I've been using the weapon of the Word in many different ways but there's a Scripture, I can't give you the exact reference. It's in Jeremiah 29 and the Lord is speaking to Israel and He says: I know the plans that I have for you, plans of good and not of evil. Another translation says: plans of prosperity and not of calamity. To give you a future and a hope. So every time I find myself beginning to entertain some negative picture of some disaster, I say, I thank you that I know the plans you have for me plans of good and not of evil, plans of prosperity and not of calamity to give me a future and a hope. And I may have to say it several times. But at the end of that the negative has been dissipated. And I have a strong, confident, positive attitude.

Ruth, I don't think, has learned this one. Have you? No. So I'll say it. It's not one of our repertoires but it probably will be. But anyhow the Lord says: I know the plans that I have for you. Plans of good and not of evil, plans of prosperity and not of calamity to give you a future and a hope. You start to say that every time you step into your car. You're going to have a good journey. You're going to accomplish the things that you set out to do. Your attitude makes a lot of difference, the way people treat you. You walk into a store and you walk in with that attitude and they'll do something for you. If you walk in expecting trouble or bad service or discourtesy, that's probably what you'll get. That's just by the way, but there's no extra charge for that.