Tony Evans — The Command for Discipleship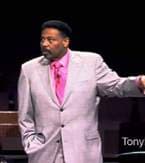 Jesus is Looking for Followers. He's not just looking for fans. This is Dr. Tony Evans with The Alternative, and I'm excited about our new message for today on Disciplieship - these are followers of Christ, not just fans of Christ.

Jesus is commanding you to not only be a disciple, but be a disciple-maker.