Tony Evans — Jehovah and Adonai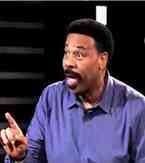 TOPICS:


The study examines 11 names of God. The words translated as name show up over one thousand times in Scripture and routinely carry with them power, responsibility, purpose, and authority.

A name not only expresses the essence and significance of what is being named but also—when duly authorized—accesses the capacity intrinsic within it. Because of God's depth of character, He has a variety of names to reflect His different capacities of relating to humanity. For example, God is called Elohim when referenced as the all-powerful Creator.

When you need provision, get to know the name Jehovah Jireh, which means God, the Provider. God has a name for any and every situation you can find yourself in. Get to know the names of God because it is in knowing His character and His capacity that you will rest and discover both peace and power in His covenant care.