Sid Roth — Power of True Grace
Watch
Audio
Download
Subscribe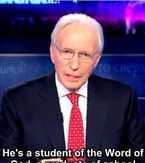 Tony Kemp shares the real power of True Grace in Jesus and its blessings — he also exposes its counterfeit. He says you must know the difference!

Hello. Sid Roth here. Welcome to my world where it's naturally supernatural. I wouldn't want it any other way. As you know, I'm a Jewish believer in Jesus. And when I first became a believer I wish it was different. But I really wasn't mentored. I was almost on my own.

And the only thing I really knew was the Bible. And so what did I do? I read the Bible. And then after reading the Bible I started looking at religion. I mean, and some people would say, God doesn't heal today. And I'm thinking, what Bible were they reading. I don't understand this. And some people would say, oh, God is my buddy.

Yea God. I come from a Jewish background. God is holy. There's a reverence. Yes, there's an intimacy with Him. I saw no reverence for God. It was just strapping your seatbelt and go buddy. No. That's not the God I read about in the Old and the New Testament. And then I heard, once you're saved, no matter what happens you will always go to Heaven, and if something happens you really weren't saved.

That's not what this book is saying. And it's too late to tell me God doesn't heal today. I've seen too many miracles. It's too late to tell me God isn't a holy God. He is a holy God. It's too late for you to tell me that once I'm saved, nothing can ever stop me from being saved. It's too late.

But there is a spirit of delusion that is coming upon the church, and I want you warned, so it doesn't touch you and it doesn't touch your loved ones. That's what we're going to talk about today.