Rabbi Schneider — Christmas: A Gift That Must Be Celebrated and Presented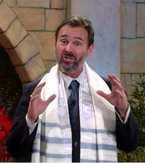 God bless you and Shalom, beloved ones. This is Rabbi Schneider today. Welcome to this very important broadcast; it's a special Christmas edition.

Now some of you may wonder, what's Rabbi Schneider, a Jew, doing celebrating Christmas, 'cause as you probably know, most Jewish people don't celebrate Christmas because they don't believe that Jesus is really the Messiah.

But I as a Jewish person that believes in Jesus, I look at Christmas as the fulfillment of Messianic prophesy.