Rabbi Schneider - A Declaration of Overcoming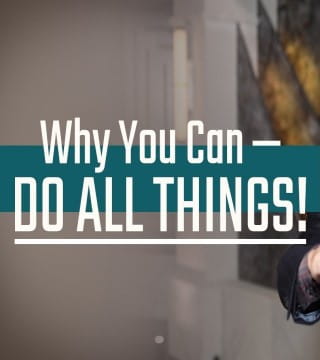 TOPICS:


Great Scripture today, Philippians chapter four, verse 13. I actually used this scripture just the other day. I was traveling. I was in a hotel room. I didn't get a good night's sleep that night, and it was suddenly time to wake up. After just a few hours sleep, I felt in my body miserable. I felt tired and weak. You know what it feels like when you don't have enough sleep, right? It's tough. I mean, it's tough when you just feel tired and you just don't feel physically well.

So as I was laying in bed that morning before getting out of bed, I said to myself, "Jesus, you rose from the dead. You conquered every principality, every power. You rolled away the stone and ascended to the right hand of God, and you live in me. I can do all the things that we just read through Christ that strengthens me. My power, Lord is in you. My body may be weak, my flesh might be tired, but the one that conquered death lives in me. I can do all things through Christ that strengthens me".

And you know what I got out of my bed, beloved ones. I had a super... let me say it again. I had a supernatural energy and strength that day to accomplish and do what God gave me to do. I could do all things through Christ that strengthens me. I know sometimes it doesn't feel like that because sometimes we're maybe doing something for the first time and we feel incompetent. We're in situations where we've never been there before and it's scary.

I mean, I remember when I was a young boy and I went off the high diving board for the first time. It was scary, it was natural. But you know what? I did it. So it doesn't matter what you're feeling. Just know that God's word will prove itself true in your life, regardless of what you're facing and might be relationally. Maybe you're overcoming the death of a loved one. Maybe it's something going on at work. Whatever your trouble is, I want you to say with me by faith: I can do all things through Christ, Who strengthens me. I can do all things beloved one, Through Christ, Who strengthens me. That's for you. And that's for me.