Michael Youssef - What Would You to Say to Those Who Are Struggling With Thoughts of Suicide?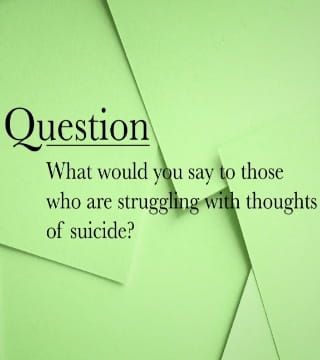 TOPICS:


You know, suicide is a big problem in our culture, in our society, in the West. I often say, look at all these people lining up in front of the American embassies all over the world, want to come to America, and the people in America want to commit suicide. The first thing I need to tell you about this is that it is Satan's design and desire.

If you read the book of Job very carefully, you're going to discover that what Satan wanted Job to do is to die, and even his wife said to him, "Curse God and die". That's what, all along, even the miserable comforters, they wanted him to die. They wanted him to commit suicide, but in reality, had he done that, he would have missed out on the incredible blessing that came his way as a result of persevering and not giving up.

And so, it is a thought and it's a design from Satan. It's not from God. God wants to give you life, and give it to you more abundantly. He wants to give you his joy. He wants to give you his peace. So, every time you have thoughts like this, recognize that they're from Satan. That's the most important thing. And then, go to the Lord and say, "Holy Spirit of God, help me to overcome, help me to have joy, and live above and not below my circumstances".

And I am telling you, that's one prayer the Lord will answer because, again, in the book of Job, you see that God really helped Job to persevere. And then, come on the other end of this trial, and was blessed, doubly blessed, and I pray that you will be doubly blessed, too.