Michael Youssef - What Is The Healthy Way to Approach My Doubts?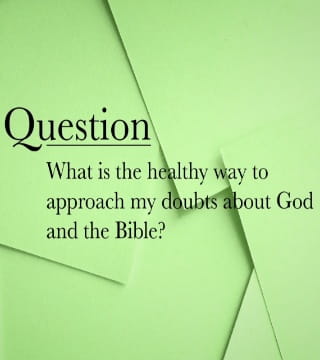 TOPICS:


First thing you need to realize that you are not the only one who is experiencing doubt. Even the great heroes of the Bible, they all experienced doubt. The question is not whether you have some doubts, it is how long you stay in that doubt. That is really the question, and my encouragement to you is, don't spend a lot of time in your doubt. It's okay to bring your doubt up to the surface. You can bring it to God. You can share it with a loving, Christian friend. You can talk to a pastor.

Whatever it will take for you to express that doubt, deal with it, because, really, half the battle is bringing it up into the surface. Don't keep it inside of you and go through it, mill over it, and stew over it. No, bring it up to the surface. God is not going to fall off his throne because you have some doubts. No. He wants you to bring the doubts to him so that he may give you courage, give you encouragement from his Word, and give you the assurance of your salvation and your eternal life with him, which is all that really matters.

And so, don't worry about doubt. Don't feel guilty that you are sinning if you have some doubts in your mind. No. Come to Jesus. Speak to a friend, and deal with that doubt, and then, every time it comes out, again, memorize the Scripture. Recite the Scripture. Fill your heart with praise and thanksgiving, and you're going to find that enemy of doubt will disappear.