Michael Youssef - Can Someone Get into Heaven By Being a Good Person?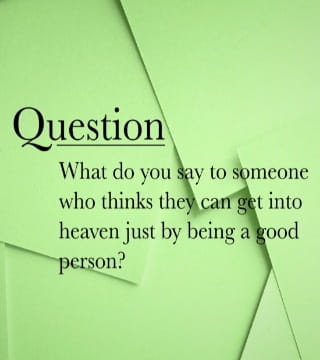 TOPICS:


You know, some years ago when I was a very young preacher at the age of 26, I used to tell people I was in a very secular culture and I would say to them, "Do you know that all good people are going to hell and all the bad people are going to heaven"? And that really startled them. What do you mean? I said, "Yeah, because you can't get to heaven based on your goodness".

The Bible said that no matter how good we try, it looks like a dirty rag in God's sight. The only good thing that you can do is to confess your sin and surrender to Jesus Christ, receiving him as your Savior and Lord, and receive his forgiveness, that way God looks at you through the prism of Christ. He sees the perfection of Christ and forgives you.

So, it is absolutely important that you understand and that you comprehend what it means to be a believer in Jesus Christ. Your effort, your own steam as it were will not get you very far but when you come to Christ, and you say, "Jesus, you are perfect, you are sinless, and you died for me, you shed your blood for me". Immediately God says, "Forgiven".

And so it is that forgiveness that will get you to heaven not your hard work, not your effort, but once you come to Christ, the Bible said we have been predestined unto good work. So, it is to good work not through good work and I hope that this is going to be a blessing and a blessed time for you as you comprehend these things.