Michael Youssef - What's Wrong With Everyone Believing What They Want?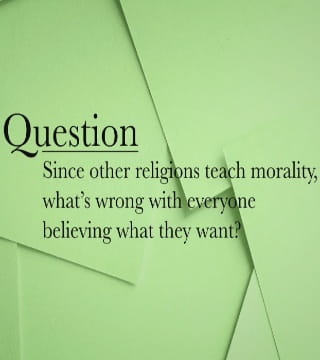 Well, the whole goal of life is not being a better person, the whole goal of life is be like Christ. And to be like Christ you have to believe in Christ, submit to Christ, receive Christ, and allow his Holy Spirit to dwell in you. That's the only way in which eternal salvation and earthly salvation can take place.

All religions have moral codes because all of the creation is created in God's own image and therefore, there's some sort of moral compass in all of us because we are created in God's own image. But to know God... and we always say the Ten Commandments are God's revelation of himself; that's his character, that's what he's like, and therefore, when we look at them and say, "Oh, but I can't obey these".

Sure, but Christ obeyed them and therefore we come on Christ's coattail and become saved. That's why the Christian faith is unique; no faith on the face of the earth is like it because it has grace in it.

Most of the others have "dos" or "don'ts" or you have to do certain things, and even then, you're not sure if God is really listening to you whatever that God is, but our God is a God who loves us and he calls us, wants us to repent so that he may forgive us and redeem us both here and now, and for all of eternity.