Michael Youssef - God's Overwhelming Love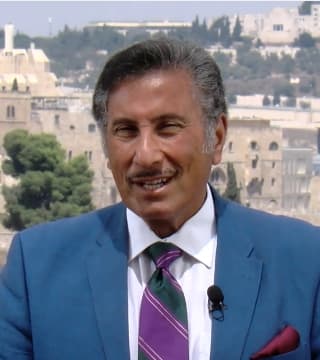 TOPICS:


I have been privileged to come to the Holy Land. Many things that immediately come rushing into my mind. one of those things is when I go by Mount Moriah when Abraham was about to sacrifice his son in obedience to the call of God.

God did not want him to sacrifice his son, he wanted to test his obedience. He wanted to test his trust in the God who gave him that son as a gift of old age when he was 100 years old. And so, the moment Abraham said, "I know," as in the book of Hebrews says, "that God is going to raise him from the dead". But he lifts up his hand, right there behind me, and God says, "Stop. Now I know". Because God himself was going to offer his own Son for your redemption and mine. It gives me goosebumps.

What an amazing place to stand and to see that our redemption on that hill took place. But thank God he did not stay in the tomb. Over my shoulder you can see the Church of the Holy Sepulchre where he rose from the dead. I've been there a couple of days ago. The tomb is empty, praise God.