Leon Fontaine - Pick Up Your Weapon, The Sword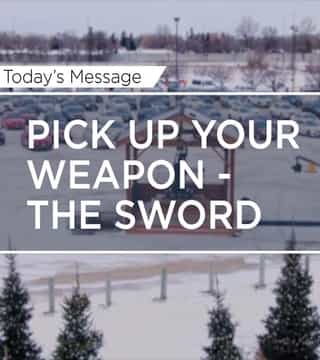 TOPICS:


There's never a place you're going to be able to go until heaven, that there will not be enemies. There is no demilitarized zone. There is no place, no country, no island, no church, that you can just declare yourself free from enemies. That's what makes heaven so beautiful. But today, I want to also show you that in the very presence of your enemies God has something powerful and special. That the very culture of heaven. The very promises of God. You still walk them out. We just walk them out in a biblical way, and I want to talk about that today.

Right now, I'm going to go to the 23rd Psalm, and I'm going to pray it. I'm going to pray it the way I pray. I don't just use the 23rd Psalm. I use lots of different verses. And the more you develop and grow in maturity in the Word. The more you're going to find your prayer life exciting, powerful, as Holy Spirit can bring any promise at any time and guide you in your prayer life as the Bible says prayers and supplication. Supplication means a petition of the Word. That you're declaring out loud with words over a situation. The Lord is my shepherd, I shall not want. So I lack nothing. He makes me to lie down in green pastures. He leads me beside the still waters. So He brings me calm, strength, rest, and quietness. He restores my soul. He leads me in the paths of righteousness for His name's sake. So He brings me strength and leads me in the right paths and His kingdom purposes for His reputation. Yea, though I walk through the valley of the shadow of death, I will fear no evil, for thou art with me, thy rod and thy staff they comfort me.

So even when I walk through a dark valley, I sense Your presence and I receive Your protection. Thou preparest a table before me in the presence of mine enemies. You anoint my head with oil and my cup runs over. So I enjoy Your blessings in the middle of enemies all around me. I am continually being refreshed and blessings flow my way more than I can even contain. Surely goodness and mercy shall follow me all the days of my life, and I will dwell in the house of the Lord forever. So good things, love, loyalty. God, He pursues me all my life and I'll live with Father God forever. If you don't know how to pray. If you're a brand-new believer.

You think, "Leon, you keep talking about prayer. Show me how". There. That's how I would pray Psalm 23. And it covers so many areas of your life. Today, I want to take this one line. I want to talk about He prepares a table for you in the middle of your enemies. You're not cowering behind a tree. You're not fearfully running and looking over your shoulder. Regardless of what enemies are on this planet from spiritual to physical, from sickness to diseases, to people, to demonic, whatever. In the midst of it all, I sit, relax, and enjoy the very table of blessing and favour. He prepares a table before you in the very presence of your enemy.

Well, who is your enemy? So many people think it's the person that's angry at you. That's attacking you. It's somebody that's lying about you, taking you on. And yes, a person can become an enemy in our lives. That's what the Bible says no weapon formed against us shall prosper. And if someone becomes a weapon against you and you are speaking that promise out, I feel sorry for that person. God's not messing with them. They have placed themselves in front of a declaration of a child of God who is saying that any weapon formed against me can't prosper and that person places himself there. But you see, people really aren't our enemy. Yes, if someone wants to attack you with a baseball bat, defend yourself. Take him out. But we need to understand what is behind it all.

In John 10:10 Jesus said the thief comes to steal, to kill, and to destroy. I am come that you, you can have life more abundantly. Did you know that everything that goes on in your life. Everything that goes on in this world. There will be a spirit kingdom behind it. It will either be the kingdom of darkness or the kingdom of light. It doesn't matter if the people that he's using are innocent, unaware, or know exactly what they're doing. There is always a spirit force behind. It is either bringing life or it is bringing death. It is stealing, killing, and destroying. Both are a continuum. So you need to know that we have an enemy who's always trying to steal. Until you get to heaven, he's going to be messing with you. Then it goes on to say in Ephesians 6, "For we do not wrestle flesh and blood". Recognize even if we have to do things in dealing with people, if you are not dealing with the force that is behind. Behind everything that goes on in this physical world is a spiritual world. And people they ignore that to their own peril.

Now, I know some churches take it to crazy places and I don't. I always stick to the Epistles, to the Word of God. That I'm not wrestling fresh and blood. If there's a problem in my life, it's never just a person or a situation. That problem has a spirit force. Now then you ask yourself, "Well, how do I deal with that"? Well, before I get to that, let's look at another way of recognizing the enemy. In Galatians 3:13, it says, "Christ has redeemed me from the curse of the law". It says, "He's become a curse for me". The curse, and it's written in its entirety in Deuteronomy 28:15 and on. It's listing over 50 verses of things that you are to consider a curse. And if it is a curse, you are not to accept it. You are to resist it. You are to come against it. You are to declare the blessing of God and not allow this curse.

And there's got to be something in you that just all rises up when any part of a curse comes. Meaning, poverty, sickness, confusion, kidnapping. I mean, it goes on and on listing all the things that are a part of the curse. Well, then if I'm not to accept this and I can only, and God will give me wisdom to deal with things in the physical world. He'll give me strength to deal with things in the physical world. But to stop something in the physical world like a person attacking you or a situation that is hurting you. If you don't deal with the spirit force that is behind it. He'll just find someone else. He'll just find another situation.

So what is my weapon? What can I do that has an impact on the kingdom of darkness? What can I do that begins to make my way clear? I mean, when you look at the Word here. There's something so simple, so potent. And it says this, in Ephesians 6, it talks about all of the armour. This armour is the armour of somebody who prays. This is an armour that is never taken off. My armour is on while I sleep. My armour is on while I play. My armour is on while I'm at the beach. My armour is on while I preach. My armour is on all the time. Because each piece of the armour is a revelation and understanding of who I am and what I am and my purpose and what Jesus did on the cross that can't ever be taken away from me.

So when you go, and a person is going through life and you see an arrow coming and you're wearing a breastplate and you know it's going to stop it. You're not cowering. You're not running. If you've got a helmet on of salvation, the Bible calls it. And a clubs coming at your head, you're not freaking or moving. That thing can't get through the helmet of salvation. When you recognize that the shield of faith stops all the fiery attacks of the enemy. You no longer are cowering. And David put something so unique that people miss it. He says, "Me? I am sitting down at a table eating the blessing of food with family and friends". Because a table and sitting down in a table is for friends and family and for prosperity and food and something to drink.

I'm not cowering. I'm living and I refuse to give in to some kind of fear. Anywhere in your life rise up and recognize He prepares a table for you in the very presence of your enemies both physical and spiritual. And when you understand the incredible favour and blessing of God, you will no longer live like the world lives. The Bible says you are not of this world system. You are not of the kingdom of darkness. 2 Corinthians 4:4 says that Satan is the God of this world. That explains a lot to people who keep saying things like this to me. "Why does God allow this to happen? And if God's in control". God's not in control. He gave control to mankind. And in we allowed this fallen angel to slip in. This defeated foe who sets up a kingdom and people will follow him, and they don't understand. But you and I, we understand. We know the only hope that you and I have is to understand how to get up and to speak and to declare the Word of God.

Now, the Bible says in Ephesian 6 that the Word of God, that the sword of the Spirit is the Word of God praying. What can you do about the things going on in your world? Your health, your marriage, your home. How you feel. The depression. The personality disorders. The things that push against. I don't know. Take a pick. Christians they lose misunderstanding the Bible's not some pathetic little religious book like every other one. It is God speaking through 40 men over the course of 1600 years to write this out and give us an understanding of how to walk on this planet with authority, in dominion, how to prophesy your future, how to declare, and speak the Word of God. When you begin to speak God's Word, you are pulling out the sword of the Spirit.

And by the way, I don't even think about the devil. Like I'm talking right now about pulling out the sword of the Spirit. And it doesn't mean that every time I confess the Word, that I'm thinking about the devil. No! I just know that because he was defeated at the cross. That when I get up and say something like, "The Lord is my shepherd. I shall not want". It means that the favour and the blessing of God are on my life. I don't need anything because I've got it. God's so good in my life. When it talks about He leads me by still waters. And yes, quietness and joy and peace and His favour is in my life, in my mind, in my relationships, on my body. And you begin to recognize that to declare the promises of God. They are unstoppable.

The Bible says in Peter, 1 Peter 2:24 says that we were healed. That God's Word is incorruptible seed. It means unstoppable, unkillable. When Jesus was rising up and about to go out and do miracles. The enemy first tempted Him. You know what Jesus did? He repeated three verses out of the entire Bible. Three verses! And He just said, "It is written". And the devil lead something else. It is written. And the devil tried to claim up, you know, throw a verse back at Him. He said, "And it is written. Go"! And the enemy left Him. If we can understand by watching Jesus. That are you speaking His Word? If you're not, you've never pulled the sword out of the scabbard. It's probably so covered in cobwebs because it's never come out. Unless you are speaking the Word. You! Then you are not taking that sword of the Spirit out. You are not moving into new territory doing new things. Walking in the blessing, the favour of God. We've got to understand how to rise up in this world.

Now besides you and your personal life, let's talk about family. Let's talk about your career. Let's talk about all of these areas and recognize the only way you and I are going to be able to see our cities, our neighborhoods, our provinces, states, countries, rise up is that the church of Jesus Christ rises up. I've seen so many times someone comes to our church, marriages struggling. They're mind is all over the place. They're so worried and fearful and irritable and angry and vindictive and blaming everybody else. And they sit under God's Word and they began to find peace and joy and marriages get restored. Their career rises up, money begins to flow. And then about half of them so far, they just don't need church anymore. They've finally got their needs met. They've discovered how they can have what they want.

It's wonderful to know your rights and your privileges as a child of God. But I've got news for you. Your rights and your privileges will never fulfill you. But what does is your duties and your responsibility. When you read the Bible, you get an incredible sense of men and women of God who they knew how blessed they were. They knew their rights and privileges so the enemy can never touch it, never take it away. But they got up with a sense of responsibility of taking this Gospel to the world. They got up with a sense of duty that, to rise up and share with neighbors. You can't retreat into your little cottage, your little house, your beautiful car and think that you're going to live out your life carefree. If you don't help the church of Jesus Christ, be a part of the church of Jesus Christ. Jesus said, "I will build my church and the gates of hell will prevail against it".

If the church of Jesus Christ is not being built. There's a whole another message here but listen close. If the church of Jesus Christ is not being built, then countries, continents will go dark because it is the church of Jesus Christ. Not the fake church. Not the religious church. Not the, you know, that just to play around with a whole bunch of entertainment church. But the church of Jesus that is winning the lost. That equipping the saints for the work of the ministry till they become mature in God's Word. Then that is when you can see cities begin to glow and rise up with the favour and the blessing of God. In this Ephesians 6, portion of Scripture the apostle Paul is teaching Christians. That as you grow in the Word, you are putting on the stunning armour.

Now, if all you know is salvation, then you've got the helmet for warfare on and that's it. How foolish would it look to watch a soldier walk on to the battlefield and nothing but a helmet. What's he going to do? He got no sword, no shield, no belt. He got no shoes. Going, "What in the world"? Yet a ton of Christians never go beyond salvation. And they wonder why every arrow hits them. Every blow knocks them out. They wonder why their feet are so ripped up and they can't seem to go anywhere while they're lying in the puddle bawling and squalling. Because all they've got is their helmet on and they're buck naked other than that. Oh, then we got somebody who moves a little bit further than that. He got the helmet on, and you know what, he's learned a little bit about truth. So he's got his belt on. No breastplate. He's got no shoes, no shield. But he's learned a little bit about, and the same thing.

As you grow in the Word, you begin to develop this armour. And this armour stops everything the enemy tries to throw at you. So you can literally sit down with enemies all around attacking you. You can sit at a table and begin to eat and laugh and talk with friends and family. And go, "What? Why aren't you hiding behind trees? Why aren't you running for your life"? Because the armour that I have put on through study and meditation of God's Word stops all the lying darts of the enemy. The enemy's got no power except to turn human beings power against them. When you recognize that, you begin to have a confidence. You begin to rise up with a sense of strength. And you begin to know that no weapon formed against me shall prosper. I want to challenge you today. You need to start speaking the Word of God.

Prayer is a couple of things. It is a relationship with God, talking with Him, keeping the lines of communication open which you can do all day nonstop. But then there is the spoken word. The Bible says the sword of the Spirit is the Word of God praying always. Now, the word there for Word isn't logos. Whenever you see the word God's Word or Scriptures. There's different Greek words. For example, the word "Graphe" in the Greek is the Scriptures. The written Scriptures. The word Logos when you see Scriptures in God's Word is the beautiful amazing revelation of God's Word. But the Word here is the word "Rhema". And the word "Rhema" means the spoken word.

There are people sitting here right now watching me all over this planet or right here at this drive-in church. You know the word so well, but you are getting beaten up in every area of life or in an area of life because you don't realize that the Word in your Bible, that the Word just in your head, that the Word just kept inside of you. That it's not doing anything. The sword is not the sword of the Spirit till it's the Word of God speaking. The Word of God praying. The Word of God declaring. The Word of God prophesying. When the Bible talks about now that he wants us to bring prayers and supplications. Praying. What is praying and supplicating? Supplicating means to be declaring a petition, to say what is already.

So when I said this, "The Lord is my shepherd". It's not, "Well, I'm sure hoping that I'm really praying. That God's going to be my shepherd because I really need some of that guidance around here. God, where are you"? No. The Lord is my shepherd and I lack for nothing. It is a declaration of God's Word and the promises of God's Word. If you do not begin to declare the promises of God's Word, not only are you going to walk out a bunch of heartache and hurt. But your kids will never learn to declare the Word. They won't know who they are. You need to make an absolute practice of wherever you are, whatever you do, that you begin to declare what your future will be according to the Word of God.