Kenneth Copeland - Finding Wisdom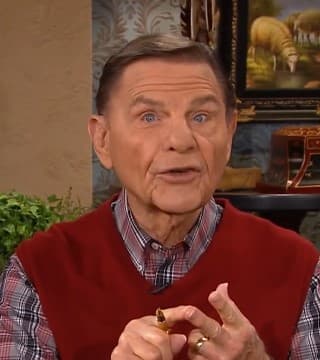 TOPICS:


— Hello, everybody. I'm Kenneth Copeland. This is The Believer's Voice of Victory broadcast. Now, listen to me. You need to say this every day: "Today, we're one day closer to the resurrection. We're one day closer to my birthday and we're one day closer to Christmas". Glory to God. Two out of three of those, we know what day that is, but I say it every day, we're one day closer to the resurrection. Glory to God. Thank You, Jesus. Father, we thank You. We're so blessed and we're so thrilled to have You as our Father, our wonderful glorious Father. And we thank You Jesus, for being our big blood Brother. And we thank You, Holy Spirit for dwelling within us. And You are where the wisdom of God lives and You live in us. And that means that the wisdom of our Father resides inside of us. And we thank You for it. And we praise You for it, in Jesus' name amen. Now, would you welcome Miss Sarah Pearsons to this broadcast today? Glory to God. Amen. Whom I haven't seen since the dedication of the church. And you're just as good looking as you were then.

— Thank you, Pawpaw. Thank you.

— Isn't she pretty? Hallelujah. Well, they're both pretty people inside and out. Let me get, oh, hello cup! Hey, that's kind of neat. The golden text for this entire series: Proverbs chapter four, verse seven. "Wisdom is the principle thing, therefore get it. Get it, go after it. And with all you're getting, get understanding. Exalt her, she will promote thee, she shall bring thee to honor when you do embrace her. She shall give to your head, an ornament of grace. A crown of glory shall she deliver to thee". "Hear, oh my son and receive my saying and the years of our life shall be plenty". Glory to God. Father, we thank You, today so good. Now, let's go back. Two things that I want to get to Jeremy, let's go to the Book of James, please. What a magnificent book, written by Jesus' half brother. That makes it even more special because he watched all this work. Amen. Now, they had a hard time with him. Well, how would you like to have Jesus for your big brother? Never made a mistake. Never said anything wrong. "Why can't you be like, Jesus? Why can't you"? Well, now we can, but we couldn't then. Thank You, Lord Jesus. Right here in this first chapter, "James, a servant of God and of the Lord, Jesus Christ, to the 12 tribes, which are scattered abroad. Greetings. My brethren, count it all joy when you fall into different, divers or different temptations, tests and trials, knowing this, that the trying of your faith works patience. Let patience have her perfect work that you may be entire wanting nothing". If any of you, you out there in radio or television. I'm pointing, I'm looking right, any of you, any human being anywhere on the face of the earth, any of you lack wisdom about anything, you lack wisdom about your finances. You lack wisdom about your children. You lack wisdom about, I don't care what it is. About the church, the new building of the church. Like when Jeremy and Sarah founded a new church out of something where there never had been a church. Out of a property that really needed a lot of work. And you needed to know in exactly what place and exactly where that church needed to be, you need the wisdom of God. "Let him ask of God that giveth to all men liberally and upbraideth not". To upbraid means to find fault. "And it will be given him if," here we are back home again, where faith lives. "Let him ask in faith, nothing wavering. For he that wavers is like a wave of the sea, driven with the wind and tossed. Let not that man think that he shall receive anything of the Lord". Not just wisdom, but what I believe the Lord would have us see here and major on, you always, you always have to keep one hand on faith and one hand on the love of God. I don't care what you're talking about. If you're teaching on the righteousness of God, the new birth, wisdom, whatever it is, it is received by faith, nothing wavering. "For a double-minded man is unstable". "Well maybe it's this. No, I think it's that. No, I don't know which one it is". In all of his ways. Amen. So now, and I know all of this class and all of us know this, but we need to see exactly what faith is. So I'm going to Hebrews chapter 11, verse 1 in the Classic Amplified. So if you don't have that, just listen. "Now faith is," so if it isn't now, it isn't faith. "Now faith is the assurance, the confirmation, the title deed of the things we hope for, being the proof of things we do not see and the conviction of their reality. Faith perceiving as real fact, what is not revealed to the senses". Now, faith is an invisible force, but you can certainly see the results of it. So now we know how this is to be received. So what did we do last week? We went to 1 Corinthians 1:30: "For Jesus is made unto us," can you remember what it said? Huh? "Wisdom, righteousness and sanctification". He's made unto us. So now we have two witnesses from the book of James and 1 Corinthians. "Out of the mouth of two witnesses, let it be established". But now we know that it belongs to us because last week we read in the scripture in the Book of Proverbs where it says, "The wisdom of God is stored up for us". Amen. But then it has to be by faith. Praise God. All right, Jeremy.

— Well, if you think about, take it all back to the way we were born again, and it never gets any more complicated than that. How did you receive the gift of grace? Jesus, who is the gift of grace, there was no receiving him apart from what? Faith.

— That's right.

— People say, "We're born again by grace". Well, hold on. "Well, no, no, no. We're born again by faith". Well, not exactly. We're born again by grace through faith. That's how we receive that gift. We received the gift of Jesus. Now, take what Pawpaw just said about 1 Corinthians 1:30, "Jesus, who is our wisdom". So how do you receive wisdom? The same way you receive Jesus, by grace through faith.

— Yes.

— Right?

— You take title deed of it.

— So this is what James chapter one said.

— We did that in the New Birth and didn't realize what we were doing, because I didn't even know what it was. I knew there was a new birth because I was raised in Southern Baptist environment. Gloria had never heard of it, but you believed it. It became yours. I mean you owned it. Now, I didn't know how to go through all of that, but oh, I believed it.

— Yeah. And that's all He required of me.

— It's all He required of me.

— Sarah said it like this one time, she said, "His grace," actually the Lord said it to you this way, He said, "My grace is sufficient for you and your faith is sufficient for me".

— Oh, that's good.

— Isn't that good?

— Yeah. That's a Sarah-ism.

— That's a Sarah-ism. But the Lord also, talk about how the Lord said it to you in regards to the table and the relationship between grace and faith, because this is what we're talking about. In receiving the wisdom of God, could it really be this simple, that all He requires is that you ask? But they put one qualifier on it, that you ask in faith. That's the confidence that He wants me to have it. That's how you ask in faith, knowing he wants me to have it. Talk about it in terms of, we're sitting here at this table, how'd the Lord say that to you, in this relationship of receiving by faith.

— I just think about Jesus having set the table for us, of all the wonderful things He's done for us. He's given us, like we've got a platter of fruit right here, but a platter of peace. And we've got a pitcher of joy and you've got provision and you've got healing on the table and you've got wisdom on the table. Everything that, if we recognize what He's done for us and what He's put there by grace, then it's up to us to sit down at the table and receive.

— Yes it is.

— What He said to me was, "Grace sets the table and faith eats".

— That's good.

— Faith eats everything on the plate. You have to come to the table, you have to, I look at it through all, oh man, if you at the table in scripture, it's beautiful. And what Jesus said, even in the book of revelation, "Behold, I stand at the door and I knock. If you'll let me, if you'll come in and you'll let me come in, I'll sit down with you and I'll have a supper with you. I'll dine with you". And you just think about how beautiful this spread is on the table, but think about how many people don't answer, don't come when he invites.

— Well, it's the 23rd Psalm.

— It is.

— Yeah.

— "I prepare a table before you and the presence of your enemies".

— And that cup is not just filled at the top...

— It runs over.

— ...it runs over. It's overflowing. So grace sets that table, but it takes faith to eat.

— It does.

— It faith to answer the call. It takes faith to say, yes. It takes faith to go after it.

— What would you think? If you prepared a meal, or you prepared a meal and you worked hard all day for it and you've got family coming and friends coming and you got a dozen places set at the table. You get done and you put everything out there and just as you put the last fork in place, the doorbell rings and here they all come in. Everybody comes in and says, "Wow, this is beautiful". You got all the food set out there and they say, "This looks good". "I'll tell you what that looks good". And they spend the next hour and a half walking around the table saying how good everything looks. And then they say, "Well, thanks for having us. See you".

— Or think about it as the chef, Jesus is the great, He's the host of the party. He's the host of the great feast...

— The marriage supper.

— ...he rings the dinner bell and He says, "It is finished. Come and get it". And it's up to us.

— Let me use this illustration. Gloria's grandfather, everybody called him Pop. Just the sweetest man. He was just a lovely, lovely man. He was wearing a watch that the watch band was held together with a paper clip stuck through the end of it. But I went to Walmart and bought a watch for him. I think I gave $40 for it, something like that. Really nice watch. And I brought it back out there to his place in Center Point and I gave him that watch. He looked at that and his eyes got big. So then the next time we were there, he had on that watch with the paper clip. I said, "Pop, where's the watch I gave you"? "Oh, Kenneth," he said, "That watch too good for me". He wouldn't wear it. Well, I wanted him to wear it. I bought it for him to wear it. Even if he had to take it apart and use a paper clip to hold a band on the thing, I wanted him to wear that. The Lord did this so we would have it. He didn't need it. He needed us to have it so that we could supply His needs in this earth. It takes the wisdom to do it, but it takes action on the wisdom to bring it to pass.

— And there it sits on the table. The wisdom of God sits right there and the Lord has prepared a table. He's given you a seat. You've been seated with Him in heavenly places, but it takes faith. Now, if all you think is, one side being grace, then you're just going to walk around the table and say, "Look how good everything looks".

— This is not the time to fast.

— That's right. But faith will sit down just like Sarah said. Faith will sit down and say, "He made this. He wants me to have it. I'm thanking you for it. And I'll take it". Yeah. We spent all last week talking about the wisdom of God and there is only one way to have it, to increase in it and this is it right here. You ask in faith, confident that He wants you to have it.

— Now, there's something else in the Book of James. "You ask and receive not because you ask amiss". Now, how could you ask amiss concerning the wisdom of God? The way you ask amiss is to number one, ask in fear. "Well, this is the wisdom of God. And I know it says all that, but oh, I'm so unworthy". Oh, shut up. I get so tired of hearing that. You are a new creature in Christ, Jesus. And He did not create any new, unworthy creatures. You were unworthy. Of course, you were, because you were not born again. Amen. But you're not an unworthy creature. We have been made the righteousness of God in Him.

— Yes. Thank You Lord.

— I could say it like this, we own His wisdom, because it's in us. Amen. We own it because He lives in here, so his wisdom is in here. How do we know that? Jesus said it. "The kingdom of God is within you". But then on the other hand, we've been raised up together in Him in heavenly places. We are seated, in my heart and mind, Jesus is at the right hand of the Father and we're at the right hand of Jesus. Glory of God, because we're one spirit with Him.

— Yeah.

— Thank You, Lord.

— Hallelujah. Praise God.

— I'm so thankful that he made it so easy to lay hold of it. You would think something so valuable, something so precious as the wisdom of God, with which He created the heavens and the earth.

— Yes He did.

— It's more valuable, like we talked about last week, more valuable than gold, more valuable than silver. You would think, well man, something that precious, something that rich, it might be hard to get to, could be hard to access it. He has made this so easy. Like Pawpaw said, he put it on the inside of you. I've come to believe that this entire life as a Christian, as a believer can be summed up like this, knowing what grace has deposited and then drawing it up by faith. It's like a deep well.

— It is. Yeah.

— Grace has made a deposit in you, now faith draws it up. How easy could he make this? He said, "Ask me for it". Now why would he require that? Because when you and I ask him for something, we are acknowledging He's the source. I'm not the source of my own wisdom. This world is not the source of my wisdom. Education, and I'm not knocking education, but it's not the source of wisdom. When you ask Him, what you are saying is, "Lord, you're the source of it. I acknowledge You as the one and only source for the wisdom that I need. I'm not going to anyone else. I'm not calling anybody else". And Sarah and I, she'll tell you this. When we got married, Meme and Pawpaw, how do you even say it? These guys have blessed us, you can imagine, in every imaginable way. Of course, with the revelation from the Word and just living out an example in front of us, all the way down to financially, materially, they have been to Sarah and I, and to our cousins and aunts and uncles and parents, just such a tremendous blessing. But she and I made a decision early on in our marriage, they're not our source.

— That's right.

— Now, whatever the Lord tells them to do, we're happy and blessed and honored to receive it, but they're not our source. And for us, that meant when a need came up, he's not my first call. Now, that would be an easy call, because I know the man. And all I'd have to say is, "Pawpaw..." That's it. He's got such a tender heart, he and Meme both, they are ready, willing to give to you. But we had to watch out for that, because as soon as I call him first, I am immediately limited by what he can do for me. And even though what he can do is a lot, it pales in comparison to what my heavenly Father can do. And I do, I tell people all the time, if you don't have a rich grandpa, you got to get one, because they are awesome. They're awesome, but as blessed and rich as God has made them in every area of life, they can't be our source. I've got to, and am I telling the truth? Is this the decision we've made? We've got to go for the Lord.

— We had to get our own God.

— That's what I was going to say. Sarah preaches it like this, "Get your own God".

— Same God.

— It is, but I can't be calling on Pawpaw's God for wisdom. Right? Am I telling the truth?

— Amen.

— Now, you mentioned going deep, drawing it up. This is where the baptism in the spirit is so vitally important. Now, when you receive Jesus as your Lord and Savior, I mean the spirit of God's in here, but Jesus said, "The spirit of the Lord is upon me". He was in Him all the time. I mean, the spirit of God is His Father. That's what the angel told Mary, but He had to be baptized in water and He had to be baptized in the Holy Spirit that opened the door to the supernatural to Him, because that's where the anointing is. We go into those wells praying in the spirit in a language we didn't learn. What reminded me of that was when Jeremy said we're limited, but you go into there, you're not limited anymore. You can enter into a place of prayer and praise and worship continually. "But Brother Copeland, I don't do that". Well, that's your fault. Are you born again? "Well, yes". Well Jesus is the gift to the world. The Holy Spirit's the gift to the church. A gift to every born again believer. Everyone. And how did, in the gospel of Luke, "It gives your father great pleasure to give you not only the kingdom, but to give you the Holy Spirit for those that ask Him". Ask... Knock... Seek... He didn't say you might. And here we are, out of time again. Praise the Lord. Give the Lord a praise and we'll be back in just a few minutes.