Kenneth Copeland - Walking by Faith Is Walking in Power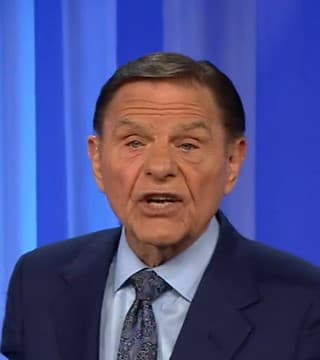 TOPICS:


Ephesians Chapter 2, I'm telling you the second chapter of Ephesians, it is so powerful. And you, say me. "And you hath he made alive who were dead in trespasses and sins, wherein in times past you walked," I certainly did, "according to the course of this world, according to the prince of the power of the air, the spirit that now works in the children of disobedience, among whom also we all had our manner of life in times past in the lusts of the flesh, fulfilling the desires of the flesh and of the mind. And were by nature the children of wrath, even as others. But God, who is rich in mercy, for his great love wherewith he loved us because he is so good". He loved us in the middle of that trash. "Even when we were dead in sin has made us alive together with the anointed one. By grace you are saved, and has raised us up together and made us to sit together in heavenly places in Christ Jesus". You are already in heaven. You already have a presence there.

Now let me just throw something here, whether you agreed with the last election or not. Now my dad, A.W. Copeland, used to be a Democrat and he changed over to being a Republican. Do you think this election made any difference to him? He's in heaven, he doesn't care. Amen. Well, I already have a presence there and so do you. So quit worrying about it. If you don't like it, turn the news off. Get over it, Gloria says. Whatever it is. Something happened in the family. I don't care how serious, somewhere you have to deal with it and get over it. Because you and I should be thinking above and not beneath. How? By faith. By faith. Let that spiritual force take over and do its work, and the love of God, amen. Thank you Jesus.

Now then, we're not done here yet. In verse seven, that in Christ Jesus so that in the ages to come, the ages to come, He might show the exceeding riches of His grace in His kindness toward us through Christ Jesus. For by grace are you saved through faith, and that not of yourselves, it is the gift of God. Well, what Brother Copeland? The grace or the faith? Both of them. But it's referring particularly to faith, not the ministry gift of faith. No, no. This is saving faith. This is saving faith. And the moment that I sat down in that chair, one shoe off and one shoe on, I'd just flown a trip from a man with the Arkansas Louisiana Gas Company by the name of Weir, and I just got back to our new furnished apartment. And my mother sent me Bibles all the time. And she wrote in the front of that Bible, "Ken precious, seek ye first the kingdom of God and His righteousness and all these things will be added unto you". Gloria read that. She saw it, well I certainly need things.

Now the church in which she was raised never mentioned born again. I was raised in the Southern Baptist Church, I had heard that phrase. Well, she said, "I certainly need things. Lord, take my life and do something with it". Well, I'd say He did. She said that in faith. She didn't say anything to me about it. Now she's praying that I find a job. We got to get out of this house that has nothing. She found a brand new furnished apartment, never had been lived in. Now you think that wasn't precious looking to us? So I flew that trip and came back that night. I accepted Jesus as Lord and I heard it in here. The Lord said, "Kenneth, if you don't get right with me, you're going to a devil's hell, boy". And I said, "I know it. I know it. I know it. But what do I do now"? I heard my Sunday school teacher say, "Boys, you have to ask Jesus to come into your heart," so I just did it.

Now, from the time I was nine years old, I was committed to profanity. Gloria said, "I'm not going out in the public with you anymore". That night it felt like I had... I could physically feel in my mouth, and when it was released, I never used profanity again. Not of any kind anytime. Amen. Now I wanted you to see that because it was the gift of God. Jesus was a gift to the world and is a gift to the world. The Holy Spirit is a gift to the church. You can't earn either one of them, they're both by faith. So now, you can't be saved without faith. Number two, Romans 1:17, Galatians 3:11, Hebrews 10:38, Habakkuk 2:4, the just shall live by faith.

So you can't live the Christian life with it, we live by faith. Our lives are sustained by faith. Everything is about faith. Let everything be by faith. There's nothing too small to use your faith, nothing too big with which to use your faith. I started to buy a pair of socks one time, and I heard the voice of the Lord in here, "Put those back and get it by faith". My socks? You need socks? I said, "Yes, I need socks". Well, what have you been doing? I still got some old socks I got from my dad. He said, "You need some new socks, boy". So I did it by faith and here came the socks. Second Corinthians 5:6 and 7, you can't walk the Christian walk without it because we walk by faith and not by sight. First Timothy 6:12, 2 Timothy 4:7, you can't fight the Christian fight without faith. Fight the fight, the good fight, of faith.

Now we need to look at that, 1 Timothy 6. Thank you, Lord Jesus. Praise God. Verse 11, "But thou, oh man of God, flee these things and follow after righteousness, godliness, faith, love, patience, meekness. Fight the good fight of faith. Lay hold on eternal life whereunto thou art also called and has professed a good profession before many witnesses". Your confession is good before many witnesses and it is by the words of your mouth that these things come to pass. Now then, 1 John 5:1 through 4, we overcome the world by faith. So you can't overcome the world without faith. Romans 14:23, whatever's not of faith is sin. What? I didn't write that. I didn't write that. You have to believe that and shape up. Amen.

Second Corinthians 1:24, "We stand by faith". Romans 11:20 says the same thing. And this one, we have to look at this one, Ephesians 6, and I want you to notice the words. Verse 10, "Finally, my brethren, be strong in the Lord and in the power of His might. Put on the whole armor of God that you may be able to stand against the wiles of the devil. For we wrestle not against flesh and blood, but against principalities, against powers, against rulers of the darkness of this world, against spiritual wickedness in high places. Wherefore take unto you the whole armor of God that you may be able to withstand in the evil day and having done all, to stand".

Well what do you do having done all? What is having done all? You go get the scriptures, you go get the verses. They promise you what you need. You go find those out before you even pray the prayer. Pray the Word of God. That's the answer to the prayer and pray it around what the Word says. Amen. Because the Word is good. And faith comes by hearing and hearing by the Word of God. Therefore stand, having your loins girt about with truth, the Word, having on the breastplate of righteousness. How? By faith. Now this is the armor of God. Your feet shod with the preparation of the Gospel of peace. Well, what did the apostle Paul say? He said that the Gospel is the power of God unto salvation. Having your feet, your shoes are power. You're walking in power. Why? You're walking by faith. Glory to God.

Every step of it in the name of Jesus. Your feet shod with the preparation of the Gospel of peace. Above all. Say above all. Above all, taking the shield of faith, wherewith you shall be able to quench all the fiery darts of the wicked. Take the helmet of salvation, which was by faith, the sword of the spirit, which is by faith, which is the Word of God. Praying always. Praying always with all kinds of prayer. Glory be to God. And you cannot be blessed without it.

This final scripture in the third Chapter of the book of Galatians. Wow. Glory be to God. Oh, if I only had time to go through the Book of Colossians. All strengthened with all might according to His power, unto all patience and longsuffering with joyfulness, giving thanks unto the Father which made us able to be partakers of the inheritance of the saints in light who has already delivered us from the authority of darkness and has translated us into the agape kingdom of His Son, in Him we have redemption through His blood, even the forgiveness of Christ, who is the image of the invisible God, the first born. The first born. Glory to God. He is no longer the only begotten son of God, He is the first born of many brethren. You are born again. You have firstborn status. We are joint heirs with Him. We are not sub-heirs, we are joint heirs and by faith we diligently seek Him and by faith we walk in this, and by faith we are His workmanship, not our own lest any of us should boast. Hallelujah. Glory.

I just think I'll just stand here and preach faith a little while. Yes. Glory to God. Hallelujah. Glory be to God. Glory be to God. Glory, glory, glory, glory. Glory to God. Oh glory to God. Oh, thank you Jesus. Oh, Galatians, this powerful, powerful, powerful faith book. This whole book is just faith, faith, faith, faith, faith, particularly the third chapter of the Book of Galatians. Well, just for sake of time, we'll start off with the eighth verse, "And the scripture, in the beginning was the Word and the Word was with God and the Word was God. So God. The scripture foreseeing that God would justify the heathen through faith, through faith, through faith, preached. God preached the gospel to Abraham saying in thee shall all nations be blessed. Blessed with faithful Abraham. For as many as are the works of the law are under the curse, for it is written cursed is everyone that continues not in all things which are written in the book of the law to do them. But that no man, no woman is justified or made righteous by the law in the sight of God. It is evident for the just shall live by faith. The law is not on faith, but the man that does them shall live in them. Christ has redeemed us from the curse of the law, being made a curse for us. For it is written cursed is everyone that hangeth on a tree so that the blessing of Abraham might come on all the rest of us through Jesus Christ that we might receive the promise of the Spirit through faith".

And then verse 26. You're all the children of God by faith in Christ Jesus. For as many as you have been baptized into Christ have put on Christ. There is neither Jew nor Greek, there is neither bond nor free, neither is any male or female for you are all one in Christ Jesus. And if you be Christ, or if you be in Christ, then are you Abraham's seed and heirs according to the promise. Oh Lord Jesus. Don't even turn there. Have faith in God. Have the God kind of faith. Have the faith of God. For verily I say unto you that whosoever, I am a whosoever and you're a whosoever, shall say unto this mountain be thou removed and be thou cast into the sea and shall not doubt in his heart but shall believe that those things which he saith shall come to pass, he shall have whatsoever he says. Therefore, I say unto you, what things soever you desire when you pray, believe that you receive them, you shall have them, and when you stand praying, forgive if you have ought against any. Faith in God.

Brother Copeland, you don't know what happened to me. Well, have faith in God. What about my finances? Have faith in God. Hallelujah. But Brother Copeland, I don't care what it was, have faith in God. Stop what you're doing right now and start your faith working again. Put a rag in your mouth and if you can't speak faith, shut up. Don't be saying anything. I remember someone that came up right in front of me. That faith stuff don't work for me. Well, before I could think, and she came up out of it, it just did. In closing this, the reason it's so important to be covenant aware is because there is a faith side and a curse side, your choice, my choice. To choose life, you choose life words. The power of death and life are in the power of the tongue.