Kenneth Copeland - Above and Not Beneath by Faith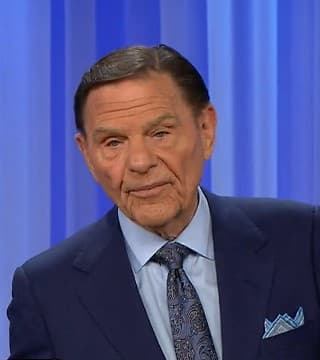 TOPICS:


Why is it impossible to please God without faith? What is his primary focus? You have to go back to the book of Genesis to find the primary focus of God, the blessing. Well, Adam messed it up, but that didn't mean he didn't continue to be blessed, because he did. But then you come down through the years and you come to a man by the name of Abram. What was Abram? His name was covenant changed to Abraham. The H in the middle of his name is Hashem, God in the middle of Abraham. You'll no longer be called Abram, but Abraham. No longer a father, but the father of many nations. What was Abraham's qualification? He would teach his children. And what was outstanding about him? He did everything by faith. He believed God, and it was accounted unto him for righteousness.

Now, that turned. That accounting went over into the positive side of the ledger. It is no longer accounted to us for righteousness. Turn 2 Corinthians chapter five. Oh, this is a great chapter. Verse six. "Therefore we are always confident, knowing that whilst we are at home in the body, we're absent from the Lord". Now, here it is. Listen. This is one of the reasons it's impossible to please him without faith. "For we walk by faith and not by sight". If you don't know anything else, you're on your way where faith is concerned. We don't walk by what we see or what we feel or what we hear or what other people say. We walk by faith. Faith comes by hearing and hearing by the Word of God. We walk by faith. We walk by faith and not by sight. Now, thank you, Lord Jesus.

Let's go over then to the 17th verse. "Therefore, if any man, any person be in Christ, he is a new creature. Old things," what old things? That old nature, that old devil nature before you accepted Jesus. It seemed to me like before I met Jesus, everything I liked, illegal immoral or fattening. I mean, now, I didn't like things that were illegal, but I didn't mind stretching it a little bit to get what I wanted. And more than once, it like to got me killed. Thank God for the prayers of my mother. Thank God for the prayers of my mother, because I really did. I just tried to go to hell and my mother wouldn't let me go. "But that old nature is passed away and behold, all things become new and all things are of God who has already reconciled us to himself by Jesus Christ and has given to us the ministry of reconciliation". What is that? "To know that God was in Christ, reconciling the world unto himself, not imputing their trespasses unto them and hath committed unto us the word of reconciliation. Now, then we are ambassadors for Christ as though God did beseech you by us. We pray you in Christ's stead you be reconciled to God".

Now, look at this. "By faith, righteousness... By faith righteousness was accredited to Abraham, for he hath made him to be sin for us who knew no sin". That's a little scrambled up. "For he who knew no sin was made to be sin for us, that we might be made the righteousness of God in him". Made. You didn't grow into it. There's a religious idea, not understanding what righteousness is, righteousness, that's an old way of saying right, being right with God. He made us right with him. We didn't grow into that because we did so good. November the second, 1962 in that little kitchen, I accepted Jesus Christ as my Lord and savior. I became a new creature. I didn't know it then, but I was. And at that moment I was made the righteousness of God in him.

Now, let me say this to you. At that moment, you became as righteous as you will ever be, because you are just as righteous in the sight of God as Jesus is. Now, that'll shake your kinfolk up. But if you go to Jesus' prayer at the covenant meal in the 17th chapter of John's gospel, 13, 14, 15, 16, 17th chapters of the book of John, all of that was over the last covenant meal just hours before he went to the cross and brought the second covenant into being. Amen. Thank you, Jesus. Now, have we arrived at someplace? God is a good God. All of this had to do with God blessing Adam. The first words any human being ever heard. Now, when God said, "Man, be in our likeness," he didn't hear that. But then God breathed. I saw this in a powerful, powerful vision. I saw there was God. You have to understand this. I don't have time to get through to you this morning, but all things were created by and for him. Because he was a man, he was the lamb slain before the foundation of the world.

Now, when you understand how God created everything by faith, you find that right there in the eleventh chapter of the book of Hebrews, he created everything by faith. He believed it and said it, and it was. When you understand what the Bible is saying, what do you have to have to be scriptural? Scriptures. I wasn't smart enough to figure that out. Keith Moore said that. I'd like to be like my spiritual father in the faith, Oral Roberts. He said, I was preaching on the name of Jesus, and he said, "Kenneth," he said, "That's a wonderful sermon. I want the outline to that". I said, "Okay". So I just gave it to him. It was very easy, just a three point outline. And he said, "Now the first time I preach it, I'm going to say, Brother Copeland said. The second time I preach it, I'm going to say someone said. And after that, you're on your own, brother". Thank you, Jesus. Thank you, Lord. Praise God.

Made to be right with God. People have confused righteousness and holiness. They are not the same thing. We've been made the righteousness of God, and we become holy as he is holy, and that's what the fruit of the spirit. It's not the fruit of the Holy Spirit. Of course it came through the Holy Spirit because he's in here. It's the fruit born by your born again spirit. Amen. And here again, the translators made a capital S there and there's no punctuation marks and there's no capital or small letters in either language concerning, and how they match up with the English language. So you find things in italics and so forth that the translators added. Well, if they can add it, we can take it out. And sometimes it's good and sometimes it's not all that good. And sometimes a comma can just change everything. If I had time, I would take you to a place where a comma has caused great, serious problems. I don't have time to do it.

Now then, Ephesians chapter two. Now, everybody's familiar with these verses, but we need to put our eyes on these things. Ephesians chapter two. I'm telling you this, this second chapter of Ephesians is... It is so powerful. "And you hath he made alive who were dead in trespasses and sins, wherein in times past you walked," I certainly did, "according to the course of this world, according to the prince of the power of the air, the spirit that now works in the children of disobedience, among whom also we all had our manner of life in times past in the lusts of the flesh, fulfilling the desires of the flesh and of the mind. And were by nature the children of wrath, even as others. But God, who is rich in mercy, for his great love wherewith he loved us because he is so good". He loved us in the middle of that trash. "Even when we were dead in sin has made us alive together with the anointed one. By grace you are saved, and has raised us up together and made us to sit together in heavenly places in Christ Jesus". You are already in heaven. You already have a presence there.

Now, let me just throw something here. Whether you agreed with the last election or not. Now, my dad, A.W. Copeland, used to be a Democrat and he changed over to being a Republican. Do you think this election made any difference to him? He's in heaven. He doesn't care. Amen. Well, I already have a presence there and so do you. So quit worrying about it. If you don't like it, turn the news off. "Get over it," Gloria said. Whatever it is, something happened in the family. I don't care how serious, somewhere you have to deal with it and get over it, because you and I should be thinking above and not beneath. How? By faith, by faith, that spiritual force take over and do its work and the love of God, amen. Thank you, Jesus.

Now then, we're not done here yet. That in verse seven, "That in Christ Jesus, so that in the ages to come, the ages to come, he might show the exceeding riches of his grace and his kindness toward us through Christ Jesus. For by grace are you saved through faith, and that not of yourselves, it is the gift of God". Well what, Brother Copeland? The grace or the faith? Both of them. But it's referring particularly to faith. Not the ministry gift of faith. No, no. This is saving faith. This is saving faith. And the moment that I sat down in that chair, one shoe off and one shoe on, I'd just flown a trip from a man with the Arkansas Louisiana Gas Company by the name of Weir and I just got back, got back to our new furnished apartment and I was so thrilled with this new job, I messed up the other job. As I was out hunting a job in a house that we were going to get rich off of this business, other people did. But it was not the will of God for us to be there in the first place. We didn't know it.

So we bought this three bedroom home on a lease purchase agreement and the product, because I had sales experience, that I was out selling this stuff. And it was a particular type of home insulation that I'm telling you, it was an amazing product. And I got out and sold a bunch of it. And we put the order into the company and the product was to come in and it didn't show up. We couldn't figure out why it didn't show up. We had the number of the freight car and I was over close to the airport there in Little Rock, and I saw the freight car going out of town. Well, I didn't have a cell phone, dumb, dumb. So, I ran to the first phone booth I could find. If I hadn't have had a nickel I'd have been in trouble. But I did, and call Harvey. I said, "There it goes".

Well, he jumped on the phone and called. It was headed to Kansas City. Well, they finally did get it, and other people did make money, but we were out of money. Gloria quit her job to work for us, and we were in this three bedroom home. Thank goodness it was in the winter, God's goodness, and no refrigerator. We did have electricity. My mother and dad had sent us a 25 pound sack of potatoes. We didn't tell anybody the condition that we were in. Gloria and I made a pact in the beginning, we don't do that. We're not going home to mama or daddy. I mean, we're it. So, we had a big percolator coffee pot. And for you kids, it's a big pot. You boil the water in this percolator, you stick it down in the top and you put your coffee in the top of it, and it goes... Maxwell House used to have a little pot that said... "Pom Pom Pom". You could see it and boil up and go through the little glass thing in the top. You old guys are sitting there, shaking your heads.

Well, Gloria was peeling those potatoes, clashing them, whatever you could do and boiling them in the bottom... I got so tired of boiled potatoes. But anyway, in that room, sitting there with a coffee table that I made in metal shop in high school. Now, she talks ugly about that coffee table, but I did a pretty good job on that coffee table. I worked hard that coffee table. It had a glass top and a glass shelf underneath. And my mother sent me Bibles all the time. And she wrote in the front of that Bible, "Ken, precious, seek ye first the kingdom of God and his righteousness and all these things will be added unto you". Gloria read that. She saw it. Well, I certainly need things.

Now, the church in which she was raised never mentioned born again. I was raised in a Southern Baptist church, I had heard that phrase. Well, she said, "Well, I certainly need things. Lord, take my life and do something with it". Well, I'd say he did. But she said that in faith. She didn't say anything to me about it. Now she's praying that I find a job. We've got to get out of this house that has nothing. She found a brand new furnished apartment, never had been lived in. Now, you think that wasn't precious-looking to us? So, I flew that trip and came back that night. I accepted Jesus as Lord and I heard it in here. The Lord said, "Kenneth, if you don't get right with me, you're going to a devil's hell, boy". And I said, "I know it. I know it. I know it. But what do I do now"? I heard my Sunday school teacher say, "Boys, you have to ask Jesus to come into your heart," so I just did it.

Now, from the time I was nine years old, I was committed to profanity. Gloria said, "I'm not going out in the public with you anymore". That night, it felt like I could physically feel in my mouth. And when it was released, I never used profanity again. Not of any kind, anytime. Amen. Now, I wanted you to see that because it was the gift of God. Jesus was a gift to the world and is a gift to the world. The Holy Spirit is a gift to the church. You can't earn either one of them. They're both by faith.