Kenneth Copeland - God Is Absolute Good God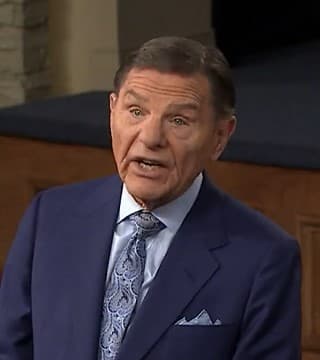 TOPICS:


Jesus said it. He comes but for to steal. Because he didn't have anything, he has to steal it. He didn't own anything. He has to steal it. What is he after? Jesus said, he comes immediately to steal the Word. If he can steal the Word then he can kill, and then he can destroy. Don't let him at it. Amen. The more you know the goodness of God, the more you know the badness of the devil. Did God create heaven or not? Now, hell is as bad as heaven is good. Now, Brother Copeland, you said He never created anything bad. Well, that's a jail. Jails are good. He did not create that for men. For whom did He create it? The devil and his angels. God has never sent anybody to hell. That was not His choice. Now, the dividing line of the covenants.

Now, this is where it's so important to become covenant-minded. I've said it over, and over, and over again. Why is this referred to as God's Word? Because it's His bond. These are sworn oaths. The first covenant started off in the blood of animals. Actually, the first covenant was when God handmade clothes for His man and the man's wife, when they came up with fig leaves, fig-leaf suit. Anyway, He covered them. That animal had to die, shed blood, because this was the first act of a man trying to meet his own needs without God. God immediately met his need and entered covenant with him. Hallelujah. Then it went from there, the goodness of God just shows through this, and His kindness, and His mercy, in Hebrew, hesed.

It's a hard word to grasp because its meaning is in... It's covenant word. It comes from covenant. It's the mercy of covenant when the big enters into covenant with the smaller and then provides for the smaller on an equal basis. It's translated mercy. It's translated, loving kindness. Back before I even knew how to pronounce it, first time I've heard of it, the man that began to teach me about it called it hesed. I don't know how to pronounce it, but it's hesed. It's actually chesed. You see it in the New Testament, if you know it. Now, Jesus said, "Who do men say that I am or the Christ"? They said, "The son of David". Son of David, well, think about it. What did Bartimaeus say? He used to be blind. He's no longer blind, Bartimaeus. "Son of David, have mercy on me". In covenant speech, it would be, "Son of David, Messiah, do hesed for me. Do hesed for me".

I heard Gloria preaching this in Healing School one time. She just leaned over here on the pulpit and she said ... Of course, she's just calling him over there. She said it like this, "Bartimaeus, what do you want me to do for you"? Now listen, because I learned something from her right here. He said, "Lord, that I would receive my sight". Then Gloria said, "See, he knew what he wanted, but he needed to say it". I witnessed something like this. He could have come up there and said, "Jesus, I can put up with this blindness because I'm a beggar, and I do well at it. There's my back". "Oh, what can I do for you, Bartimaeus"? "Lord, that I would receive my sight". He said, "Okay, be it done unto you as you believe". He's so easy. Why? He is so good.

Now, turn to John 10:10, the dividing line of the covenants. Are you doing all right? You ready to be excited? What are you waiting on? I'm all ready. I tell you, I just got the catching away of the church on my heart tonight. Gloria and I have been talking about it and she's been preaching on it. It's just, hey. I like what she said. Lyn, she said, "I want to go in the big one". You remember, what's his name, Sanford and Son? This is the big one. I want to go in the big one. I want to be here when it happens. I know I'm going to go too, but hey, I want to be here when it takes place. Oh, I tell you, Gloria. Anyway, I have different reasons to be thinking this way right now.

John chapter 10, verse seven. Then said Jesus unto them again, "Verily," you got two verilies, "I say unto you, I am the door of the sheep. All that ever come before me are thieves and robbers, but the sheep did not hear them. I am the door. By me, if any man enter in, he shall be saved, and he shall go in and go out and find pasture. The thief cometh not but for to steal, and to kill, and to destroy. I am come that they might have life and they'd might have it more abundantly. I am the good shepherd and the good shepherd gives his life for the sheep". I am the good shepherd, but He wouldn't let anybody call Him good. There is none good but one, and it's God. He is absolutely good. He is absolute light. In Him is no darkness at all. None.

How do you get the concept of that? Well, those years I've tried, and tried, and tried. Finally, the only thing I could really come up with is He is absolute good. So what temperature is absolute cold, zero heat? 459.67 degrees below zero. Absolute cold. You can't wrap your head around absolute cold, and you can't wrap your head around absolute good. He's the only thing we've ever known that was absolute good. There's no darkness in Him at all. He is light. He is light, and we are the children of light. We wear the armor of light. Glory be to God forever more.

Now then, Acts... Guess where I'm going? 10:38, where else would I go? Verse 37, "That word, I say you know, which was published throughout all Judaea, began from Galilee after the baptism which John preached, how God who is so good anointed Jesus of Nazareth with the Holy Ghost and with power, who went about doing good and healing all that were oppressed of the devil for God was with him". He is all good. Brother Copeland, that is Jesus. No it wasn't, it was God. It was God that was with Him. It was God that anointed Him. It was God who is so good, anointed Jesus who went about doing good and healing all that were oppressed of the devil, for our good God was with Him. Now, who is that living on the inside of us? The good God and His goodness is in here. He wants you well. He wants you prosperous, nothing missing, nothing broken. That's the best way that...

Well, actually we learned that from a person that had gone to Hebrew school. They're trying to explain the Hebrew greeting of shalom and the greeting was... They said, "Well, it's peace, yes, but it actually means nothing missing, nothing broken". It's translated peace. It's translated prosperity. It's translated tranquility. Amen. So, they did esteem Him stricken, smitten of God and afflicted, but He was wounded for our transgressions and bruised for our inequities and the chastisement of our shalom, our peace, our prosperity, our nothing missing, our nothing broken. Hallelujah. Glory, goodness, just goodness, goodness, goodness.

Now, go with me to the 145th Psalm. Now then, I need my iPad for this one, please sir. Thank you. Now, just let me read this to you. I'm going to read it from the Classic Amplified. "I will extol You, my God, O King. I will bless Your name forever and ever with grateful, affectionate praise. Every day with its new reasons will I bless You affectionately and gratefully praise You. Yes, I will praise Your name forever and ever. Great is the Lord and highly to be praised. His greatness is so vast and deep as to be unsearchable. One generation shall laud Your works to another and shall declare Your mighty acts. On the glorious splendor of Your majesty and on Your wondrous works will I meditate. Men shall speak of the might of Your tremendous and terrible or awesome acts. I will declare Your greatness. They shall pour forth like a fountain. The fame of Your great and abundant goodness Your great and abundant goodness and shall sing aloud of Your rightness and justice. The Lord is gracious and full of compassion, slow to anger, and abounding in hesed, and loving-kindness".

Actually loving kindness is the one who's translated hesed. "The Lord is good to all," and here's hesed again. "His tender mercies are over all His works, the entirety of things created. All your works shall praise You, O Lord. Your loving ones shall bless You affectionately and gratefully shall Your saints confess and praise You. They shall speak of the glory of Your kingdom and talk of Your power to make known to the sons of men God's mighty deeds and the glorious majesty of His kingdom. Your kingdom is everlasting kingdom, and your dominion endures throughout all generations. The Lord upholds all those of his own who are falling and raises up those who are bowed down, and the eyes of all wait for you, looking, watching, expecting you to give them their food in due season. You open your hand and satisfy every living thing with favor".

He's not close-fisted. Every living thing, He loves every living thing. He's so good. He's just open-handed. "The Lord preserves all those who love Him, but all the wicked shall He destroy or will be destroyed. My mouth shall speak the praises of the Lord, and let all flesh bless affectionately and gratefully praise His holy name forever and ever". He is good to all. I said He is good to all. 1 John 1:5, let's just read then from the first verse. "That which was from the beginning, which we have heard, which we have seen with our eyes, which we have looked upon and our hands have handled the Word of life, for the life was manifested, and we have seen".

Notice it is in italics. "We have seen, and bear witness, and show unto you that eternal life, which was with the father and was manifested unto us. That which we have seen and heard declare we unto you, that you also may have fellowship with us, and truly our fellowship is with the Father and with his Son, Jesus Christ. These things write unto you that your joy may be full. This then is the message. This is the message which we have heard from him and declare unto you. God is light and in him is no darkness at all. If we say we have fellowship with him and walk in darkness, we lie and don't tell the truth. If we walk in the light, as he is in the light, we have fellowship one with another and the blood of Jesus Christ, his Son, cleanses us from all sin," because He is so good.

"If we say that we have not sinned, we make him a liar and that couldn't be so. He's word is not in us. My little children, these things write unto you that you sin not. If any man sin, we have an advocate with the Father, Jesus Christ the righteous. He is the propitiation. He is the sacrifice for our sins, and not for ours only but also for the sins of the whole world" because He is so good. He is so good and He's our God. Hallelujah.