Kenneth Copeland - Faith Has Corresponding Action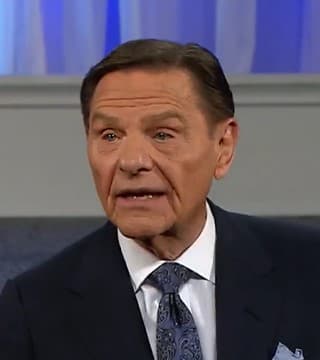 TOPICS:


Well, we're still talking about faith. Amen. Now, and I can add something to that. It was my mother's faith and her determination to never give up on me. And, so I look back on that. Now think about this, I think I mentioned earlier that little rollaway bed thing. Well right along about that time Keith's mother had prayed for me, and prayed for me, and prayed for me, and prayed for me, and she really didn't have a revelation of 1 Peter 5, but the Lord led her to do that. Just at that time, she just threw her Bible down on the kitchen table and she said, "If he goes to hell, it's Your fault. I'm not praying anymore". She really dumped it over on Him.

Two weeks later, Gloria got saved, and a week after that, I got to saved. That quick. She just put it right over there on the... she said later, she said, "If I'd have known it, I could have done that a long time ago". But she said, "I didn't know to do that". And anyway, Oh, glory to God. So let's go to Mark 5, we're still on the Fundamentals of Faith. Thank You, Jesus. Father, thank You for these wonderful, wonderful words that fell from the Master's lips. I just love it. Thank You, Lord Jesus, praise You. Hold your place there.

And let's go to the book of James. I intended to bring my Weymouth New Testament with me tonight and I walked out of the house without it. And you've heard me use this terminology, faith without corresponding action is dead. That's where that came from was the Weymouth Translation. Now it was out of print, it's also called the New Testament and Modern, what is it? Modern Speech I think. And so Kenneth Copeland publications we just put it back into print. So we have publishing on that. Just my goodness, it's one of those you just want to just sit down and just read it and own it. But now you remember in the second chapter... Well, let's just come down here to the 15th verse.

"If a brother or sister be naked and destitute of daily food. And one of you say to them, 'Depart in peace, be warmed and filled.' Notwithstanding you give them not those things, which are needful for the body. What does it profit? Even so faith, if it does not have corresponding action is dead". If it doesn't have corresponding action, it's dead. And he goes on to say, he compares it to the body without spirit is dead. Faith has to have that action. Now the classic is right here in Mark chapter 5, where the woman with the issue of blood, the woman that had the issue of blood, I can hardly wait to get to heaven and find out what her name is. I want to find out if she was married before or married after, I want to know this one, I've known her for years but amen. Thank You, Lord Jesus.

Now notice what she did. And in corresponding action. Verse 25 of chapter 5 in Mark, "A certain woman, which had an issue of blood 12 years had suffered many things of many physicians had spent all that she had". Now, this woman obviously had been a woman of means but she spent everything she had. So she's not only sick and has been sick for a long, long time. And she has been shut in for 12 years, she couldn't get out of a room because you could check it out in the fifth chapter of the book of Leviticus, she's unclean. And so she's a shut in. "When she heard of Jesus, came in the press behind and touched his garment for, she said".

Now we've touched again on the very basic fundamental of faith. God said, "The spirit of God was moving on the face of the deep", Keith and nothing was happening, until God said, "Light be". Wooh! Light was. Not sunshine. What is that? Four days later. The power of faith spoken by God. Jesus demonstrated that same faith. Oh yeah. David, I'm going to need my iPad for this, please, sir, if you don't mind. I want to unravel a little something here. Thank You, Jesus. Thank you, sir. It just still amazes me. Open your iPads. Somebody said, "You old school". I'm old. And I went to school. Not on this. Okay. And we'll go to 11.

Let me read this first, go on over there at the 11th chapter Mark, because there's been a lot of discussion about this. And let's look at the 13th verse, please. Mark 11:13, "Seeing a fig tree afar off, having leaves, he came if happily, he might find anything there on. And when he came to it, he found nothing but leaves for the time of figs was not yet". And you notice yet is in italics. Let me read that to you in the Classic Amplified, "Seeing in the distance, a fig tree covered with leaves, he went to see if he could find any fruit on it. For in the fig tree, the fruit appears at the same time as the leaves, but when he came up to it, he found nothing but leaves for the fig season had not come yet". That tree lied, that tree was out of phase. "He said to it, 'No one ever again shall eat fruit of you,' and his disciples listening, heard what he said".

Does that settle anything in your heart and mind? That tree was, it was either at the tail end of the season or in the beginning of the season, but it had leaves all over it. Jesus walked up to it and didn't have anything. So that's good to clarify that, people need to do to hear that. One, that Jesus didn't understand figs. Come on. All right. Now let's go back to that 5th chapter, but now notice what did Jesus do? He spoke to that tree. He spoke the end result, He didn't stop and wait to find out whether it is going to dry up, it could have stood there green, green, green for years, and years, and years and nobody would have ever gotten any fruit off that tree. He didn't care. He just said what He intended to happen and headed to Jerusalem.

What was His corresponding action? He just turned around and walked off. That's a dead tree. Lightning hit it. What did He care? That wasn't His business. His business was to say it and believe it and turn around and go to Jerusalem. Now somebody was talking about me preaching long. Come on, children, yeah it was you too. Yeah, it was. No. Jesus preached all day more than once. And evening came, go call Him long winded, Dennis okay. I'm going to be just like Him if I can. Amen, I love it. Oral Roberts, my spiritual father. I'm telling you he would, and Richard, I can just see him. And he would begin to describe a scene and particularly in the fourth man, and particularly when he talked about Samson and Delilah and you just could see it. I mean, you could feel the heat of the furnace.

Yeah. Oh my, my, my, and you look up, dear Lord two hours and 15 minutes, are you kidding me? It's 15, 20 minutes like it was, nobody hardly breathed. Wouldn't you know that's the way it was with Jesus. You just... On every word and don't quit now, sir. Amen. Hallelujah. Anyway. Mark 5. Now remember... Faith, believe it in your heart, say it with your mouth, then do it, and then testified to it. That's what Jesus, in a vision told Brother Hagin. Say, "Well are you trying to be like him"? Exactly. Just as close as I can get. Absolutely. As close I can get. I listened to his tapes so much. Then the first tapes I had, of course I listened to them night and day. I got that little battery operated thing and I'd take it in, while I shaved and turn it on. And Gloria listened to it all day while I was in school. And then we go to bed with it at night. We still do.

But anyway, we were watching a particular message Brother Hagin preached and this is a long time after he had already gone home. But there's something in that specific message that I wanted to see. So we looked it up on YouTube and then put it on the iPad. And so when he started giving the invitation, since Gloria and I were already saved, we thought we'd just turned it off there. So I leaned over to kiss her goodnight, she said, "Not in front of Brother Hagin". We have a lot of fun together. And so anyway... That area of corresponding action, the woman with the issue of blood, like I said. She said it. She got out in the street or she acted. She received it. And what did Jesus do? He wanted to hear the whole story.

That's how we know what all happened to her because she told Him. She told Him how she'd been sick. She told Him how she had had money. And she told Him the whole story. And Jairus is standing there, but his faith has ahold him. But you can think, could we get on here? Jairus, the first, actually Jesus and Jairus both. I'll say it this way, when Jesus went into the temple, Tom, He didn't do anything. Walked around in there. I'm not so sure they knew He was there. He just because He upset the place anytime He walked in there, He just hid Himself in there, walked through there. Why didn't He do something? Why? Because He didn't do anything without, He heard His father, and saw His father do.

Now listen to this. This is the first rule of faith. Don't shoot your mouth off. Now, if it's an emergency, I'm not talking about emergency. I'm talking about the usual bleeding God, if something happens in an emergency, shoot your mouth off, but do it in tongues. Do it in tongues. And the scriptures that come rolling out of you, that's a different thing, that's not what I'm talking about. But just keep your mouth shut until you know what to say until the Word becomes life, until you find those scriptures that cover your situation. Several of them. Then you have something to say and don't change it. Just keep on with that anyway. He didn't do anything or say anything till the next day. But the spirit of the Lord, on a corresponding action. It can be action after, it can be action before in preparing for what you expect to happen, what you believe is going to take place.

And you're preparing for the miracle. You're preparing, getting everything ready. You're believing for a child. You've been having a difficult time with it. Hey, go buy the baby stuff. Go buy the baby stuff and enjoy it and enjoy the whole thing. And, this is me talking right now, but I mean, I've been around a long time and little mama when you go in there. I mean... Don't do goofy stuff. Don't stuff, a pillow in there or something like that. You don't need to do that. You fill your spirit with the Word of God, you don't need to stuff your dress with a pillow. Go prepare the nursery. Amen.

There was a testimony we had, that excited me. This woman's son was in prison and she prayed, stood on the Word of God, sowed her seed, that boy to come home. And she fixed his plate every breakfast, she would take that clean plate and wash it and put it in the cabinet. She would fix the lunch, and she'd do the same thing. She'd prepare it and then wash the dishes, just like he was there and she would thank the Lord that he was there and visit with him, just like he was there. And this kid was a terror when he left home, but here's the beautiful part, he came home born again. He got saved in prison. Ain't that a good story? And then he sat right where she had the plate set. And then that morning he got up and they had the same conversation she'd been having, I don't remember how long, but what is that? Corresponding action to her faith, preparing for what she already believed.