Kenneth Copeland - Covenant Partners Are Blessed by Association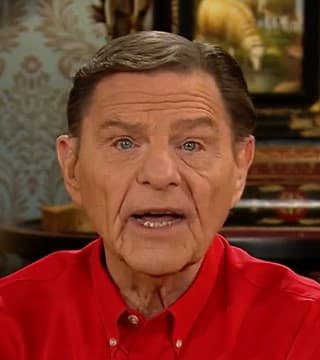 — Hello and welcome everybody to the Believer's Voice Of Victory broadcast, I'm Kenneth Copeland. And you gotta know by now that this is Professor Greg Stephens. And we've talked a lot about the covenant. And today, throughout this week and next week, we're gonna be talking about covenant partners.

— Mm.

— Greg, back in the very, very early days, back in 80s. Well, welcome yourself to the Believer's Voice Of Victory. And my lovely wife, Gloria is here, glory to God.

— Amen.

— In Palm Springs, with my father in the faith, Oral Roberts. And he said before we went to bed the night before, he said, "We're gonna get up early. I want you to help me write my partner letter".

— Hmm.

— Well, this excited me. Because I remember the first partner meeting that I was in.

— Hmm.

— And the message that I heard that day, it revolutionized my life. And the thing that brother Roberts had impressed upon me, he threw his Bible at me.

— Hmm.

— And he said, "What is this"? And I said, "It's the Word of God, it's a Bible"? And he threw it at me, he hit me in the chest with it.

— Wow.

— He said, "They're letters"! And they're just as anointed today as they were the day they were written.

— Oh, sure they're. Yeah.

— So, then I came home and talked to Gloria about we're partners for Oral Roberts for $10 a month. And she said, "Where in the world are we gonna $10 a month"?

— Yes, sir.

— But now the thing that impacted my life so greatly is this in the 1 Samuel?

— 1 Samuel, yes sir.

— So, if you wanna turn over there. In the 31st chapter. And then we'll get into all of the parts. That's what he's here for. And for those of you that do not know about Professor Greg Stephens, he is first covenant instructor at KCBC, and has spent a lot of time in the old covenant. And very, very covenant-minded man. And so, we're gonna take advantage of his insight into the Hebrew language, and his many years of studying situations like this. And the 31st chapter of 1 Samuel. And...

— 30th chapter.

— Yeah, 30th, excuse me. 30th chapter of 1 Samuel. In the 21st verse. David came to the 200 men, which were so faint they could not follow David whom they had made also to abide at the brook, Besor. That that's very misleading. It's not a brook. We'll show you that in a moment. They went forth to meet David and meet the people that were with him. When David came near to the people, he saluted them, then answered all the wicked men, the men of Belial, of those that went with David and said, "Because they went not with us, we will not give them ought of the spoil that we have recovered. Save to every man, his wife and his children, that they may lead them away and depart". David said, "You shall not do so my brethren. With that, which you shall not do so my brethren, with that which the Lord has given us, who have preserved us and delivered the company that came against us into our hand, for who will hearken under you in this matter. But as his part is that goes down to the battle, so shall his part be the terrorist by the stuff and they shall part alike". And it was so from that day forward that he made it a statute and an ordinance for Israel unto this day.

— Now, Greg, the thing that I heard, brother Roberts read that.

— Yes, sir.

— And he said, you're my partners.

— Mm-hm.

— And I'm in the field, but you're my partners.

— Mm-hm, yes sir.

— And everything that I have coming, is equally shared with you.

— That's correct.

— And of course my partners have heard me preach that. For instance, every soul that Gloria and I are preaching and teaching, teaching healing and whatever, but for every person that comes into the kingdom of God through this ministry, our partners share alike in the reward of that.

— Yes, sir.

— Well, it says in here that that's an ordinance for Israel. That's not for us. Well, no, that's not true. David's part of that covenant. Jesus will come from David, I'm in Christ Jesus, so that ordinance is part of us.

— That's right.

— We are fitly joined members. Paul will talk about this very thing. We'll unpack that later. But because you were partner of Oral Roberts, I'm a partner of yours. Which makes me connected to your partnership with Oral Roberts.

— That's right.

— 'Cause it didn't end.

— That's right. We still support Richard.

— Yes, sir.

— In many, many, many ways.

— Because I'm a partner with you, I'm also receiving spiritually of all of that as well. What if you had not become a partner with Oral Roberts for $10 a month?

— Oh.

— It has blessed you. There's a principle you have to learn in the Bible. Blessing comes by association. And the father knew that. And he wanted us to be joined together. The entire redemptive story is based upon covenant.

— Mm-hm.

— The entire thing.

— And that's also what the Lord said to me. He said, they're not just partners, they're covenant partners.

— Yes sir.

— And he said, you are committed to write them a letter every month from now on. And you are committed to pray for them every day from now on. Well, Greg, I mean, we sit down to the table and when we pray and receive the blessing of the Lord on our food, I pray for my partner.

— Mm-hm.

— So, it's a covenant.

— Yes, sir.

— And I'm sorely bound with it by that covenant.

— Yes you are.

— I made that covenant promise to my partner.

— It's as strong as your marriage covenant.

— Yes it is.

— That's basically what it is. So, if the entire skeleton of the Bible is built on this covenant, all redemption is on that. You remember what Jesus says, not a bone in him shall be broken in that skeleton. That covenant has never broken. Where this is the frame that everything hangs on. God preserved the world through Noah, he initiated redemption through Abraham, he formed a people in Israel through Moses, he promised a shepherd king through David, who we know is Jesus. And he fulfilled every one of these covenants in him. So we're just as much covenant people, as David was in that story.

— That's right. Oh, absolutely.

— And you gotta have that realization in your life. I am immensely blessed, my family, because I'm a partner of Kenneth Copeland Ministries.

— Mm.

— Immensely blessed. But see that also ties me to Oral Roberts. It also ties me to all the other ministers that ministry supports.

— Yes, sir.

— 'Cause in heaven, that's the way they see it. They don't see it as well, you were only a partner of this person or that person. No, we are fitly joined together. And this is why David knew he had to bless the guys who stayed back just as much. An army can't move without the supply guys.

— That's right. And here's something you have to remember. In the military term it's called quartermaster. That's everything. Food, supply, everything. Well, the quartermaster in this case, was a lot of cattle.

— Mm-hm.

— That had to go along with them. They went on those forced marches.

— That's correct.

— They didn't wanna drown the cattle in that torrent, which is anything but a brook, and drown the cattle and these men that were taking care of those cattle and having to herd that bunch all the way through that forced march. They were just too weak, they couldn't do it. So David says, you stay back here and you take care of all that stuff. You take care of the cattle, you take care of all the business, all the quartermaster of this army, while we go across this thing. Amen.

— Absolutely right.

— It wasn't a brook, it's was a river.

— At different times of the year, it floods. And I mean, it's a torrent. And so, there's two, depending on where they crossed at, there's one section it's easier to cross. There's a suspension bridge there today in Israel. You can see it.

— There's a picture of it right there.

— A picture of that bridge. Now, you can see the elevation of that. One side's a desert, the other side's not. But as you look at that, that bridge is about the length of a football field. So, it's not a small area. But there's all kinds of brush and water in the bottom there. If you're chasing an enemy, where's the perfect place for an ambushment. Right here.

— Here, where you get bogged down.

— Where you're bogged down and you're trapped in. The other end of that, if you go further South on that water, your brook of Besor, it's a ravine. I mean, steep walls on it. So, the most logical place to cross is back there. But they have a video, I don't know if they've showed it yet, but we'll show this to you, of a modern rainstorm. There it is. There's a modern highway bridge, look at when it overflows its banks.

— My, my, my. It filled up that ravine.

— The entire thing is filled up. And so, it wasn't an easy crossing, but the whole thing setting that up and we'll unpack this in the next day or two, they had just been on a three-day forced march before they went to this place.

— Before that happened, yeah that's right.

— Before this happened. So, they're already tired.

— And now they gotta do it again.

— And now they have to do it again. The Proverbs 13:20 says, speaking of covenant, he says he who walks with wise men will be wise. It's who you associate yourself with and who you connect to. It's gonna greatly influence your life. Because covenant partnership, brother Copeland, began, you know this in Genesis 1. When God said he spoke for six days and everything was good. He was working solo with that. When he created everything, for those six days he's working solo. Then he brings man in and has Adam start doing things. He made a covenant partnership.

— That's what he did.

— So, now man partnered with him and everything God said was good, he never changed that. Covenant partnership with man is good. And that's what he expects from us.

— God has always used people.

— Yes.

— And he had almost to say this, in order to redeem people, he had to become a person.

— Yes. Yes.

— And that person was Jesus.

— Yes, sir. All those covenants culminated in him.

— Yeah.

— When you look at Joseph, he enters Potiphar's house and a great blessing comes because he's in that house. And something bad happens to him there, he ends up in prison. The next thing you know, he's saving two nations. His own nation and Egypt. When Jacob returns to his own family, Laban, his father-in-law says, please, I love this. "Please stay, for I've learned by experience that the Lord has blessed me because of you". That's covenant partnership.

— Yes it is.

— That's the way it works.

— Because.

— Yeah. Because of the covenant that Jacob is in, from Abraham and Isaac and Jacob, Laban has realized and Laban didn't do him right. But Laban has learned because of you, please stay, because of you I'm blessed. And I believe brother Copeland when we get to heaven...

— Wherever that blessing is.

— Yes sir.

— That's where you need to partner.

— That's right.

— There was a partner in the blessing.

— That's right.

— Starting from the garden of Eden. And then you come over and to the book of Isaiah, where the blessing covenant of God, is the Eden covenant.

— Yes, sir. Yes, sir.

— Consider Abraham from whence you were hewn, the rock. from whence you were hewn

— That's correct. And that blessing has flowed all the way till it culminated in one person on this earth his name was Jesus.

— Yes.

— And we're in Christ. Therefore, Galatians 3 says cursed is everyone that hangs on the tree. The blessing. That blessing.

— Of Abraham.

— Of Abraham, of Genesis might come upon the Gentiles. So, we walk in that blessing. This is why we covenant together.

— Yes.

— This is why we partner together. To do exactly what David said. And these guys are trying to get him to not bless the guys who stayed behind.

— He said, no, it can't be that way.

— No, no, because God gave them into our hands.

— That's exactly what he said. And that's like, and if you'll look at Abraham, there's another example we'll look at this week of covenant blessing. Where God says, I can't do what we're about to do without telling my friend Abraham what we're about to do with Sodom and Gomorrah.

— Now, friend.

— Yes, sir.

— He became the friend. That is a covenant term. And in the book of James, it is correctly capitalized.

— That's right.

— He's the covenant friend of God. He says friend. We use friend so loosely. But a covenant friend, is a friend that sticks closer than a brother. Amen. And remember, why this is called the Word of God.

— Mm-hm.

— It's because it's his bond. And it's the covenant that he has established. He's a covenant making God. The New Testament will say, a new covenant established on better promises because it's fulfilled in Jesus. We're back to the place we were at the very beginning. He found a path, we fell, and then he brought us right back to where we once were. Now, there's a major trap that's being set for David right here. And if you don't understand the background of this, you misunderstand what happens. David is living. What had happened is Ziklag. And if you look at 1 Samuel here, 30, what set all of that up where he gave that. It came to pass when David verse one and as a man were come to Ziklag on the third day. That the Amalekites had invaded the South, and Ziklag, and smitten Ziklag and burned it with fire. So, this is why they're after them.

— Yes.

— And you have to understand who the Amalekites are. What do you mean on the third day? David was not in town, his mighty men, 600 of them were not in town, all that was there was the elderly, the women and the children, when the Amalekites came. So, where was he? Why was he where he was? What had happened? And when you start unpacking all of this, you're gonna see the picture. And I know we're getting close on time for today, but you're gonna get to see the picture of this. If you go back to chapter 28, let me show you the situation David finds himself in. In 1 Samuel 28:3. Now, Samuel was dead and all Israel was lamenting him. The prophet Samuel who's also a judge, the last judge of Israel, had died. So, the spiritual covering for King Saul and David is gone. So, you're gonna see some decisions that are about to be made, from people that don't have a spiritual covering covenant person in their life. There's no one to speak into David's life. There is no one to speak into Saul's life.

— Now, think about the things that David had no way of knowing.

— Right?

— He had no way of knowing that Samuel was the last of the judges.

— No.

— And at that point, did he know Samuel was dead?

— Yes, he did. I believe he did. Based on 28, now Samuel was dead all Israel had lamented him.

— Yeah.

— So, he knew. He knew he was dead. But Samuel is the one that anointed him to be king. Now, at this time, David has been anointed to be king, he has defeated Goliath of the Philistines and he has fled from Saul. And what's interesting is, David is living in a place called Ziklag. Ziklag at that time is not part of Israel. So he's living outside of Israel. And Ziklag is a Philistine city. The people that he was the enemy with, that defeated David is now living in their town. He's living with the Philistines, his spiritual covering is gone, he's running from Saul, and he's about to partner with the Philistines to attack Saul. Which that's why he's out of town, when the Amalekites come in and take all the women and children that which set up why they went after him. Why they crossed the brook, why all this stuff happens. So it was a well laid trap by Satan, and he's gonna lose in this thing. But it's a well laid trap for him to take David out before David ever becomes king, because it was a transition time. From the time of the judges, to the time of kings. It's prophesied that of David would come the Messiah.

— That's right.

— So, if he can take David out now before he ever becomes king, it's vitally important to him. And he got him when what? When he didn't have a covenant partner priest to speak into his life.

— That's right.

— And this is why covenant partnership is so vital. You need a covering. I need a covering. Everybody does.

— Yes. You need to be connected.

— Everybody does.

— Yes, sir. I need that partner letter that you send every month.

— Praise God.

— I need this broadcast. Especially in the times that we live in. Now more than ever. Revelation says make you kings and priests. You're out making a living, you're out being a king, but you need a priest to speak into your life. And so, we need this partnership together. And you're gonna see this thing play out in David's life as to what happens with him. You'll see the same thing in Abraham. Abraham comes back from battle and he meets Melchizedek and he raises his hand.

— Yes.

— And swears all of this came from God. And that's exactly what David's gonna do in that. God gave this to us, we're gonna bless the ones that didn't go forward.

— Praise God.

— Amen.

— Yeah, he said, "I've lifted my hand to God. Never let it be said that any man made Abraham rich, but all mighty God". How? through his covenant relationship with him.

— And David's gonna do that exact same thing we just read a while ago in chapter 30.

— And we're out of time.

— We're out of time.

— Amen. Come on Jeremy help us son.