Kenneth Copeland - Reject Strife to Activate Powerful Faith
Watch
Audio
Download
Subscribe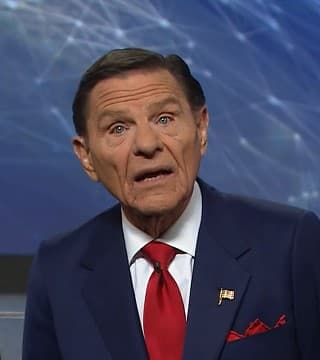 2 Corinthians 12 Yeah, let's begin reading the 14th verse. "Behold, the third time I am ready to come to you and I will not be burdensome for you or to you: for I seek not yours but you. for the children ought not to lay up for the parents, but the parents for the children. And I will very gladly spend and be spent for you though the more abundantly I love you, the less I be loved, But be it so, I did not burden you: Nevertheless, being crafty, I caught you with guile. Did I make a gain of you by any of them whom I sent unto to you? I desired Titus and with him I sent a brother. Did Titus make a gain of you? Walked we not in the same spirit? Walked we not in the steps?

Again, think ye that we excuse ourselves unto you? We speak before God in Christ, we do all things dearly beloved for your edifying. For I fear, lest when I come, I shall not find you such as I would. And that I should be found unto you such as you would not, lest there be debates". Now what'd he say? "Unless I won't like what I am seeing and finding, there be debates, envyings, wrath, strifes, backbitings, whispering, swellings, tumults. And lest, when I come again, my God will humble me among you. And that I shall bewail many, which have sinned already and have not repented of the uncleanness and fornication and lasciviousness the unbridled lust which they've committed".

Now how, how do born again? Holy Spirit baptized, tongue-talking, healing, believing Christians. How did they get far enough to get over into sex sins? It doesn't start there. It's like one person said you let the devil in the back seat. He's gonna wanna drive. You just start with a little fussing. I know I'm not supposed to be doing this. You don't know what they did to me. I tell you I can't stand it. I just hate that person. Just a little. That's nothing small about that, but it seems small and it gets a little worse and it gets a little worse than that. And a little worse than that. And you get to where you never pick up your Bible again. You get to where you start not going to church. Ah, we can go down there anytime. I'm going fishing today. Glory to God, I mean I've had a tired week and go down there all that preacher wants is my money anyway.

Ah, come on Jack, that's all Walmart wants is your money. You don't treat them like that. You still love me. Brother Copeland, you're stepping on my toes. Hey, that's my job. You got them stuck out. I'm gonna step on. God gets on me and I get on you. I have already been through all of this. Now it's your turn. Amen? Arrest yourself. No sir. And teach your children. Don't let them fight one another. Don't, don't, don't, don't let them do that. Then don't get mean trying to correct them. No, no, no. Sit them down and talk to them and teach them. To love one another. You take the one that's a little older now you help your brother, you help your sister. You're the older one now, you've got to help. Don't be fussing with one another. No, don't be doing that. While you're a big boy now. You used to do that when you were a baby but you don't do that anymore.

But that's really something. When he's 14 years old and you're having to talk to him like that. That's your reason you start young. That's your reason you need to be in a church. A Word of Faith church, pastored by a man and woman of faith. Where you can no longer be a spiritual baby, but grow up into, into Him. Speaking the truth in love to one another. Building one another up. Esteeming the other above yourself. False humility goes the other way around. False humility says I'm just unworthy. And I know you are so much more worthy than I am. You didn't believe that when you said it, most likely. No, what do you do? No, you don't tear yourself down. No, you think soberly, as God has dealt unto you the measure of faith and then you lift them up and lift them up above yourself and help them, make them strong in the Lord. Say things to encourage. Say things to help. They, say things to bless. I just wanna bless you this morning.



Father, we thank you tonight. It is so wonderful that you find no fault with us. You don't upbraid us because of our false shortcomings, nor do you do so because of our sins, you've already taken care of the sin problem. And you're just offering yourself to us. You're offering yourself, greater One that's within us. The greater One. Thank you, Lord Jesus. Thank you, Lord Jesus.



We know that it's true. In Romans 5:5 listen to it. "Hope maketh not ashamed because the love of God is shed abroad in our hearts by the Holy Ghost which is given unto us for when we were yet without strength in due time Christ died for the ungodly for scarcely for a righteous man will one die: yet peradventure for a good man some might even dare to die, but God commendeth his love towards us in that while we were yet sinners Christ died for us much more than being now justified by his blood. We shall be saved from wrath through Him". Saved from the wrath. Saved from the wrath. The love of God is in here. And then we know that the Scripture also says faith works by love. And we also know in the 4th chapter of Romans, just look at it. "Therefore, it is of faith that it might be by grace".

It is of faith that it might be by grace. "To the end the promise might be sure to all the seed not to that only which is of the law, but to that also which is of the faith of Abraham who is the father of us all". He's in their love, joy, peace, long suffering, goodness, meekness, kindness, faithfulness, temperance against such there is no law. He's in there. Strife can no longer live in you. Now, once you've made that decision. Jesus is my Lord and He is my Savior. And I am living in the shadow of the cross. Living up to that sacrifice as though Jesus died for me yesterday. Hallelujah, love did that for me. Love did that for you. Love, himself. The love of God, the loving God, God is love.

The blessing of the Lord now can flow. Faith can flow. Where yesterday there was strife and bitterness and anger, You can stop it that quick. No, no, no, no, no, I refuse that. I'm not doing that anymore. That's not who I am. That's who my, that's who I was. No longer, I'm a new creature. I'm a new creation created in Christ Jesus created unto good works, created old things, that old nature, that old striving nature's gone glory to God. And I'm a new creature in Him and I can do all things. All things through Christ, through the anointed one, through his anointing who strengthened me? I can, I can do it. I can stop this strife. I can stop this madness. I can stop it right now. Hallelujah, it's done it's gone.

I repent. I received my... Let's turn over there 1 John, we're gonna act on this right now. Thank you, Lord Jesus. Praise God. Thank you, Lord Jesus. Verse five, "This then is the message which we've heard of Him and declare unto you that God is light and in Him is no darkness at all. If we say we have fellowship with Him and walk in darkness we lie and do not the truth. But if we walk in the light, as He is in the light, we have fellowship one with another and the blood of Jesus Christ His Son cleanses us from all sin. If we say we have no sin, we deceive ourselves. And the truth is not in us. If we confess our sins, He is faithful and just to forgive us our sins and to cleanse us from all unrighteousness".

When? When you confess it! If you receive it by faith. "If we say we have not sinned, we make Him a liar and His word is not in us. My little children, these things write unto you that you sin not. If any man sin, any person's sin. We have an advocate. We have a lawyer with the Father, Jesus Christ the righteous and He is the propitiation. He is the sacrifice for our sins and not for ours only, but for the sins of the whole world. And He's ours. And just be brutally honest with yourself, not condemning yourself". Self-condemnation, there is now therefore, 8th chapter of Romans There is therefore no condemnation to them who are in Christ Jesus. Who walk not after the flesh but after the spirit. Who walk not after the five physical senses, but after the Word, no condemnation. So don't be condemning yourself. Just judge yourself.



Father, I sinned, I got mad. I threw the thing all the way across the room. I shouldn't have done it. And I still don't feel all that good about it, but I don't go by my feelings. I go by your Word, glory to God. And I confess it as a sin. I got mad and said stuff I shouldn't have said. If you cuss, say you did. I just said nasty words and I shouldn't have done it. And with your help and your kindness and your love. Thank you. I confess it and I believe I receive my forgiveness. And I believe now by faith. I am cleansed of that unrighteousness. It doesn't leave when you feel it, it leaves right now and you just keep confessing it and your feelings will turn around. I mean they'll turn so quick. So just do it right now. Father, in the Name of Jesus, I confess this sin and just call it what it is. Before you and you are faithful and you are just or you're righteous to forgive me this sin. So, I receive that forgiveness right now by faith. Thank you Lord in the Name of Jesus, I believe I receive it. I am forgiven right now and therefore I believe I receive my cleansing of that unrighteousness. I'm cleansed. Thank you, Sir. I believe it. Now, guilty feelings you just have to go. You'll just have to get out of here. Just go on and get out of here. I'm innocent of that. It's like I didn't do it. He's wiped it clean. And I'm free. I'm a free man. I'm a free woman.



I'm talking to some teenagers. I'm talking to college students just because you're away from home, you know better than that. Get it straight. Your immune system will just go straight up. And the devil can't put sickness and disease on you because you won't let him. Perfected love casteth out fear. Hallelujah. Give Him praise. All of you that have never accepted Jesus Christ as your Lord and your Savior. Now's your moment. Now's your time. It's a Bible fact that Jesus bore our sins. He was made to be sin. Jesus never sinned, not one time. He was made to be sin with our sin. He went into hell in our place and He suffered there three days and three nights in our place. Think about that. Oh, you can't even fathom. I can't, no human mind can fathom that. It's just beyond human ability to think. But love did that for you and for me. He was made sin with our sin.

And when we were born again, I committed no righteousness. Our righteousness is filthy rags. He committed no sin. He was made to be sin with our sin. And then when we got born again and became a new creature, we were made righteous with his righteousness. Aha, ha, glory be God the great exchange. He went to hell so we could go to heaven. He became sin so we could become his righteousness. He was spat upon and hated. So we could be loved even in the face of those that hate us. And so tonight is your night. This time is your time. Dads, you can be the dad you've always wanted to be. And mother you can be the mother you've always wanted to be. Boy and girl, you can be the child and the student that you've always wanted to be. But you're gonna have to make the decision.

Every head bowed and every eye closed. And you say Brother Copeland, lead me in prayer. I've heard this Word tonight. I don't want any more strife. I'm not getting into that anymore. I'm gonna walk the love walk. I'm gonna walk this love commandment. Like the commandment that solves all of the other commandments. And I thank you for leading me in this prayer tonight. I'm ready, Sir. Amen. Just put your hand over your heart. Indicating that in my heart of hearts, my spirit man, I believe it. And I'm saying these words by faith and I'm meaning them.



Oh God, in heaven. I believe with all my heart that you raised Jesus from the dead, come into my heart, Lord Jesus. Take my life and do something with it. I receive your Word and by faith, by faith in that Name of Jesus and in your blood, I believe in my heart. And I say it with my mouth. I'm saved. I'm healed. I'm well. I'm a new creature. Old things, that old nature, that old strife-filled nature has just passed away and all things have become new. And all things are of God who is love And you're in me now. I know that and now that I am a born again, born from above Jesus said, child of the living God, born again not of corruptible seed, but incorruptible seed by the Word of God which lives and abides forever. I'm a new person. I'm a new man. I'm a new woman. I'm a new boy. I'm a new girl. And now that I'm a believer not a doubter. Fill me to overflowing with your precious Holy Spirit. I receive you, Holy Spirit. Hallelujah and I fully expect to speak right now with a supernatural praise and prayer language.