Kenneth Copeland - Renew Your Mind to Righteousness
Watch
Audio
Download
Subscribe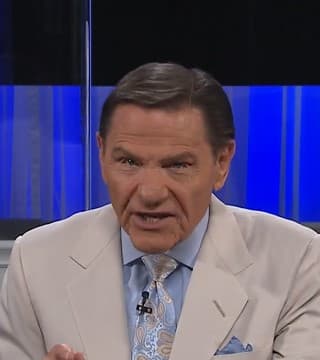 Now we've been talking about the righteousness of God. And let's go to Isaiah 32:16. Verse 16, "then, judgment shall dwell in the wilderness and righteousness remain in the fruitful field. The work of righteousness shall be peace and the effect of righteousness, quietness and assurance forever". The struggle is over. The struggle is done. Greater is he that's in me than he that is in the world. He loves me, and I love him. Open your Bibles to 17th chapter of John.

Now remember now, in the book of John, chapter 13, "before the Feast of Passover, when Jesus knew that his hour was come, that he should depart out of this world", and so forth, and so on. Now, from there all the way through the 17th, there's this marvelous 14th chapter. "Let not your heart be troubled, you believe in God, believe also in me", all of this was at the covenant table. All of this was at the covenant meal. That's the reason it's so precious. So many wonderful, wonderful, in that day, in that day. What day? The day we're in now. In that day, you shall ask me nothing, but whatsoever you ask the Father in my name, he will give it you.

Ask and you'll receive that your joy may be made full. But the 17th chapter, the prayer that Jesus prayed. When I first began to study these things, I was at ORU and I'm studying these things, and I'd learned about the prayer of agreement. I thought, oh man, that prayer of agreement, Gloria and I started agreeing on things, and they just started coming to pass, and it was just, just marvelous this that I'm telling you what. Like the old saying, well, this a bird's nest on the ground, brother. I mean, you know, whatever you need, two of you has set yourself in agreement, and it'll be done. And I thought, Jesus prayed this prayer. I'm going to agree with this. And I'm going along, and I'm agreeing with everything he said.

And then I noticed verse 20, "neither pray I for these alone. But for them also, which shall believe on me through their word". Everybody in the sound of my voice right now believed on Jesus either directly, or indirectly from the people that were in that room. John was in that room. Peter was in that room. Amen. Jesus was praying for you, and he's praying for me. Watch this now. Oh, this hit me so with such force, I said glory to God, he's praying for me. "That they all may be one". Oh yes, Lord. "As thou father are in me and I in thee, that they also may be one in us. That the world may believe that thou sent me". Oh yes, yes, yes, "and the glory which thou gavest me, I have given them that they may be one, even as we are one, I in them, and thou in me".

And I'm just shouting by this time, "that they may be made perfect in one. That the world may know that you sent me, and as loud there, the what has, has, has, huh? has loved them as much as you do me"? It struck me. See, I still had a lot of tradition in me. I'd never heard this before. I didn't know I was a new creature. I began to tremble. I said, Lord, Lord, oh, God, help me. If this wasn't if this wasn't written in red, I don't know that I could believe that. God, how could you love me as much as you love Jesus? I mean, how could that be? But I thought, well, I said I was going to agree with this, and I'm doing it right now.

And I literally, I was shaking. I did not want to say this. I said, "I want to thank you". Oh God, help me. "I want to thank you, Father". I was trembling, "that you love me as much as you do Jesus". And I finally got it said. See, I didn't know all these other things. I didn't know I was the righteousness of God. I didn't even know what righteousness was. I thought righteousness, holy, and I thought it all one thing. But I said, I'm going to say it, praise God cause Jesus said it, I'm going to say it, and I just started walking around the room. I said, "God loves me as much as he does Jesus. God loves me as much as he does Jesus". "God loves Kenneth. God loves Kenneth as much as he does Jesus".

I'm telling you, and my spirit is just jumping up and down. I mean, and it finally got over to my mind, and over to my body that God loves me as much as he does Jesus. Glory to God, God loves Kenneth! God loves Kenneth. Kenneth loves God, oh, hallelujah! And I broke free that day into a place with God in which I had never, ever been before, and I have never been the same since. You and I have been made the righteousness of God. And he loves us with the same love with which he loves Jesus. Isn't that wonderful? Isn't this just absolutely magnificent? Of course it is. Thank you, Jesus. The struggle comes from having developed a sin consciousness.

Now in closing this, let's go over to the book of Hebrews, please. Once again, and we will look in the 10th chapter. So tell you what, first, the first chapter in the book of Hebrews, hold that, and let's read from the 10th chapter. Then we'll go back over there. Hebrews chapter 10, "For the law, having a shadow of good things to come, and not the very image of the things can never with those sacrifices, which they offered year by year continually, make the comers there unto perfect. For then would they not have ceased to be offered? Because that the worshipers once purged should have no more conscience of sin". Or let's say it like this, "should have no more sin consciousness". They shouldn't be so sin conscious. "Once purged, once purged".

Hebrews 1:3, "who being the brightness of his glory". Oh, let's go to the first verse. "God, who at sundry time in different manners spake in time passed unto the fathers by the prophets has in these last days spoken unto us by his son, whom he hath appointed heir of all things. By whom also he made the worlds. Who being the brightness of his glory, and the express image of his person, and upholding all things by the word of his power. When he had by himself, purged our sins, he sat down on the right hand of majesty on high. Being made so much better than the angels as he has by inheritance, obtained a more excellent name than they". Our sins were purged! Glory to God!

And when we become aware of that, developing a righteousness consciousness, my sins have been purged. And when I miss it, praise God, what I need to do is bow myself before my God and confess that sin, and believe I received my forgiveness and believe I receive my cleansing, glory to God. Right then on the spot, right then on the spot. Now in a lot of cases, I mean, I've experienced this, there's just a lot of cases. Your flesh, man, you just despise that sin. It's gone, it's over with.

Now tell your flesh to straighten up, straighten up here now. You've become innocent again, you just straighten that up. Awake unto righteousness, body. Come on, wake up, wake up we're the righteousness of God. Amen. That sin's dead and gone. Yeah, but what if I do it again tomorrow? Well go through the same process again, and again, and again, and again. But then go before the Lord in prayer, and praise, and worship over in the eighth chapter of Romans. The apostle Paul was fussing with this. He said, "The things that I would do, I don't do, and the things I don't want to do, that's what I do. There is no good thing in me that is in my flesh". Cause he's a new creature, but his flesh, the mind must be renewed, and then do something with your flesh.

Oh, wretched man that I am. But now, there's no condemnation to those who are in Christ Jesus, who walk not after the flesh, but after the Word. Who walk not after the dictates of the five physical senses, but after the Spirit, after the Word of the living God. Hallelujah! And you practice his presence. You practice his presence. Talk to him all the time, all the time. He's right here, Lord, now don't start this, oh Lord, be with me. He said, "I'll never leave you". I'm not going to leave you. I'm here forever. I'm right here.

One young man was telling Keith Moore that this nice churc, pastor, nice church. And largest giver in his church, largest tither in the church, he got upset, and he said something about what he's preaching. And he said, "Now, if you don't stop that, if you don't quit preaching that, I'm taking my whole family with me, and dah, dah, dah". Well, he said, "No, no, you don't dictate to me what I preach, or what I teach. I'm the pastor here. And the only person that does that is the Lord Jesus Christ. I'm following him".

Well, he said, "All right, I'm gone". And he left, thousands and thousands of dollars just walked out the door. And he told Keith, he said, "I was standing there watching him. I walk out to the parking lot, and get in his car". And he said, I said, "Lord, there goes the biggest giver in my church". And the Lord said, "No, I'm still here". Isn't that good? Nah, he said, "I'm still here". And he just rejoiced, praise God, and the church just got bigger and stronger. Of course, why? He didn't struggle with that. He just let God be God, hallelujah.

Now, let's go to the book of John, chapter 11. Well, let's start at the very first. "Now a certain man was sick, named Lazarus of Bethany, the town of Mary and her sister, Martha. It was that Mary which anointed the Lord with ointment and wiped his feet with her hair. Whose brother Lazarus was sick. Therefore his sister sent unto him saying, 'Lord behold, whom thou lovest is sick'. And Jesus heard that, he said, 'This sickness is not unto death, but for the glory of God, that the son of God might be glorified thereby'".

Now, God didn't make him sick, so Jesus could raise him from the dead. Don't get that. Don't even go there. You know better than that. God didn't send the Corona virus. He didn't send COVID-19, but God sure used it to clean up the atmosphere, to change everything, glory to God, Amen.

"Now, Jesus loved Martha, and her sister, and Lazarus. When he had heard, therefore, that he was sick, he abode two days still in the same place where he was. Then after that, said he to his disciples, 'Let us go unto Judea again'. His disciples said to him, 'Master the Jews of late sort to stone thee, and you go there again'? Jesus answered, 'Are there not 12 hours in the day? If any man walk in the day, he stumbles not because he see'eth the light of the world, of this world. But if a man walk in the night, he stumbles because there is no light in him'. These things said he, and after that, he saith unto him, 'Our friend Lazarus sleepeth, but I go that I may wake him out of sleep'. Then the disciples said, 'Lord, if he sleeps, he shall do well'. Albeit Jesus spoke of his death, but they thought that he had spoken of taking of rest and sleep. Then Jesus said unto them, plainly, 'Lazarus is dead. And I'm glad for your sakes that I was not there to the intent that you may believe. Nevertheless, let's go to him'. Then said, Thomas, unto his fellow disciples, 'Let us go, that we may die with him'. Then Jesus came. When Jesus came, he found that he had lain in the grave four days already. Now, Bethany was nine to Jerusalem, about 15 furlongs off, which is two miles. And many of the Jews came to Martha and Mary to comfort them concerning their brother. Then Martha, as soon as she heard that Jesus was coming, went to him. Mary sat still in the house, then said, Martha unto Jesus, 'Lord, if you'd been here, my brother had not died. But I know that even now whatsoever, you will ask of God, God will give it thee'. Jesus said unto her, 'Your brother shall rise again'. Martha said, 'I know that he shall rise again in the resurrection at the last day. Jesus said, 'I am the resurrection and the life'".

Look at that again. "I am the resurrection and the life. I am the resurrection and I am the life! And he that believes in me though he were dead yet, shall he live. Whosoever, liveth and believeth in me shall never die. Believe you this? She said, 'Yes, Lord, I believe you're the Christ, the Son of God, which shall come into the world'. When she had so said, she went her way, called Mary, her sister, secretly saying the Master's coming calling for thee. And as soon as she heard that, she arose quickly and came to him. Now, Jesus was not yet come into the town, but was in the place where Martha met him. The Jews then, which were with her in the house, comforted her. And they saw Mary that rose up hastily and went, and followed her saying, 'She goes to the grave to weep there'. Then Mary was come where Jesus was, and saw him".

Now, let's get the difference between Mary and Martha. When Mary saw him, she fell at his feet saying, "Lord, if you'd been here, my brother had not died". "Then Jesus therefore, saw her weeping, and the Jews also weeping, which came with her. He, he'd groaned". Now to get this, Jesus, he groaned in the Spirit. Romans 8:26 and 27. "How be it, the spirit helpeth us with our infirmities". Those are three Greek words put together, takes hold together with us against our infirmities. What? With groanings, which cannot be uttered. Jesus was groaning in the Spirit.

This is huge. "He groaned in the Spirit, and was troubled and said, 'Where have you laid him'? They said unto him, 'Lord, come and see'. Jesus wept". This was not grief, of course not, it was compassion. He wept. "Behold how he loved him. Some of them said, 'Could not this man, which opened the eyes of the blind of cause that even this man should have not died'? Jesus, therefore again groaning in himself, cometh to the grave". It was a cave and a stone lay upon it.

Now listen to this. "Take ye away the stone. Martha, the sister of him that was dead, sayeth unto him, Lord, but this time he stinketh, for his body had been dead four days". Jesus said unto her, "Said I not under thee, that if you would believe, you would see the glory of God"? Then they took away the stone from the place where the dead was laid. Jesus lifted up his eyes, listen, listen, "I thank thee that you heard me"! When did he hear him? When he's groaning! When he was groaning in the Spirit. I only say those things I hear my Father saying, I only do those things I've seen my Father do. And he's groaning in the Spirit. You see, had this been over in our time, what would we be doing? We would be groaning in the Spirit, in other tongues. That didn't happen until Jesus was raised from the dead, glorified at the right hand of the Father, and the Holy Spirit came in fullness into the earth once again. Groaning! I know you heard me. I know you heard me! Oh, I know.

Now, you need to be doing this when you're interceding, and oh, oh! Oh, God for my president. Oh, God for my neighbor. oh, God for my family. Oh, Lord Jesus! Oh, hold on God. And just keep doing that until the victory comes. Oh, I got it. I know you heard me. I know you heard me all the time. Glory to God. Oh yeah, there's no question about that. I know you heard me. I'm the righteousness of God, and we're in this thing together. And then wait a minute, Brother Copeland, you talked about practicing his presence. That's what I'm talking about right now. Practice his presence.