Kenneth Copeland - The Anointing Is Part of the Good Tidings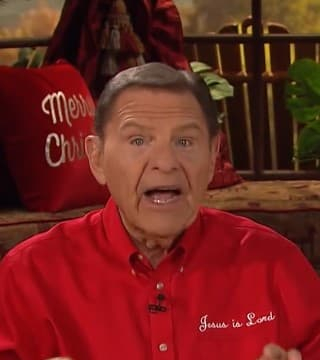 TOPICS:


Kenneth: Merry Christmas everybody, glory to God. Hallelujah, all over the world, the bells are ringing.

Gloria: Hallelujah.

Kenneth: All over the world little kids are thrilled. In the name of Jesus, hold onto him.

Gloria: Hallelujah.

Kenneth: All over the world, there are people that don't know him. All over the world, where little children don't know him and are being persecuted because they're Christians. Oh Lord, we pray for them too.

Gloria: Yes.

Kenneth: We're thrilled and we're having most blessed, most blessed of the blessed people. We thank you today for your word and your goodness on this of all days of the year. To all of us, the most Holy day in our lives and we thank you for it. Thank you Lord Jesus. Thank you Lord Jesus. Thank you Lord Jesus. Thank you Lord Jesus.

Gloria: Thank you Lord.

Kenneth: I'm going to tell you something people. He's not a baby anymore.

Gloria: That's right.

Kenneth: Oh yeah. He's a full grown 30 year old man, rathere's a lot older. No he isn't. He's not one day over 30. In linear time he is, but there's no time or distance in heaven and your parents that have gone to heaven. They're around 28 or 30. Praise God. I said praise God.

Gloria: Hallelujah. Praise the Lord. Thank you.

Kenneth: Hallelujah. Let's get back into the word. This is Christmas Day. We're going to talk about Christmas Day.

Gloria: Did you get to go shopping?

Kenneth: Yes dear, don't bring that up anymore. Okay. You make me nervous.

Gloria: Okay.

Kenneth: What about you? I ain't seen you go into the store, right?

Gloria: Well, I've been real busy.

Kenneth: When John was a little boy, it's somebody's birthday or Christmas he'd say, I just didn't get to the store.

Gloria: Yeah. That's it.

Kenneth: Open your Bibles with me again today to the gospel of Luke. Now remember we've found out already that there were no wise men at the manger. There were wise men, but it's symbolic. There were three gifts and so tradition just established three wise men and they brought gold, frankincense, and myrrh. We know the truth of it is that there were anywhere from 50 to 200 people in that entourage. Now there very well may have been three kings. Probably so, but it took 50 up to 200 people, military people, they're going through war torn lands to get there. It's just good to know the scene behind the scene and don't get mad and knock the manger scene, knock the shepherds over of the wise men over in the manger scenes.

Okay, get over it. Glory to God. There's nothing wrong with that, but it's so good to have that information and know and you can see it in your minds and what these men went through and how supernatural it really was. It wasn't three little guys on camels bouncing through these war-torn lands to get there. Praise God. Well we won't take time to go through all that. Now then Luke chapter one, are you there? For as much as many have taken him. Let me go down to in the fifth verse. There was in the days of Herod, the King of Judea, a certain priest named Zacharias. Of the course of Abaya and his wife was of the daughters of Aaron, and her name was Elizabeth. They were both righteous before God walking in all the commandments and ordinances of the Lord blameless.

They had no child because Elizabeth was barren and they both were now well stricken in years, and it came to pass that while he executed the priests office before God in order in the order of his course, according to the custom of the priest office, his lot was to burn incense when he went into the temple of the Lord. The whole multitude of the people were praying without at the time of incense and there appeared unto him an angel of the Lord standing on the right side of the altar of incense. When Zacharias saw him, he was troubled and fear fell upon him, but the angel said unto him, fear not Zacharias for thy prayer is heard.

That's very important. His prayer had been heard. The angel said, your prayer's been heard. Zacharias didn't hear that. It went in one ear and out the other after he said rest of this. Thy wife Elizabeth shall bear the his son. That's what he heard. Thou shall call his name John. Thou shalt have joy and gladness and many shall rejoice at his birth. For he shall be great in the side of the Lord and shall not drink neither wine nor strong drink. He shall be filled with the Holy Ghost, even from his mother's womb. Many of the children of Israel show he turned to the Lord their God, and he shall go before him in the spirit and power of Elias and turn the hearts of the fathers to the children and the disobedient to the wisdom of the just to make ready a people prepared for the Lord.

Zacharias said unto the angel, whereby shall I know this? He should have said glory to God my prayer has been heard, but fear fell on him. For I am an old man and my wife well stricken in years. The angel answering said unto him, I am Gabriel that stands in the presence of God and am sent to speak unto thee and to show thee these glad tidings and behold, thou shalt be dumb and not able to speak until the day that these things shall be performed because thou believest not my words, which shall be fulfilled in their season. He had to get his mouth shut. He didn't know Mark 11:23. He didn't understand the spiritual power of his words and worry and what he might say what he's worried about this thing. He's worried all this time.

No, he shut him up. The people waited for Zacharias and marveled that he tarried so long in the temple and when he came out, he could not speak unto them. They perceived that he'd seen a vision in the temple for he beckoned unto them and remained speechless. It came to pass that as soon as the days of his ministration were accomplished, he departed to his own house. After those days, his wife Elizabeth conceived and hid herself five months saying, thus sayeth the Lord. Thus hath the Lord dealt with me in the days where any looked on me to take away my reproach among men.

In the sixth month, the angel Gabriel was sent from God unto a city of Galilee named Nazareth to a Virgin espoused to a man whose name was Joseph, of the house of David. The Virgin's name was Mary. I just get thrilled just reading this man. The angel came in under her and said, hail that art highly favored. The Lord is with thee, blessed art thou among women. When she saw him, she was troubled at his saying. It didn't say she was afraid. She was troubled at his saying and cast in her mind what manner of salutation this could be.

The angel said unto her, fear not Mary for thou hast found favor with God. Behold, thou shall conceive in thy womb and bring forth a son and shall call his name Jesus. He shall be great and shall be called the Son of the Highest. The Lord God shall give unto him the throne of his father David and he shall reign over the house of Jacob forever and of his kingdom there shall be no end. Then said Mary under the angel, how shall this be seeing I know not a man? The angel answered and said unto her, the Holy Ghost shall come upon thee and the power of the Highest shall overshadow thee, therefore also that Holy thing which shall be born of thee shall be called the son of God. Behold thy cousin Elizabeth. She hath also conceived a son in her old age, and this is the sixth month with her who was called barren. For with God, nothing shall be impossible. Glory to God. Mary said behold the handmaiden of the Lord. Be it unto me according to your word.

The angel departed from her. Mary arose in those days, went into the hill country with haste, into a city of Judah and entered into the house of Zacharias, saluted Elizabeth, and it came to pass that when Elizabeth heard the salutation of Mary, the baby leaped in her womb and Elizabeth was filled with the Holy Ghost and she spake out with a loud voice and said, blessed are thou young woman and blessed is the fruit of your womb. When is this to me that the mother of my Lord should come unto me or come to me for lo as soon as the voice of that salutation sounded in mine ears, the baby leaped in my womb for joy. Blessed is she that believed for there shall be a performance of those things which were told her from the Lord. Mary said, my soul doth magnify the Lord and my spirit hath rejoiced in the God my savior.

Gloria: Yes amen.

Kenneth: Hallelujah.

Gloria: Praise God.

Kenneth: Thank you Lord Jesus.

Gloria: Thank you Lord.

Kenneth: Now I want to skip down to the 59th verse. It came to pass on the eighth day they came to circumcise the child and they called him Zacharias after the name of his father and his mother answered and said, no not so. He shall be called John. They said unto her, there is none of thy kindred that's called by this name. They made signs to his father. He lost his hearing during that 10 month period of time. That's some interesting information. I don't know how he got in trouble, but he got in trouble again. He lost his hearing. They made signs to him. He asked for a writing table and wrote saying his name is John. They marveled all and his mouth was open immediately and his tongue loosed, and he spoke and praised God.

Gloria: Praise God.

Kenneth: Hallelujah. Now then chapter two, and it came to pass in those days that there went out a decree from Caesar Augustus, all the world should be taxed. This taxing was first made by Cyrenius who was governor when Cyrenius was governor of Syria. Now Micah five two. 715 years before Micah prophesied and said a baby's going to be born in Bethelehem. Now the power of the word of God. Are you listening to me? That word governed armies, that word governed nations. That word governed everything on this planet. Right up until that day, that word was the reason he got in his mind I'm going to send everybody back to their hometown and pay taxes. Right at that moment. Right at her ninth month. The God Almighty, the El Shaddai, that knew you before the foundation of the world. Glory to God. Has made a God life long covenant with you and in that book and in that covenant it says by the strifes of Jesus, you were healed.

Gloria: Amen, exactly.

Kenneth: Glory be to God forevermore.

Gloria: Hallelujah.

Kenneth: Thank you Jesus. Oh, chapter two. Okay. It came to pass in these days that there went out a decree from Caesar Augustus all the worlds would be taxed. This taxing was first made in Cyrenius and Thozhal. All went to be taxed and every one into his own city. Joseph also went up from Galilee out of the city of Nazareth under Judea, under the city of David, which is called Bethlehem because he was of the house and lineage of David. To be taxed with Mary his espoused wife and as I said earlier, poor folks don't pay taxes. There wasn't a shepherd in this group. While they were there the days were accomplished that she should be delivered. She brought forth her firstborn son and wrapped him in swaddling clothes and laid him in a manger because there was no room in the end. He had the money to stay in the hotel, but he's really slowed down. She's riding a donkey. She's nine months pregnant.

Gloria: Girls, you know what that means.

Kenneth: Oh, I do. There were in the same country shepherds abiding in the field. They weren't over there paying taxes, keeping watch over their flock by night. Lo, the angel of the Lord came upon them and the glory of the Lord shone round about them and they were so afraid, and the angel said unto them, fear not for behold I bring you good tidings of great joy, which shall be to all people for under you is born this day in the city of David, a savior, which is Christ the Lord, which is the Messiah, which is the anointed one. He's the anointed one of Israel. He is the one, he's the one, he's the one.

Gloria: Praise God.

Kenneth: This shall be assigned to you. You'll find the baby wrapped in swaddling clothes lying in a manger, and suddenly there was with the angel a multitude of heavenly hosts praising God and saying glory to he. Can you imagine how loud that was? No, I don't think so. Tradition has it and I believe it. Glory to God in the Highest and it came to pass as the angel would have gone from heaven the shepherds said to one another. Now that when that came, the glory of the Lord just lit the place up like daylight.

Kenneth: Okay. What am I saying? There are references to that and anyway, but it just lit up out there where they were, around those angels.

Gloria: Praise God.

Kenneth: They couldn't stand it any longer. They just all manifest right there and the glory of the Lord shine roundabout them. Why? Why is this so big in heaven? There is nothing. No thing, not one word. There is nothing that God has ever been able to get into this earth from heaven that you can get out. The war is over. Right then as far as heaven's concerned, this is the beginning of the end and this is just only a tad three years away, tad over three years away and it's over. The war between heaven and men is over. Hallelujah.

Gloria: Praise God.

Kenneth: That's what we celebrate on this day and most people whether or not after today it's going out all over the world today hallelujah. Amen. This is why it's so big and I'm going to show you something else. Anyway, let me back up there. Suddenly there was with the angel a multitude of heavenly hosts praising God and saying glory to God in the highest on earth. Peace, good will toward men. It doesn't say good will among men. It said good will toward men. God's reaching out his hand. They weren't making Christmas cards when they said this. A lot of Christmas cards are misquoted. Not good will among men, this is just a season of good will. Well it is, but it's good will from heaven. It's good will from God and God is saying, I'm not mad at you baby. No. Amen.

Isaiah 54 has come to pass and is as the waters of Noah unto me. Amen. The flood shall no more come over the earth. Neither will I be roth or rebuke thee. Now, just almost 100% of Christians don't even know that's in the Bible. Well I'm telling you God gets mad, no God doesn't get mad. He's stern. He'll correct you, but he's not mad at anybody. Amen, because of what happened right here. Thank you Jesus. Now I want to show you something. It came to pass as the angels were gone away from them into heaven. Hebrews chapter one, are they not all ministering praise has been sent forth on the day of Pentecost, they all came back into the earth because Satan had been defeated. Glory to God.

Now the angels are all here and they don't have to be. It's not Jacob's ladder anymore where they had to come and go on assignment. No, this room is full of them right now. Glory to God. Hallelujah. Thank you Lord Jesus. Let us now go even to Bethlehem and see this thing which has come to pass, which the Lord has made known to us. They came with haste and found Mary and Joseph and the babe lying in a manger. No wise men. I just wanted out of the mouth of two witnesses, we read it yesterday but here it is again. When they had seen it, they made known broad the saying when she was told them with concerning the child and all they that heard it wondered at those things which were told them by the shepherds. Mary kept all these things and pondered them in her heart.

The shepherds returned, glorifying and praising God for all the things they'd heard and seen. It was told as it was told under them. When the eight days were accomplished for the circumcising of the child, his name was called Jesus, which was so named of the angel before he was conceived in the womb. When the days of her purification according to the law of Moses was accomplished, they brought him to Jerusalem to present him to the Lord.

As it is written in the law of the Lord, every male that opened at the womb shall be called Holy to the Lord. To offer a sacrifice according to that which is said in the law of the Lord, a pair of turtledoves or two young pigeons. Behold there was a man in Jerusalem whose name was Simeon. The same was just and devout waiting for the consolation of Israel. The Holy ghost was upon him. It was revealed under him by the Holy Ghost, he should not see death before he had seen the Lord's Christ. We're out of time. We'll have to take it up here tomorrow, but I'll tell you, I will make this comment. Of course the widow was there and in her nineties it was the prayer that knew who he was.