Kenneth Copeland - A Lack of Understanding Hinders Faith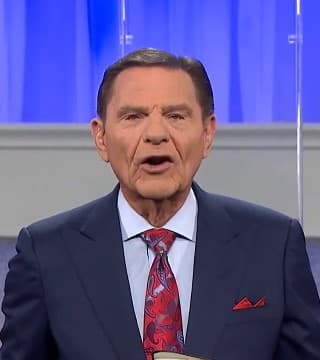 Hello, everybody. I'm Kenneth Copeland. Welcome to the Believer's Voice of Victory broadcast. Praise God. And, as you can see, we have a bunch of wild people here. And I'll tell you, you should have been here a little bit ago. Well, some of you are saying, "I knew I should have been there". Yeah, you knew you should have been here. Oh, Praise You, Lord.



Father, we thank You tonight for Your Word, and we come before Your Word with expectant hearts. And we thank You, and we open our hearts, we open our minds and ears for revelation from heaven, revealing to us Jesus our Lord and our Savior. We thank You, and we give You all the praise and the honor and the glory, every word said, every deed that's done. Thank You in Jesus' name.



Let's open our Bibles again tonight. Now, all of last week, we talked about the fundamentals of faith. Did you get anything out of that? It's an eye opener, isn't it? The fundamentals of faith. And let's go to our main text from the 11th chapter of Mark, the 22nd verse. "Jesus answering saith unto them, Have faith in God. For verily I say unto you, That whosoever shall say unto this mountain, Be thou removed, be thou cast into the sea; and shall not doubt in his heart, but shall believe that those things which he saith shall come to pass; he shall have whatsoever he saith. Therefore I say unto you, What things soever you desire, when you pray, believe that you receive them, and you shall have them. And when you stand praying, forgive, if you have ought against any: that your Father also which is in heaven may forgive you your trespasses".

Now, I want to make an observation here before we go on. Tonight we're going to be talking about great hindrances to faith. So, I want you to notice something from the 24th verse. And I'm going to amplify it a little bit, and then I'll prove to you where I got this scripture. "Therefore I say unto you, What things soever you desire, when you pray," start believing. Not later. When you pray, start. You get it? Now, Thomas said, "I will..." Say, "Will". See, this is an act of the will. "I will not believe until I put my finger in his hand and my hand in his side". Now, Jesus said, "Thomas", and then when he saw Him, he said, "My, my Lord, my God". He said, "Thomas, quit being faithless". That's faithless.

If you're waiting to see it to believe it, well, there ain't no faith in that. I mean, come on. After you've seen it, well, you've got to believe it then. But that comes from being raised all your life. You know, like we talked about last week, we talked about from a little baby, you were working on that natural sense knowledge database. I mean, when you were little, you stuck everything in your mouth to see what that was. Boy, I remember that, "Don't put that nasty thing in your mouth". So, Thomas would start believing when he saw it. Jesus is saying, "Whatsoever thing you desire, when you pray, start believing". Believing what? Believing that those words which you said will come to pass. Hallelujah. It's all right to shout in here. Hallelujah. And at home, you know, go ahead, kick the chair over. That's all right. Glory to God.

Now then, lack of understanding, this is the first hindrance to faith: Lack of understanding of the new creation. Let's turn to II Corinthians 5. II Corinthians 5, let's read the 17th verse. "Therefore if any man". I want to stop right here. I know all of you know this, but, you know, there are lots and lots and lots of people all over the world watching this that may be struggling with this. When the Bible is not a gender book unless it says, "man" or "woman". When it says, "man," it's talking about mankind. You understand? There are male tigers, and there are female tigers. You better watch the female tiger. Amen. Hallelujah. I thought to get more "amen" out of the girls than I did, but anyway... "Therefore, if any man be in Christ, he is a new creature," a new creation. If you'll study that a little bit, it actually says, "a new species" of being. Amen. A new creature.

See, you're not just a forgiven sinner. No, no. The moment you received Jesus as your Lord and Savior, your spirit being, the real you, the you that'll live forever were recreated just as powerful, just as real as Adam was created by the Word of God, you were recreated by the Word of God. Hallelujah. Thank You, Jesus. "Any man be in Christ, he is a new creature: old things are passed away". He's talking about, now, your innermost being. "Behold, all things are become new. And all things are of God, who hath...", H-A-T-H, who has already, "...reconciled us to himself by Jesus Christ, and has given us the ministry of reconciliation".

Now, I want to say something. But, of course, most of you in this room will not be startled by. But there are people watching now, and just put your gun up. Because I'm going to say something not religious at all. I'm going to tell you some truth. Murderer, when you receive Jesus Christ as your Lord and Savior, the murderer just died. "Behold", look at it again. Look at it again, please. "Old things," that old killer passed away, "...behold, all things are become new. And all things are of God who has reconciled us to himself by Jesus Christ, and has given to us the ministry of reconciliation to know, that God was in Christ, reconciling the world unto himself not imputing", not holding against them their trespasses. Glory to God.

Oh, if the world knew this, I'm telling you, if the sinning world knew this, they'd beat the doors down trying to get in. And, I would to God preachers would wake up and realize what this is all about. He'll reconcile it. The blood of Jesus solved the sin problem. He's not holding against anybody. I baptized a serial killer in the Bexar County Jail in San Antonio, Texas. Hang on a second. I just happen to have... would you like to hear his last prayer? We became very good friends. I won't go into all the story. But, he kidnapped a woman, and threatened to kill her. She didn't shut up. She kept telling him, "You ain't going to kill the only person that ever loved you". He said, "Woman, you don't know who I am". She said, "I don't care who you are. I love you". He'd say, "Shut up". She said, "Can I listen to my tape"? He said, "I don't care what you listen to. Just shut your mouth".

She had one of my tapes, she just plugged it in. Anyway, make a long story short, I spent a considerable amount of time with him over time. And then I was the last person to visit with him before they executed him by lethal injection in 1985, I think. Yeah, 1985, March 13th. And this was his final prayer. Warden Harvey was a Spirit-filled man, lovely man. I'll tell you, he just recently went on to be with the Lord. And he said, "Steven, you got something you want to say"?

Well, he was already strapped down to that gurney. He went to preaching. "Oh, if you can imagine what the Holy Ghost would do with a mess like me, think what He could do with you". And finally, Warden said, "Steven, you know, I hate to interrupt you, son, but we've got business to do here". He said, "Oh, yeah. Forgive me, pardon, Warden. Heavenly Father, I give thanks for this time, for the time that we've been together, the fellowship in Your Word, the Christian family presented to me". He called the names of the personal witnesses. "Allow your Holy Spirit to flow as I know your love has been showered upon me. Forgive them, for they know not what they do as I know that You have forgiven me as I have forgiven them. Lord Jesus, I commit my soul to you. I praise You, and I thank You".

Isn't that something? A serial killer. They convicted him and tried him for three. There were more than that, but nevertheless, I wanted you to see, God's not holding any person's trespasses against them. Now, you have to receive it. You have to receive that salvation. Amen. Oh, glory to God. All right. Now, let's jump over to II Peter, please. And II Peter 1:1. "Simon Peter, a servant and an apostle of Jesus Christ". Now, notice, I want you to get this. I'm talking about being a new creature. Say, "I am a new creation in Christ Jesus. I have the faith of God in my spirit being right now". "Simon Peter, a servant and an apostle of Jesus Christ, to them that have obtained like precious faith with us through the righteousness of God and our Savior Jesus Christ".

You have the same measure of faith as the apostle Peter, the apostle John, the apostle Paul. Why? Now listen to what I'm about to say. Because He dwells in you, it dwells in you. Can you see it? See, God's no respecter of persons. Jesus is dwelling on the inside of you by His Spirit right now. And if He's in there, everything is in there that comes from heaven. Faith is in there, forgiveness is in there, the love of God's been shed abroad in your spirit by the Holy Spirit. I tell you, this is big stuff. Amen. I want you to know there is born into you and into me and every one of you watching out there, there is born into you greatness. Christ within you, your hope of glory! Glory to God. Amen.

Colossians, Chapter 1. Thank You, Lord Jesus. Oh, glory to God. Colossians 1, and let's begin reading in Verse 19, "For it pleased the Father that in him should all". No, the Lord won't let me start there. I need to read up here in Luke, in Verse 12, "Giving thanks unto the Father, which has made us able to be partakers of the inheritance of the saints in light, who hath". He already has delivered us from the power, the authority of darkness, and has translated us into the kingdom of God's dear Son. Amen. He's already done that. Now, it's up to you to respond and be reconciled to Him. Isn't that wonderful?

Now, let's go down to the 22nd verse, 21, "And you". Oh, I love it! Help me, Jesus. I'm like Brother John Jessup. Oh, there's a run going through me. "And you, when you sometime alienated and enemies in your mind by wicked works, yet now hath he reconciled in the body of his flesh through death, to present you holy and unblameable and unreproveable in his sight". Glory be to Jesus. Glory be to God. I said, glory, hallelujah. Thank You, Lord. Now let's go to I Peter, Chapter 1. I Peter, Chapter 1. And let's look at the 23rd verse. I Peter, Chapter 1, Verse 23, "Being born again, not of corruptible seed, but of incorruptible, by the word of God, which liveth and abideth for ever". What are we talking about? We're talking about being a new creature, being a new creation.

Now, look quickly at the 9th verse, 2nd chapter, 9th verse, "But you are a chosen generation, a royal priesthood, a holy nation, a peculiar people; that you should show forth the praises of him who hath called you out of darkness into his marvellous light". I'm a king and a priest. That was weak. Say, "I am a king and a priest". Oh, hallelujah! We've got a minute left here. Let's go to Revelation, Chapter 1. You ought to be able to find that one in a hurry. See, if you read the back of the book, we win. Oh, yeah. Revelation, Chapter 1, it is not "Revelations". I'm serious about this. Revelation, one revelation.

Okay, Revelation, Chapter 1, and I want you to look at Verse 4. "John to the seven churches which are in Asia: Grace be unto you, and peace, from him which is, which was, and which is to come; and from the seven Spirits which are before his throne; and from Jesus Christ, who is the faithful witness, and the first begotten of the dead, and the prince of the kings of the earth. Unto him that loved us, and washed us from our sins in his own blood, and hath made us kings and priests unto God and his Father". Somebody shout, "Amen".