Kenneth Copeland - Faith Accomplishes the Plan of God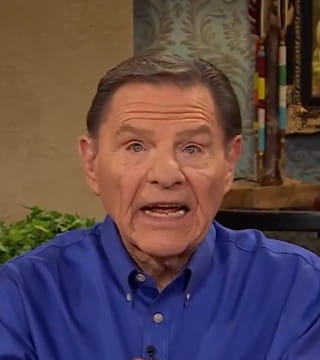 TOPICS:


— Hello, everybody. Jesus is Lord. Amen. He is Lord. He is on the throne and prayer changes things. So open our Bibles to the book of Ephesians to chapter six. There is a key verse here in the sixth chapter of the book of Ephesians that will help a person have a prosperous mind where you do things to prosper other people. And you begin with this sixth... Oh, there's a whole sixth chapter. We don't take time to read that. Look at the eighth verse. The seventh verse, "With good will doing service, as to the Lord, and not to men:" Goodwill, doing service unto the Lord, "Not to man knowing that whatsoever good thing any man doeth, the same shall he receive of the Lord," And after that I begin to pray and seek the Lord about that. I said, "How could I do that"? You start with the simple things. He said, "You notice wherever you are, in whatever restaurant, somebody has to pay for those supplies". And I have gone into a men's room some time and some guy, they're pulling the towels out of there. And you know, wipe his hands and throw them in the floor, they had to pay someone to pick those up and they had to pay for the towels. And so the Lord said, use only towels necessary and then take that towel and clean that counter because you're helping someone else prosper and there are people and angels will come along behind you and it will save your ministry and you and Gloria personally. Amen. Then you masters do the same thing. Come on down. "Put on the whole armour of God, that ye may be able to stand against the wiles of the devil. For we wrestle not against flesh and blood, but against principalities, against powers, against the rulers of the darkness of this world, against spiritual wickedness in high places. Wherefore take unto you the whole armour of God, that ye may be able to withstand in the evil day, and having done all, to stand. Stand therefore, having your loins girt about with truth, and having on the breastplate of righteousness;" You are a child of God, and you're the righteousness of God in Christ. You have right standing with him. "And your feet shod with the preparation of the gospel of peace;" The Gospel is the power of God. So you're walking in his power, the power of God unto salvation. "Above all, taking the shield of faith," why? Because all of these other things depend on faith to make them work. "Wherewith ye shall be able to quench all the fiery arrows of the wicked. And take the helmet of salvation, and the sword of the Spirit, which is the Word of God: Praying..." Uh, oh... And you're going into prayer, and you hadn't suited up yet. Maybe you better go back into your prayer closet and put your armor on. There was a woman called me, and she'd been healed of cancer in our ministry. In fact, I was one of the ones that ministered to her. She called and she said, "That old cancer has come back on me". I said, "Okay, get your Bible". I heard her say, "Where's my Bible"? Well, that's why I had to start it square one again. And tell her you have a covenant with God. It's in the blood of Jesus... oh, yeah. But this is where you change things. Praying, look now. "Praying always with all prayer..." One verse says... With all kinds of prayer. Read the Classic Amplified there. All different kinds of prayer. So there's a prayer of faith, it's a big one. There's also the prayer of dedication. There's also the prayer petition. And the different sets and ways of praying. So all of those are involved. And supplication in the Spirit. What about that? Supplication, intercession... "watching thereunto with all perseverance and supplication for all saints; And for me, that utterance may be given unto me, that I may open my mouth boldly". So who is the, "For me"? Well, that's your pastor. And you don't, you know, just pray for him on Sunday. A lot of people think going to church is serving God. It isn't. That's not serving God. Serving God is what you do at church. Are you helping the pastor? Are you volunteering to do things, or have you decided that maybe you're ready to get a team together and clean up that flowerbed out there in front? That's serving God. It is serving God. When you go to Pastor and say, Pastor, what can my wife and I do around here, oh, we love this church. The church doesn't belong to André and Jenny. It belongs to the congregation. And I wanted to point that out. So this is prayer armor. And you get down on your knees and you put that armor on and you make sure that this thing is in faith. And I'm not going to have a bunch of fear about this. I already have the Scripture. I've already sowed the seed. Now what else? What else can I do here? Amen, let's sow some more seed. Let's get something else in the ground just for the fun of it. The Three Musketeers... It was Jerry, Jesse, and I, we were Hawaii together. I walk by this restaurant, the Lord said, "Go in there". It was at the middle of the day. I can just see it in my mind. Not hardly anybody in there. I said, "Come on, guys. The Lord wants me to go in here. Wants us to go in here". Walked in there and there was a man behind the counter there. He said in my spirit, he said, "Give him $100. He needs it". What if I hadn't had it, he wouldn't have told me. So I did. Jerry said, I want a piece of this. And of course Jesse said, "You're not leaving me out of this". Tears came up in his eyes. Suddenly he had no idea. Then in a few moments, $300 was going to walk in the front door of that building, and he had no idea that we walked in there, handed him $300, turned around a walked out. Unless he watched us on television, he still doesn't know who did it.

— But that's what we've been saying the whole week.

— Yes it is.

— Obedience.

— Yes, that's it.

— And going through with what God has told us to do.

— And if you read the sixth, then he's talking about obedience here. He said, servants be obedient. Not because it looks good, unto the Lord.

— You know, Brother Kenneth, a couple of weeks ago. And maybe, Jen you can add into this, but a couple of weeks ago, God spoke to me, and I started to preach and teach a series on Become Who You Are. And I said, "Lord, that sounds a little strange. Shouldn't it be, 'Becoming who you are.'" And he said, "No, become. It's a commandment".

— Yes, it is.

— It's not a journey. It's not a journey from where you are now to where you should be. Faith is instantaneous. Become who you are. That's what obedience is. Obedience is instantaneous. It's not well, I'm going to think about it, try and be in faith. I'm going to make a decision today to be in Faith.

— That's living by faith.

— That's living by faith. And so when the Lord spoke to us about that, we just started to teach on this fact for you to step into. That's what you're talking about here. That's what you're talking about from this particular portion is you saying, hold on, you have to operate every day of your life in absolute, absolute obedience to the will of God and to become who God's told you to be.

— Hallelujah.

— That's the key here.

— Yes, it is.

— And that's what I really you know, just as you were speaking there, with that act of obedience, you change someone else's destiny.

— Oh that's good, yeah.

— You bring about a shift in their mind to say God saw me.

— He'd have us told him that. That the Lord directed us in here. And I said something like, you know, I don't know you. But I do know the Lord Jesus and he directed us in here to see to it that you were blessed today. And that's the way you do it.

— Love of God.

— That's the love of God, yeah.

— When I first opened it up to the 11th chapter of the book of Hebrews and I've studied this word by word and word by word. And I got over here to the 11th chapter... Don't Start in the 11th. There's nine chapters before... They all lead up to 11. And in the 10th chapter, most particularly now, the just shall live by faith. "But every man that draws back my soul shall have no pleasure in him. We're not of them who drove back onto perdition, but of them they believe, now faith is the substance". And then each one of these... For it by faith obtained a good report, through faith, we understand. By faith Abel offered... Each one of these include obedience to God. By faith Noah... Boy, he had to look like a biggest fool that ever was. It had never rained. There was no such thing as rain. And when you study it, you find out that the depth and beneath came up, like in the Garden of Eden and so forth. And then it brought moisture and dew on the ground that watered the plants. And he's out there building a boat. And some guy is saying, what is a boat? What do boats do? And he's building one. Huge. And he's spending all his time building this thing. And they're calling him fool and all that. And it says, God shut him in, and it began to rain. And they were saying, "What is this"? What is this? 40 days and 40 nights. That's six weeks of solid rain. And the fountains of the deep broke up and they're beating on the walls of that thing trying to get in. Then God promised by his rainbow he'd never do it again. And I looked at that. I said, "Gloria, this is the Hall of Fame Of faith".

— Praise God.

— It's the only way to live.

— And it was all because of obedience. "These all died in faith, not having received the promises, but having seen them afar off and were persuaded of them and embraced them and confessed that they were strangers and pilgrims and on the earth, for they that say such things, declare plainly that they seek a country". They saw it. I like what it said about Abraham. Hallelujah. Praise God. "By faith Abraham, when he was tried, offered up Isaac: and he that had received the promises offered up his only begotten son, Of whom it was said, That in Isaac shall thy seed be called: Accounting that God was able to raise him up, even from the dead; from whence also he received him in a figure". He believed it, he's the father of many nations. And I'm going to get to see him raised from the dead and the angel said, huh uh... You'll not be doing that. But then that had to happen because his covenant partner knew that there's coming a time when his only begotten son would say, "Father, if there's any way that this cup pass from me". And he couldn't. He couldn't do it. His covenant partner at 100 years old, was circumcised and his own blood flowed. Now, can you imagine the pain, the swelling of a man that old and he bled and he suffered that. And now... And he did it the same day that God said it. And he's fully persuaded. Well, now he's healed. And he has a covenant with God. And he's going to get to see it. And you had a covenant with God, and there was a dome in it. And there were people in it, and there were people that needed to come there. And there were people that needed to come there from other parts of South Africa. There were people that needed to move there and move into this gorgeous, beautiful structure. And we all needed to be there that day and we all needed to get down on our hands and knees and dedicate this thing. Because Solomon didn't dedicate the temple, the people did. And when you read that, the people are the one that said it. And so there we were all of us, holy ground, holy ground that grew up out of a sheep barn sitting right there by the river. The other one was the river church. And out of that river of healing came the dome. The Faith Dome... That makes me remember Fred Price. They built a dome. And it was impossible. And so I prayed there. And I told him, I said, "You've built a faith landmark". I was flying in there to preach there. And ATC said to someone just in front of me, whatever the clearance was, flight heading of such and such, and then turn left, go over the Faith Dome. To them it's just a spot on the ground. But every time they did it, they had to say faith. Somebody is going to say, What is a faith dome? And where is the Faith Dome? And how do you find out what it's all about? And they said that. And when we got this property out here, the hangar had burned down. And so later we had, you know, believe for the money to replace it. So we left for the West Coast Believers' Convention. All this has to do this which will come up next week. Faith... All these semi's came in there. I said, "Gloria, there's our hangar coming in right there". We had built a smaller hanger there, and we were flying a 421 then. Came back the end of the week and there that thing was, it was huge. So I just made up like that and I flew around a she said, "Kenneth we have built a landmark". What do you think it's like to hear your name on an airport? When I was a little boy I was drawing airplanes. My name is on an airport. So and so you're cleared over Copeland's at no less than 3000 feet, they have some traffic there. And one day I took off there, and I'm taking off to the north, took off and flew out. And of course, Duane called and had to put our tail number on there. He said, "Brother Copeland on the airplane". I said, "Yes, sir, I'm here". He said, "Well, I hope all's well in the ministry". That's an ATC controller. I've never seen him. But I recognize his voice. Now here's the Faith Dome. And this thing has a white top on it. Oh, it's just delicious. It's faith did this... All of that square footage under one dome... And it looks like going into a huge athletic stadium. There's big lights and everything in there, and it is an athletic stadium. That's where we win the victory over the devil. Hallelujah and take from him. In the name of Jesus.

— Hallelujah. Hallelujah. God is good.

— Yes, he is good.

— God is good. Every promise that he's ever given you, every word that he's ever spoken to you or over you. The will of God will always accomplish what he's promised you. You get into the Word. You get into what he has said to you. You obey it and do the will of God and watch yourself prosper. I'm telling you, prosperity is coming to you as this ministry. I know. I know this ministry of Kenneth Copeland Ministries. As we've sown seed into this ministry, it has produced every single time. This is good, fertile ground for you to sow into. And I want to encourage you today as a partner to this ministry. I want to encourage you get that seed in the ground, Do what God's telling you to do. You want to see prosperity come. You want to see the blessing of God come upon your life in every area of your life. Get that seed in the ground, you are the gift of giving. God has given you everything inside of your life to be able to operate in that level like never before and watch what God's going to do.

— Faith filled thinking.

— Faith filled thinking.

— Amen.

— All I do. Go ahead and take the rest of the time we have, it's not but just a little bit. I want you to talk about some more of that.

— You know, all we've done in our lives Jen, is we've looked for the place to plant the seed, and we found the place. Now there's other places. But this is a place of prosperity. This is a place of fullness. And when I talk prosperity, I'm talking of the blessing of God in every area of your life, body, soul and spirit. You see, when you put that seed in the ground, you open it to the window of God's blessing over your life in the area of your health, in the area of your finances, in the area of everything that you touch, the hand of God will prosper over your life. Why? Because you put the seed in the ground. Father, I ask right now that every seed sown into this ministry this week by these Your partners, Lord, let them produce, let increase come in every area of their lives. And I speak hundredfold return as You did it for us in faith, Father. This is fertile ground. And Lord, tonight, today, whatever time they are watching this broadcast around the world, let prosperity, blessing and holiness come in every area of their life. I pray in Jesus' name. Amen. Amen.

— Jesus said that hundredfold in the 10th chapter of Mark's gospel. Praise God and we're out of time. We'll be back next week. And I really want to get into this book. I tell you, I'm liking this, faith on every page.

— Hallelujah.

— Thank you Lord. Well, we will be back in just a moment.