Kenneth Copeland - Prayer Changes Everything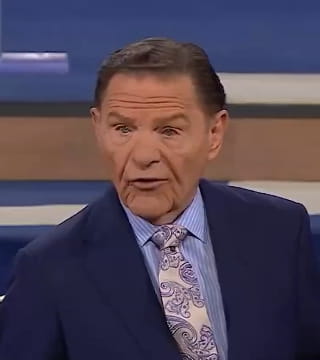 TOPICS:


So now let's go back to this Word of faith in the Classic... The Classic Amplified. And we could question if we can put it up. Hebrews 11:1, "Now faith is..." Okay... It's now, we're dealing with faith and hope. And both of them are extremely important. The Bible also says there are these three. Faith, hope and love. And the greatest of these is love. Well, of course, God is love and it's his faith. But look at this. "Now faith is the assurance (the confirmation, the title deed) of the things [we] hope for, being the proof of things [we] do not see and the conviction of their reality [faith perceiving as real fact what is not revealed to the senses]. For by [faith-trust and holy fervor born of faith] the men of old had divine testimony borne to them and obtained a good report. By faith we understand that the worlds [during the successive ages] were framed (fashioned, put in order, and equipped for their intended purpose) by the Word of God, so that what we see was not made out of things which are visible".

And people say the world was made and formed out of nothing. No, you just couldn't see it. You can't see my words. But they have impact... all words have impact. So, yes, sir, I'll do that. Turn to that right now to the sixth chapter of the book of Ephesians. Thank You, Jesus. Thank You, Lord. Ephesians Chapter six. I have this eighth verse: "Knowing that whatsoever good thing any man doeth, the same shall he receive of the Lord, whether he be bond or free". The same, well, any bad thing any man does... some hard saying that you wish you hadn't said ten second... if I could just get that back.

All right now wait a minute. "And, ye masters, do the same things unto them, forbearing threatening... Finally, my brethren, be strong in the Lord, and in the power of his might. Put on the whole armor of God", not just pieces of it, "Put on the whole armor of God, that ye may be able to stand against the wiles of the devil. For we wrestle not against flesh and blood, but against principalities, against powers, against the rulers of the darkness of this world, against spiritual wickedness in high places. or heavenly places. Wherefore take unto you..." You have to take it and put it on. I ministered to a woman that was healed of cancer and then I got word that she wanted me to call her back. She said, "Brother Copeland, this old cancer's come back on me". I said, "All right, now you remember, you have a covenant with God". "Well, yeah, well", "Get your Bible". I heard her say, "Where's my Bible? Get my Bible".

What do you suppose she's been doing? Try TV. Probably watching General Hospital. That's it right there. That's what I've got. Look at that. It already happened. That's one of the reasons Gloria and I believe God stood on the Word of God so that we could have a place where you could get totally immersed in in the Word of Faith, we were believing for that back when we got on radio, just total immersion in it because I found out during World War II they needed interpreters and translators in languages that didn't even and didn't even exist in the United States, like Japanese. So Monterey, California, they had total immersion language schools. And when you came in there, English was no more.

If you had to look at pictures, all you heard were words in that language. In six months, you were fluent, and in a year you were an interpreter. Total immersion. But I thought, I'm going to do this with Spanish. And I did. And I never was in a place where I could stay in it that long, but received a good foundation in it. Total immersion. And I remember that they began to talk about different things. And we were there in the classroom. And my instructor was a woman. And she said, "La mesa..." la mesa. La mesa is flat. La mesa, La mesa. So she took this chair and she said the table... Total immersion in faith where you think faith and you speak faith.

There are things I absolutely will not say and now Brother Moore is talking about being free and talking about tobacco. I'm telling you, the night I was born again, that profanity was gone, but that tobacco wasn't and I'd messed with it since I was a little boy and I wanted to smoke something all the time. And, you know, take Cedar bark and roll it up. Roll it. And toilet paper. Dear Lord... and Ralph Bellamy on some program where he's advertising Camel Cigarets. And he had a Zippo lighter. And he could do that so fast that it looked like it lit when he opened it. I thought, "Boy, I gotta learn it".

Well, I beat up my thumb trying to learn how to do that. Well, but and then I did get free of it. But then it got back on me. I was so far out of the will of God that I wanted to get back in that. But anyway, So I was working for my dad and miserable and they were having a meeting in Houston and I was in Tyler. I didn't have the money to go back get Gloria and go to Houston. Well, it's Hilton Sutton church And he and Charles Rogers... Well, this meeting wound up going to six weeks. Anyway, I drove up there in my car and I thought, yeah, well, and I just took those cigarets up, dropped that sun visor forgot about it, and so went in there.

And I was there two weeks. There's a man came in there and said, "Copeland, go get your wife". I said, Okay. And he handed me some money. I went out there in the car and I said, "Well, look at you". And... The Word separated me from it. And then I learned later through... I'm still talking about faith here and deliverance. And I began to have pain in my elbow joint. I mean, it hurt and I pray about it and it'd go away. Hmm. And so I had some partners right there close and they had a lake house. So I went up there with their permission. And of course, I had all my coffee makers. We had this old, ugly green bag about that big. They had a little Farberware coffee pot in it and a can of Folgers. It always smelled better and it tasted. They are good make it taste like that.

Anyway. And I fasted over this thing three days and that third morning I got up and the Word of the Lord came to me. He said, "You have abused coffee all those years of flying. You drank way too much of it. And the acid from it has settled in your joints". And he said, "If you want my perfect will for you, don't ever drink another cup of coffee". Well, I tried to quit, well and get that old caffeine headache. He said, "Go get your junk. Go get your junk". I got that green bag. He said, "Set it right there in front of you. I set it there". He said, "All right. Now get your communion elements".

I did. And he said, "Now take communion". I did. Took a little while there praying in the spirit. He said, "Now push that plate away from you and say, 'I have no need of you in my life again hereafter forever'". And he said, "If you get any desire to drink coffee, you're going to have to go over my blood to drink it". And from that day until this, it's gone. I said, "You want me to preach that to everybody"? He said, "I said, my will for you. What they drink is none of your business". But he said, "You can be freed from tobacco, you can be freed from hard drugs, you can be freed for anything if you'll take the communion and push it away".

Then I heard and saw Ed Cole do the same thing when a men's meeting over pornography. He took that computer and he pushed it away, took communion, and he said,"Men to go back to that pornography, you're going to have to go crosswise with the blood of Jesus". I mean, it was gone. Absolutely gone. So those were instructions and faith words. You see that? The faith came because I was praying in the spirit that whole three days over pain in my elbows. And I would pray over a little while but they'd come back. Well, of course, I was adding to it with so much coffee. So now then, I want us to go now to the book of James, if you will, and wait... I want to finish this.

"And take the helmet of salvation, and the sword of the Spirit, which is the Word of God: Praying always with all prayer and supplication in the Spirit, and watching thereunto with all perseverance and supplication for all saints; And for me, that utterance may be given unto me, that I may open my mouth boldly, to make known the mystery of the gospel, For which I am an ambassador in bonds: that therein I may speak boldly, as I ought to speak". And we've already found out that that said all kinds of prayer, all different manner of prayer. So let's go over that again. We've been talking about the prayer of petition.

Now you're going to come up with the prayer of faith and the armor of God. But then there's the prayer of intercession, the prayer of dedication, not my will, but thine be done. You don't pray that all the time. If you just pray it all the time, not my will, but your be done, not my will... Well, what is his will? I don't know. Well, the devil will accommodate you. It is not your will to be healed at this time. And don't be like Jesse Duplantis. I mean he was in that... be lacking. But he was staying with this couple and he was praying before his service the next morning and he kept seeing this devil in the room with him. He kept rebuking him and rebuking him and rebuking him until he didn't get much sleep. And the sun came up and it was a raincoat hanging on a...

Now he tells that to be the truth. I don't know. It may be like... Like Ken Junior asked his mother. He said, "Mama, those tales, Daddy tells, are they true or is he just preaching"? Oh, yes, they are. Sure they are. The words of Jesus. The Word is his will. Now, James Chapter one, go to the book of Hebrews and turn right. "James, a servant of God and of the Lord Jesus Christ, to the twelve tribes which are scattered abroad, greeting. My brethren, count it all joy when ye fall into divers temptations;" Actually, it's the temptations, test and trials.

"James, a servant of God and of the Lord Jesus Christ, to the twelve tribes scattered abroad [among the Gentiles in the dispersion]: Greetings (rejoice)! Consider it wholly joyful, my brethren, whenever you are enveloped in or encounter trials of any sort or fall into various temptations. Be assured and understand that the trial and proving of your faith bring out endurance and steadfastness and patience. But let endurance and steadfastness and patience have full play and do a thorough work, so that you may be [people] perfectly and fully developed [with no defects], lacking in nothing. If any of you is deficient in wisdom, let him ask of the giving God [Who gives] to everyone liberally and ungrudgingly, without reproaching or faultfinding, and it will be given him. Only it must be in faith that he asks with no wavering (no hesitating, no doubting)".

So there must be enough time spent meditating the Word. That's one verse of scripture on wisdom. That's not good enough. What about the book of Proverbs? Wisdom is the principal thing. Wisdom is crying out in the intersections of the streets. Hey, stupid. That's what he said. How long are you going to stay stupid? It's not talking about man's wisdom. He's talking about the wisdom of God. There is one of the manifestations of the gifts of the spirit, which is the Word of wisdom. The Word of knowledge, and the discerning of spirits. Special faith, gifts of healings, working miracles, tongues, interpretation of tongues. Thank You, Lord. Faith is involved in all of it.

So there must be some meditation time. We won't take time to do that. But you go to the book of Deuteronomy, and then what? Huh? Yeah. What did he say? What the Lord tell? Well, let's turn over there and look at it. The name Joshua has been Anglicized. It's Jesus, in fact, in the King James. And in the book of Hebrews it was translated and people get kind of fouled up over that. But it's the same name. It means savior and safety and Yeshua, the book of Joshua.

"Now after the death of Moses the servant of the Lord it came to pass, that the Lord spake unto Joshua the son of Nun, Moses' minister, saying, Moses my servant is dead; now therefore arise, go over this Jordan, thou, and all this people, unto the land which I do give to them, even to the children of Israel. Every place that the sole of your foot shall tread upon, that have I given unto you, as I said unto Moses". Now come down here to the eighth verse, "This book of the law"... the Word of God... "This book of the law shall not depart out of thy mouth;" Don't say anything else. "But thou shalt meditate therein day and night, that thou mayest observe, you may see to do according to all that is written therein: for then thou shalt make thy way prosperous, and then thou shalt have good success". You will deal wisely in all of the affairs of life.

First Corinthians 1:30. That was in the first covenant. Okay, what about the second? So we have the book of James. We have wisdom is the principal thing. You meditate in it, you will have wisdom you'll observe to do. First Corinthians Chapter one, verse 30, "But of him are ye in Christ Jesus, who of God is made unto us wisdom, and righteousness, and sanctification, and redemption: That, according as it is written, He that glorieth, let him glory in the Lord". So there's another wisdom of Scripture. Amen. And you could just go through the book of Proverbs and take those things. Trust in the Lord with all your heart. Listen and lean not to your own understanding. Forget about what you're thinking about and meditate the book.