Kenneth Copeland - Prayer Begins With God's Love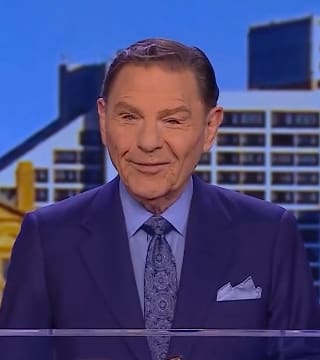 TOPICS:


I have a prayer assignment. And concerning the different kinds of prayer. So two things that the Lord has instructed me to do. First of all, Jesus had a lot to say about prayer. So let's go to the Gospel of John, please. And I'll remind you once again that from the 13th chapter of the book of John, "Now before the feast of the Passover, when Jesus knew that his hour was come..." All of the different things that he said from the 13th, 14th, 15th, 16th, 17th chapters of the book of John were all in what has been termed as The Last Supper. No, it was the beginning supper. Amen. They had no idea that he was preparing them for his departure, but he was.

And so in order to get them ready for it. But there's something here in the 17th chapter that we must talk about first. These words spoke Jesus and lifted up his eyes to heaven. Let me give you a little background here. We were there in Tulsa and I was learning about the prayer of agreement and, you know, from Brother Hagin. So our house... our house wasn't as big as that platform. Just about the front of it wasn't that wide. So you can imagine how small the rest of it was and the small living room there and the hall hallway and it was wintertime and there was a floor furnished in the hall, just to give you an idea.

So I said, Jesus is praying here. I didn't realize back then what I just told you about. And I just took the different chapters. At that time, I didn't realize all of the truths about what was happening here because I was a beginner. "These words spake Jesus, and lifted up his eyes to heaven, and said, Father, the hour is come; glorify thy Son, that thy Son also may glorify thee:" and I'm like, isn't this wonderful, "As thou hast given him power over all flesh, that he should give eternal life to as many as thou hast given him". And Oh, glory to God. I agree. "And this is life eternal, that they might know thee the only true God, and Jesus Christ, whom thou hast sent". Yes amen. "I have glorified thee on the earth: I have finished the work which thou gavest me to do". Hallelujah. "And now, O Father, glorify thou me with thine own self with the glory which I had with thee before the world was".

Isn't that wonderful? "I have manifested thy name unto the men which thou gavest me out of the world: thine they were, and thou gavest them me; and they have kept thy Word". Yes, keep the Word of God. I agree. "Now they have known that all things whatsoever thou hast given me are of thee. For I have given unto them the words", the words, hallelujah, "which thou gavest me; and they have received them, and have known surely that I came out from thee, and they have believed that thou didst send me. I pray for them: I pray not for the world, but for them which thou hast given me; for they are thine. And all mine are thine, and thine are mine; and I am glorified in them". Beautiful. Oh hallelujah. "And now I am no more in the world, but these are in the world, and I come to thee. Holy Father, keep through thine own name those whom thou hast given me, that they may be one, as we are one. While I was with them in the world, I kept them in thy name:" Glory to God.

Now, I didn't realize then what I realize now. He's not saying I kept them in your name. He said I kept them inside your name. And anyway. "And now come I to thee; and these things I speak in the world, that they might have my joy fulfilled in themselves". Glory to God... for the joy. I agree. "I have given them thy Word; and the world hath hated them, because they are not of the world, even as I am not of the world. I pray not that thou shouldest take them out of the world, but that thou shouldest keep them from the evil". Oh, glory to God. I agree with that. "They are not of the world, even as I am not of the world".

All the time I was doing this, I'm just walking around in there and just praising God. I've learned a little bit about prayer and very little, "Sanctify them through thy truth: thy Word is truth". Yes. And the truth will make you free, "As thou hast sent me into the world, even so have I also sent them into the world. And for their sakes I sanctify myself, that they also might be sanctified through the truth. Neither pray I for these alone, but for them also which shall believe through their word". And I thought, that's me. Glory to God "That they all may be one; as thou, Father, art in me, and I in thee, that they also may be one in us: that the world may believe that thou hast sent me. And the glory which thou gavest me..."

Whoa, whoa, the glory, the glory. Oh, oh, the glory? I don't know about that, but it's written in red. It must be right. "The glory which thou gavest me I have given them;" Oh well yeah. He's given them "That they may be one, even as we are one: I in them, and thou in me, that they may be made perfect in one; and that the world may know that thou hast sent me, and hast loved them, as thou hast loved me". No, no, no, no, no, no, no, no, no, no, no. Oh, no. Oh, no, no, no, no, no, no, no, no, no, no, no, no, no, no, no, Father, there's no way you love me as much as you do Jesus. No, no, no. I was shaking from... almost. I was trembling. I said, but this is when... Red words win. My God. Oh, Lord. Oh, God. God loves Kenneth. Oh, God. Love God, God. God loves me as much as he does Jesus. God loves me as much... Well, of course he is love. He can't do anything else. Hallelujah.

I learned many years later that that is an exceedingly precious promise. God loves me. And I just walked around all day long. God loves Kenneth. God loves me. And I remember when I found the scripture that said, you know, that God died for the sinner, the ungodly. I said, "Well, I qualified for that". But then I found his mercy endures forever. And I said, "Oh my God, thank You". Said all that, it's in the book. Jesus shed his blood so that that would be true. And then I began to realize that Jesus went to the cross to provide this. Father, I will. He what? I will.

"I will that they also, whom thou hast given me, be with me where I am; that they may behold my glory, which thou hast given me: for thou lovedst me before the foundation of the world. O righteous Father, the world hath not known thee: but I have known thee, and these have known that thou hast sent me. And I have declared unto them thy name, and will declare it: that the love wherewith thou hast loved me may be in them, and I in them". And then you find out that the love of God has been shed abroad in our hearts by the Holy Ghost.

So the first thing about prayer or any other part of the Christian life is that God loves you. All right, now slip back over here to the 14th chapter. "Let not your heart be troubled: ye believe in God, believe also in me". The 21st verse. "He that hath my commandments, and keepeth them..." Now, wait a minute. What commandment? Well, look back over here to 13th chapter. "A new commandment I give unto you, That ye love one another; as I have loved you, that ye also love one another. By this shall all..." Men is in italics. "Thou all people know that you are my disciples if you have love for one another". So now he's talking about that commandment. "He that hath my commandments, and keepeth them, he it is that loveth me: and he that loveth me shall be loved of my Father, and I will love him, and will manifest myself to him".

Now turn with me, please, to First John, and we'll look at the fifth chapter here. These are letters. Does anyone write you letters in chapter and verse? We'll sit down and read the letter. Well, let's see here. It's one, two, three, four, five, five pages. The Lord had me years some years ago to read the letter every day. I read it every day. Now, technology is a wonderful thing. I am studying... Praise God. I have a USB in my car listening to my mother teach on the Lord's prayer. If that isn't cool, I don't know what is and I get to hear her voice. Amen. And she's just going on along there and she said, "Kenneth held a meeting down in Cleveland, Texas".

I forgot about having a meeting in Cleveland, Texas, but she was there. Amen. No, no... Thank you, Lord. Let's turn over here to the book of Ephesians. I want to read something there, chapter six. I like to start with the 8th verse.

"Knowing that whatsoever good thing any man doeth, the same shall he receive of the Lord, whether he be bond or free. Put on the whole armour of God, that ye may be able to stand against the wiles of the devil. For we wrestle not against flesh and blood, but against principalities, against powers, against the rulers of the darkness of this world, against spiritual wickedness in high places. Wherefore take unto you the whole armour of God, that ye may be able to withstand in the evil day, and having done all, to stand. Stand therefore, having your loins girt about with truth, and having on the breastplate of righteousness; And your feet shod with the preparation of the gospel of peace; Above all, taking the shield of faith, wherewith ye shall be able to quench all the fiery weapons of the wicked. And take the helmet of salvation, and the sword of the Spirit, which is the Word of God: Praying always with all prayer and supplication in the Spirit, and watching thereunto with all perseverance and supplication for all saints; And for me..."

Praying always with all prayer, all different kinds of prayer, the prayer of salvation. I've already mentioned the prayer of agreement. There's the prayer of dedication, not my will, but thine be done. There are people that try to pray that on every prayer. My dad used to pray and forgive. And in the way he did it, he didn't pray long prayers. And he would say, "And forgive us of all of our sins". And so I ask him one day, I said, "Dad, did you sin today"? "What, what"? That was not a specific prayer to him. It was traditional. So he'd just prayed it all the time. And then he said to me one time, he said, you know, it's wonderful.

After I've kind of learned how to pray here. He said, "We ought to just shot a scattershot, maybe some of it will land somewhere". There's too many Christian people pray like that, like throwing mud at a wall. Oh, I was a little boy and I thought this was great fun to make mud balls, big mud balls like that, and put them on the end of a stick. My folks had a white garage. And I'd go out there and see how far I could get. Get that. Whoa! Wow. Pow! Oh, that's cool. Kenneth! You get a bucket of soap you wash down the side of that... Then I realize that's pretty stupid. But that's the way a lot of people pray.

This is one of the reasons that I so enjoyed watching the 700 Club. Because to watch the Miracle Prayers and in a disastrous situation, there was one woman that just stopped when she heard the news and she said, "Lord, how do you want me to pray about this"? And immediately, a scripture jumped up in there, shall live and not die and declare the works of the Lord. Now, she had a prayer. She had the answer to the prayer, and it worked. And then you find out watching corporate prayer. Hallelujah. That's a big thing. Corporate prayer. But when you get on social media and you begin to choose people to put on there, pray as you do so you don't want somebody on their cross cutting what you're praying.

For instance, back there in 1963, Dr. William Stanley Reed gave an invitation to come be filled with the Holy Ghost. I turned around at my mother, I said, "Is that something you ought to have"? My mother said, "You should have that. Yes". So I just grabbed Gloria by the hand. I had no idea what was about to happen. No instruction, no scripture was read. Just, you want to be baptized in the Holy Ghost? "Yeah, Mama said I needed that". Amen. And the men were praying. Let go, brother. Hang on. Oh, Jesus. Oh Lord, baptize him if it'd be your will. They just gave up on me. So the women were praying for Gloria. And so Dr. Reed said, "Lay your hands on Gloria". "No, no, no, no". He said, "Put your hands on her".

And when I touched her back, I knew. I knew something happened to me. And I stumbled up on the platform there and sat down and he just touched me on the head and said, "No more English". Well, and I didn't... It just happened. Well, let's go... No, you don't. That's better not having it, but it's much better if you know what you're doing and why you're doing it. It's not just for the experience. It is a form of prayer. Well, anyway. I didn't know what I was doing, so... let's go over here now. All manner of prayer.

Now, First John 5. "Whosoever believeth that Jesus is the Christ is born of God: and every one that loveth him that begat loveth him also that is begotten of him. By this we know that we love the children of God, when we love God, and keep his commandments. For this is the love of God, or this is loving God, that we keep his commandments: and his commandments are not grievous". It's why his commandment is to love one another. "For whatsoever is born of God overcometh the world: and this is the victory that overcometh the world, even our faith".

Now, he has established here that faith is the victory. He got that from Jesus. He said, "In the world you'll have tribulation". Now I'm paraphrasing, "don't worry about it. I've overcome the world". So you continue to read verse 13. "These things have I written unto you that believe on the name of the Son of God; that ye may know that ye have eternal life, and that ye may believe on the name of the Son of God. And this is the confidence that we have in him, that, if we ask any thing according to his will, he heareth us: if we ask any thing according to his Word, he heareth us: And if we know that he hear us, whatsoever we ask, we know that we have the petitions that we desired of him". The prayer of petition to petition the very throne of God.