Kenneth Copeland - Write the Petition and Vision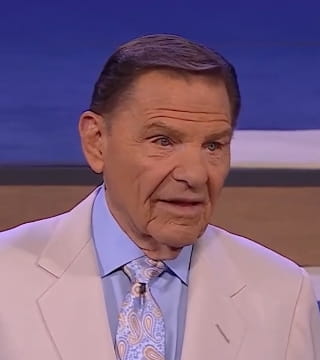 TOPICS:


We're talking about the prayer of petition. First Timothy, chapter two. "I exhort therefore, that, first of all, supplications, prayers, intercessions, and giving of thanks, be made for all men; For kings, and for all that are in authority; that we may lead a quiet and peaceable life in all godliness and honesty. For this is good and acceptable in the sight of God our Saviour; Who will have all men to be saved, and to come unto the knowledge of the truth. For there is one God, and one mediator between God and men, the man Christ Jesus; Who gave himself a ransom for all, to be testified in due time".

There is a form of... What did he say? Supplication, prayers, intercessions, and giving of thanks. That's a petition for all men, kings and for all that are in authority, that people that are in authority over cities, the nation. I am not the judge. No. It's my job to forgive. But it's also my job to pray. And I pray for my partners every meal all the time, every day, day and night. Hallelujah. And I remind the Almighty God of what George Washington did on his inaugural. Opened his Bible to the 17th chapter of the book of Genesis, where God made a covenant with Abraham and said this nation... well he said many nations will come from here. And he bowed his knee and he kissed his Bible. And then he began to pray. And he said, "You will be our God and we will be your people". So I remind the Lord of his covenant. Abraham, Isaac, Jacob and George. Amen.

Now here is a covenant fact. Heaven says it's done. Now, what do you say? Here's what the Spirit of God said to Gloria. I came home from school, Oral Roberts University, and I came in and she said, "Kenneth, I want to tell you what the Lord said to me today". She said, he said, "In consistency lies the power". I said, "Gloria Jean, I got the same thing today. We don't just say we're well when we're sick. It's what we say all the time. We are responsible now that we know for every word that precedes out of our mouth. All day. All day and all night".

A young lawyer came to Jesus testing him and said, "Master, which is the greatest commandment of all"? He said, "The greatest commandment of all, to love the Lord thy God with all your heart, all your mind, all your soul and all your strength," your strength being your will. And the second is like unto it. Love your neighbor as yourself for on these two commandments hang all the law and the prophets. So love is the curtain rod upon which the satisfies all of the law and all of the prophets guaranteeing the blessing of Abraham on all of us. So now let's continue with this. For those of you that weren't here this morning, we will look at oh, first of all, we'll go to First John Chapter five. May I remind you, I won't take time to go there and read it, but we will. Jesus is hanging on that cross. Can you imagine it?

And he's looking down. John is here, and his mother is here. And he said, "Behold your mother and behold your son". So I pay attention to what he said, and he's the apostle of love and he outlived them all. They couldn't kill him. They boiled him in oil and it didn't work. That scared the Romans so badly. I mean, they put in a bath and put him in boiling oil. And when they pulled it out, he was well. So they exiled him to the Isle of Patmos. Just throw him away. And he wrote the last book in the book after the book of Revelation. It says the end. So read the back of the book first. We win. Yes, we do.

So now, chapter five. "Whosoever believeth that Jesus is the Christ is born of God: and every one that loveth him that begat loveth him also that is begotten of him. By this we know that we love the children of God, when we love God, and keep his commandments. For this is the love of God, that we keep his commandments: and his commandments are not grievous. For whatsoever is born of God overcometh the world: and this is the victory that overcometh the world, even our faith".

Verse 13. "These things have I written unto you that believe on the name of the Son of God; that ye may know that ye have eternal life, and that ye may believe on the name of the Son of God. And this is the confidence that we have in him, that, if we ask any thing according to his will, or according to his Word, he heareth us: And if we know that he hear us, whatsoever we ask, we know that we have the petitions that we desired of him. If any man see his brother sin a sin which is not unto death, he shall ask, and he shall give him life for them that sin not unto death. There is a sin unto death: I do not say that he shall pray for it. All unrighteousness is sin: and there is a sin not unto death. We know that whosoever is born of God sinneth not;" Hang on. Thank You, Jesus.

And five. "We know absolutely that anyone born of God does not deliberately and knowing practice committing sin. But the one who has begotten God carefully watches over and protects him. Christ divine presence within him preserves him against evil. And the wicked one does not lay hold or get a grip on him or touching", amen. Hallelujah, doesn't touch him. So as long as we walk in love and walk by faith and not by sight, we are part of The Untouchables. Thank You, Jesus. Hallelujah. So now... "The elder unto the wellbeloved Gaius, whom I love in the truth. Beloved, I pray above all things that thou mayest prosper and be in health, even as thy soul prospereth. For I rejoiced greatly, when the brethren came and testified of the truth that is in thee, even as thou walkest in the truth. I have no greater joy than to hear that my children walk in truth".

This is all that same man. It's precious... The things that he recorded. So now the prayer of petition. So we looked at Habakkuk chapter two. "I will stand upon my watch, and set me upon the tower, and will watch to see what he will say unto me, and what I shall answer when I am reproved. And the Lord answered me, and said, Write the vision, and make it plain upon tables, that he may run that readeth it. For the vision is yet for an appointed time, but at the end it shall speak, and not lie: though it tarry, wait for it; because it will surely come, it will not tarry". You lay up a prayer of petition and once you are assured of it.

Well, I wrote it down, my petition. Before the week's up, I'll bring that little tablet, just a little yellow tablet with lines on it and I was praying one time and the Lord said, You believe my written Word? I said, "Yes". He said, "You write my Word. You write it down. I'll honor your word. So therefore, you can write my Word down and say, it's written because you wrote it," and I've done this over the years. And those little tablet things and I tear them off and right there on my mirror, just in the morning where I shave. I go over my petition. Surely Jesus bore our sicknesses and carried our pains. They did esteem him stricken, smitten of God and afflicted. But he was bruised for our iniquities.

Chastisement of our peace was upon him. And with the strife, we were healed. Jesus went in to Peter's house, saw his wife's mother laid sick of a fever. He touched her hand, and the fever left her. When evening was come, they, whose they? The ones that the Spirit of God moved to do it. And they brought many who were possessed with devils. And he cast out the spirits with his Word healed all that were sick that it might be fulfilled, which were spoken by Isaiah the prophet, saying he took on infirmities and bare sicknesses. That's the way this book works. And then you go over to First Peter, "Who his own self bore our sins in his own body on the tree that we being dead to sins should live unto righteousness by whose stripes you were healed".

Don't start there. That's the 24th verse. There's 23 verses ahead of that, there are conditions to that. You meditate the conditions. All right. So now write the vision, and I'll remind you again, because we're going there that the Apostle Paul said, "I have not been disobedient to the heavenly vision" so pray. Whether your petition has to do with finances, whether it has to do with something about family, business, ministry, church, meditate on it, think about it, take the time to get before the Lord and just hold your Bible there and it'll come up in your spirit. Well, and the kind of petition that I was writing, I just went to the prayers that Jesus prayed. That's good place for anybody to start. Then the prayer is the Apostle Paul prayed. Work with it. Work with his Word.

Now, I won't say this again because most Christians let this just say, "Well, it's the Word of God". Yeah, that's the reason it's Holy Bible. But what does that mean? It means the same thing here as it does in Canada. And this is the real reason that we have a young man today that's alive in the world that should have died in your womb. How old is he now? "He's 13". "13"? "Yeah". "And he did die in the womb, but came back to life". "That's right, he did. The Lord raised him from the dead. That'll work". But it won't work if you don't work it. This is God's bond. "God is not a man, that he should lie; neither the son of man, that he should repent: hath he said, and shall he not do it? Or hath he spoken, and shall he not make it good? Behold, I have received commandment to bless: and he hath blessed; and I cannot reverse it".

Well, the son of man could have lied and didn't, Hallelujah. Thank You, Jesus. Now then. Write the petition. Write it down. Write the vision. Do you know what your heavenly vision is? Hallelujah. And in my praying concerning this ministry, and I went before the Lord about it. And it kept coming back to this place.

"Though he were a Son, yet learned he obedience by the things which he suffered; And being made perfect, he became the author of eternal salvation unto all them that obey him; Called of God an high priest after the order of Melchisedec. Of whom we have many things to say, and hard to be uttered, seeing ye are dull of hearing. For when for the time ye ought to be teachers, ye have need that one teach you again which be the first principles of the oracles of God; and are become such as have need of milk, and not of strong meat. For every one that useth milk is unskilful in the Word of righteousness: for he is a babe. But strong meat belongeth to them that are of full age, even those who by reason of use have their senses exercised to discern both good and evil".

Glory be to God. That's my heavenly vision. That became the mission statement. But that was long time before there was a mission. That was while I was at Oral Roberts University listening to Brother Hagin, and that became my heavenly vision. Amen. And so now let's go to John 13:34. "Now before the feast of the Passover, when Jesus knew that his hour was come that he should depart out of this world unto the Father, having loved his own which were in the world, he loved them unto the end. And supper being ended, the devil having now put into the heart of Judas Iscariot, Simon's son, to betray him; Jesus knowing that the Father had given all things into his hands, and that he was come from God, and went to God; He riseth from supper, and laid aside his garments; and took a towel, and girded himself. After that he poureth water into a bason, and began to wash the disciples' feet, and to wipe them with the towel wherewith he was girded".

Now, as you flow down in through here and read these things and you come to verse 22, "Then the disciples looked one on another, doubting of whom he spake. Now there was leaning on Jesus' bosom one of his disciples, whom Jesus loved. Simon Peter therefore beckoned to him, that he should ask who it should be of whom he spake. He then lying on Jesus' breast saith unto him, Lord, who is it? Jesus answered, He it is, to whom I shall give a sop, when I have dipped it. And when he had dipped the sop, he gave it to Judas Iscariot, the son of Simon. And after the sop Satan entered into him. Then said Jesus unto him, That thou doest, do quickly". He had to get him out of there. He had to get that spirit out of there.

"Now no man at the table knew for what intent he spake this unto him. For some of them thought, because Judas had the bag, that Jesus had said unto him, Buy those things that we have need of against the feast; or, that he should give something to the poor". What a giving reputation that it must have happened before. Most, maybe more than once. That he just wake him up. And there's a poor widow down here. We know before he went to Gadara that he made arrangements for clothes. His garment was sewn without seams. Very costly. So then they saw him clothed and in his right mind. So faith prepares before it goes. He had the clothes with him. Can you imagine that?

When he said, "All right, there's man over there. I'm going to deliver him. He's in a mess. He's been possessed of the devil and it's an unclean spirit. So it started with the sexual thing. But then the Father called him to preach, and I need to dress him. He's in a mess. He doesn't have any clothes. And I've called him to preach. So let's take some clothes... the Master", He said, "And I will not leave him in that condition". And he did. And he preached compassion throughout Decapolis, the Ten Cities. Praise God.

So here we are. Would you call that a form of a petition? Oh, sure. It was a word of knowledge from the Father to start with. I want you to go over there and do this. Now, I've called this one to preach. So get some clothes and we're going to set him free. We're going to send him home to his family and his friends. Can't you see Miss Legion? Whatever their name, she runs out there and says, "We thought you were dead. Where did you get those fine looking clothes"? "My Lord and my Savior called me to preach his compassion". We'll meet him one day.

So now, here we go. "A new commandment I give unto you, That ye love one another; as I have loved you, that ye also love one another. By this shall all men know that ye are my disciples, if ye have love for one to another". John 14:21. "He that hath my commandments, and keepeth them, he it is that loveth me: and he that loveth me shall be loved of my Father, and I will love him, and will manifest myself to him". It didn't say anything about the one that cried and prayed the longest or the loudest. It was the one that practices his love and practices that commandment and is aware of it all the time.