Kenneth Copeland - Walk In Love, Walk In Health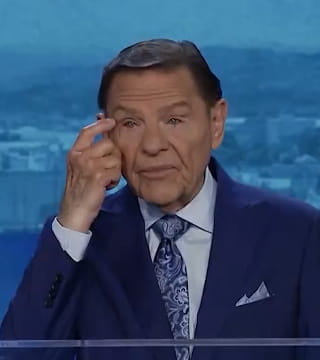 Let's go over to First John. Praise God. Now, may I remind you something? What did Jesus say on the cross? "Woman, see your son, Son, see your mother". And it was John. I mean, he could have turned him over to any of the other apostles, but it was John. This is the love book. Let's look in that fourth chapter, and we will go up here. In the eighth verse, "He that loveth not knoweth not God; for God is love". Say it. God is love. There is nowhere in this book that says God is power. He is love. And he uses his power in behalf of his family and anybody else that will receive it. Hallelujah.

I've seen so much over the last 56 years. I was called in. This man had gangrene so bad it looked like they were going to cut off his leg from diabetes and so forth. And I walked in the room and they took me around to the end of the bed. And I was at the foot of the bed. And I stood there for a moment and, of course, prayed in the Spirit there for a moment and just listened to the Lord he said, "Touch him on the toe". So I said, "In the name of Jesus, I touch that toe," and he said rawwww! So I cast the devil out of him. He was healed. Amen. These things happened over the years and I'm seen just all kinds of things.

In Southwest Believers' Convention a few years ago. There was a woman there and she was in a wheelchair. She had dark glasses on. And a young woman behind her, I found out later was her granddaughter. And I said, "May I do what Jesus did"? She said, "By all means". So I took her dark glasses off and put my hands over her eyes and just held them there. I just held them there and held them there until I got the release. And I held him. I said. "Tell me what you see". She said, "I see you". Well, you know, of course, I was thrilled about that. But then... where's Pastor George? Come here. Hustle. You do that pretty well. Now, she came. She came to church then on Sunday morning. Now you tell what she said. She had double vision so bad she couldn't see.

Pastor George: Yes, it was. And you should have seen her. When we go into a healing situation like this, the look on people's faces, it's just down dark. When you laid hands on her like that and you put your hands away and you said to her, "What do you see"? And she said, "I see you". And she just brightened up. And she came to church the next morning and she absolutely looked like a different person, she looked like she was so thrilled and so excited to be able to see. And she got up that morning, started preaching, started talking and ministering to the congregation. And what was it she said? I asked about her age?

Kenneth Copeland: Yeah. She said, "I'm 77 going to heaven. In few days I'll be 78, going straight". Hallelujah.

Pastor George: That's good.

Kenneth Copeland: Praise God. Thank You, Lord. Thank you, Pastor. Hallelujah. I tell you, healing is fun. Praise God. Now he can do that because he exercises hard. We have a trainer there that was Mister America one time. And you know, you pay much attention to him, he'll hurt you. But I have a trainer, and Evan's a whole lot easier on me. Evans' dad was my nutritionist and trainer for a while, and he came with us. He was 11 years old. And I gave him a police car like a remote police car. And then the next year a fire truck. Well, then he grew up. He went to North Texas University, went in for a degree in nutrition, and he met a young woman named Abigail. And they are such a pair. Glory to God.

And so when his dad left, he just came on to the house. He was working in the gym and he started working me out. And he prepares all of my food and then she does the same thing. And one of the reasons I wanted to mention that this morning is that we just got the news that they are with child and they've been believing for a long time. And so I just announced it to the world.

"In this was manifested the love of God toward us, because that God sent his only begotten Son into the world, that we might live through him. Herein is love, not that we loved God, but that he loved us, and sent his Son to be the propitiation for our sins. Beloved, if God so loved us, we ought also to love one another. No man hath seen God at any time. If we love one another, God dwelleth in us, and his love is perfected in us. Hereby know we that we dwell in him, and he in us, because he hath given us of his Spirit". Now, look at this 16th verse. "We have known and believed the love that God hath to us. God is love; and he that dwelleth in love dwelleth in God, and God in him".

Now you ask most Christians, what is our commandment? Oh, that we love one another? Well, let's see here. Let's see if it is. "And he that keepeth his commandments dwelleth in him, And hereby we know that he abideth in us, by the Spirit which he hath given us..." And I want to back over here to the third. Praise God. The commandment is in two parts: that we believe on the name of his Son, Jesus and love one another. One doesn't work without the other. Believe on the name of his Son Jesus. And love one another as he loved us so what we find out in the book of Exodus? Let's look at it again. Praise God.

Exodus 15. And now we understand what this means. "If you will diligently hearken to the voice," what is the voice of the Lord, our God? This book. "If thou wilt diligently hearken to the voice of the Lord thy God, and wilt do that which is right in his sight, and wilt give ear to his commandments, and keep all his statutes," which is love the Lord thy God with all your heart, all your mind, all your soul, all your strength, love your neighbor as yourself and begin to walk in the new commandment. And that's a commandment. It's not a suggestion. So say this: "I am quick to repent. I am quick to forgive and slow to anger. I walk in love. I keep the commandment of love. I'll put none of these diseases upon me, which I brought upon the Egyptians". I am the Lord that healeth you.

Okay, now we're in First John, the fifth chapter. Oh, Jesus. And the 14th verse, 13th verse. "These things have I written unto you that believe on the name of the Son of God; that ye may know that ye have eternal life, and that ye may believe on the name of the Son of God. And this is the confidence that we have in him, if we ask any thing according to his will," Well, what is his will? Divine health. And we're going to see that in a moment.

"...he heareth us: And if we know that he hear us, whatsoever we ask, we know that we have the petitions that we desired of him. If any man see his brother sin a sin which is not unto death, he shall ask, and he shall give him life for them that sin not unto death. There is a sin unto death: I do not say that he shall pray for it. All unrighteousness is sin: and there is a sin not unto death. We know that whosoever is born of God sinneth not; but he that is begotten of God keepeth himself, and that wicked one toucheth him not". I want to go to the Classic Amplified here. "We know [absolutely] that anyone born of God does not [deliberately and knowingly] practice committing sin, but the One Who was begotten of God carefully watches over and protects him [Christ's divine presence within him preserves him against the evil], and the wicked one does not lay hold (get a grip) on him or touch [him]".

That's where I was headed all the time. No. And you can just tell the devil, "Mr. Devil, you just get your hands off my child. I walk in love. I am quick to repent. I keep the commandments. You have no right to touch me. You have no right to touch me. You have no right to touch my baby. No, no, no. You just pack up and get out of here". Well, where are we going to base that? Turn to the book of James. Praise God. Oh, thank You, Jesus. Thank You, Lord. James Chapter four, verse seven. "Submit yourselves therefore to God. Resist the devil, and he will flee from you. Draw nigh to God, and he will draw nigh to you. Cleanse your hands, ye sinners; and purify your hearts, ye double minded".

Submit yourself to God. And then just tell the devil what he can do. Just get out. You have no part in this, amen. And now you go back to the book of Hebrews. Just turn left there. In the second chapter, 6th verse. "But one in a certain place testified, saying, What is man, that thou art mindful of him? or the son of man that thou visitest him? Thou madest him a little lower than the angels;" Now in the Psalms, it says you made him a little lower than God. You made him a little lower than the angels. Now, what is that talking about? Well, the devil is a fallen angel.

"Thou madest him a little lower than the angels; thou crownedst him with glory and honour, and didst set him over the works of thy hands: Thou hast put all things in subjection under his feet. For in that he put all in subjection under him, he left nothing that is not put under him. But now we see not yet all things put under him. But we see Jesus, who was made a little lower than the angels for the suffering of death, crowned with glory and honour; that he by the grace of God should taste death for every man". Taste death. He tasted death. So if you know Jesus, he's your Lord and Savior, dying is the easiest thing you ever did. And you can't taste it when you die. You can't smell it when you die. You can't see it when you die. And you can't hear it. There's nothing to it. You just slip out of this body, it falls and you're gone. Amen.

And I'm like Gloria, I want to hear that trumpet. I want to be just preaching one day. Wooh! And out of here. We're gone. Glory to God. Hallelujah. Yeah. Just leave here. And it's not an escape. I am content here. I live in good health. Amen. And all is well in the household of faith. And I'm thrilled to finish my course. But if he desires to blow the horn, then he's boss. And Phil Driscoll pointed it out to me one day. He said, "Did you ever notice that all of those instruments they talked about with Satan"? He said, "the trumpet is not there". He said, "That's reserved to God. And that's the reason I blow the trumpet". Amen.

Don't you know that thing is going to be a blast heard around the world? Thank You, Jesus. They'll come in here and find a bunch of clothes lying here on the floor. Wonder what happened to that group of people? Amen. Hallelujah. And then what if there's one poor soul left? How did she get out of her dress and leave here? Look at this. Oh don't forget me. Why am I still here... Oh, Lord God. And you know, what's that old song is when they look over and say, Hmm, don't they look natural? Jack, you're dead. Oh, thank You, Jesus. Oh, yeah. But now you can see the role that love plays in our lives. It should be, since it is a commandment, it is to walk in love. And let me demonstrate something to you. Let me get in here. Do this. Jesus said, "There is a way that is straight and narrow. And not many find it". Well, it's the love walk.

Ephesians chapter five, verse one. "Therefore be imitators..." Now the King James says follow. But the word is in Greek word M I M E T E S. A mimic. Imitate. "Therefore be imitators of God. [copy Him and follow His example], as well-beloved children [imitate their father]. And walk in love, [esteeming and delighting in one another] as Christ loved us and gave Himself up for us, a slain offering and sacrifice to God [for you, so that it became] a sweet fragrance unto God". To walk in it, walk in love all the time. Now, look at this. That straight line... Oh, yes, Lord, thank You for reminding me that. You're walking that way and somebody says something terrible and you go over here. The devil is right there. He's just waiting for you to get out of that commandment. No, I repent. Satan, you have no part or lot in me. No, in my family. You just keep your hands off.

So you're very aware of it. And this is the reason why you practice it. So you go to bed with it at night and you get up with it in the morning. So it's right there all the time. When you go out, you go into a restaurant, particularly one that you've never been in before. Forgive everybody in there before you walk in there, you walk out the door in the morning to head to town or wherever you're going, say, "Lord, I'm a forgiver today. I just forgive them all now", and then you don't have to get mad, repent and then forgive. You're walking in it. Walking in love. Walking in health, forgiving everyone. What did Jesus say hanging on that cross? Forgive them. They don't know what they're doing. And that means you have to forgive the politicians.

I suggest you go to First Timothy chapter two and repent and pray for all that are in authority. I pray for Mr. Biden every day. I pray for Kamala Harris every day. Then you... It's there ever was one that needed prayer. He's on the ragged edge. What I pray for him, the Lord open the eyes of his understanding, send laborers across his path with a word of his healing, the Word of his salvation. Hallelujah. And we need to be believing God for him. I don't agree with his politics, but listen, he's a human being. Jesus died for that man. And he's been through hell itself. He's had all kinds of death in his family. Where politicians are concerned, Oh, God, forgive them. They're under a lot of pressure. Let's answer that with Ephesians chapter six. We wrestle not with flesh and blood, but with principalities and powers, rulers of the darkness of this world and wicked spirits in the heavenlies. But this is where the love walk is so powerful and that you stay on that love line. Because faith works by love.