Kenneth Copeland - Requirements For a Life of Divine Health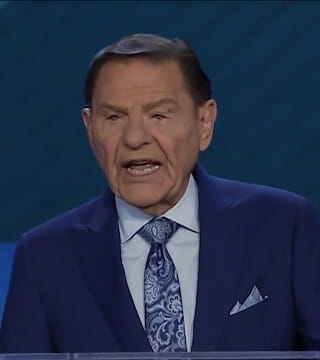 Thank You, Lord Jesus. Praise You, Lord. Father, we thank You this morning, we come before the throne of grace to find help and mercy in a time of need. And we praise You and thank You that healing through the stripes of Jesus belongs to us. Health belongs to us. Divine health belongs to us. And we give You praise. And we thank You for that. We honor You today in the name that's above every name. That's named, the name of Jesus. Amen. Glory to God.



Now, in the 23rd chapter of the book of Luke. "And the whole multitude of them arose, and led him unto Pilate. And they began to accuse him, saying, We found this fellow perverting the nation, and forbidding to give tribute to Caesar, saying that he himself is Christ a King. And Pilate asked him, saying, Art thou the King of the Jews? And he answered him and said, Thou sayest it. Then said Pilate to the chief priests and to the people, I find no fault in this man. And they were the more fierce, saying, He stirreth up the people, teaching throughout all Jewry, beginning from Galilee to this place. When Pilate heard of Galilee, he asked whether the man were a Galilean. And as soon as he knew that he belonged unto Herod's jurisdiction, he sent him to Herod, who himself also was at Jerusalem at that time. And when Herod saw Jesus, he was exceeding glad: for he was desirous to see him of a long season, because he had heard many things of him; and he hoped to have seen some miracle done by him. Then he questioned with him in many words; but he answered him nothing. And the chief priests and scribes stood and vehemently accused him. And Herod with his men of war set him at nought, and mocked him, and arrayed him in a gorgeous robe, and sent him again to Pilate. And the same day Pilate and Herod were made friends together: for before they were at enmity between themselves. And Pilate, when he had called together the chief priests and the rulers and the people, Said unto them, Ye have brought this man unto me, as one that perverteth the people: and, behold, I, having examined him before you, have found no fault in this man touching those things whereof ye accuse him: No, nor yet Herod:"

Now you read on down verse 17: "For of necessity he must release one unto them at the feast. And they cried out all at once, saying, Away with this man, and release unto us Barabbas: Who for a certain sedition made in the city, and for murder, was cast into prison. Pilate therefore, willing to release Jesus, spake again to them. But they cried, saying, Crucify him, crucify him. And he said unto them the third time, Why, what evil hath he done? I have found no cause of death in him: I will therefore chastise him, and let him go. And they were instant with loud voices, requiring that he might be crucified. And the voices of them and of the chief priests prevailed".

Now, you remember one of the other accounts has said his blood be on our heads "And he released unto them him that for sedition and murder was cast into prison, whom they had desired; but he delivered Jesus to their will. And as they led him away, they laid hold upon one Simon, a Cyrenian, coming out of the country, and on him they laid the cross, that he might bear it after Jesus. And there followed him a great company of people, and of women, which also bewailed and lamented him".

Now, look at this, right in the middle of all this, "Jesus turning unto them said, Daughters of Jerusalem, weep not for me, but weep for yourselves, and for your children. For, behold, the days are coming, in the which they shall say, Blessed are the barren, and the wombs that never bare, and the paps which never gave suck. Then shall they begin to say to the mountains, Fall on us; and to the hills, Cover us. For if they do these things in a green tree, what shall be done in the dry"? Right in the midst of all that, he's been beaten nearly to death. The Cat O Nine tails, little pieces of metal and bone in that whip, cutting his back to the bone, bleeding from his head, bleeding... His blood is being shed, and all of a sudden he turns around in that and says, "Don't cry for me". He stopped and ministered to people. He's still doing it. He's just ministering to people all the way to the cross.

Now, had he not said what he said on that cross, "Forgive them. They know not what they do". Then his blood would have been on their heads. But that was not his purpose. His purpose was to get the Garden of Eden back, get that blessing back on the people that God the Creator did in the first place. Amen, that was his desire to fulfill the works and the Word of the Lord. Now while we're right here, let's turn back to the 10th chapter of the book of Luke.

"After these things the Lord appointed other seventy also, and sent them two and two before his face into every city and place, whither he himself would come. Therefore he said, the harvest is great, but the labourers are few: pray ye therefore the Lord of the harvest, that he would send forth labourers into his harvest. Go your ways: behold, I send you forth as lambs among wolves. Carry neither purse, nor shoes: and salute no man by the way. And into whatsoever house ye enter, first say, Peace be to this house. And if the son of peace be there, your peace shall rest upon it: if not, it shall turn to you again. And in the same house remain, eating and drinking such things as they give: for the labourer is worthy of his hire. Go not from house to house. And into whatsoever city ye enter, and they receive you, eat such things as are set before you: And heal the sick that are therein, and say unto them, The kingdom of God is come nigh unto you. But into whatsoever city ye enter, and they receive you not, go your ways out into the streets of the same, and say, Even the very dust of your city, which cleaveth on us, we do wipe off against you: notwithstanding be ye sure of this, that the kingdom of God is come nigh unto you. But I say unto you, that it shall be more tolerable in that day for Sodom, than for that city. Woe unto thee, Chorazin! woe unto thee, Bethsaida! for if the mighty works had been done in Tyre and Sidon, which have been done in you, they had a great while ago repented, sitting in sackcloth and ashes. But it shall be more tolerable for Tyre and Sidon at the judgment, than for you. And thou, Capernaum, which art exalted to heaven, shalt be thrust down to hell. He that heareth you heareth me; and he that despiseth you despiseth me; and he that despiseth me despiseth him that sent me. And the seventy returned again with joy, saying, Lord, even the devils are subject unto us through thy name. And he said unto them, I beheld Satan as lightning fall from heaven".

Well, sir, he was there. Glory to God. Amen. "I give unto you power to tread on serpents and scorpions, and over all the power of the enemy: and nothing shall by any means hurt you. Notwithstanding in this rejoice not, that the spirits are subject unto you; but rather rejoice, because your names are written in heaven. In that hour Jesus rejoiced in Spirit, and said, I thank thee, O Father, Lord of heaven and earth, that thou hast hid these things from the wise and prudent, and hast revealed them unto babes: even so, Father; for so it seemed good in thy sight. All things are delivered to me of my Father: and no man knoweth who the Son is, but the Father; and who the Father is, but the Son, and he to whom the Son will reveal him". And he's revealed him to us. Amen. Jesus set his entire staff against sickness and disease. It's the same thing in the 10th chapter of Matthew, just totally against it. He's the forgiver.

Now I want you to look, first of all, I'm gonna tell you about little Willie Phelps. Little Willie Phelps. His legs didn't work right. And he was waiting for Brother Roberts. And he came out of the meeting and he said, Are you Oral Roberts? He said, "Yes, I am". He said, "I'm supposed to be healed today". And he said, "Well, son, the anointing has left me. And I'm totally exhausted". He said, "I don't know about that. All I know is I'm supposed to be healed today". And he said, "Well, I'll lay hands on you. You'll have to do the believing". Of course his mother was there and he laid hands on little Willie Phelps. He was instantly healed, instantly. That moment his mother put him down and he walked off healed and well. I'm supposed to be healed today. Well, you're supposed to be healed today.

Now let's go to Exodus chapter 15. Exodus 15:26, "If thou wilt diligently hearken to the voice of the Lord thy God, do that which is right in his sight, and give ear to his commandments, and keep all his statutes, I will put none of these diseases upon thee, which I have brought upon the Egyptians: for I am the Lord that healeth thee". Now, listen to what the requirements were. "Diligently hearken to the voice of the Lord thy God, do that which is right in his sight. Give ear to the his commandments, keep all his statutes. I will put none of these diseases upon you which I have brought upon the Egyptians, for I am the Lord that healeth thee". I am.

Well he's also the God that changes not and Jesus Christ the same yesterday, today and forever. He is the same. And you remember in the book of Acts when the angel said, "Ye men of Galilee, why stand ye gazing up into heaven? This same Jesus will come again". He is the same today, he is the healer today as much as he ever was, because he never changes and God's will is for his people to live in divine health. Glory to God. But there are conditions involved in it. Proverbs chapter 4, thank You, Lord Jesus. There is a healer in the House today and his name is Jesus. Proverbs four, verse 20: "My son, attend to my words;"

Now I know how it is in Texas and I expect it's about the same here. We don't attend to something, we tend to it. I got to tend to this. Attend to my words. What does that mean? Put it first. Put it absolutely first place in your life. Put it in a place where it's the first thing in the morning and the last thing at night. Praise God, this is my receiving day. Every day there are things that the Lord has taught me over the years and taught me a great deal through Gloria. She's smarter than I am.

So, you know, it's wonderful when you marry your best friend and she's a whole lot smarter and it makes me look good. Amen. but this is my receiving day every day. And I'm always one day closer to the resurrection. I'm always one day closer then to my birthday. I'm always one day closer to Christmas. One day closer to Gloria's birthday in that order and one day closer to our anniversary. I never forget our Anniversary. I couldn't forget it if I tried. Glory to God. And this coming April the 13th, it'll be 62 years. Yes. And we've been in the ministry 56 of it. Hey, glory to God. And it was her unconditional love that softened me into that place where I was... I was ready... Praise God, to receive.

"My son, attend to my words; incline thine ear unto my sayings. Let them not depart from thine eyes; keep them in the midst of thine heart. For they are life unto those that find them, and health to all their flesh". And now I have a little number there says Medicine. The Word is medicine. That's the prescription right there. But you can't have the prescription just sitting on your bathroom sink. It doesn't work. You call the doctor and say, "This prescription doesn't work". "Well, did you take it three times a day"? "No, but I'm sitting here looking at it right now".

Well, your Bible is the same way, glory to God. Thank You, Jesus. So now we're taking our medicine this morning because everything we do and everything we say this morning will be based on these blood covenant statements. So now let's look over here in the book of Matthew 22:34. "But when the Pharisees had heard that he had put the Sadducees to silence, they were gathered together". Now listen, "Then one of them, which was a lawyer, asked him a question, tempting him, and saying, Master, which is the great commandment in the law? Jesus said unto him, Thou shalt love the Lord thy God with all thy heart, and with all thy soul, and with all thy mind. This is the first and great commandment. And the second is like unto it, Thou shalt love thy neighbour as thyself. On these two commandments hang all the law and the prophets".

Now, I just gave you my testimony. This is what happens at the Copeland House. We have our evening meal rather early and that's for a reason. So that we're done by about six. So we truly have a fast because we don't get up and eat midnight snacks and things like that. So then next thing she has her bath and I take my shower and then we go to bed. And if I've been gone a while, I catch up on a 700 Club and watch that and I watch Gordon. I pray for him when he comes on.

There is my brother Lord, and we agree with Terry Meeuwsen as she gives invitations and as they pray for people, Gloria and I sit there, we set ourselves in agreement. That's our general process. Then we turn everything off. And I say, "Goodnight, my love". And she says goodnight to me. And sometimes she'll say, "Isn't it amazing that we've been together this long? And it was a miracle how we got together in the first place". And we talk about something like that. Then I always sleep on my left side. I turn over and I go through that right there every night of the world. I did it last night in my hotel. I love the Lord, my God, with all my heart, all my soul, all my mind and all my strength and I love my neighbor as myself, fulfilling all the law and the prophets and it hangs.

Love is the curtain rod upon which... Glory to God. All... fulfilling all the law and the prophets. And now let's go to the 13th chapter of John, and then I quote this one, About that time I'm just about asleep. John Chapter 13. And we go over here to the 34th verse. Now this is in that last Passover meal. This is the one... his disciples still didn't know what was about to take place. But when you read it, the first thing he did was to get Judas out of that room, and they thought he sent him to give to the poor. You really have to have a high reputation for giving to the poor.

So obviously that had happened before. He's love in action and Judas was the treasurer. He had the bags. They thought that's where he went. No, he had to get that devil out of the room and that's when he began to share their depth of what he was saying and I want you to look at this now, verse 31. "Therefore, when he was gone out, Jesus said, Now is the Son of man glorified, and God is glorified in him. If God be glorified in him, God shall also glorify him in himself, and shall straightway glorify him. Little children, yet a little while I am with you. Ye shall seek me: and as I said unto the Jews, Whither I go, ye cannot come; so now I say to you. A new commandment I give unto you, That ye love one another; as I have loved you, that ye also love one another. By this shall all men know that ye are my disciples, if ye have love one to another".

That's the last thing before I turn over and go to sleep, every night, day in, day out, every day all over the world, that's become the routine that the Lord put in my heart. And that's one of the reasons I live in divine health. Jesus is alive, and so am I. Well give him a shout. Glory to God. If you couldn't run, run. If you couldn't bend over, bend over. If you couldn't see, look out of those eyes. Hallelujah.