Kenneth Copeland - Speak Your Desired End Result by Faith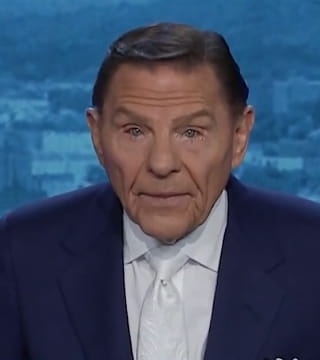 TOPICS:


All right. Fundamentals of faith. Let's look now... Let's go to the 11th chapter of the book of Hebrews once more, please. "Now faith is the substance of things hoped for, the evidence of things not seen. Not revealed to the senses. For by it the elders obtained a good report. Through faith we understand that the worlds were framed by the Word of God, so that things which are seen were not made of things which do appear". Now, I've heard people say God created the universe out of nothing. No, he created out of something you can't see because he spoke it into existence. "In the beginning, God..."

Now look that up, in the beginning Elohim, plural. The Father, the Son and the Holy Spirit in the beginning. They created it. Well, you could preach the rest of the night on that. "By faith Abel offered unto God a more excellent sacrifice than Cain, by which he obtained witness that he was righteous, God testifying of his gifts: and by it he being dead yet speaketh. By faith Enoch was translated that he should not see death; and was not found, because God had translated him: for before his translation he had this testimony, that he pleased God. But without faith it is impossible to please him: for he that cometh to God must believe," that's faith, "must believe that he is, and must believe that he is a rewarder of them that diligently seek him".

Impossible to please God without faith. Now let's look back here. That chapter 4: "Let us therefore fear, lest, a promise being left us of entering into his rest, any of you should seem to come short of it. For unto us was the gospel preached, as well as unto them: but the Word preached did not profit them, not being mixed with faith in them that heard it". Glory to God. I get excited. Just the idea of this. Praise God. All right. Ephesians chapter two, verse eight. You know what Brother Hagin used to call this? Bug hunting. We're going to look under every rock, under every leaf. I know I used to do that.

Ephesians 2:8 "And you hath he quickened, who were dead in trespasses and sins; Wherein in time past ye walked according to the course of this world, according to the prince of the power of the air, the Spirit that now worketh in the children of disobedience: Among whom also we all had our conversation or manner of life in times past in the lusts of our flesh, fulfilling the desires of the flesh and of the mind; and were by nature the children of wrath, even as others. But God, who is rich in mercy, for his great love wherewith he loved us, Even when we were dead in sins, hath quickened us or make us alive together with Christ, by grace ye are saved; And hath raised us up together, and made us sit together in heavenly places in Christ: That in the ages to come he might shew the exceeding riches of his grace in his kindness toward us through Christ Jesus. For by grace are ye saved through faith; and that not of yourselves: it is the gift of God:"

So you can't be saved without it. Now, Romans 1:17. So look over there at that. Verse 16: "For I am not ashamed of the gospel of Christ: for it is the power of God unto salvation to every one that believeth; to the Jew first, and also to the Greek. For therein is the righteousness of God revealed from faith to faith: as it is written, The just shall live by faith". So you can't live the Christian life without it. And that's Galatians 3:11, Hebrews 10:38 and Habakkuk 2:4. You can't live the Christian life without it. Second Corinthians five, six and seven. Well, we already read that one. We walk by faith and not by sight. You can't walk the Christian walk without it.

First Timothy 6:2. Thank You, Jesus. "Let as many servants as are under the yoke count their own masters worthy of all honour, that the name of God and his doctrine be not blasphemed. And they that have believing masters, let them not despise them, because they are brethren; but rather do them service, because they are faithful and beloved, partakers of the benefit". Second Timothy 4:7. "I have fought a good fight, I have finished my course, I have kept the faith:" Glory to God. You can't fight the Christian fight without faith.

First John 5, 1-4. And every time you watch Victory News, you learn this one. Amen. "Whosoever believeth that Jesus is the Christ is born of God: and every one that loveth him that begat loveth him also that is begotten of him. By this we know that we love the children of God, when we love God, and keep his commandments. For this is the love of God, that we keep his commandments: and his commandments are not grievous. For whatsoever is born of God overcometh the world: and this is the victory that overcometh the world, even our faith".

Now, I was in that little North Texas town in Hereford, Texas. You know what the Hereford is, they are red and have white and the pure bloods don't have any horns. And that's an English breed that came from Hereford, England. Only one rancher in a state of Texas would have anything to do with that animal. And so Hereford, Texas, is right up in the Panhandle. And when you go up there now, you kind of hold your nose when you drive through because they've got so many cow pens. I mean, you can smell them from miles. So, you know, you just put your mask on going through there particularly if you're on a motorcycle. But I was there and I was preaching there and it was a very adventurous time. It was wonderful time. I was there three weeks.

And so I was then in my motel room and I had all my outlines. And the way I do my outlines, I do headlines, and then I do the scripture and read like that. And so I had had outlines just like that. And so I had them here on the bed, and I was just beginning that meeting and I said, "Lord, should I start on the new birth, or just start on faith? Should I start and should I preach on the baptism, the Holy Ghost and healing and prosperity"? And I had all my outlines up there. He said in my spirit, he said, "Is there victory in the new birth"? Well, certainly victory over death, hell in the grave. Is there victory in the baptism of the Holy Ghost? That's the gateway to the supernatural. Is there victory and healing? Yes. He said, "Every believer has a voice and it is the Voice of Victory".

Well, I got that from Mark 11:23, whosoever shall say. So I just started writing it down. The Believer's Voice of Victory. The point of this message here tonight, all of these different things, whatever is not of faith is sin. First Corinthians 1:24. You can't stand without faith. You can't quench the fiery darts of the enemy without faith. You can't be blessed without it. Now turn with me to mark 11 again. And there's something here that this is extremely important, and I didn't see it for quite a while. "No man eat fruit of thee hereafter for ever. And his disciples heard it. And they come to Jerusalem:" and all of that. "And in the morning, as they passed by, they saw the fig tree dried up from the roots. And Peter calling to remembrance saith unto him, Master, behold, the fig tree which thou cursedst is withered away. And Jesus answering saith unto them, Have faith in God".

He wouldn't have said anything at all. He spoke the desired end result and he turned his back on that tree. No man eat fruit of thee hereafter for ever. That tree could be alive today and never have another fig on it. He just walked away. He spoke the end result and after that... Well, he did it by faith. As far as he's concerned, it's over. And he didn't care how his Father did it. He just spoke the end results and walked away. Now, think about it like this. The Lord showed me this many years ago. Okay at 9:37 on this day, I stepped across the faith line. It is finished.

Now the rest of it is not my business. What do I do? I call things that be not as though they were. I walk away instead of: "Tree, are you listening to me, Tree"? No. That tree is not listening to you. I want to tell you again. Tree, are you listening to me? You're going to have to rot at the roots. You're going to have to die. That tree would be standing there forever. No faith mixed with it. And then what we found out in the book of Hebrews. What did he say? You can't let the promise slip. You have to go to the promise, you choose that promise. Two or three witnesses, and you stand on that blood covenant promise, and you establish a relationship with your heavenly Father through the name of the Lord Jesus Christ on this particular promise. And you cross that faith line and you call it done.

I call my body well, I call my ears well, I call my heart well, I've told you about I got short to wind I preached at Mike Barber and that was a miracle night. Besides that, we were in the tent and there were thunderstorms all over the place. And just going and preaching there, there is therefore no condemnation of those who are in Christ Jesus and all that. And then we got the radar report. There were tornadoes all the way around that tent. All it did was get wet, anyway, got in the airplane. The Lord said, I've given you a new heart. I said, "Thank you very much".

I'm Kenneth New Heart. And my heart is fixed, 112th Psalm. That's what you have to do. So I began looking at scriptures. I took my stand on that and I had no fear of it. And so they tested me. And look, I mean, you know, look me over really good and thinking that but come to find out, I didn't need a stent, I didn't need any of that. And the stress of preaching myself to exhaustion. One time I was preaching up in the Northwest, in Washington, flying a 421, we stopped in El Paso going home to have lunch. I mean, I felt just as good as I do right now. Well, that airplane has a little airstair door with two steps like that into the cabin and then up to the cockpit.

I walked up there and put my foot up there. I couldn't get in. Gloria's brother, Doug, flew with me as copilot. My cousin Larry Taylor was with me. So Larry was on the inside. He pulled and Doug pushed. And I got up there and flew the thing home. I felt wonderful. Another time I was standing behind the curtain and this room was up above a parking garage. And the attendants down there got frightened that the garage was going to cave in because everybody up there was shouting, praising and jumping up and down on the floor. It was that kind of a meeting. And it's been kind of like this and like you're doing me right now.

I mean, you pulling stuff out of me that I hadn't thought of in a long time. and it just kept going going, going, going, going and on all of a sudden I was standing behind that curtain and it seemed like to me, I was about to come out of my body. So I said, "Lord, you're going to have to help me. I can't move my feet". I can't make them go, Oh, God, help me. Just help me get out there. And so it was 7:30 and it was time I said, "Help me, Jesus". And I made the first step and the anointing came on me and I preached too long. The Lord said, "You are taking the anointing as strength, and you get out there and announce a bunch of stuff and then you have to do it. And I didn't tell you to do it at all".

That happened twice. And the stress of it caused my need for a pacemaker because as I got older, well, it never did bother me. It just meant I had to go to work. So I call myself Kenneth New Heart. I'm Kenneth New Heart. I'll tell you something else. You know what Jenny called me? Papa strong legs. I'm Papa strong legs, I was kept saying that. And I have a new heart. I have a new heart. October the second at 8:42 in the evening, 2017, sitting in the backseat in the cabin of the Citation X in Lancaster, Texas, Airport. And it was raining there. But the storms had already come through. And you know, the rest of it. Don't ever, ever, ever, ever, ever, ever, don't ever feel sorry for yourself.

Hmm Hmm. Just a little bit of that. And it'll go over to depression and just a little bit more of that and you start saying things you know you shouldn't have been saying. And then you have to back up and think, "What am I going to do about that"? Don't ever do it. And the minute it starts, talk to yourself. Talk to yourself. I was in my shower. In the middle of the day, and I've been working out at something. And Gloria hollered me from the room, I said, "Oh, she didn't care anything about me". Right in here, "Who do you think you are"?

It's not your business to have her care anything about you. It's your business to care about her. And besides that, she's my daughter. And I don't care you much talking about like that. - Yes, Sir. I'll never do it again. I was feeling sorry for myself. I was tired, and it seemed like in those days I had built in tired. And I might have more of that if I don't go home here in a little bit. He spoke the end result. He crossed that faith line. He would never have mentioned it if Peter hadn't said something about it. But it dried up from the roots. The Word of God will go to the root of the problem and kill it.

As long as your batting at the leaves that tree will stand there and laugh at you, the sickness will laugh at you, poverty will laugh at you until you take that stand. And I'm redeemed from the curse of the law, glory be to God and no curse can come on this household. Thank You, Jesus. All during Covid, I went out in front of our house and I took some little flowers that smell good. So that was my hyssop. And I put it over the door post to the house. I said, "Covid, you ain't coming in here", that's what you have to do. So thank You, Father. This has been a marvelous time. And the other thing I'll tell you, demand the mountain to move. Demand it to move. You have been given authority by the Master himself to speak to that mountain and tell it to be cast into the sea. Why cast into the sea? Because once it goes into that sea, there is no evidence that it ever existed. It's sunken out of sight forever. Amen.