Kenneth Copeland - The Danger of Worry and Care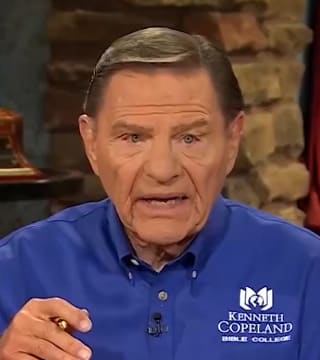 TOPICS:


— Well, give the Lord a praise this morning. Glory to God. Hallelujah. This is the day the Lord has made. It's one day closer to the resurrection. Even so, come quickly, Lord Jesus. Let's go home.

— Yes, sir.

— Thank you, Lord. Now we started yesterday talking about worry or care, anxiety and being indecisive about things. Well, what are we going to do about that? Well, I don't know. What do you think? Well, I don't know. I don't know. You know, we might... I don't know. I don't understand. Well, make up your mind whatever you are going to do. This is my mind. I tell it what to think based on the Book. So let's go back to Second Corinthians chapter ten, verse three: "For though we walk in the flesh, we do not war after the flesh:" And don't ever come up say, "Well, I'm only human here". No, no, you're not. You're a new creature. That's what you are. If you know the Lord, if you don't, you better change that human stuff. It'll kill you.

— Early. Your mouth will kill you. So now, here we go. "For the weapons of our warfare are not carnal, but mighty". We have mighty power which to control our imaginations. We are not only human. That's my note at the bottom of my Bible. "For the pulling down of strong holds; Casting down imaginations", or reasonings, "and every high thing that exalteth itself against the knowledge of God, and bringing into captivity..." How many thoughts? "Every thought to the obedience of Christ;" The anointed One and his anointing and that's on the inside of you, in your spirit, not in your mind. "Having in a readiness to revenge all disobedience," of what? Of thought, "when your obedience is fulfilled. Do ye look on things after the outward appearance"? Now let's go to First Peter Chapter five.

— Notice what it did not say in chapter ten. There's no mention of Lucifer, Satan, the devil, in any of those strongholds.

— That's right. It's in your mind.

— First Peter,

— and it's habit. Worrying is a habit. Oh, I don't know what am I going to do about that. I just don't know. I don't know. I just don't know. I don't know. Well, you know what? You don't know. Because the answer's not in your mind. I had Keith Moore do this one time. He said, "You go into a file cabinet and you start and go back, and then you go back to the front. Then you take all the files out and you put them in there one at a time, and then you take it back out". He said, "The answer to that is it's not in there". So why I do it? Why do it to your mind? It isn't in there. It's in here. Here is where the answers are. Well, listen to this. "The elders which are among you I exhort, who am also an elder," I would agree with that, sir. "and a witness of the sufferings of Christ, and also a partaker of the glory that shall be revealed: Feed the flock of God which is among you, taking the oversight thereof, not by constraint, but willingly; not for money..." Now verse 4: "And when the chief Shepherd shall appear, ye shall receive a crown of glory that fadeth not away. Likewise, ye younger, submit yourselves unto the elder. Yea, all of you be subject one to another, and be clothed with humility:" That's the first step. Lord, I humble myself before you right now, "for God resisteth the proud, and giveth grace to the humble. Humble yourselves therefore under the mighty hand of God, that he may exalt you in due time: Casting all your care upon him; for he careth for you". Now stand by one and we will go to here and we'll go to... First Peter five and six. This is in the Classic Amplified. "Therefore humble yourselves [demote, lower yourselves in your own estimation] under the mighty hand of God, that in due time He may exalt you," listen. "Casting the whole of your care"... Are you listening? You professional worriers "Casting the whole of your care [all your anxieties, all your worries, all your concerns, once and for all]..." Well, you know, I'm not worried about it, but I'm just concerned. You know, the Lord doesn't want you to be concerned either. This is his business. "once and for all] on Him, for He cares for you affectionately and cares about you watchfully. Be well balanced (temperate, sober of mind), be vigilant and cautious at all times; for that enemy of yours, the devil, roams around like a lion roaring [in fierce hunger], seeking someone to seize upon and devour. Withstand him; be firm in faith [against his onset-rooted, established, strong, immovable," Don't let him put it back on you, casting all of it. Get rid of it and Gloria and I've learned to do this. You had to practice it and stay there, you don't touch it anymore. The greatest example... There was a time when we got behind on our television bill and back in those days there was so much of it. This was before satellites and all of that. And our TV bill was something like $2 million a month. And so we were doing it a little bit at the time but it got behind and got behind $6 million and I waited until the night before the board meeting the next day. Well, George Pearsons is the CEO, of course. Still is today. He sent me to review the board meeting. And so Gloria had already gone to bed. And so here's this department. Best year we've ever had. Best year we've ever had. Best year. TV department, $6 million. Best year we've ever had. And the Lord said, "See, the one you tried to carry, flopped". He said, "You didn't... You didn't hand that one to me". He said, "I'm your caretaker".

— There it is.

— I will take your care. I will take your worries. We're going to about change that. Gloria, she was already in bed to sleep. I said, "Gloria Jean, look what I did". And I said, "Let's get an agreement over this". So we agreed. I was in the habit of worrying about that. I went to this scripture right here in First Peter 5. and I just started saying, "Glory to God. I don't have that care. That 6 million is gone in the name of Jesus. I don't touch that in my thought life". Now, this is the key to it. I don't touch it in my thought life. No, no, no. I don't think about that anymore. And I was in... no no. You get out, I put you... remember what he said? and put you in jail. Let's go back over there because this is a huge key. "Casting down imaginations, against the knowledge of God, and bringing into captivity every thought..." I said, "No, no". And in my mind, I just imagine it, I just slam the jail's door on you. You can't get out. No, I'm not touching you. And here was the first few days there, it just pop up because I had allowed it into my mind and I decided, no, no, no. And I'd take the Bible. I say, "Devil, do you see what the book says and do things like in case you can't read. Let me read this to you". After two weeks, it was just a kind of a faint thought. And it was gone.

— It surrounded it. It surrounded it with different words. That's what you do. That's how you kept it captive.

— Faith force.

— That's it.

— I'm more than a conqueror in Christ Jesus. Glory to God. He meets all my needs according to his riches in glory by Christ Jesus. I just kept saying it. Kept saying it. And then during that board meeting, I apologized to everybody. Well, then they picked it up. Now in record time think about it now. You got to get ahead of it six before you gain on it. They said it would be something like four or five years, the analysts said before you could ever catch up with it. No, no, no. It was a matter of weeks. It was a matter of weeks. And that that was paid. And then now, listen, class, you too, you're not a worrier anymore. For the first time in the history of this ministry, not only was that 6 million out of the way for the first time, we paid the TV bill in one check. Glory to God.

— Yes, sir. Yes, sir. If he can do that for you, he'll do that for you.

— Anyone.

— Because it's this, it's from there.

— My mother used to worry about me until one day...

— Somebody needs to hear this.

— She said, "That's it. I have prayed for him the last time. If he goes to hell, it's your fault". Gloria got saved two weeks later and I got saved the week after that. Yeah, she'd been doing this. Oh, look at Kenneth. Oh, he's going to hell. Oh, he's not going to make it. Oh, no. Oh, God. She just threw a Bible down. Said, "That's it, if he goes to hell, it's your fault". I can just hear the Lord. Well, it's about time to turn this thing over...

— I can do something about it,

— and I can do something about it now.

— Somebody... Somebody needed to hear that.

— Yes, sir.

— ... where their child is concerned

— and realize. Now, now, now, listen carefully. Over here in First Peter Chapter one, verse three. "Blessed be the God and Father of our Lord Jesus Christ, which according to his abundant mercy hath begotten us again unto a lively hope by the resurrection of Jesus Christ from the dead, To an inheritance..." We inherited this, "To an inheritance incorruptible, and undefiled, and that fadeth not away, reserved in heaven for you, Who are kept by the power of God through faith unto salvation ready to be revealed in the last time. Wherein ye greatly rejoice, though now for a season, if need be, ye are in heaviness through manifold temptations: Let the trial of your faith, being much more precious than of gold that perisheth, though it be tried with fire, might be found unto praise and honour and glory at the appearing of Jesus Christ: Whom having not seen, ye love; in whom, though now ye see him not, yet believing, ye rejoice with joy unspeakable and full of glory: Receiving the end of your faith, even the salvation of your souls".

— Yes, sir. Soul, your mind, your will, your emotions, and he deals with it in the fifth chapter.

— Verse four: "To an inheritance incorruptible, and undefiled, and that fadeth not away, reserved in heaven for you," Where is it? Your inheritance. There it is. To an inheritance. Inheritance is covenant. I am the seed of Abraham. I am a son of God. It's an inheritance. I can't have an inheritance if I'm not a son.

— Glory to God. When you see it cross-pollinated, when you have the apostle Peter and the apostle Paul saying the same thing, you know, it's from the Spirit of God. So that to check it out, you can go back to the book of Galatians.

— Oh, yes, sir. It's my favorite.

— And in the third chapter, after verse 25, "But after that faith is come, we are no longer under a schoolmaster. For ye are all the children of God by faith in Christ Jesus. For as many of you as have been baptized into Christ have put on Christ. There is neither Jew nor Greek, there is neither bond nor free, there is neither male nor female: for ye are all one in Christ Jesus. And if ye be Christ's, then are ye Abraham's seed, and heirs according to the promise". There is your inheritance.

— Now we're talking about New Covenant.

— Yes. See, it's been done now by the blood. This is not a hope for the future. This is a now. This is a present day. Let me pop you back to Second Peter. Here's where people are weak right here. Second Peter, chapter one, verse 11. "For so an entrance shall be ministered unto you abundantly into the everlasting kingdom of our Lord and Saviour Jesus Christ". That's been done. "Wherefore I will not be negligent to put you always in remembrance of these things, though ye know them, and be established in the present truth". The present truth is what you know what we talked about in this book. God, the Covenant and the Contradiction, the present truth is Jesus became the contradiction. The present truth is, I am the Son of God. I am the righteousness. I don't have worry. I don't have care. That's the present truth. I'm beginning to realize who I am in him.

— You said to cast all of your care.

— Yes, sir.

— I picked up a line from Marty Walsh. Tom Selleck played the part, he's a cowboy and the big ranchers sent in this accountant. This was just messing up everything. And he said, "Oh, what is your name again"? He said, Robert... So he said, "Well, mom, I just can't tell you how much I don't care". So I picked up on that. I said, "Devil, what's your name again? I just can't tell you how much I don't care because let me read you something. By his stripes, I was healed and I'm healed now. Now, let's talk about your future. Cast into a lake of fire burning forever and ever and ever and ever. Now get out of my face".

— That's it.

— Praise God.

— This present truth is my reality in Christ Jesus right now. I'm the covenant of Noah. I don't live under the covenant of Noah. Noah was righteousness in his generation. Now we've got things like Noah happening in the world today. Jesus warned us about it. We'll talk about it later. But I'm not. I'm not under the agreement that Moses had. I am tied to the one with Abraham. Paul just told us that. The Eden, all the others. All of those have been culminated in the one person, Jesus Christ, of whom I am, and he's in me. And so as a result of that, that's my present truth. And when I live in my present truth, I'm not trying to mix things together. I'm staying with what the world says about me right now, here in these epistles.

— We are, according to Scripture, the wild olive branch that's been grafted in to the true. Now, when you graft in, then you become part of the root system.

— That's correct.

— So our root is we've been redeemed from the curse of the law by Christ Jesus. I am a Christian, you know, and therefore Israel is my root.

— Absolutely. And when it says Israel, it means Israel. They have not been replaced.

— That's right. And we've talked about it before. It's not the state of Jacob. It is the state of Abraham, Isaac and Jacob, whose name was changed to Israel. Only one nation was born out of World War II, the nation of Israel. World War I was fought over the same thing.

— That's right. General Allenby opened it up. They wouldn't go home. They said, "Why should we? We are war heroes. And we've done well and in Germany..."

— Some did, but not...

— Germany was defeated. And they just continued. And but then it was like Joseph of old, after a while the Pharaoh forgot about Joseph. Well, after a while they forgot about those war heroes. And so they inherited Hitler. He was in World War I,

— Corporal.

— Yeah. And his generals, the main staff officers said the day they lost the war is when he declared war on the United States. They knew it. So did the Japanese. Admiral Yamamoto spoke fluent English, was a naval attaché for Japan when they were our allies in Washington, D.C.. He begged them. He said, "Don't fight these people". Well... He said, "No. Don't you have no idea what they're capable of"? Because he had seen our manufacturing capabilities. He said, "Don't do it".

— We were in the United Country. Whenever anything gets in unity, any group of people get in unity, God shows up. Acts chapter two, they were in unity and God showed up. Go back to the Tower of Babel. They got in unity. He even got in unity. God showed up. He said, "We must go see what they do, because nothing will be..."

— Nothing is impossible.

— That's right. That's why that's in our name. United States. We can't let anybody divide us.

— And we're on our way. We're on our way. And the Supreme Court now has been put in place to turn these things around. But you have to remember, it's not flesh and blood. Satan is a serial killer. He'll steal, kill and destroy. Jesus said so and we're out of time. But stop that worrying today. You just say it. My mind is my mind. I tell it what to think. I think according to the Bible, this book, are words, covenant words, that I not only place in my heart, but in my mind. My mind is my mind, I have the mind of Christ, I think with his mind and not mine. He's not worried about anything. He is my caretaker. So I cast my care upon him. Thank you, Lord, I'm anxious about nothing. We'll be back in just a moment.