Kenneth Copeland - What Is Biblical Honor?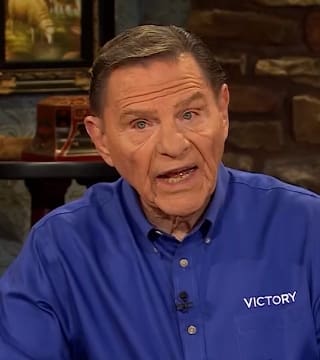 TOPICS:


— Hello, everybody. I'm Kenneth Copeland, and this is Wednesday's edition of the Believer's Voice of Victory broadcast. Excuse me, honor, respect. There is a code of honor. Those core values, of all the things that I own. I respect this book more highly than anything I have. So does Gloria. Now we highly esteem and respect one another. But that's because we love one another. And we honor this book. And we walked in it for 56 years. So but we had to learn. Honor. There is an honor guard. There is honor at the Tomb of the Unknown Soldier. Well, I'll tell you, chills all over me. In the military, you honor a higher rank,

— Even if you don't like the person.

— Oh, it doesn't have anything to do with it.

— That'd the military Code of Justice

— Yes, sir, it's the position.

— You will do this. Well, I enjoyed it. I wanted to make my salute as sassy as I could. I wanted that guy to think, "Ah. He honored me". The Medal of Honor, far above the call of duty. And if a private has that blue ribbon around his neck every general, he has to salute him.

— That's right. That's right.

— The Medal of Honor. What about biblical honor? When my dad taught me honor. And he'd say, "Son, you don't... You don't act like that now, you honor your elders".

— Yes, sir.

— And you esteem them. And now it came to that place where my dad walked in the room. I'd stood up. I'd stand up and honor him right up to the end. And honor his life. It taught me to tithe. He so honored God's Word that he had a tithing account and his account. He had of course, the business account, which was from the company because he was a general agent for National Line and Oil Insurance. But his personal account, I mean, and I was just tall enough to look over there at what he was doing and he would make out his deposit and he would have this checkbook over here. That was his tithe account, his tithe account checkbook and then his personal checkbook. And then he had two different counts in that bank. And he would not allow one to get into the other. And anyway, the honor of God. Now in the second chapter of First Peter. You don't just go to "His own self bare our sins in his own body on the tree, that we, being dead to sins, should live unto righteousness: by whose stripes ye were healed". You don't start there. There's 23 verses up above it. And this whole this 24th verse is conditional on the other 23. And of course I won't... in this one is the key to it. 13th. "Submit yourselves to every ordinance of man for the Lord's sake: whether it be to the king, as supreme; Or unto governors, as unto them that are sent by him for the punishment of evildoers, and for the praise of them that do well. For so is the will of God, that with well doing ye may put to silence the ignorance of foolish men: As free, and not using your liberty for a cloke of maliciousness, but as the servants of God. Honour all men". Or everybody. They're alive, whether you like them or not. And do your best to smile, bring something good to their life that day, and then witness about Jesus. And just recently, I went into a store and there three women were standing there. And I just walked in there and smiled. And I said, "Aren't you glad it's a good day"? They smiled. I said, "It is one day closer to the resurrection". Yes. And I just kept talking and kept talking and finally wound up over talking to this woman. And she said, well, and her name is Peggy. And she said, "Well, I'm Catholic, but my daughter is going to Baylor". Well, I bragged on Baylor and talked about Hardin-Simmons and University Baptist Church in Abilene and so forth. She said, "But, you know, I guess I'm going to have to get me a Bible". I said, "Let me help you with thist".

— Amen.

— It just one thing led to another because of honor. Honored everybody there. Smiled and just start talking about Jesus. Well, the more... And she just began to stand there and other people were walking by while she's there talking to me. So I kept buying some things. Anyway.

— Who wrote that? Peter wrote that. Peter knew what it was like to dishonor Jesus, because he did. He swore. I'll love you. I'll always love you. I'll never... And he didn't. He dishonored him. Did exactly what Judas did minus killing himself. Jesus comes and finds him after the resurrection on the seashore, while Peter was out on the boat and Jesus was on the shore cooking fish. And he asked him three questions, got him three times and three times he asked him, "Peter, do you love me"? And because Peter said, "I'll always love you," he's boasting his love for Jesus and what did he say? Feed my sheep. Feed my sheep. Feed my lambs. That's exactly what you were doing. That's the best way we can honor him.

— Yes, it is.

— Is to love people. That's a very Hebraic mindset. It's a very Jewish mindset that you honor everyone because they were created in God's image.

— That's right. That's right.

— They're a human being. They have blood, red blood in them. And so, therefore, they're human in that regard. And I wrote this down one night in the middle of the night. I heard this. I can't change your life until you change who you honor and trust. Because you know, you want God to change your mold. Make me like you. I want to be pleasing to you. You know I can't change your life until I change who you trust, who you honor. This is exactly what Peter did right there. He got Jesus changed, who he trusted in. If your trust is in the federal government of the United States, you're going to be sorely disappointed. I don't trust the government. I honor the government. I honor the President of the United States because he's the President of the United States. And again, everybody right now screaming, well, "He's not my President". Yes, he is. Here's the other thing. There's a covenant that the very first president made with this nation, with God. So I honor this nation and I honor that covenant. If I go away from that covenant, I'm dishonoring God where my nation is concerned. Covenant is a part of everything in our life. You read that First Peter in Hebrews chapter five, speaking of Jesus "And no man take this honor unto himself. But he that is called of God, as was Aaron". Jesus Christ is that High Priest for me now that I'm called to honor. And the best way I can honor that is to live my life according to his righteousness.

— Now, the Apostle Paul is writing to his spiritual son, who is a pastor. That's hanging over his head. He had an honor and a problem that no one else will ever have. Here is this young man. And on the front row is the apostle John and Mary, the mother of Jesus.

— I sort of know what that feels like. I had to preach before and look down on the front row. And there's Kenneth Copeland sitting right there.

— But I don't even come close to that. But listen to what he said to Timothy in the first chapter 14th verse. "And the grace Jesus was exceeding abundant with faith and love which is in Christ Jesus. This is a faithful saying, and worthy of all acceptation, that Christ Jesus came into the world to save sinners; of whom I am chief. Howbeit for this cause I obtained mercy, that in me first Jesus Christ might shew forth all longsuffering, for a pattern to them which should hereafter believe on him to life everlasting. Now unto the King eternal, immortal, invisible, the only wise God, be honour..." under the king, The King "and glory for ever and ever. Amen. This charge I commit unto thee, son Timothy, according to the prophecies which went before on thee, that thou by them mightest war a good warfare; Holding faith, and a good conscience; which some having put away concerning faith have made shipwreck:" Skip the 20th verse. No I have to read it. "Of whom is Hymenaeus and Alexander; whom I have delivered unto Satan, that they may learn not to blaspheme. I exhort therefore, that, first of all, supplications, prayers, intercessions, and giving of thanks, be made for all men; For kings, and for all that are in authority; that we may lead a quiet and peaceable life in all godliness and honesty. For this is good and acceptable in the sight of God our Saviour; Who will have all men to be saved, and to come unto the knowledge of the truth. For there is one God, and one mediator between God and men, the man Christ Jesus; Who gave himself a ransom for all, to be testified in due time". All men, kings, all of them,, why?

— They want to be saved.

— Yes,

— But if I'm always dishonoring them with my mouth, I've taken myself out of the equation of being a person that could get them saved. If you constantly were dishonoring and you don't... If you constantly dishonored Joe Biden and then were brought into Joe Biden's presence, your mouth and your attitude has kept you from being able to be the one who could lead him to the Lord. This is why it's a dangerous thing, you have to honor in all of this, because this goes back again. And I know I harp it all the time. Covenant. Yeah, there's a covenant with this nation. There's a covenant with my God, God honored Jesus back there in Hebrews chapter five when he gave him a name and when he said, "This is my son who is exalted". So in that covenant, if God honored Jesus, I have to honor Jesus, I have to honor his Word. People are only willing to change, I have found, when the system they believe in no longer produces for them, then they're willing to change. This system always works. Another thing you'll always see connected to honor, which goes to your covenant is riches and honor. It seems like they always go together. We have people praying for financial miracles all the time. I need a financial miracle and I get that. But a miracle is a one time thing. What you need is financial wisdom. You need to honor.

— That's the principle.

— That's the principle thing. So if I honor the covenant, if I honor the one who made the Covenant...

— Now, I heard Mac Hammond this morning. And he went over to the book of Proverbs. Wisdom is the principal thing, not love, not faith, but wisdom. God's wisdom is the ability to use knowledge. A young man came to me, Greg, the four years at ORU. He said, "I'd like to have lunch with you". So we sat down to lunch and he began to tear up and he said, "I don't know what to do". He said, "The Lord called you out after one semester. I went the whole four years, and I still don't know what to do". Well, in questioning, you have to go back to why he went to Oral Roberts University in the first place and come to find out he's in what I call the pipeline. I mean, you go to a Full Gospel church and you go to high school. And of course, you're going, "Where are you going to go to school"? Oral Roberts University. Where else is there for us to go?

— Why?

— Well to get an education.

— For what?

— I don't know. No heavenly vision. He honored the school, honored the man. I honored him above all men, particularly after my dad went home. I honored him because the Lord put me with him. I didn't choose... I didn't want to do it. But that was God's heavenly vision for me. And I began to learn from him. So I honored him. And I went to him when his friend Ronnie passed away. And I said, "Sir, sir... I can never replace Ronnie Roberts, but I will be a son to you the best way I can in any way that I can. Whatever I can do to serve you, I will". I felt that way about Kenneth Hagin because he was my mentor and teacher, but I didn't have the opportunity to do that with him. But he didn't need my service. But Brother Roberts did. So it depends on where you place your Honor.

— That's right. And God brings people into your life. It's long term, but sometimes there are seasons. And then there's the next season and the next season. And read the God, The Covenant And The Contradiction, the dedication page. You'll see what I'm talking about.

— It's all there.

— It's all in there. I was going through the grocery store not too long back, and I saw this little girl down there stocking groceries and a bag of Cheetos were sitting right here in the wrong place. And I picked the bag of Cheetos and I took it and put it where it was supposed to be. Somebody had decided they didn't want it. And she looked up at me and her voice and she said, "Thank you" and didn't dawn on me that I honored her by putting something back.

— So she didn't have to do it.

— I'll tell you who you were talking about a moment ago. "Children, obey your parents in the Lord: for this is right. Honour thy father and mother; which is the first commandment with promise; That it may be well with thee, and thou mayest live long on the earth. And, ye fathers, provoke not your children..." Or honor them. And we're out of time. Where does it go? One minute at a time. We'll be back in just a moment.