Kenneth Copeland - Prayer Is a Seed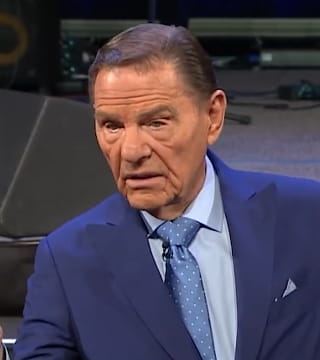 TOPICS:


Prayer is a seed We talked about, and I'll talk to you about flying as a discipline. And safety is an attitude. Prayer is a discipline. And faith is an attitude. Prayer doesn't make faith work. Faith makes prayer work. Prayer void of faith... Particularly as you grow spiritually you know that of whom much is given, much is required. Prayer that brings results must be based on the Word of God. Now turn with me to John 15:7 and the 14th chapter, verse one "Let not your heart be trouble. You believe in God. Believe also in me".

Now he comes down and he said, "For the words that I speak unto you I speak not of myself: but the Father that dwelleth in me, he doeth the works". That same Father is dwelling within us tonight. 4: "Abide in me, and I in you. As the branch cannot bear fruit of itself, except it abide in the vine; no more can ye, except ye abide in me. I am the vine, ye are the branches: He that abideth in me, and I in him, the same bringeth forth much fruit: for without me ye can do nothing". If there ever was a true word, that is it. "If you abide... If you live inside me and my words are alive in you, you shall ask what you will and it shall be done unto you. Herein is my Father glorified, that ye bear much fruit;"

So his Word must be alive in us at all times. All the time. Morning, noon, night. Wake up in the night. You don't wake up in the night and say, "Oh, what am I gonna do now"? You go back to sleep. You're not worth anything in the shape you're in right now. "I can't". Yes. You can Sleep by faith. You just get calm. And if you're like me, you lock your fingers behind your head. Lord you know Your Word says that we communicate in divine secrets. Do you have anything to say about this? What should I do? Oh, I never thought about that. Well, of course I didn't. I wouldn't have been done it if I had. Be still and know that I'm God.

And that's the way you do that, you live your life like that and you start with him in the morning and you end with him at night. And we're at home there. And usually, I mean, we have supper about 5:30 and we learned this many years ago that if you do this thing right, you're actually on a fast every day because you have your last meal, not heavy... have that last meal and then both of us get ready for bed and get in the bed and I'll catch up on the 700 clubs as we go. And, and we sit there and talk, laugh and have a good time and she really says something like this. "Well you could just turn the TV off and we could go to sleep now if you think that's the right thing to do". "Wait, just wait a minute... Okay. Just put your headset on. I'm going to sleep". I say, "okay, well, I think it's time". And I say, "Goodnight, my love".

And then I say, "Lord...", and I told you this, "Lord, you know, a lawyer came up to you and tempted you saying, which is the greatest commandment of all? And you said, 'The greatest commandment of all is to love the Lord thy God with all your heart, all your soul, all your mind and all your strength. The second is like it: love your neighbor as yourself. On these two commandments hang all the law and the prophets.'" But then I said, "Lord, in the 13th chapter of John 34 verse, 'Little children, yet a little while I am with you. Ye shall seek me: and as I said unto the Jews, Whither I go, ye cannot come; A new commandment I give unto you, That ye love one another; as I have loved you, that ye also love one another. By this shall all men know that ye are my disciples, if ye have love one to another.'"

And I quote that. And just turn over and go to sleep. Get up the next morning, one day closer to the resurrection, every day. And this is my receiving day. Thank You, Jesus. So if you abide, if you live in him and his Word is alive on the inside of you, so that under pressure his Word comes out instead of something else. And 2004 Southwest Believers' Convention. It was a rather tough convention and I'd had a lot of situations and the Lord, as I said, the Lord had said to me, "Start walking and don't quit". I started walking and I quit. I paid the price for it. I was just stand thinking about that convention and my shower is opening here. Shower head is here. It's a step down with just a tall bench across.

And I was picked up that washcloth and I missed the bench and it went over there in the corner. Turned that hot water on and let it run. I did this and I ruptured a disc in my back. It knocked me in the floor. I scream, "Gloria," I crawled out of there. It was such pain I had never before experienced. It was terrible. I screamed, "Gloria"! She called David and Lynn. They came over there, went to work on me. When I hit the floor, I said out loud, "I will never have surgery on my back". I don't mean I'm against it, but I had to make that decision right then. Right then. When someone is diagnosed with cancer, you make your decision right that minute. I mean that second. I will live and not die. Devil, you can't take my life away from me. Don't toy around with it and let your spirit just... I mean, do it instantly. Oh, dear Lord.

So we went to see Dr. Colbert, in Florida And he and David went to work on me. Oh, they went to work on me. Oh, this is the only time I ever missed a meeting. I was scheduled to go to fly to Korea. A very close friend of mine, a chaplain, an Army chaplain, had been assigned to Korea, and he invited me to come and preach to the soldiers there and go on from there to Australia. And Dr. Colbert said, "How many flying hours"? "Oh around 30". "Well, you can go ahead and go if you want to, but you're going to come home in a wheelchair". "No, I'm not". That's the only meeting we ever canceled so I took two heating pads, wrapped them around this left leg and took some sash off a couple of bathrobe and tied them down and turned the heat up just as high as I could get.

And I began to shout out in the backyard just as loud as I could. Thank God my other leg doesn't hurt. My eyes don't hurt, my arms don't hurt. Only one leg that hurts. What's that? I got another good one. This as loud as I could. And when I ease down, boy... Here come the pain. I just shouted my way through. There was a paper came out among chiropractors a Dr. Cox in Fort Wayne Indian. He changed medical science idea about low back pain and he created a machine that you could stretch and decompress that thing with no pain. The problem is muscle spasms. They can put you in traction, but when you turn, you lose. Then they figured there was something like 300 pounds per square inch that was muscle spasmed in my back. And the MRI showed that the part of that disc blew up my spine.

There was so much stress on me during that meeting. Anyway, so Leon Wheater had been to what I call recurrent training. They call it something else, but it's the same thing and found out and found a paper on that so they call Dr. Cox' daughter. Now listen to what she said. She said, "You tell Brother Copeland, that right now we don't have one. But the first one that comes ready we'll ship it to you". And a few days later, she called. She said, I have one on the knock with no name on it. Well, really, since they're back order, that should have gone to the next person. But it didn't, it came to my house and he put that back there in the laundry room and I'm pain free. It took a lot of corresponding action to get there. And my disobedience got me into that.

That's the same thing with this pacemaker. That all happened about the same time. But stress will do that, and I was under a lot of stress. The reason I brought that up is to realize that rest... When I got to Florida, the Word of the Lord came to me. He said, "I created you to rest 52 days a year. You don't rest 52 days in five years". He chewed me out, so I had to build some rest in the schedule. I still won't do it much, but I have to obey, do you hear me? Okay, now let's get over into his Word abides in me. His Word should abide in you. It should live there. It's in the 91st Psalm. He whom abides in the shadow of El Shaddai. It's all over the Scripture, abiding in him, living there, living in his house. And he lives in my house. Read the book of Revelation. I'm knocking on the door of the heart. If you allow me in, I will come in... This is covenant talk. I will come in and sup with you.

Now, what that means in covenant relationship, that means if you will allow me in, I will pay all the bills because I'm your covenant, Father. I am your covenant brother. I always wanted a blood brother. And someone slipped the little book, little red book, The Blood Covenant by E.W. Kenyon. And my airplane was in the shop and back in the day right there. And you could either go to the airport. And I could go out to Meacham field, not DFW this is back before that... take it to Houston just the front... they were shuttles. So I went to Houston. I was coming back and I remember this little book and I got it out. Hmm. Well, I'm going to read it. So I got up way up front. Anybody in the back, they had carpet on the front of that airplane that the bulkhead up there.

And so I'm reading this, Oh, Jesus Christ of Nazareth is my blood brother. Oh. And I read it again. Hallelujah. A blood covenant with Jesus changed my life forever. So abiding. Now let's look at First John, Chapter five, This little book... You should read it all at one time. There was a time I read it every day. And you talk about loaded. "And we have known and believed the love that God hath to us. God is love; and he that dwelleth in love dwelleth in God, and God in him".

There's that dwelling again, abiding, dwelling. "Herein is our love made perfect, that we may have boldness in the day of judgment: because as he is, so are we in this world. There is no fear in love; but perfect or mature love casteth out fear: because fear hath torment. He that feareth is not made perfect in love. Whosoever believeth that Jesus is the Christ is born of God: and every one that loveth him that begat loveth him also that is begotten of him. By this we know that we love the children of God, when we love God, and keep his commandments. For this is the love of God, that we keep his commandments: and his commandments are not grievous. For whatsoever is born of God overcometh the world: and this is the victory that overcometh the world, even our faith".

Where have you heard that? This faith is world overcomer. Verse 13. "These things have I written unto you that believe on the name of the Son of God; that ye may know that ye have eternal life, and that ye may believe on the name of the Son of God. And this is the confidence that we have in him, that, if we ask any thing according to his will," Now remember, his Word is his will. "Anything according to his will, he heareth us: And if we know that he hear us, whatsoever we ask, we know that we have the petitions that we desired of him". We have it. We have the petition. So write the petition, write it down. If you have a good Christian attorney, put the whereas's and the wherefore's in there. Amen.

We have petitions in our board meeting and it goes around and everyone signs and agrees. And since we've been doing that, we've been breaking financial records every year because we have a goal that the Lord set before us. And it just continues and continues and one petition that I've talked about those little petitions on my mirror and there's this particular one and it had to do with the traumatic brain injury that Gloria received back there many years ago. And it just put it all in there, the day on the 10th day of March 2023, I believe I received this and I declare this petition based on the Scripture. John 14, John 16:23, "Whatsoever ye shall ask the Father in my name, he will give it you. What things soever ye desire, when ye pray, believe that ye receive it, and ye shall have it". Wrote all down. Hallelujah. We have the petitions that we deserve.