Kenneth Copeland - 7 Steps to Prayer that Bring Results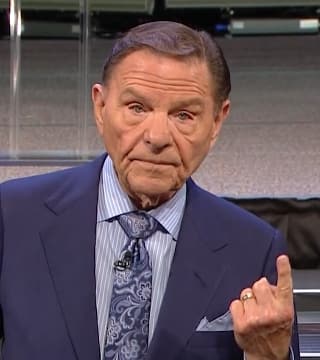 TOPICS:


You think a prayer checklist isn't important, and there are steps to it. There are biblical covenant items that must not be left out. My mother got tired of praying for me. And open your Bibles to First Peter Chapter five, and I'll show you what she did. And of course, she's praying for me. She's praying for Gloria at the same time. Thank You, Jesus. Come on up to the fourth verse. "And when the chief Shepherd shall appear, ye shall receive a crown of glory that fadeth not away. Likewise, ye younger, submit yourselves unto the elder. Yea, all of you be subject one to another, and be clothed with humility: for God resisteth the proud, and giveth grace to the humble. Humble yourselves... Yourselves therefore under the mighty hand of God, that he may exalt you in due time: Casting all your care..."

Now, hang on a minute. "Humble yourselves [demote, lower yourselves in your own estimation] under the mighty hand of God, that in due time He may exalt you..." Listen to this. "Casting the whole of your care, all your anxieties, all your worries, all your concerns, once and for all on Him, for He cares for you affectionately and cares about you watchfully". She did that, she did it this way. She was at the kitchen table. She just threw her Bible down on the table. Said, "I prayed for him the last time. If he goes to hell, it's your fault". That's the short version of First Peter 5.

Gloria was saved the next week. I was two weeks later. And then in January, both of us baptized in the Holy Ghost. We still didn't have anything financially but prayer... Now, my spiritual father, Oral Roberts, put it like this. He said, "All failure and all success in the life of a Christian is either a prayer failure or a prayer success". And that's the bottom line. But prayer does not make faith work, faith makes prayer work. We know that the authorized version says "Faith is the substance of things hope for and the evidence of things not seen".

Here again, let's read it in my favorite, because when you see this, this really lays up what it is. "Now faith is..." Well, that starts off right. If it isn't now, it's still in the future. Faith is now. Hope is in the future. Now, real Bible hope... You know, you hear I've asked. I've had this happen. Are you going to receive your healing at Healing School? "I sure do hope so, Brother Copeland. That's no different than wishing". And so many times you asked someone, "What scriptures are you standing on"? "Huh"? "You know you've been redeemed from the curse". "I thought was redeemed from sin". We're going to talk about that in the morning. We have been redeemed from the curse of the law. Praise God.

"Now faith is the assurance (the confirmation," listen... "the title deed) of the things [we] hope for, being the proof of things [we] do not see and the conviction of their reality, [faith perceiving as real fact what is not revealed to the senses]". Hallelujah. So you stay in the Word because we know faith comes by hearing and hearing by the Word of God. And when you go to the 10th chapter of Romans, of course, that's where we get the phrase the Word of Faith, which we preach, This is the Word of Faith. Hallelujah. So in the Word of Faith, there are seven steps that I want to show you. You can write these down. Prayer that brings results must be based on the Word. Why is this referred to as the Word of God? Because it's his bond.

Now, I was raised by a man that if he said it, that is it. And I'd go to bank with him and I would watch him stand there and watch him make out his deposit slips. And so he had two accounts. One was his and the other was God's. He had a tithe account. And if I had time, I'll tell you some things about that. But it's amazing the things that during the Great Depression, my mother and dad... my dad was never without a job 24 hours. And I asked him and talk to him about things like that.

But anyway, this is God's bond. "God is not a man that he should lie neither the son of man, that he should repent: hath he said, and shall he not do it? Or hath he spoken, and shall he not make it good? Behold, I have received commandment to bless: and he hath blessed; and I cannot reverse it". Has he not said it will not make it good. That's the reason it is so important to realize that all of this is blood backed. It's starting from the book of Genesis.

So number two, begin the application of faith. Let me go back and give you these scriptures. Nehemiah 1:5-6, First John 5:14 and 15. First John 3:22. John 15:7. "If you abide in me and my words abide in you, ask what you will and it'll be done unto you," all of this was in that Seder meal from the 13th chapter of John all the way through the 17th chapter of John. Romans 12:2, prove the perfect will of God. What it says, not what we think it says. Start with the answer. The Word. Don't guess at it. I just give you a little of my routine right where I shave every morning. Just take a little yellow ruled tablet about that size, I just start it up here.

Isaiah 53:4-5. Then Matthew 8:14 through 17. "Surely he hath borne our sicknesses and carried our pain. We did esteem him stricken, smitten of God, and afflicted. But he was wounded for our transgressions, he was bruised for our iniquities: the chastisement of our peace was upon him;" Well, it is also written that Jesus went in to Peter's house, saw his wife's mother laid sick of a fever. He touched her hand and the fever left her. She got up, ministered to them, and when evening was come, they brought many who are possessed with devils. He cast out the devils with his Word, healed all that were sick, that it might be fulfilled.

Well, the prophet Isaiah said he took our infirmities and bore our sicknesses, and then that was also confirmed in First Peter 2:24. Now there's 23 verses ahead of that and they're all very important to your human. He bore our sins on his own body on the tree that we being dead to sin should live unto righteousness, by whose stripes we were healed. If we were healed, we are healed now. So we walk by faith, not by sight. We don't walk by feelings. I'm not moved by what I feel. I'm not moved by what I see. I'm moved by what I believe. And there's some things that take a while, longer than I've enjoyed. But I live in divine health. I don't get sick.

Gloria and I either one been sick for a long time. Long long long time. I had a little situation that I disobeyed God. He said, "Start walking and don't quit". Well, I started walking and I quit. And so I was preaching for Mike Barber in a prison situation. And I got short of breath. So we got in the airplane and Duane was flying. And I sat down there in the back and the Lord said... I heard it. He said, "I've given you a new heart". I said, "I take that, I'm Kenneth New Heart. I'm Kenneth New Heart little before 8:00 in the evening, October the second", praise God.

So they did all the check and everything. I preached myself to exhaustion twice, and that was my fault. Not going to all that, I got severely reprimanded by the Lord for not checking with him, just taking every meeting that came along. So they checked everything. I did not have a blood flow problem. There was one artery blocked, but it bypassed itself. They were looking to see if I needed a stent or, you know, whatever. They said I needed a pacemaker. All right. All the time I'm thinking about my flight physical. And so they said, "Well, you need a pacemaker". I said, "I'm going to get it by faith". The Lord said, "No, you're too far behind the power curve". Well, that's an aviation term, too. He said, "I'll take care of it for you".

Okay. So they put that pacemaker in there. I didn't know it had a built in defibrillator. I set it off a couple of times, but it takes corresponding action. So I got on a treadmill. Now, and I don't know why I didn't keep the mileage all the time, but I now have, oh, 800 and whatever at 800... 900 miles on that treadmill. There's a thing called the Bruce Protocol, and it's the granddaddy of stress tests. So I have a new heart. I have a new heart. I have a new heart. I have a new heart. I have new heart. I have a new heart. I have a new heart. I took the Bruce Protocol with the defibrillator intact and the tech rep for the company that put this thing, that plant that thing, I mean, he came out there and turned it off.

Well, that went to the FAA. And I want to thank you very much. I have my physical, too, but it took the corresponding action. Instead of just go over there and sit down and wait till I die. I don't have time to die. Amen. Faith doesn't do that. Faith has to have corresponding action. And in the King James that says, Without works, it's dead. And Weymouth translated like this, corresponding action, praise God. So that's important. Now begin the application of faith confession before you have it.

Number three, refuse to allow doubt and fear to enter your consciousness. Satan works in the area of suggestion, dreams and visions. You are the establishing witness. What does that mean? By his stripes I'm healed. God says by his stripes, I'm healed. The devil says, "No, you're not. You never will be. Don't you know? Don't you remember what you did"? "No. I'm innocent". You can't be. No, I know I can't be. But I am. See, I'm not move by what he says. Amen. But if I listen to him, I'm the establishing witness. I either witness to what he says or I witness to what God says.

Now, all these little tabs up in here are healing scriptures and when all else fails, go to 91 Psalm. It just covers it all. Glory to God. So then control your mind. Second Corinthians 10:5, with the Word, dwell on the answer instead of the problem. Refuse to accept anything against you or your receiving. See yourself succeed and not fail. That's Proverbs 4:20. Attend to my words. Let's look at them. We're going to get into that tomorrow. But it's important here.

Proverbs 4:20. "My son, attend to my words, incline thine ear unto my sayings. Let them not depart from your eyes. Keep them in the midst of your heart, for they are life to those that find them and health..." The cross reference says medicine to their flesh. So this is my medicine. But what do you have to do with medicine? You have to put it in the system. Well, this is spiritual medicine, so you have to put it in the system. That's the prescription for your health. Testify what you believe, the Word.

Revelation 12:11. "We've overcome him by the blood of the lamb. The word of our testimony". Get involved helping someone else. Galatians 5:6. Faith works by love. Get on the giving in if you need healing, give healing. You need money. Give money. The way you measure it will be measured by it. The Word says God is love. Theology magnifies the power of God more than it magnifies his compassion. Nowhere in the Bible did it ever say God is power, it says God is love, and he uses his power in behalf of his love for God so love the world that he gave his only begotten Son.

Well, I only have one son, so I'm extremely interested in what my only begotten is doing, amen. And my children are important to me. But you and I, we're not even close to the love of our Father. Isaac was born. I'm paraphrasing and God said, "Go sacrifice him". So he did. Before he went up the hill, he said, "The lad and I will be back". It's right there in the 11th chapter of the book of Hebrews. I mean, he raised the knife because so shall that seed be more than the stars of the heavens. The authorized version said he received him raised in a figure. He saw it. And the angel had to stop him from plunging that knife.

Now, why would God do that? Because God knew the day would come when his only begotten Son would say, "If it be your will, let this cup pass from me". He couldn't. His covenant partner only had one son, and it was a miracle son. God only had one. And it was a miracle Son. He could not do what his covenant partner was willing to do. Now you can see the connection of these things. That's why it's so important to understand the covenant so well and live a covenant life with it on your mind all the time, thinking about it all the time.