Kenneth Copeland - Raised, Seated and Reigning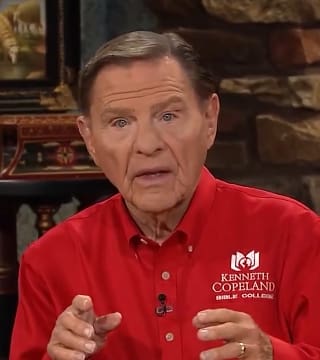 — Hello everybody. I'm Kenneth Copeland. This is Wednesday. Jesus went to the cross on a High Sabbath. He said, "As Jonah was three days and three nights in the belly of the fish, so shall the son a man be three days and three nights in the heart of the earth". So it didn't start on Friday. So just do the math and figured it up. I mean, I have it here in my book, three days and three nights. So everything is in the Book. So now I want to look at in the book of Matthew in the 27th chapter of the 46th verse. "And about the ninth hour Jesus cried with a loud voice, saying, My God, My God, why hast thou forsaken me"? John, 19. And where is it? Wait a minute let me see here... in 19:30, "Jesus therefore received the vinegar. He said, It is finished". Well, it was finished, but let's go over to where it is written in the 22nd Psalm in the Classic Amplified. To the Chief Musician; set to the tune of Aijeleth Hashshahar, the hind of the morning dawn. A Psalm of David. Now remember this, Sheol or hell in the bosom of Abraham. Jesus talked about the bosom of Abraham when the rich man died.

— That's exactly right. Lazarus

— And Lazarus was in the bosom of Abraham. The rich man died and went to hell and said, "Son, remember, this is part of hell. You can't forget. You can't forget. You can't forget. You can't forget. You can't forget it. You can't". And one of the problems is people say, "Oh, but God never forgets". Yes, he does. He is the only one that can supernaturally forget. But it takes a blood covenant to do it because our sins are washed in his blood.

— That's good. Which points all the way back to Egypt, when I see the blood I'll pass over.

— But it's all in here. This is a psalm of David. Now get this. He's in the bosom of Abraham looking down in there. 22nd Psalm. "My God, my God, why have You forsaken me? Why are You so far from helping me, and from the words of my groaning? O my God, I cry in the daytime, but You answer not; and by night I am not silent or find no rest. But You are holy, O You Who dwell in [the holy place where] the praises of Israel [are offered]. Our fathers trusted in You; they trusted (leaned on, relied on You, and were confident) and You delivered them. They cried to You and were delivered; they trusted in, leaned on, and confidently relied on You, and were not ashamed or confounded or disappointed. But I am a worm, and no man; I am the scorn of men, and despised by the people. All who see me laugh at me and mock me; they shoot out the lip, they shake the head, saying, He trusted and rolled himself on the Lord, that He would deliver him. Let Him deliver him," They did that. They actually said those things, centuries later. In fact, the scripture references are here where they did. "Yet You are He Who took me out of the womb; You made me hope and trust when I was on my mother's breasts. I was cast upon You from my very birth; from my mother's womb You have been my God. Be not far from me, for trouble is near and there is none to help. Many [foes like] bulls have surrounded me; strong bulls of Bashan have hedged me in". Well, that's Ezekiel 39:18.

— That's exactly right.

— "Against me they opened their mouths wide, like a ravening and roaring lion. I am poured out like water, and all my bones are out of joint". Not broken because it's prophesied that none of his bones would be broken. But he's all out of joint. "My heart is like wax; it is softened [with anguish] and melted down within me. My strength is dried up like a fragment of clay pottery; [with thirst] my tongue cleaves to my jaws; and You have brought me into the dust of death. For [like a pack of] dogs they have encompassed me; a company of evildoers has encircled me, they pierced my hands and my feet". It had to be written before it could happen. There was a process that had to take place. God designed it for you and me. You have any foot problems today? You got a problem with your hands or your feet or your back, your joints, your bones, ligaments?

— That curse is reversed. That curse is reversed.

— There's your healing right there in hell itself. Let's see.

— They part my garments verse 18...

— Where am I, verse 18. "They part my clothing among them and cast lots for my raiment (a long, shirtlike garment, a seamless undertunic)". That's what we were talking about last week. "But be not far from me, O Lord; O my Help, hasten to aid me! Deliver my life from the sword, my dear life [my only one] from the power of the dog [the agent of execution]. Save me from the lion's mouth; for You have answered me [kindly] from the horns of the wild oxen. I will declare Your name to my brethren; in the midst of the congregation will I praise You". And they're watching this thing from the bosom of Abraham. He's preaching to them. "You who fear (revere and worship) the Lord, praise Him! All you offspring of Jacob, glorify Him. Fear (revere and worship) Him, all you offspring of Israel. For He has not despised or abhorred the affliction of the afflicted; neither has He hidden His face from him, but when he cried to Him, He heard. My praise shall be of You in the great congregation. I will pay to Him my vows [made in the time of trouble] before them who fear (revere and worship) Him. The poor and afflicted shall eat and be satisfied;" Look what he fixed right there. Your poverty went to hell. You just need to believe for the blessing of Abraham. "They who [diligently] seek for, inquire of and for Him, and require Him [as their greatest need]. May your hearts be quickened now and forever! All the ends of the earth shall remember and turn to the Lord, and all the families of the nations shall bow down and worship before You, For the kingship and the kingdom are the Lord's, and He is the ruler over the nations. All the mighty ones upon earth shall eat [in thanksgiving] and worship; all they that go down to the dust shall bow before Him, even he who cannot keep himself alive. Posterity shall serve Him; they shall tell of the Lord to the next generation. They shall come up... They shall come up and shall declare His righteousness to a people yet to be born-that He has done it [that it is finished]"! It is finished. What was finished?

— The separation.

— Yes.

— The covenant is fulfilled and it is fulfilled by the blood of this one man. If you follow this out, see progressively, they've perverted that word. Each revelation, each generation begins to see more and more. If you look at that Psalm 22, that's crucifixion, Psalm 23 is him in the grave. Though I walk through the valley of the shadow of death. Lie me down in green pastures. This is when he's in the grave. Psalm 24 is when he comes out of grave. It's all prophesied. Let me read you Psalm 24 verse 7. "Lift up your heads, O your gates and be lifted up your age-abiding doors. And the King of glory shall come in". That's his resurrection.

— And one of our... let's see now. One of my nephews said. "And the king of Gloria shall come in. What is a king of Gloria? What is aunt Gloria, the king of Gloria..." I said, "Well, he's her king, you see".

— Brother Copeland everything's changed now since that. You need to understand this. Paul will teach it. You were crucified with him. Because he's your representative. I used to think it was the most unfair thing in all the world, that God allowed the whole world to get messed up because of one guy sinned. Punish Adam. Don't punish all of us. I mean, that's really the way I believed. It didn't seem fair, but in reality, it was brilliant. Because if one man can get us in it, then one man will get us out of it. That was a brilliant plan. Lucifer never saw it coming. And so this one man is what this thing's all been about. And here he is. So I was crucified with him. I was buried with him. I rose with him. Now I'm seated with him, and I reign with him. We've got too many believers trying to be seated and reign and not fully understanding all of this yet. That's what this covenant is all about, is us getting into that place. Now healing is readily available.

— There had to be a way, since God is a faith God, there had to be a covenant established. Everything had to be recorded over the ages. All of it had to be recorded so you and I would have it. And there's something that some guys said or something about a footnote that this wasn't in there. And I said, "Well, you're too late. You know, I prayed for that fella. I didn't know the footnote was there, and the Lord healed him whether the footnote was there or not". Well, let me show you why. Psalm 103.

— I'm there.

— Your already there.

— Yes.

— Here it is. "Bless the Lord, O my soul: and all that is within me, bless his holy name". That's verse 1. "Bless the Lord, O my soul, and forget not all his benefits:" That's the covenant. I have covenant benefits. "Who forgiveth all thine iniquities; who healeth all thy diseases;" That's my benefit package to my covenant that Jesus did in his blood. You can't take away my benefits.

— That's right.

— Your footnote, your handnote, your backnote, I don't care what note you use. This is my benefit package to my healing.

— And, hang on let's see. What is it? The 69th I think... Psalm... No... the 68th. "Blessed be the Lord, who daily loadeth us with benefits," So forget not my benefits, your union doesn't have these kind of benefits. That whole 103rd Psalm and I just marked it up all over the place and I've used it. I was... my mother was... she was, right there getting really close. And she was in the hospital and I was sitting up with her. My Bible was in my lap. And I was just sitting there praying in the Spirit quietly, I didn't want to disturb her, and I heard it in my spirit. She doesn't need healing. I said, "Well, you could have fooled me". No, he said, "Did you notice how quickly she was healed of the bruises from the IV's and stuff in the back of her hands. They just went away when you prayed". I said, "Oh, Lord, forgive me". He said, "Did you notice when they said she had some pneumonia and you pray and it just went away". Oh, said Lord... I said, "Well, what's the matter with her then"? He said, "She's worn out. Her body is worn out. But don't you remember in my Word? I said I would renew her youth like the eagle's," my Bible was right there. "Bless the Lord, O my soul: and all that is within me, bless his holy name. Bless the Lord, O my soul, and forget not all his benefits: Who forgiveth all thine iniquities; who healeth all thy diseases; Who redeemeth thy life from destruction; who crowneth thee with lovingkindness and tender mercies; Who satisfieth thy mouth with good things; so that thy youth..." Ho, ho, ho. Not five verses in. I said, "Can I pray that for her now"? He said, "All things are possible to the one that believes". They were talking about her dying in a few days. And I just stood up and got over there. She was still asleep and I just got over there and just prayed that over her. And she lived two more years. And so I said, "Lord, I think I'm going to pray that over myself all the time". He said, "I think that's a good idea". So I marked it up, and it's one of the prayers we pray for our partners. Well, and then "As far as the east is from the west, so far hath he removed our transgressions from us". Heehaw! "Like as a father cares for his children, so the Lord cares for them that fear him. For he knoweth our frame; he remembereth that we are dust. As for man, his days are as grass: as a flower of the field, so he flourisheth". And I wrote in there only 120 years, "For the wind passeth over it, and it is gone; and the place thereof shall know it no more. But the mercy, the hesed of God is from everlasting to everlasting upon them that fear him, and his righteousness. unto children's children;" I wrote in here, "Can your union offer this"? Are you listening? Really good? "To such as keep his covenant, and to those that remember his commandments to do them". That covenant is stuck in there...

— All over it. You can't undo it...

— Wait a minute, hang on... "And prepared his throne in the heavens; and his kingdom ruleth over all. Bless the Lord, ye his angels, that excel in strength, that do his commandments, hearkening unto the voice of his Word". They angels are hearkening under the voice of his Word right now while we speak. This little room is full of angels. And all of you are out there surrounded around with angels. "Bless ye the Lord, all ye his hosts; ye ministers of his, that do his pleasure". That's talking about the angels, "Bless the Lord, all his works in all places of his dominion: bless the Lord, O my soul".

— Yes sir. He knows our frame because he's the one that formed it and the one that picked it up and breathed into it. You see he's putting himself back in remembrance all the way back to that first covenant.

— That's where it started.

— This is a covenant of faith. The law, as good as it was, is not a covenant of faith. It's only obedience. Didn't have to have any faith. Abraham's covenant is faith, Jesus is faith. And the covenant, the new covenant that we have now is faith. And the reason why many of God's people have forgotten we have a covenant of healing is the reason is this is because they have valued experiences more than they have valued the Word.

— Now, I want to read something here, because I can add a little bit of something to it now that I couldn't. The Great Hall of Fame of Faith in the 11th chapter of the book of Hebrews. Here again it's explained in detail in the Classic Amplified. "Now faith is the assurance, the confirmation, the title deed of the things we hope for, being the proof of things we do not see and the conviction of their reality faith perceiving as real fact what is not revealed to the senses. For by faith trust and holy fervor born of faith the men of old had divine testimony borne to them and obtained a good report. By faith we understand that the worlds during the successive ages were framed fashioned, put in order, and equipped for their intended purpose by the Word of God," That started in Genesis "light be". He said, and the Spirit of God was moving on the face of the deep. Because the Spirit of God is the agent. "Enoch was caught up and transferred to heaven, But without faith it is impossible to please and be satisfactory to Him. For whoever would come near to God must necessarily believe that God exists and that He is the rewarder of those who earnestly and diligently seek Him out". Now and he goes to Noah, Abraham. It just keeps on, Sarah. She judged him faithful. The promise. "So from one man, though he was physically as good as dead, there have sprung descendants whose number is as the stars of heaven and as countless as the innumerable sands on the seashore". And they're still being born right there right now in a nation called Israel. Glory to God. And you just keep on that. I mean, these gigantic heroes of faith and... Come on... There you go. Verse 40, "Because God had us in mind and had something better and greater in view for us, so that they, these heroes and heroines of faith should not come to..." Now listen, the heroes and the heroines of faith. Now you get that in the Classic Amplified. That's a massive statement. "Therefore then, since we are surrounded by so great a cloud of witnesses [who have borne testimony to the Truth]". Now you see who must qualify. Now people go to heaven is one thing, but you have to faith qualify to be the cloud of witnesses because they're in there to help you. And we're out of time, I'll tell you tomorrow. Glory to God, hallelujah. Thank You, Jesus.