Kenneth Copeland - An Eternal Covenant With God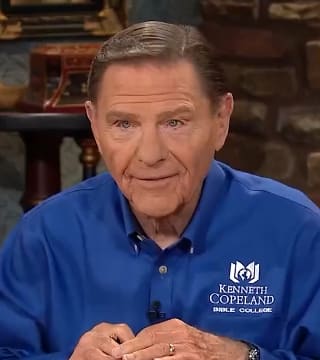 TOPICS:


— Hello, everybody. Welcome to Wednesday's edition of the Believer's Voice of Victory Broadcast. I'm Kenneth Copeland. This is Professor Greg Stephens. And we're pushing Kenneth Copeland Bible College today. Amen. Victory in that college, praise God. So anyway, we're talking about our covenant with God. And we have to remind ourselves continually and keep in the forefront that the Bible is a book of blood covenants. That's what it's about. It is, in my opinion, tragic that it's called the Old Testament. And this is the reason why the Classic Amplified is so important and one place where Jesus said, "This is my blood of the New Testament". Now, they didn't say that. They said, "This is my blood of the New Covenant". Because this one is in his blood, which is perfect blood. Amen. Now, I want to go back here. Excuse me, to the book of Genesis. And I want to tell you in the radio and television audience that the Lord just dropped this in my heart. I mean, just as we sat down here,

— The moment you sat in that chair, just saw it happen.

— It just the second I sit down here, just kind of stunned me for a moment. So let's go back there to the 17th chapter of Genesis, where this happened. Let's go to the seventh verse. "And I will establish my covenant between me and thee..." Now wait back up... "Neither shall thy name any more be called Abram, but thy name shall be Abraham; for a father of many nations have I made of thee". Many nations. Many, not one, not the state of Israel. Many nations, many nations. For a father of many nation and the United States of America, have I made of thee, dear God. "Almighty God: We make our earnest prayer that Thou wilt keep the United States in Thy holy protection; that thou wilt incline the hearts of the citizens to cultivate a spirit of subordination and obedience to government, and entertain a brotherly affection and love for one another and for their fellow-citizens of the United States at large particularly for the brethren who have served in the field". They just finished the Revolutionary War. Britain sent a sniper, the best shot, the most covert man that they had to kill General Washington. He had him point blank more than once, and he fired on him. He came back and said, "I'm not firing at this holy man anymore. Don't ask me to do it". And General Washington got back and there were holes in his jacket. He's the one praying this prayer. "Grant our supplication. We beseech Thee, through Jesus Christ, our Lord. Amen. And now Almighty Father if it's your holy will that we obtain a place and a name among the nations of the Earth. Grant that we may be enabled to show our gratitude for that goodness by our endeavors to fear and obey thee, bless us with our wisdom and in our counsels. Success in battle. Let our victories be tempered with humanity in Dallas. Also our enemies with enlightened minds that they may come sensible of their injustice, are willing to restore our liberty in peace. Grant the petition of our servant for the sake of whom thou has called the beloved thy beloved son. Nevertheless, not my will, but thine be done". George Washington. These prayers... it's a matter of record but not all of them were prayed after that. Now, St Paul's Chapel in New York City is the chapel that survived 9 11 and became a haven for the wounded and the sick that occurred and happened terrible attack by another group of people. But it survived. Things crashed all the way around. It didn't touch it. I'd like to meet the angels one day they stood there and kept that from happening. And then there're men, like Dan Stratton, who didn't run away from it and ran to it. Most of the firemen and most of the policemen in New York City are Catholic and outstanding people. Well, they all know pastors right there in New York City. But he'd been teaching his people how to hear the voice of God. About 85% of his people work right there in the World Trade Center. But he's teaching them how to hear the God of Israel, the God of this nation. Oh, glory to God. One of them walked out of there with a white shirt, tie and suit out of all of that rubble. His clothes were not stained with ash. And everybody wondered, where in the world have you been? One of them, a member of his church heard, "Run". Down in the subway. Boom. Dan said to me, "You could set your watch by him. He is always on time. He's on time at church. He's on time everywhere". That morning, his daughter said, well, he takes her to school and then I think he gets on the train, comes to town. She said, "Daddy, you never spend much time with me, can we just stop and have an ice cream"? He said, "Why not"? He missed the whole thing, but he told his cabdriver he had gone home and he said, "Take me down there". That cabdriver said, "I don't know if I want..." He said, "Get me as close as you can". So he did. And he's driving in there and he's trying... they just kind of acknowledge him and nobody pay any attention to him. Now, listen to what God told him. He prayed. He said, "Father Lord, what do I do"? He said, "Dan, put on a collar". So he did. And he came up and, "Oh, Father Dan, would you help us here? Father Dan, would you help us in there"? He was right in the middle of it. He was right down there in the mess, praying for people, getting people healed, leading people to the Lord. Father Dan. I believe you're right on George Washington tied us to a covenant.

— Yes, he did. When he did that, that goes back to Abraham, which if you're born again in Christ, I call the New Covenant. Now, it's a long title, but I call it the New Covenant of Abraham in Christ Jesus, because Galatians tells us we've been taken back there. It's not very interesting.

— What was the name of the man that freed the slaves?

— Abraham Lincoln.

— Where do you think he got his name?

— Exactly where he got the name, right here. I've noticed something, though, in Genesis 17, right after his name changed to Abraham in verse seven, in verse 13 and verse 19, we have a new term, everlasting.

— Yes, it is. I noticed that.

— It's there three times. Now in Hebrew... It's a Hebrew word Alam. It references a covenant made in eternity, not in time.

— It's the heavenly connection.

— That's exactly what it is.

— The New Jerusalem.

— It's time was made for us. This everlasting covenant is outside of our normal time that we're used to.

— Go ahead.

— And so this United States of America. Honey, we're not going away. And this is why they want to destroy it. Because of what George Washington did that day when he tied us to this covenant. And we became a fulfillment... We became a fulfillment of Genesis 17, what was promised to Abraham, because where's the Gospel come from? Right here, the Bible Society from the Founding Fathers was set up and the Gospel has gone around the world from this place. Everlasting and part of everlasting, Brother Copeland is blessing. This nation has been blessed and we've blessed every other nation.

— And this nation since the beginning.

— So this is a covenant, the spiritual, not bound by earth.

— Up until World War II, Germany was considered the most evangelical nation on earth.

— True,

— ...through the Lutheran Church. Because Luther really was the one...

— Reformation.

— Yeah, and he translated the Bible into the German language, which at the time was absolutely against the law of the church. Bonhoeffer came to the United States...

— Dietrich Bonhoeffer...

— ...and his dad was Bishop Bonhoeffer, and he was riding home when he went to church in New York. He said this is an apostate church in the United States but then he came down south and he wrote back, and he said, "No, I found it". He said, I found the real church. But then after World War II, particularly two out of three missionaries went to China... before World War II, between World War I and World War II. They went to China. They went to China. They were to China. They went to China. And then the United States delivered them from the Japanese. But it built up to the place. There are so many Christians in China and in Taiwan. And I met some of them because I preached in Beijing and my first morning service there, preaching on faith... They had 60 people there, all of them very fluent in English. And they did not use Chinese names and this man's name was John and his wife's name was Mary. Anyway, they got a hold of the prosperity message, and I won't go into all that.

— You said Martin Luther. What was the verse that transformed Luther? The verse that transformed Luther was back in chapter two, verse four. "The just shall live by faith".

— There it is.

— Paul will quote that same verse three times in the New Testament. The just shall live by faith. And if you read it in the original Hebrew, it doesn't say that. It says the just by faith shall live. And I asked Rick Renner because I needed to know what the Greek said. I said, "Rick, need to know". And he said, "In Greek, it says that the just by faith shall live". Well, that takes you to Romans 4:16. It's of faith that it might be by grace. We are justified by our faith.

— Now, that first morning was... he had a boardroom. I brought this up because I've got to tell you, they are so covenant-minded that they have people there, they ride bicycle with a truck bed on the back of it. And he said, "This is where I came from. My father and my grandfather and I was born in a three meter room. We live there. Everything happens in that room. And he sold toilet paper". He said, "I really plan to do that. But I heard you preach on prosperity". Now this is what I want you to hear. And I talked about Covenant. And I started. And so my first morning service there, you know, running along. But I said, "Well, I'll take a break here". He said, "Why? Are you offended"? I said, "No". He said, "Brother Copeland, you don't understand. These 60 people here represent over 2 million. They have come, they've walked. I didn't tell them who was coming because if I had, I wouldn't have had room for anybody. They would have all come and would have been in trouble with the Chinese government". He said, "These 60 are the cream of the crop, and they got here in order to hear faith". He said, "Now this is a picture of the home now where we live. This is a picture of the one we're building". He was in a printing business. He got caught printing Bibles. So they put him in prison and he won his appeal three times. They didn't care. But they didn't hear from him for a while. Then it was a tremendous news conference one morning. And there he and his wife walked in. I was like, "How did you... Hey. How did you get out"? He said, "You really want to know? I have come to go to school. I'm going to Christ For The Nations. And we are all... How did you get out of prison"? He said, "We won so many souls they wanted to get rid of us".

— That's it. That's it. And every meeting we have, we'll have China come in and we'll have Taiwan come in listed in the nations. So our Word is getting there. Somebody is taking that Word out of our conventions, out of our meetings, and it's getting into China and Taiwan. And they are masters at hiding it.

— I'm convinced that the covenant people, God, have the answer to every problem that's in America.

— I don't have any doubt at all.

— All of the flood of people coming into our country, the migrants... Brother Copeland, if we just set tent meetings up all along that border, start to get them saved, Washington would have shut the border, to keep people from getting saved. That's my opinion, but I'm convinced of it. You look at FlashPoint, you see it. People are coming. They're hungry. They know that government is not their God. Now, this government was established on the cabinet, but that Constitution was to protect us from them and to limit them, not just strengthen.

— There's no such thing as anything happening without the spiritual realm knowing it.

— That's it.

— This book proves it because of the things that have happened over the years. I just flipped open to this. "Then verily the first covenant had also ordinances of divine service, and a worldly sanctuary. For there was a tabernacle made; the first, wherein was the candlestick, and the table..." This is the Holy Ghost through the Apostle Paul. I mean, he's laying this thing out. "Neither by the blood of goats and calves, but by his own blood he entered in once into the holy place, having obtained eternal redemption for us. For if the blood of bulls and of goats, and the ashes of an heifer sprinkling the unclean, sanctifieth to the purifying of the flesh: how much more shall the blood of Christ, who through the eternal Spirit offered himself without spot to God, purge your conscience from dead works to serve the living God? And for this cause he is the mediator of the new testament,"

— That's right.

— If you look that up, it'll say the New Covenant.

— That's right. All other covenants were made in time. When we get to this one with Abraham and it's everlasting, that's outside of time. And he is the mediator of that everlasting, eternal covenant that you and I are part of. So I have everlasting life. I have an everlasting blessing. I have an everlasting priesthood. He is faithful. He is love. He is true. And if I keep my focus on that, all this other goes away.

— "This is the covenant that I will make with them after those days, saith the Lord, I will put my laws into their hearts, and in their minds will I write them; And their sins and iniquities will I remember no more". All of these have little... little references back to the first one. "Now where remission of these is, there is no more offering for sin. Having therefore, brethren, boldness to enter into the holiest by the blood of Jesus, By a new and living way, which he hath consecrated or made new for us, through the veil, that is to say, his flesh;" Remember the veil of the temple. When Jesus gave up, the ghost was split from the top to the bottom. That thing was 40 feet wide and four inches thick. That's what he's referring. "And having an high priest over the house of God; Let us draw near with a true heart in full assurance of faith, having our hearts sprinkled from an evil conscience, and our bodies washed with pure water. Let us hold fast the profession of our faith without wavering; (for he is faithful that promised;) And let us consider one another to provoke unto love and to good works: Not forsaking the assembling of ourselves together, as the manner of some is; but exhorting one another: and so much the more, as ye see the day approaching. For if we sin wilfully after that we have received the knowledge of the truth, there remaineth no more sacrifice for sins, But a certain fearful looking for of judgment and fiery indignation, which shall devour the adversaries. He that despised Moses' law died without mercy under two or three witnesses: Of how much sorer punishment, suppose ye, shall he be thought worthy, who hath trodden under foot the Son of God, and hath counted the blood of the covenant, wherewith he was sanctified, an unholy thing, and hath done despite unto the Spirit of grace? For we know him that hath said, Vengeance belongeth unto me, I will recompense, saith the Lord. And again, The Lord shall judge his people. It is a fearful thing to fall into the hands of the living God". Oh, that we're out sign came up again.

— I've got a verse. I'll share it tomorrow.

— Okay. Oh, we'll be back in just a few moment.