Kenneth Copeland - Jesus Sent His WORD To Heal You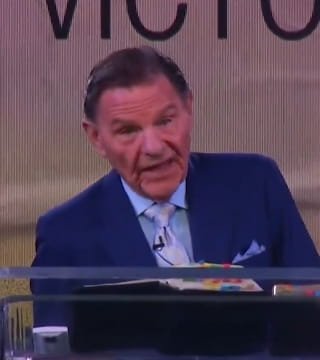 TOPICS:


In the 5th chapter of the book of James... Now, one thing you need to realize, James was Jesus half brother. And as you read through Matthew, Mark, Luke and John, you find out they thought he was crazy. He wouldn't promote himself. But how would you like to have had Jesus for your older brother? Why can't you be like Jesus? He never does anything wrong. I know he doesn't do anything wrong. But don't you listen to what he said and the things that the Spirit of God said through James, like being a doer of the Word and not a hearer only. And the thing we need to realize as we need to be over in corresponding action and he talks about these, in the King James, it's called works. "What doth it profit, my brethren, though a man say he hath faith, and have not works"?

Now, the Francis Weymouth translating says "What does it profit, my brethren though a man says he has faith and has not corresponding action". Well, that one was out of print and we put it into print also so you can have a new one of those. And it's amazing. It's an amazing translation. But here's what I want you to see. Let's go over here at the fifth 13th. 13th verse. "Is any among you afflicted? Let him pray. Is any merry? Let him sing psalms. Is any sick among you? Let him call for the elders of the church; and let them pray over him, anointing him with oil in the name of the Lord: And the prayer of faith... faith in the name, shall save the sick, and the Lord shall raise him up; and if he have committed sins, they shall be forgiven him. Confess your faults one to another, and pray one for another, that ye may be healed. The effectual fervent prayer of a righteous man availeth much".

Now, wait a minute. Okay, James 5. "Confess to one another therefore your faults (your slips, your false steps, your offenses, your sins) and pray [also] for one another, that you may be healed and restored [to a spiritual tone of mind and heart]. The earnest (heartfelt, continued) prayer of a righteous man makes tremendous power available [dynamic in its working]". Now, the reason that that word power there is used, it's Dunamis and Jesus knowing that Dunamis, power had gone out of him. He turned and said, "Who touched my clothes"? That was with the woman with the issue of blood.

So there was a little white spot about the size of a grain of rice came up on my hand right here between these two knuckles. And it just looked like my skin was discolored. I really didn't think anything about it, but it began to itch a little bit and I scratched it and then it went up and it began to get sore. And David said, "We better go have that looked at". So we did. And so they did a biopsy of it and they said, "Well, it's malignant". So I mean, that's about how it affected me. So what? There's James 5. So I call Pastor George, my pastor. He came over to the house and in our kitchen, Gloria was there and our very good friend was there that night, B.B. Turbeville And she was there. And we had John and Kellie on the phone.

So here's Pastor George, Terri, John, Kellie, Gloria and B.B., and George opened his Bible and read just what I read to you. And he had his oil bottle. So he took that bottle and he touched that spot. And there was an electrical shock, went through it. And I said, "Yeah, that did it". That did it. So I really didn't pay any more attention to it. But then the first doctor said, "I need to send you over to another specialist and he's going to open that up and then he's going to shave and test until there are no more malignant cells". So I went over there and the doctor's assistant said... and of course she did that. She said, "Now, Mr. Copeland, come prepared to stay, oh, from 30 minutes to a couple of hours until there are no more malignant cells in your hand".

So little over 30 minutes later, she came back and said, "Well, Mr. Copeland, good news, there are no more malignant cells". Well, of course, there's not... They were dead the moment that oil touched my hand. It isn't the oil that it did that did it? We were following instructions in the Book and believed it. Amen. And so... And I tell you, he did such a good job sowing that thing up, Tracy, you really have to look carefully to find that scar. But I like to laugh at it. I say, "Look at there, devil". Amen goes right there. I said amen goes right there, One more time. Amen goes right there. Yes, the healer's in the house today Say this: today is my receiving day. I'm supposed to be healed today. I'm a believer. I'm supposed to be well, I'm supposed to prosper in all things. Today is my receiving day. Thank You, Jesus, for being my healer.

"And Jesus healed them all", the scriptures say I like what Gloria does when she says that, "Jesus healed them all". Well, the 107th Psalm was already mentioned. Let's turn over there and put our eyes on it. Psalm 107. Then we'll go to Proverbs chapter 4, verse 17, "Fools because of their transgression, and because of their iniquities, are afflicted. Their soul abhorreth all manner of meat; and they draw near unto the gates of death. Then they cry unto the Lord in their trouble, and he saveth them out of their distresses. He sent his Word, and healed them, and delivered them from their destructions". Glory to God, Hallelujah. I've already preached me happy. Thank You... I came here that way this morning. Glory to God.

Now, remember this. Faith begins where the will of God is known. So that is the will of God. It's in his Book. That is his will. He didn't write one thing and will another. Jesus said, "Your traditions make the Word of God of no effect". Well, now you know, Brother Copeland, healing has passed away. Really? Oh, when? Do you have a day? A week? A month? When was that? Well, when all the apostles died. They're not all dead yet. No. I am well acquainted with Rick Renner and his family. He is an apostle to Russia. He is an apostle in Moscow, Russia. Amen. Thank You, Jesus. He is a bona fide apostle and the Lord gave him a plan to go online and establish online churches in every small town and village in Russia.

Well, of course, being there, you have to get permission. So he called the people, right under... right under Mr. Putin. They said, "Rick, of course we want a church in every small town in Russia. That news is not, that's not getting out. These are the end times, people. It's happening right in front of our very eyes. We're in it and it hasn't passed away. That's a tradition". And there are people that say, "Well, we just don't believe that in our church". Well, one thing, you're not in your church, you're in this church. And if you're on line, if that comes from your church, my strong suggestion is that you find another church. If you stay in that one, you will never be bothered with healing because they don't preach it and don't believe in it. So what you preach is what you receive. So that's the reason our churches are called Full Gospel churches. Amen.

So now Matthew 10, faith begins where the will of God is known. And we'll look here in the 10th chapter of the book of Matthew at the words of the Master. "And when he had called unto him his twelve disciples, he gave them power against unclean spirits, to cast them out, and to heal all manner of sickness and all manner of disease". Then he named them. "These twelve Jesus sent forth, and commanded them, saying, Go not into the way of the Gentiles, and into any city of the Samaritans enter ye not: But go rather to the lost sheep of the house of Israel. And as ye go, preach, saying," preach this: "The kingdom of heaven is at hand. Heal the sick, cleanse the lepers, raise the dead, cast out devils: freely ye have received, freely give. Provide neither gold, nor silver, nor brass in your purses, Nor scrip for your journey, neither two coats, neither shoes, nor yet staves: for the workman is worthy of his meat" or his hire. You're working for me now. What's he doing? He's training them. Amen.

Now to Luke Chapter 10. Now, the job got too big for the 12. After these things the Lord appointed other seventy also, and sent them two and two before his face into every city and place, whither he himself would come. So he put out an advanced team. "And he said he unto them, The harvest truly is great, but the labourers are few: pray ye therefore the Lord of the harvest, that he would send forth labourers into his harvest. Go your ways: behold, I send you forth as lambs among wolves. Carry neither purse, nor scrip, nor shoes: and salute no man by the way". Or stay focused. You're not out there running around doing something else. We have a job to do here.

"Whatsoever house ye enter, first say, Peace be to this house. And if the son of peace be there, your peace shall rest upon it: if not, it shall turn to you again. And in the same house remain, eating and drinking such things as they give: for the labourer is worthy of his hire. Go not from house to house. And into whatsoever city ye enter, and they receive you, eat such things as are set before you: And heal the sick that are therein, and say unto them, The kingdom of God is come nigh unto you. But into whatsoever city ye enter, and they receive you not, go your ways out into the streets of the same, and say, Even the very dust of your city, which cleaveth on us," and so forth and so on, Look at the 16th verse. "He that heareth you heareth me; and he that despiseth you despiseth me; and he that despiseth me despiseth him that sent me".

So now you've gone up the chain of command all the way up to the Father himself. You can see the will of God in three places. Number one in Heaven. Number two in the Garden of Eden before the sin happened and in the Ministry of Jesus. Because he said, "I came to do the will of my Father, and I only say what I hear him say, and I only do what I see him do. And the seventy returned again with joy, saying, Lord, even the devils are subject unto us through thy name. And he said unto them, I beheld Satan as lightning fall from heaven".

Well of course he did, he was there. Amen. "Behold, I give unto you power to tread on serpents and scorpions, and over all the power of the enemy: and nothing shall by any means hurt you. Notwithstanding in this rejoice not, that the spirits are subject unto you; but rather rejoice, because your names are written in heaven".

Now there are people that that do say, "We only preach the new birth because we think that's more important". Well, if you had to choose, of course it is. That's eternal. Now, everything that our Lord Master has received is in store for us. I mean, he received a glorified body. He sat down and he ate and he said, "Handle me". A spirit has not flesh and bone as you see me have, no blood. It's a glorified body. His blood is in the heavenly mercy seat in heaven itself. Remember, Mary, she recognized him. He said, "Don't touch me. I have not yet gone to my Father". And your Father.

So you find that in the book of Hebrews he had to present himself before the Father, completely total victory and the scepter of righteousness was given unto him. And he set down, amen at the right hand of the Father. We'll have time to get all the way to this. But the close of Matthew, just as he was leaving, he said, "All authority has been given unto me, both in heaven and earth. Therefore, you go", all of it, say, "All... power and authority..." What does that leave for the devil? Nothing.