Kenneth Copeland - We Walk by Faith, Not by Sight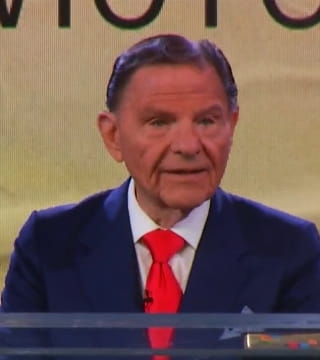 TOPICS:




Father, we come before the Word of the Living God tonight with open hearts, thrilled minds for it is the Word of the Living God. It is Your bond. You're not a man that you should lie, neither the son of man that you should repent. Have you not said it? Will you not make it good? Will you not make it come to pass? For You watch over Your Word to perform it. And we thank You and we pray it in the name of Jesus, our Lord and Savior. Amen.



Now we're going to talk about we walk by faith and not by sight. Amen. So turn to Second Corinthians Chapter five. Thank You, Lord Jesus. And this fourth and fifth chapters of this letter are and they contain the Gospel of the Kingdom. It's here. In the fourth chapter of the 13th verse, "We having the same Spirit of faith, according as it is written, I believed, and therefore have I spoken; we also believe, and therefore speak; Knowing that he which raised up the Lord Jesus shall raise up us also by Jesus, and shall present us with you. For all things are for your sakes, that the abundant grace might through the thanksgiving of many redound to the glory of God. For which cause we faint not; but though our outward man perish, yet the inward man is renewed day by day".

Now last December I turned 86 and I'm telling you, day by day is important to me. Day by day is important. And I spent a lot of time in the 103rd. "Bless the Lord, O my soul, and forget not all his benefits: Who redeemeth thy life from destruction; Who forgiveth all thine iniquities; who healeth all thy diseases; And he fills our mouths with good things that our youth is renewed like the eagle's". Every day. If you call for it, amen. How do you call for it? By faith. So verse 18. "For our light affliction, which is but for a moment, worketh for us a far more exceeding and eternal weight of glory;" Here is a faith key. "While we look not at the things which are seen, but at the things which are not seen: for the things which are seen are temporal; but the things which are not seen are eternal". And the Amplified said "The things you can see, they're subject to change". They're in this natural world.

And I go back to aviation again. You can get into a situation you can't believe what you feel. When I first came over into this and was learning from Kenneth Hagin back in 1967, I said, "Gloria, I already know how to do this". She said, "What"? I said, "Not being moved by what I see or what I feel". She said, "How did you learn it"? I said, "I'm an instrument pilot". I had to learn how to do that because until you're trained to fly instruments, I'd rather fly instruments than not. But you can get into a situation, for instance, if you get into the clouds in a single engine airplane, the propeller is going this way.

So the airplane is going to go this way and it'll start doing that. You can't see outside. When you get that wing down, this wing, there's a little drag. So it'll pull it down, snatch increasing speed and all the time you feel like everything's fine because your brain doesn't know what's happening and finally get that thing into a spiral and then come out from under the clouds and you're likely to tare something up. People have done that. I told her I said look... This is my instrument panel. I no longer have to be moved by what I see. I no longer have to be moved by what I feel. And because what I see and what I feel is not the truth, it is simply a truth.

This is the truth. And when you know this truth, it'll make you free... not set you free. Jesus said, "It will make you free". El Shaddai said, "I have made you the father of many nations". He didn't say you're going to be. He said, "I've already done it". What did he do? He appeared to him and entered into covenant in the 17th chapter of Genesis, and he changed his name. You will no longer be called Abraham, but you will be called Abraham. "I've made you the father of many nations". That H is the H in Yod Hey Vav Hey. Hashem. They entered into covenant and there was a name change. This is a book of covenants. In fact, Professor Greg Stephens and I just finished a book. And in fact, just before I came well no, after I got here, my granddaughter sent me the last cover design and I approved it. So it'll go to press. God, a covenant and the contradiction to go into the covenants of the Bible.

This is not the Old Testament. This is the first covenant which contains different covenants. This is the second covenant ratified by the blood of Jesus and let that soak in a little bit. This is your instrument panel, and there's no reason to get shook up about anything that happens. Now, if it is an emergency, you shout the name of Jesus just loud as you can and then don't depend on your mind. Go right over into tongues. Say, "Brother Copeland, I don't do that". Well, that's your fault. Amen. Well, Gloria and I were scripturally illiterate. I said, "Gloria, Matthew, Mark, Luke and John tell the same story". She said, "Yes. Isn't that wonderful".

T.L. Osborn said, "Copeland, you were born free". I said, "Why"? He said, "You had no religion to unlearn". Well, the first thing I knew was faith. I won't go through all my testimony and all that, but I was assigned to the Oral Roberts evangelistic airplane, which at that time was the most marvelous airplane I'd ever had anything to do with. But then, oh, and it was just a few days until Brother Colin Steele came to me and he said, "Kenneth..." I was 30 years old at that time. And he said, "I'm going to sign you to be the reverend's driver. You're a grown man and I can pull some people off when we're on the road". And it was amazing. But then we went home while we're in Tulsa and to preach at the Grace Temple Church. And so I went to my mother's and dad's house, the house where I lived my last year in high school.

Well, we walked in there and of course, mother just grabbed Gloria and headed back and she had something... And I said, "Mother, do you have any tape"? She said, "Yeah, look on that tape recorder". There was a cabinet there that had been built for a home movie projector. But Mother just put this big Webcord tape recorder on there and it was a white box, I knew it was a copy, I didn't know what. Well, on one side it was "You can write your own ticket with God". And "Paul's Revelation" on the other side. I took my New Testament out of my pocket and I said, "This is the most amazing thing I've ever heard in my life. This is God speaking to me. I can trust this the same as I could trust a lawyer, a highly trusted friend. I can trust this. This is the Word of the Living God". And he was talking about faith.

And I fell in love with the message of faith. So did Gloria. I said, "Gloria, when we get back to Tulsa, we have to have everything this man has". And so we did. So we walk by faith. I got excited, but I pretty well stay that way. And you follow this: "For we know that if our earthly house of this tabernacle were dissolved, we have a building of God, an house not made with hands, eternal in the heavens. For in this we groan, earnestly desiring to be clothed upon with our house which is from heaven: If so be that being clothed we shall not be found naked. For we that are in this tabernacle do groan, being burdened: not for that we would be unclothed, but clothed upon, that mortality might be swallowed up in life".

Listen, these are life giving words, and when you meditate them, the revelation from it begins to come up on the inside and you begin to minister to yourself. Amen. So now listen. "Now he that hath wrought us for the selfsame thing is God, who also hath given unto us the earnest of the Spirit. Therefore we are always confident, knowing that, whilst we are at home in the body, we are absent from the Lord: For we walk by faith, not by sight: We are confident, I say, and willing rather to be absent from the body, and to be present with the Lord. Wherefore we labour, that, whether present or absent, we may be accepted of him". How? By faith.

"For we must all appear before the judgment seat of Christ; that every one may receive the things done in his body, according to that he hath done, whether it be good or bad. Knowing therefore the terror of the Lord, we persuade men; but we are made manifest unto God; and I trust also are made manifest in your consciences. For we commend not ourselves again unto you, but give you occasion to glory on our behalf, that ye may have somewhat to answer them which glory in appearance, and not in heart. For whether we be beside ourselves, it is to God: or whether we be sober, it is for your cause. For the love of Christ constraineth us; and we won't turn there". But the Spirit through the same prophet said, "The love of God has been shed abroad in our hearts by the Holy Ghost".


He's in there and it is written that he is love. There's nowhere in the Bible, where it says he is power. It doesn't even have to say it but he uses his power in behalf of his love. Hallelujah. All right, now we're almost there. "For that he died for all, that they which live should not henceforth live unto themselves, but unto him which died for them, and rose again. Wherefore henceforth know we no man after the flesh: yea, though we have known Christ after the flesh, yet now henceforth know we him no more after the flesh. Therefore if any man be in Christ, he is a new creature:" Listen now. "Old things are passed away; behold, all things are become new. And all things are of God". What passed away? That old sin nature.

November... Now Gloria and I were married, the Friday the 13th of April on purpose. There's some things that happened that Friday the 13th was our day and we entered a covenant that's been other than my being born again is the greatest thing that ever happened to me. And so thank you. I thought it was a day like any other day now, what had happened here... I was working for the Beechcraft dealership there, Central Flying service, and the chief pilot was a man by the name of Harvey Abbott and they had come out with an insulation product that was just phenomenal. In fact, there was a guarantee that went with it... In your home, if you put it in over, even the top of insulation, that if it didn't reduce your heating cooling bill, they'd give you your money back to you.

Well, Harvey bought the equipment and all that. And so make a long story short, I got out and sold a lot of this. Now, in the meantime, based on the number of sales that I had made, Gloria and I went into a lease purchase agreement on a nice three bedroom home. And we didn't have any furniture or anything yet, So we rented a roll away bed the mattress about that thick. You've probably heard her tell this. And we had a little black and white Sony portable TV that you could plug in. When we were in those kind of conditions, we just made up our mind. We're not calling our folks, but my mother did send us a 25-pound sack of potatoes and we had a Percolator coffee pot.

And for you, younger people, let the ignorant be ignorant still. It had a bottom... You could boil water in it and a big thing stuck down in here and put your coffee here. And it boils down like that. Well, we weren't interested in the coffee, we were eating the potatoes boiled potatoes, peel potatoes, raw potatoes. And I didn't have the heart... The product didn't come in. That's where we had a problem with it. Well, Gloria and I didn't have any money, so I had to go get another job. Anyway, I did, got another job. And she found a brand new furnished apartment. It even smells good.

So I went to the airport that morning and preflight the airplane and my client came out, his name was Weir. He was an executive. Arkansas Louisiana Gas Company. I thought it was a day like any other day. I got in, took my suit off, put on a pair of khakis and a shirt. I went into the kitchen there and I sat down to put that shoe on... right in here. "Kenneth, if you don't get right with me, son, you headed for a devil's hell"? I said, "I know it. What do I do now"?

I heard my Sunday school teacher in a Southern Baptist church at the University Baptist Church in Abilene, Texas. Her name was Taggart. She's a little woman about that tall. And she was a widow woman. She wore a black dress all the time and a little black straw hat and little artificial flower right here. And all the boys called her old Lady Taggart and all of us had let the Sunday school superintendent know, in a Baptist church it's too much like school anyway. I mean, you know, they just promote you. They put you up, but the teacher stays the same.

So we told the Sunday school superintendent, you don't promote Mrs. Taggart, we're not coming back. So she's promoted with us for two years. I heard her voice. "Boys, you have to ask Jesus to come into your heart". I thought that's old lady Taggart. It sounds just dumb as it did the first time I heard it but I'm gonna do it. Jesus, come into my heart. Gloria said, "I'm not going out in public with you anymore". I said, "Why"? She said, "Your foul mouth". I said, "Well, what did I..."? I didn't know I was a new creature. But profanity was gone from that day until today. Well, now I'm going to tell Gloria because she was raised in the Church of Christ, I was raised in the Baptist church.

And so we just, you know, why bring it up? But I thought, now I'm gonna have to tell her, she's over there at the stove. She waited for me to come in. I said, "Gloria, come here, baby. Come here". I was just sitting down there. She got over here. I said... I didn't look... What if... give my testimony or speak for God. She said, "Hallelujah". I said, "What"? She was watching the Beverly Hillbillies on that broken television set and a coffee table that I made in a metal shop in high school. My mother had sent me a Bible and I never had picked it up. But she did: "Ken precious, seek ye first the Kingdom of God, his righteousness and all things will be added to you". And she said out loud, "Well, I sure do need some things". She just said, "Take my life and do something with it".