Kenneth Copeland - Love Makes Faith Work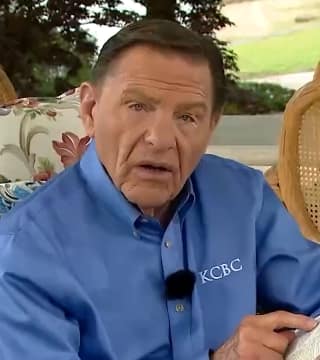 TOPICS:


Hello, everybody. This is Kenneth Copeland. And another edition of the Believer's Voice of Victory broadcast. And we started this study this week on faith and how it works. Let's look here at the fifth chapter of the book of Galatians. And it begins with "Stand fast therefore in the liberty wherewith Christ hath made us free, and be not entangled again with the yoke of bondage". Stand fast. How do you do that? Well, as you read, you continue to read and you come down here and it says "For we through the Spirit wait for the hope of righteousness by faith. For in Jesus Christ neither circumcision availeth any thing, nor uncircumcision; but faith which worketh by love".

Faith, this creative force of Almighty God, this invisible force with which he created the universe. Amen. We read that from the 11th chapter of the book of Hebrews. If you haven't, you need to and get it in the Amplified Classic. Well, I'm just going to go ahead and tell you, you know, Zondervan was true with that. So the same way we did with this. KCP now has the rights to the Classified Amplified and we will have the paper version by Southwest Believers' Convention. Praise God. They didn't have time to get to... It'll be one like this and it'll have all of the outlines in the front of it just like this reference Bible. But it will be in the Classic Amplified. Amen. Yes. Glory to God. I like the first one better.

So there you had it. And work by faith, which works by love. Now go right next door to the right there, the fifth chapter of Ephesians. "Be ye therefore followers of God, as dear children; And walk in love". Now, then, let's go to this one and we'll look here. We'll go to Ephesians first and Ephesians chapter five, "Therefore be ye imitators", the King James is followers. Well, you know, followers, yeah, but that doesn't quite say it. "Therefore be imitators of God [copy Him and follow His example], as well-beloved children [imitate their father]. And walk in love, [esteeming and delighting in one another] as Christ loved us and gave Himself up for us, a [a]slain offering and sacrifice to God [for you, so that it became] a sweet fragrance". Well, that's Ezekiel 20:41.

Now let's go back and see what the Apostle said by the Holy Spirit in First Corinthians, the 12th chapter. "Now about the spiritual gifts (the special endowments of supernatural energy), brethren, I do not want you to be misinformed". The King James says ignorant or misinformed. "You know that when you were heathen, you were led off after idols that could not speak" and so forth and so on. Then he talks about the word of wisdom, the word of knowledge and supernatural faith, the gifts of the Spirit they're called. But now, wait a minute.

Let's come down here "But earnestly desire and zealously cultivate the greatest and best gifts and graces (the higher gifts and the choicest graces). And yet I will show you a still more excellent way [one that is better by far and the highest of them all-love]. If I [can] speak in the tongues of men and [even] of angels, but have not love I am only a noisy gong or a clanging cymbal. And if I have prophetic powers (the gift of interpreting the divine will and purpose), and understand all the secret truths and mysteries and possess all knowledge, and if I have [sufficient] faith so that I can remove mountains, but have not love, I am nothing, useless. Even if I dole out all that I have [to the poor in providing] food, and if I surrender my body to be burned or in order that I may glory, but have not love (God's love in me), I gain nothing".

Listen to this. Love. Now remind you now the same Apostle said, "The love of God has been shed abroad in our hearts by the Holy Ghost". He's in there. He is love. "Love endures long and is patient and kind;" Listen. "Love never is envious nor boils over with jealousy, is not boastful or vainglorious, does not display itself haughtily. It is not conceited (arrogant and inflated with pride); it is not rude (unmannerly) and does not act unbecomingly. Love (God's love in us) does not insist on its own rights or its own way, for it is not self-seeking; it is not touchy or fretful or resentful; it takes no account of the evil done to it [it pays no attention to a suffered wrong]". It doesn't make a list. "Love bears up under anything and everything that comes, is ever ready to believe the best of every person, its hopes are fadeless under all circumstances, and it endures everything [without weakening]. Love never fails [never fades out or becomes obsolete or comes to an end]".

Because God has no beginning and no end. I want to talk to you about that. Tim, if you'll allow me to. Now, the Word of the Lord came to me one time, a long time ago. He said down in here. He said, "Kenneth, I can't enlarge your ministry. I can't expose it anymore". Well, that hit me hard. And I prayed in the Spirit. And finally I came to this. I said, "Why, Lord"? He said, "You're too high tempered. Someone just comes up and criticizes you. You fly off the handle and then you leave and then you wish you hadn't. And you're going as far as you can go in the condition you're in now". Well, and he is right. The one that comes to mind there. I mean, there was a man walked up to me. Big smile on his face and caught my hand. He said, "Copeland, I've never heard anyone rape the scriptures like you did in my life".

Turn around and walked off. Well, at first it cut me. But then I'll wish he'd come back here. And now I just goes over and over and over in my mind. Oh, you know, you're right. The scriptures... I suppose I did. I didn't know. Knowledge in the Book. Hmm. He said in here. He said, "You know, my perfect will for you"? "Of course". He said, "Then don't read anything about yourself in print anymore. The bad stuff is too hard to get rid of. And the good things, you're too prone to believe it". He said, "Don't read about yourself in print". Well, there were some pretty ugly books wrote about us, they tell me. But I had sense enough not to read them and get mad at them or listen to someone's tapes where they cut this ministry down. You won't find that in the lives of people that preached prosperity because the devil had the church convinced you to be a Christian, you had to be poor.

That's the reason people came down on Oral Roberts because of that. Anyway, so I began to do that, and then I realized that's not enough. So I went to my Amplifier and here's what I did. I said, "I endure long and I'm patient and kind. I'm never envious or boil over with jealousy. I'm not boastful or vainglorious. I do not display myself haughtily. I'm not conceited or arrogant or inflated with pride. I'm not rude, unmanly. I don't act unbecomingly". Love, God's love in us does not insist on its own rights. Well, I don't either. Because he's in me, I'm not self-seeking. I'm not touchy or fretful or resentful. Take no account of the evil done to me. I pay no attention to a suffered wrong. I do not rejoice at injustice and unrighteousness. But I rejoice when right and truth prevail. Because I bear up under anything and everything that comes.

Ever ready to believe the best of every person. Its hopes are fadeless under all circumstances. And so am I. It endures long and I endure long. And love never fails so I never fail. And I don't fade out or become obsolete. Or come to an end. Glory to God. So I just began to confess it. Well, I was you know, back before they had the kind of keys and hotels they have now. And so anyway, you would leave the TV on in the room turned up pretty loud. So people think somebody in there... had been doing this. And I walked in there and Lyndon Johnson was on the television. And when I walked in there, well, Lyndon Johnson came from Texas and his nickname was Ballot Box Johnson. His brother said, "I wouldn't vote for you," anyway and all that stuff going on. And I walked in there and this rose up on the inside of me.

I said, "Well, the Lord said, Do you know him"? No, sir. He's talking in here. I was talking out loud. "Do you know him"? "No, sir". "Do you know anyone that knows him"? "No, sir". He said, "It sounds to me like you don't know much". "Yes, sir". He said I love him. I know it, and I said it. Lord, I do, too. And according to First Timothy, Chapter two, I pray for him because I'm supposed to pray first of all, for all that are in authority and kings and so forth. And I pray for Lyndon Johnson. Praise God. Well, after all, he is from Texas. And I began to pray for him. And you know what? The love of God rose up on the inside of me. And I began to pray for him. And I thought, "He has got a plateful. He's involved in this Vietnam War and all that. He's hurting and he's and, oh..." and I began to pray for him. And the love of God just rose up on the inside of me.

And I learned then that love is a requirement for everybody, Love everybody. Gloria and I had learned to love people all the time. We love one another so much. We just love everybody. And you walk into a restaurant and we were with our riding friends having Janie Caldwell. Dennis and Vikki Burke and Cathy and Jesse Duplantis and Gloria and me, we were on a motorcycle somewhere up in Colorado all of us together. And we had all our riding gear and leathers and everything on. And we came in there and this woman came over there and we said, "We need to put a table here together". And she said, "Well, all right", so we've got a table all put together. And she came back over there and "What do you want to drink"? Well, we'd like to have some water and some iced tea.

So we got together there and it rose up on the inside of me. I said, You know, this is not normal or something's wrong with her. And we so we all just prayed for her right there. She came back over there just huffing up there, and I just pulled a chair out here and I say, "Come on, come here, come here, baby come here, sit down here". I said, "Now all of us are in the ministry of the Lord Jesus Christ, and we realize that something or someone has hurt your heart". "Oh, you don't know what my sister did to me..." "So wait, wait, whoa, whoa, whoa, whoa, whoa. Hey, you can fix this. That's your sister, no matter what she says". But, you know, Jesus said when he was on the earth that we should love one another. That's our commandment. A new commandment that you love one another as I had loved you. "Yeah, well. Yeah. And she's my sister, and I do love her". And I said, "Well, why don't we get around".

So we got together and laid hands on her and led her through the prayer of salvation. She's... Yes... And she began to wait on that table and she's just springing around the table, just dancing around. And she just couldn't get enough done. Couldn't get enough. What happened? Just a little spark of love. And it changed her life. And she followed us all the way out. Those are beautiful bikes you're riding. Come back and see me. Oh, Jesus. We could have said, "She's not getting any tip off of me".

Oh, you don't do that. You step in there and fix that problem. And Jesus is the answer. He is always our source. He is the source. He has many channels, but he is the source. And that day we called ourselves the Glory Riders. But that day he used us as a source to her deliverance and her salvation. And we have restaurant ministries and it happens a lot. But love is the key to it. The walk in it, live it, act it. And as you sense it coming up on the inside of you, go the love way. I wrote this in the beginning of this Bible. "Always stay on the God's side of everything". Always stay on the God's side of everything. "The Lord bless you and keep you, the Lord make his face shine upon you and be gracious to you, the Lord turn his face towards you and give peace to your whole family". But stay on the God's side of everything.

Well, I just don't know why you let that happen to me. You know, Joel Osteen said something. I mean, John Osteen, Joel's dad, John's in heaven now. I just got a phone call one time. He'd say, "Kenneth, this is John". I say, "Hey, John. You know what? You can do it, bye". Nothing. Well, yeah, I can. He's like a daily devotional. He did that on the mark. He said, "One thing I've learned. I have learned one thing I have learned this. One thing this one thing I have learned. I have learned this one thing that God is a whole lot smarter than I am". Yes, he is. And he's never wrong. He's never missed it.

I remember I was in Shreveport and I was preaching there once again and in the Church Life Tabernacle, where Jerry Savelle and Carolyn were in Shreveport. And it's in the same church where he accepted... I was preaching there and he accepted the Lord. I went there and I felt a tightness Sunday evening inside my leg and oh, I'm telling you, it got so painful, I'd step out on the platform and the anointing would come in and I'd go ahead and preach and teach. I stepped off that platform. And at one time I screamed out before I could stop it. Well, I waited too long to do this. I realized that and just over in the hotel, I just threw myself over on the bed and I said, "Lord, you can't miss it. I've missed it somewhere".

And he answered me right in here. He said, "Kenneth, the memory of a potato never nourished anybody". What? The memory of a potato, what does that mean? He said, "You've been quoting your scriptures as you preach, and that's fine. But you've not taken the time to go back to my Word and feed those scriptures into your spirit where you have faith for healing and not just faith to preach it". And I said, "Oh, Lord God, I do it now". And I just picked up my Bible, and I began to read all the scriptures there and the scriptures there and the scriptures there. And I said, "I want to thank You for it". Glory to God.

Well, we weren't in our airplane. I don't remember. It was in a shop or something or whatever. But anyway, we were on airline and so the thing was painful. And the devil said, "It's just about a mile from the gate to the luggage and I'm gonna kill you". He said, "This thing is bad and it's going to hit your heart". I said, "You're a liar. And the father of it, I'm healed, glory to God and in the name of Jesus Christ of Nazareth, you shut up". Well, and I'd sit there in that airplane seat and this thing hurt. Poom poom poom... And I stepped down and there was a guy with a wheelchair, came up and said, "You need this". We didn't order any wheelchair. I looked, oh, the chair looked good. And he could just push me to the baggage compartment. I looked at him and I said, "Sir, healed men don't need wheelchairs. No, thank you". He turned around and wheeled his chair off.

I walked and it was something like a mile, walked it, and Gloria's helping me. But I walked it and of course my dad and mother picked us up. Well, I left there. We could go. We had to drive past my dad's house to go to our house, which is on down further. And I said, "Dad, oh... Let's just drop us off here at your house, and we'll just go to bed here. This thing is really bothering me". So we went there and then in the bedroom there and laid down there and go to sleep and my mother just sat down over there and started praying in the Spirit. No, no, I'm not telling this right, Gloria wasn't with me, she was at home with John and Kellie.

And I just laid down there on that bed and I said, I'm going to sleep by faith in the name of Jesus and this thing was hurting. But I did, I went to sleep and about 3:00 in the morning I did like that. Mother said, "That did it". It was gone. No more pain, I got dressed. It has never happened again. But I learned "The memory of a potato never nourished anyone". You had to get it into the system. And this is what Jesus was saying to me. You have to get my Word into your spirit. You have to get it into your system for it to work. I was just quoting it and quoting it and quoting it and quoting it, not taking the time to meditate on it according to Joshua, Chapter one. And we're out of time. I'll be back in just a moment.