Kenneth Copeland - Jesus, Your Savior and Healer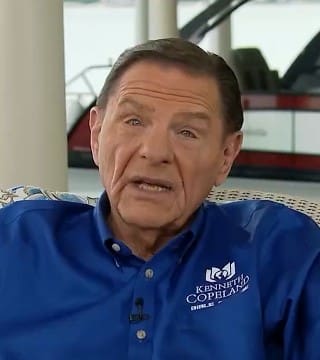 TOPICS:


— We were at our prayer cabin there in southwest Arkansas. Oh, 40 some odd years ago.

— A day or two ago.

— 1979. I was asleep. John and Kellie were asleep. You got up and washed your hair, and it's cool. Then in the morning, the word of the Lord came to you about teaching healing.

— You know, I let that slip. I forgot that.

— Yeah, you remember, you just washed your hair and he said, "I want my people well". And he said to you, "Just teach people what you've learned about healing and staying well, your children well," and so forth. She's changed my life so many... She changed my life the day I met her. I was an angry young man. A lot of bitterness about me. And but, you know, I knew about the Lord. I was raised to know him. But anyway, we walked out on the balcony of National Life Insurance Company there in Little Rock, and she touched me on the back. And that bitterness left and I fell in love with her. And six months later we were married. And then, as I've already told you, then six months later, both of us accepted Jesus as Lord and Savior, and were filled with the Holy Spirit. Then things began to change. And of course, I went to ORU and that was 56 years ago. But she began to teach and preach healing not only here in the United States, but all over the world.

— Praise God.

— And you've heard her tell what... We were in Manila and preaching for Dave Sumrall who was Lester Sumrall's nephew who had a church there. And so Lester Sumrall had set that meeting up in the Philippines and we were in Manila and the hotel where we were staying was, was large and our suite was up high and you could see this big fountain out there just shooting water. And the Lord spoke to you there because you were in Proverbs chapter four that out of the heart come the issues of life.

— Yeah.

— And you taught that for so long that as long as that fountain was issuing any water at all, there was no trash could get in it.

— That's right.

— Amen.

— You listened, didn't you?

— Yes, I did. I've learned so much from you and I get on my treadmill and I watch her on Healing School. I get up before breakfast and get on that treadmill, and I'll turn her on Healing School. And I learn from her, and I learn the things that she learned over the years. She's taught me so many things about our lives and improved our lives. And she's very, very kind. Her mother's one of the kindest people I've ever known. And our son John got on her last nerve. He was just a boy. Oh, no. And she had an empty Perrier bottle in her hand right there in the living room. She threw that bottle at him and he ducked. He said, "Mama", she flat footed over that... over that couch and landed on him. And then she got tickle and got up. So one night we had just come home, been gone for several weeks, came back in, I was tired, and I went to bed and here came all those flu symptoms and oh, come on... Oh, Lord God, I'm so tired. And then these symptoms of the flu had come on me from some over right here. She landed on me. I mean, she landed on me and grabbed me by the head. You flu devil, you take your hand off my husband, she's bouncing up and down... My head going up and down on the bed, "You flu devil you", as loud as she could and she got off. I bounced out, landed on the back on the floor, completely healed. She got rid of the flu devil just like that. And so living with her is distinctly an adventure. But like I said, I've learned so much from her, particularly her teaching and preaching healing for so many years. Now I want to go back to this. I learned this from her. Well, look... And she said this and about the two of us. And it's true. We had salvation being born again up here and healing somewhere like this. Because you could get well. but if you didn't have this until we read in the 10th chapter of Matthew, "And when he had called unto him his twelve disciples, he gave them power against unclean spirits, to cast them out, and to heal all manner of sickness and all manner of disease. The first, Simon, Peter, and Andrew" and so forth... and Judas Iscariot, who also betrayed him. These twelve Jesus sent forth, and commanded them, saying, "Go not into the way of the Gentiles, and into any city of the Samaritans enter ye not: But go rather to the lost sheep of the house of Israel. And as ye go, preach, saying, The kingdom of heaven is at hand. Heal the sick, cleanse the lepers, raise the dead, cast out devils: freely ye have received, freely give". And she was teaching healing. And she said, "Just feel free to cast out any devil you come up against. Just feel free. Just run him off". Okay. I'll feel free.

— Don't' hold back.

— Yeah. Don't hold back. Then the 10th chapter of Luke. "After these things the Lord appointed or ordained other seventy also, and sent them two and two before his face into every city and place, whither he himself would come. The harvest truly is great, but the labourers are few: pray ye therefore the Lord of the harvest, that he would send forth labourers into his harvest. Go your ways: behold, I send you forth as lambs among wolves. ... Nor shoes: and salute no man by the way". Now, wait a minute. Well, see Brother Copeland, they were very poor. No, no, no. They're working for him now. He said a workman is worthy of his higher. He told them, "Don't take any extra clothes. I will take care of everything". Then right before he went to the cross, he said, "When I told you not to take any things, did you like", anything they said, "No, Lord, we lack nothing,"

— Praise God.

— And in a moment I'll show you why. "And heal the sick that are therein, and say unto them, The kingdom of God is come nigh unto you. But into whatsoever city ye enter, and they receive you not, go your ways out into the streets of the same, and say, Even the very dust of your city, which cleaveth on us, we do wipe off against you: notwithstanding be ye sure of this, that the kingdom of God is come nigh unto you". The Kingdom of God. God wants his people well and Jesus prayed. "Our Father, which art in heaven, hallowed be your name, your kingdom come, your will be done on earth as it is in heaven". There's no sickness in heaven. Read the book of Revelation where it says the end

— Because Jesus paid the price.

— He paid the price for it.

— It's been bought and paid for.

— And in the book of James, "Is there any sick among you, let him call on the elders of the church, anoint him with oil in the name of the Lord and the prayer of faith shall save the sick". Faith in what? The name. Now you remember this. I had a little white spot right there about the size of a grain of rice. And I looked at that and I thought, "I wonder what that is". And so I called my pastor, George Pearsons, and he and Terri came over and Gloria, we were in our kitchen. Gloria was there. And her very, very close friend, B.B. was there. We had John and Kellie on the phone. "Is any sick among you? let him call for the elders of the church; and let them pray over him, anointing him with oil in the name of the Lord: And the prayer of faith shall save the sick, and the Lord shall raise him up; and if he have committed sins, they shall be forgiven him. Confess your faults one to another, and pray one for another, that ye may be healed. The effectual fervent prayer of a righteous man availeth much". Well, George had his oil bottle there with him. He put that on his finger and he touched that. And it was electrical shock went through there. He touched that, Ah! That did it? I mean, it shocked me like somebody had just taken the leads of a battery and stuck to my hand, kind of numb for a second. I said that did it. So now I had gone to one doctor and he said, "Well, it's malignant". Well, I paid no attention to that. And Gloria, it always thrills me. What a magnificent man. He just walked in there and I said, "I'm Kenneth Copeland".

— Yes, sir. I know. My mother and dad have been your partners for a long time. Oh, yes. Glory to God. I knew I had a good man. He came back and he said, "It's malignant. I'm going to have to send you to another doctor that takes care of that". So we went to the other doctor. They came in there and said, "Okay, Mr. Copeland, be prepared to stay from anywhere from 30 minutes to a couple of hours or so because this doctor is going to take little shaves of that and test it until there's no more cancer cells in there". I said okay. So they did that and it had been 30 minutes. She came back and she said, "Well, Mr. Copeland, there are no cancer cells in there". Well, of course not. James 5 took care of it. They sewed it up and you can hardly see the scar.

— Yeah.

— Yes, yes. Amen. Hallelujah.

— Praise God.

— See, the Book. Now that is First John five. "And this is the confidence that we have in him, that, if we ask any thing according to his will, he heareth us: And if we know that he hear us, whatsoever we ask, we know that we have the petitions that we desired of him. If any man see his brother sin a sin which is not unto death, he shall ask, and he shall give him life for them that sin not unto death. There is a sin unto death: I do not say that he shall pray for it. All unrighteousness is sin: and there is a sin not unto death. We know that whosoever is born of God or born of love, sinneth not; and does not practice sin. but he that is begotten of God who is love keepeth himself, and that wicked one toucheth him not". Glory to God. All of this exceeding great and precious blood back promises. So what is the sin under death? There is one, but you have to be... It's in the book of Hebrews. You have to be born again. Baptized in the Holy Spirit, operated in the gifts of the Spirit and the powers of the world to come, and then trample under foot the blood of Jesus and account him the blood by which he was saved worthless. They can do that. Well, there's very few. And but there are people that think they have in heaven. If you think you have, then you haven't. Because if you have, you know it. There was one man that came into a meeting and there was a tongue, an interpretation of tongue. He stood up and interpreted it. He said, "I guess you're surprised that I can interpret that. Oh yeah. I can interpret it, but to hell with Jesus Christ. And everything he stands for" and he walked out. The Bible said... It didn't say it wouldn't forgive him. It's impossible to bring him to repentance. He just won't do it. Now, I've known one that... not personally, but I was in a church service and I kept seeing this man and I kept seeing it and I kept seeing it. I kept seeing, he was in the congregation. I kept saying things that he knew good and well it was him. And I said, "You just looked at your watch right now because you're tired of hearing me carry this invitational". And he hid his watch behind him. I said, "You're in a lot of danger". He turned around, walked out. I never did know what took place after that.

— He walked out or you walked out?

— I knew who he was. And I knew he was on the verge of doing that. And I just kept on and kept on and kept on. And then and I said, "You just looked at your watch" and he was standing over here. I could see him out of my peripheral vision. And he looked at his watch and he stuck that watch behind. And he turned around and he got out. It's all right there in the book of Hebrews. Study it. The blood of Jesus had to... You remember he said, "Mary, don't touch me. I have to go to my Father. And your Father".

— "I've not yet ascended". Then the book of Hebrews tells what he did. He went before the Heavenly Father and presented his blood. His blood is now on the heavenly mercy seat, and he sat down at the right hand of the Father. Then he came back and appeared to his disciples. So this is a healing Book. It's a forgiving Book. Glory to God. He will heal you of your sickness and disease. And if you've committed any sin, I want you to hear this "Is anyone among you afflicted (ill-treated, suffering evil)? He should pray. Is anyone glad at heart? He should sing praise [to God]. Is anyone among you sick? He should call in the church elders (the spiritual guides). And they should pray over him, anointing him with oil in the Lord's name. And the prayer [that is] of faith will save him who is sick, and the Lord will restore him; and if he has committed sins, he will be forgiven". Now, the word saved there is also... it is also translated heal, it's that same word "sozo", the Greek word. "The prayer [that is] of faith will save him who is sick, and the Lord will restore him; and if he has committed sins, he will be forgiven. Confess to one another therefore your faults (your slips, your false steps, your offenses, your sins) and pray [also] for one another, that you may be healed and restored [to a spiritual tone of mind and heart]. The earnest (heartfelt, continued) prayer of a righteous man makes tremendous power available [dynamic in its working]. Elijah was a human being with a nature such as we have [with feelings, affections, and a constitution like ours]; and he prayed earnestly for it not to rain, and no rain fell on the earth for three years and six months". Wooh! And he put us right there in the same category with him. He said, "He's just like us. They're just people". And we're people. We're people that know God.

— Yes.

— And that's the reason God wants you well, he wants your family well, but don't forget the praise part. Sing songs and hymns and praise. Praise him. Lift your hands to him. Paul and Silas at midnight at Philippi. Beat nearly to death. They were in stocks, but at midnight they sang songs and praise and worship God. And the prisoners heard him while they were shouting at the top of their voices. And suddenly an earthquake came and shook that prison. Well, it wasn't a natural earthquake because all of their chains and shackles fell off. The earthquake could shake the thing, but this supernatural earthquake. But the praise at midnight. So what's the midnight of your life? The worship and praise. Brother Hagin called it the Praise Cure. He said, "If you praise long enough, the Spirit of worship will come" and the Spirit of worship comes. The glory will fall. If you're there and praise him and worship him, which you and I have experienced that over the years. Go to a praising church, one that believes these things. It's extremely important to know that the God of heaven and earth is right here.

— Amen. That's right.

— When you realize that 12, 13, 14, 15, 16, 17 chapters of John was that last Passover meal before Jesus went to the cross. There's things recorded here that you don't hear anywhere else. Now, before the feast of the Passover, Jesus knew the hour was come, now listen to this. Therefore, when he... he had to get Judas out of that room. Satan entered into him. Then Jesus said unto him, "Do it. Do it quickly". "Therefore, when he was gone out, Now is the Son of man glorified, and God is glorified in him. A new commandment I give unto you, That ye love one another; as I have loved you, that ye also love one another. By this shall all men know that ye are my disciples, if ye have love for another. Let not your heart be troubled: ye believe in God, believe also in me. The words that I speak unto you I speak not of myself: but the Father that dwelleth in me, he doeth the works". Oh! "The Father that dwelleth in me, he doeth the works". I didn't know it, Gloria but that night I received Jesus and baptized in the Holy Ghost. I didn't know any of that. We're out of time. Gloria and I'll be back in just a moment.