Kenneth Copeland - Stay Out of Grief To Stay In Divine Health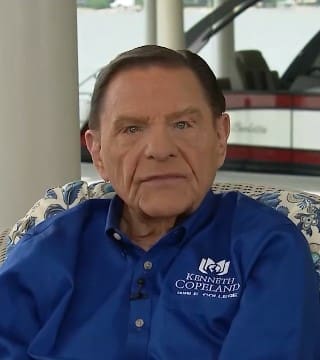 TOPICS:


— Hello, everybody. We're Kenneth and Gloria Copeland. And this is the Believer's Voice of Victory Broadcast. Now, usually we do this from our prayer cabin over in Arkansas, but last year and this year, we were prevented from doing that. But I believe we'll do it next year. We've had a lot of changes up there and a lot of repair, and it's beautiful. But we're here on Eagle Mountain Lake here in Fort Worth, and it's not too bad that anything... Good morning, my love.

— Hello. You are beautiful today.

— Thank you.

— As usual.

— I appreciate all the encouragement. Thank you.

— And in praying over this and seeking the Lord for what we are supposed to be doing today, the Word of the Lord came to me. Well, it has more than more than one time, but particularly for this week's broadcast and possibly next week, we'll see what that... what the Lord has to say about that. But divine healing, the greater than that is divine health. Just don't get sick in the first place. Now, Gloria and I have... excuse me, have lived in divine health for a long time, and I heard the Lord say years ago, "Start walking and don't stop". I disobeyed that. And twice over the years I preached myself to complete exhaustion and that kind of stress on my heart caused me to have to have a pacemaker. Now, when they checked... they were checking my heart and so forth to see, I didn't have a blood flow problem. There was one blocked artery, but it had bypassed itself. So that wasn't it. It was the stress and it was the electrical timing of my heart. Well, so what? And I said to the Lord, I said, "Well, I get this by faith". He said, "No, you're too far behind the power curve," which is an aviation term that says you need to go ahead and do this. So the cardiologists that put me through all that said, I quote, You're a very rare case,

— I could have told them that.

— Now come on now, Babe... And now hang on here. Now you see, you understand, this happens all the time, but when you're married to your best friend, then we giggle with one another. All this happened, I got to tell you this on Direct TV. And we were watching Healing School or something in the bed. And I put it on pause and it came back, said, Press any button and to clear the screen. And so and I came back. I came back in there and she said, "That doesn't work". I said, "What do you mean, that doesn't work"? She said, "Press any button to clear the screen" doesn't work. I looked over there. She had her thing on her pajama button. Wow. Okay.

— But didn't you tell me to do what you said? Now let me do this. Well, the joy of the Lord and a merry heart does good like a medicine. And that's one of the reason we never get sick. Anyway, that cardiologist said...

— What?

— You're a very rare case. He said, you came... You are a rare case. And then he teared up. He said you came in here with a very sick heart and you are leaving with a perfectly normal heart.

— Praise God.

— That's when you know what to do. The problem was mine. I disobeyed God. But just to let you know, I have my flight physical in my pocket. Glory to God. Amen.

— Good

— and all is well. Now, let's take a look here. Let me unravel this thing. Did you put this together? That's what happens when you do it at the boat dock.

— That's why we have TV...

— In the 53rd chapter of the Book of Isaiah. Isaiah, the prophet. "Who hath believed our report? and to whom is the arm of the Lord revealed? For he shall grow up before him as a tender plant, and as a root out of a dry ground: he hath no form nor comeliness; and when we shall see him, there is no beauty that we should desire him. He is despised and rejected of men; a man of sorrows, and acquainted with grief:" Listen, grief is forbidden, it is forbidden. Let's look over here in First Thessalonians, the fourth chapter. "I beseech you and exhort you by the Lord Jesus, that as ye have received of us how ye ought to walk and to please God, so ye would abound more and more. For ye know what commandments we gave you by the Lord Jesus. For this is the will of God, even your sanctification, that ye should abstain from fornication: That every one of you should know how to possess his vessel in sanctification and honour; Not in the lust of concupiscence, even as the Gentiles which know not God: That no man go beyond and defraud his brother in any matter: because that the Lord is the avenger of all such, as we also have forewarned you and testified. For God hath not called us unto uncleanness, but unto holiness. Therefore that despiseth, despiseth not man, but God, who hath also given unto us his Holy Spirit. But as touching brotherly love ye need not that I write unto you: for ye yourselves are taught of God to love one another. And indeed ye do it toward all the brethren which are in all Macedonia: but we beseech you, brethren, that ye increase more and more; And that ye study to be quiet, and to do your own business, and to work with your own hands, as we commanded you; That ye may walk honestly toward them that are without, and that ye may have lack of nothing. But I would not have you to be ignorant, brethren, concerning them which are asleep, that ye sorrow not..." I saw that. And the Lord corrected me. I was going into a homegoing service for a person, and I knew them. It wasn't part of the family, at least this one wasn't. He said, "I want you to notice how many people are saying 'I'm sorry. Oh, we're so sorry.'" I've had people to come up to me and said that about my mother, "Oh, we are so sorry you lost your mother". I said, "I didn't lose her. I know exactly where she is. She's in Heaven. I didn't lose her. She just moved. She's in my future. I'm not sorrowful about it". There was a moment... now when he said, "Sorrow not", that is the Greek word, Lapeo, which is grief, "grieve not for we are not a people that have no hope. For if we believe that Jesus died and rose again, even so them also which sleep in Jesus will God bring with him". Grief is a killer and just be sorry. Just sorry. Oh, I'm so sorry. I'm sorry. Sorry, sorry, sorry, sorry. Well, are you sorry, you sorry thing? That's what it sounds like. Oh, I'm so sorry. Are you? You need to use the word apologize if you're apologizing. Oh, I'm sorry I did that. No, wait a minute. Now, wait a minute, Wait a minute. You're not grieving about it. I apologize to you. That's the proper word. Now, being sorry is a habit. And there are people that know what the Lord showed me about that. And they'll come up and say, "Sorry. Oh, I mean, I apologize". Well, it is a grieving word. There is a place and there have been times where I realized that I grieved the Spirit of God. I didn't intend to, but I did. And I just fall into that place. And I said, "Lord, I am so sorry. Oh, please forgive me. And I stand on your Word First John chapter one, and I confess it is a sin. And You cleanse me of that unrighteousness. And I thank You for it. I receive it, I'm forgiven and I roll all the care of it over on You". All right. Now I want you to notice this. Surely... This is a sure thing. "He has borne our grief and carried our sorrows. Yet we did esteem him stricken, smitten of God and afflicted". Well, the Lord won't let me get away from this grief. God is faithful. Gloria's younger brother Stanley, and I smile when I think about Stanley. Stanley was a mess. He was just funny as a little boy.

— And he was scary.

— Yeah. He was. When we were there at her grandfather's house on day and we smelled a little smoke and walked in there and there was fire underneath the mattress and everybody just said, "Stanley"! He came in there. Did you do that? He said, "No, a rabbit did it". Anyway. There's a highway right there close to our prayer cabin, and I can just see it. Instead of doing this like it should have been, because it's a curve, it's an adverse angle like this. You really need to slow down going around this curve. Stanley was asleep in the front seat of that pickup and the pickup just launched and hit the woods and burned. Well, the news of that came and so we as a family just gathered together and did what that said, comfort one another with these words, particularly Gloria's mother, Ma Dear. And so anyway, not long after that, Gloria was in a women's conference meeting and this woman was giving her experience about having gone to heaven. And she talked about the fact that she went to... the angel led her to her brother in law's mansion, and she said it was just magnificent. And she said that while she was there, the children came in with flowers in a basket. And then when they put the flowers on the floor, the flowers stood up and sang because there's no death in Heaven. So a flower can't die. And anyway, she said they had a meeting and everybody was just shouting and praising God. And Jesus walked out on the platform and she said, when that happened, the dome were angels. And they just took off and flew away. She came up to Gloria then after the service, she said, "Gloria, you don't know me. But I have a message for you". Now, let me tell you something about Stanley. He was a journeyman rock and brick mason. He built the chimney on our prayer cabin there in Arkansas, and his waist is about this big around and his back, and he's too strong. And he took to buckets of mud and climbed that ladder with those... And he had a scaffold up there. And Gloria's brother, Douglas. And I said, "Doug, I hope you get your licks in on your little brother". He's, I'm not going there. He's so powerful. Well, I bought him a brand new dress shirt to go to church. First thing he did was cut the sleeves out and throw them over because his arms were so big. Right here that just put his coat on it, just his arm with the coat is even tied. She came up to Gloria. She said, "Gloria, I have a message from you. You know, the next big event here in there in heaven is the marriage supper of the lamb". And she said, "the dining rooms are just enormous". And she said, "I walked up there and I noticed a young man and he put his place settings down and he walked over to me and he said, 'Would you tell Gloria I was not in that truck when it burned?' And she said, 'The strange thing about it, he's the only one there that his garment didn't have any sleeves.'" Glory to God. It was Stanley and that just... it's just so sweet and kind of the Lord. Well that just relieved it, alleviated all the grief. I was driving down the freeway here in Fort Worth and I knew Mother was at that point she was about to go and it was bothering me, and all of a sudden and I was going through all of those scriptures, just driving along there. And I just suddenly in my car and suddenly I had such... "Fly little bird, fly" and it was gone and I could conduct her service. And right here at EMIC. People say, "You did her service"? Sure. She's the one that prayed me in. And in fact, she prayed Gloria and me both... Anyway. My dad was sitting there and there's a portrait back in the day when they didn't even have color film. And but this portrait had been it was taken in... well, they had colored film. But anyway, this was taken and then enhanced in color by an artist with her head back on a cushion. And she was about 30 years old when that was taken. And so I sat there next to my dad and I said, "Dad, that's who you're looking for". He looked at me and he said, "Well, it is, isn't it"? And he had a smile on his face. So I was able to minister to my dad. These things are extremely important. What is so important about this? It said, "Surely he hath borne it. He was wounded for our transgressions. He was bruised for our iniquities, the chastisement of our peace... Our shalom was upon him and with his stripes we were healed. All we like sheep have gone astray; we have turned every one to his own way; and the Lord hath laid on him the iniquity of us all. He was oppressed, and he was afflicted, yet he opened not his mouth: he is brought as a lamb to the slaughter, and as a sheep before her shearers is dumb, so he openeth not his mouth". That's Jesus. This Book is Jesus. He is in every book of this holy covenant, blood covenant Book. Now let's go over to Matthew. That was first covenant. This is second covenant. Now it says Old Testament, New Testament. But it is a book of covenants. And I'll tell you something else about that in a moment. In the eighth chapter of the book of Matthew, "Verily I say unto you, I have not found so great faith, no, not in Israel". He was talking about Cornelius, his servant, and Cornelius was the one that built the synagogue in Capernaum. "But the children of the kingdom shall be cast out into outer darkness: there shall be weeping and gnashing of teeth. And Jesus said unto the centurion, Go thy way; and as thou hast believed, so be it done unto thee. And his servant was healed in the selfsame hour. And when Jesus was come into Peter's house, he saw his wife's mother laid, and sick of a fever. And he touched her hand, and the fever left her: and she arose, and ministered unto them. When the even was come, they brought unto him many that were possessed with devils: and he cast out the spirits with his Word, and healed all that were sick: That it might be fulfilled which was spoken by Esaias the prophet, saying, Himself took our infirmities, and bare our sicknesses". So that's been fulfilled. Now the Classic Amplified. "Surely He has borne our griefs (sicknesses, weaknesses, and distresses) and carried our sorrows and pains [of punishment], yet we [ignorantly] considered Him stricken, smitten, and afflicted by God [as if with leprosy]. But He was wounded for our transgressions, He was bruised for our guilt and iniquities; the chastisement [needful to obtain] peace and well-being for us was upon Him, and with the stripes [that wounded] Him we are healed and made whole". Glory to God. And now... "And when Jesus went into Peter's house, He saw his mother-in-law lying ill with a fever. He touched her hand and the fever left her; and she got up and began waiting on Him. When evening came, they brought to Him many who were under the power of demons, and He drove out the spirits with a word and restored to health all who were sick. And thus He fulfilled what was spoken by the prophet Isaiah, He Himself took [in order to carry away] our weaknesses and infirmities and bore away our diseases". That demands divine health. Anyway, Glory to God. In Exodus 23. I'll just tell you what it says in the first covenant. I will take sickness away from the midst of you and the length of your days I will fulfill. That's the Almighty God speaking, The length of your days I will fulfill. Did you hear me? I'll tell you about that tomorrow because I experienced it. We're out of time. Praise God. Hallelujah. We'll be back in just a moment.