Kenneth Copeland - Your Covenant Benefits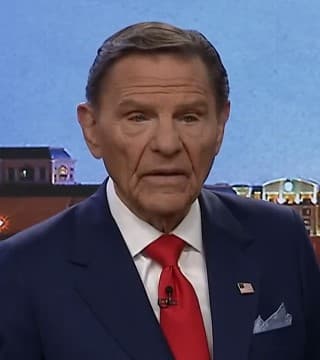 TOPICS:


Let's go to the covenant book, the book of Hebrews, verse 25. "Nor yet that he should offer himself often, as the high priest... For then must he often have suffered since the foundation of the world: but now once in the end of the world hath he appeared to put away sin by the sacrifice of himself. And as it is appointed unto men once to die". Now, in this 10th chapter, if I had to go to a place that really in the book of Hebrews, that really spoke to me, it's in this 10th chapter. "For the law having a shadow of good things to come, and not the very image of the things," listen, "can never with those sacrifices which they offered year by year continually make the comers thereunto perfect. For then would they not have ceased to be offered"? Listen, "Because the worshippers once purged should have had no more conscience of sins".

They should have no more sin consciousness. The Lord began to direct me from that years ago and he said, I want my people to have a righteousness consciousness. Because he said, "I have made them the righteousness of God in me. And I did not make any unworthy righteous children". They're not unworthy. That's sin consciousness. I'm just so unworthy, I'm just... And that'll kill your faith, righteousness happened the moment you were born again and made a new creature. You were made the righteousness of God in him. Why? God had the authority to do it. The blood had the authority to cover it. They should have no more sin consciousness. But in those sacrifices, there's remembrance again of sins every year.

Now this is the meat of these blood sacrifices and then Jesus becoming the sacrifice himself. That's the difference... we must, we must, we must, we must remind ourselves on a regular basis who we are and what we are and what our job is as believers. So now put your marker there. We're coming right back there, verse 18. "Now where remission of these is, there is no more offering for sin". Now let's go to the book of Philippians. "Now where remission of these is, there is no more offering for sin".

Philippians Chapter 2. Let's see now, "If there be therefore any consolation in Christ, if any comfort of love, if any fellowship of the Spirit, if any bowels and mercies, or compassion Fulfil ye my joy, that ye be likeminded, having the same love, being of one accord, of one mind. Let nothing be done through strife or vainglory; but in lowliness of mind let each esteem other better than themselves. Look not every man on his own things, but every man also on the things of others". Now look... "Let this mind be in you..." You have to let it. You have to... This is on purpose in other words. "Let this mind be in you which was also in Christ Jesus: who, being in the form of God, thought it not robbery to be equal with God".

Oh, that's so powerful. Thought it not robbery to be called equal with God. Now, if you want to really get some people upset, you start going around testifying to that. You know I'm equal with God... "But made himself of no reputation, and took upon him the form of a servant, or slave and was made in the likeness of men: And being found in fashion as a man, he humbled himself, and became obedient unto death, even the death of the cross. Wherefore God also hath highly exalted him, and given him... a name which is above every name: But made of himself no reputation and took upon him the form of a servant or a slave and was made in the likeness of men being found in fashion. As a man, he humbled himself and became obedient to death, even the death of the cross. Wherefore God also has highly exalted him and given..."

King James says a name, other translations say, "And given him his name, which is above every name that at the name of Jesus, every knee or every every name should bow, all things in heaven, things under the Earth and in the Earth and under the Earth that every tongue should confess that Jesus Christ is Lord, to the glory of God the Father". Let's go back now where we were in the Book of Hebrews. Now notice in the 16th verse, "This is the covenant that I will make with them after those days, saith the Lord, I will put my laws into their hearts, and in their minds will I write them; And their sins and iniquities will I remember no more. Now where remission of these is, there is no more offering for sin". Then that's where... Turn over there. Let this mind be in you, let it be in you. It's remitted. It's remitted. Glory to God.

"Having therefore, brethren, boldness to enter into the holiest by the blood of Jesus, By a new and living way, which he hath consecrated for us, through the veil, that is to say, his flesh; And having an high priest over the house of God; Let us draw near with a true heart in full assurance of faith, having our hearts sprinkled from an evil conscience, and our bodies washed with pure water. Let us hold fast the profession of our faith without wavering; for he is faithful that promised; And let us consider one another to provoke unto love and to good works: Not forsaking the assembling of ourselves together, as the manner of some is; but exhorting one another: and so much the more, as ye see the day approaching. For if we sin wilfully after that we have received the knowledge of the truth, there remaineth no more sacrifice for sins, But a certain fearful looking for of judgment and fiery indignation, which shall devour the adversaries. He that despised Moses' law died without mercy under two or three witnesses: Of how much sorer punishment, suppose ye, shall he be thought worthy, who hath trodden under foot the Son of God, and hath counted the blood of the covenant, wherewith he was sanctified, an unholy thing, and hath done despite unto the Spirit of grace"?

Now turn with me to first John chapter 5, verse 15. "We have this confidence that we have in him, that, if we ask any thing according to his will, or his Word, he heareth us: And if we know that he hear us, whatsoever we ask, we know that we have the petitions that we desired of him. If any man see his brother sin a sin which is not unto death, he shall ask, and he shall give him life for them that sin not unto death. There is a sin unto death: I do not say that he shall pray for that".

I just read you what it is. Now if we come back over here, then in the 5th chapter. The 6th chapter, "Therefore leaving the principles of the doctrine of Christ, let us go on unto perfection; not laying again the foundation of repentance from dead works, and of faith toward God, Of the doctrine of baptisms, and of laying on of hands, and of resurrection of the dead, and of eternal judgment. And this will we do, if God permit. For it is impossible..." Listen now. It is impossible. Say impossible... "for those who were for those who were once enlightened," you heard the Word. "and tasted of the heavenly gift," for God so love the world that he gave his only begotten Son and were made partakers of the Holy Ghost, and tasted the good word of God, and the powers of the world to come. Here is a born-again Spirit-filled believers that's operated in the gifts of the Spirit, and for them to pull that and count and trample underfoot, the blood by which he was sanctified. It didn't say God wouldn't forgive them.

It's impossible to bring him to repentance. That's the sin unto death. It's there... What was happening over there in first John, where we read that? "This then is the message which we have heard of him, and declare unto you, that God is light, and in him is no darkness at all. If we walk in the light, as he is in the light, we have fellowship one with another, and the blood of Jesus Christ his Son cleanseth us from all sin. If we say that we have no sin, we deceive ourselves, and the truth is not in us. If we confess our sins, he is faithful and just to forgive us our sins, and to cleanse us from all unrighteousness". That's part of our covenant. Glory to God. Hallelujah.

"My little children, these things write I unto you, that ye sin not. And if any man sin, we have an advocate, we have an attorney with the Father, Jesus Christ the righteous: And he is the propitiation or the sacrifice for our sins: and not for ours only, but also for the sins of the whole world". That is an article of our covenant. So let's go back over here now where we were here in the Book of Hebrews, because we're approaching the place where the Lord directed me to go.

Now let us hold fast our profession, not forsaking the assembling so forth and so on... 29, "Of how much sorer punishment, suppose ye, shall he be thought worthy, who hath trodden under foot the Son of God, and hath counted the blood of the covenant, wherewith he was sanctified, an unholy thing, and hath done despite unto the Spirit of grace? For we know him that hath said, Vengeance belongeth unto me, I will recompense, saith the Lord. And again, The Lord shall judge his people. It is a fearful thing to fall into the hands of the living God. But call to remembrance the former days, in which, after ye were illuminated, ye endured a great fight of afflictions; Partly, whilst ye were made a gazingstock both by reproaches and afflictions; and partly, whilst ye became companions of them that were so used. For ye had compassion of me in my bonds, and took joyfully the spoiling of your goods, knowing in yourselves that ye have in heaven a better and an enduring substance. Cast not away therefore your confidence, which hath great recompense of reward. For ye have need of patience, that, after ye have done the will of God, ye might receive the promise".

Now what does patience mean? It doesn't mean put up with it. It's endurance. Patience is part of the fruit of the Spirit. The apostle James wrote, "Let patience have her perfect work that you be entire wanting nothing but ask in faith, nothing wavering". Praise God. For yet a little while, and he that shall come will come, and will not tarry. Now the just shall live by faith: but if any man draw back, my soul shall have no pleasure in him. But we are not of them who draw back unto perdition; but of them that believe to the saving of the soul. Now faith... Now comes the Hall of Fame of faith. Glory to God. Hallelujah. Now faith is... Hope is in the future. But faith is now. There is now therefore no condemnation to them who are in Christ Jesus.

Now, now, every time you say it, it upgrades it. Now,glory to God. "Now faith is the substance of things hoped for, the evidence of things not seen. For by it the elders obtained a good report. Through faith we understand that the worlds were framed by the Word of God, so that things which are seen were not made of things which do appear". What made out of nothing, it's made out of something you can't see. So what is faith? It is the creative force of the Almighty God. Now let's look at faith in the Classic Amplified. Let's put that up on the screen, please. "Now faith is the assurance, the confirmation, look... the title deed, it is the title deed of the things we hope for, being the proof of things we do not see and the conviction of their reality, faith perceiving as real fact what is not revealed to the senses".

And faith comes. And there will come a time when you own your healing. I thought until I learned this. I thought everybody got sick. And then you do your best to get well. Until I heard Brother Hagin, there is divine health and it comes to this covenant that God always wanted his people well, it was sin that brought it about in the first place. Until we can get to that place where you either go to heaven or the resurrection. Either way, you got it made. Amen. But until then, the title deed is available, but it's in this Book. You can meditate on it until it gets so big on the inside of you. I didn't know these things. I didn't know about meditation, never heard of it. But when I was learning how to fly, I would sit down in a chair and sit there and think and meditate.

There's a lot of things I taught myself, and I had a hard time learning those... well not a hard time, it's just hard for me to understand the navigation instruments. And so I took a lamp and turned it on and turned the light out in the room and set that lamp out there and I flew around that lamp. Now there's one, the low frequency beacon, and it just points at the beacon all the time. And you push the needle going toward it and you pull the needle after you passed the station. So that was my station. I just pointed at it here. Then I did this. Now what am I going to do? I was training myself by meditating on these things. I'd sit down in a chair and think and think and think about it. And I'd see myself fly this thing. I was having a hard time landing. I'd go in it here, then I'd go in it here, Billy sitting there laughing, he knows exactly what I'm talking about. And I was all over the place.

So I just sat down and thought about that, and I thought about that and I thought about that and I could see that thing, that little airplane, no simulators in those days and thought about it. And I'm standing there shaving. I was going to the airport, I thought, you know, I can do that. I said it dawned on me. Yeah, the light came and I went out and made a good landing, and then learned how to fly instruments. And I got over into the Word of Faith. I said, "Gloria, I already know how to do this". She said, "What"? I said, "I'm an instrument pilot. I had to learn how to fly looking at that panel only and not be moved by what I feel or what I see". And I said, "Gloria Jean, I have learned that this is my panel". This is the instruments of life right here. These are the gauges right here. I don't get spiritual vertigo. Amen. I don't take my eyes off of the panel.

Now you get to where flying instruments, that it's easier than looking outside because it comes so natural to you that you keep your scan going all the time. But I can see the world right there. And I want to bring this down to this. Here is the Hall of Fame, they're all in here. "By faith Abraham, when he was called to go out into a place which he should after receive for an inheritance, obeyed; and he went out, not knowing whither he went. By faith he sojourned in the land of promise". He sojourned in the land of promise. Glory to God. He sojourned in the land of promise. Hallelujah. You can get excited about this. And God made certain in verse 31. "By faith the harlot Rahab perished not with them that believed not, when she had received the spies with peace". They kept saying that Rahab the harlot, Rahab the harlot.

And I said, "Lord, why you keep doing that for"? He said, "I want people to understand that forgiving her was no problem for me". He said, "It's religious people that won't have anything to do with it and she's in the book. Without faith it is impossible to please him". "For he that cometh to God must believe..." It takes faith to believe this, that he is and it takes faith to believe "that he is a rewarder of them that diligently seek him". And he's in this Book and you can see him and you can know what he thinks and how he is and what his problems are and where we fit into that. And we're the answer to his problems. We are the answer to his problems. It's the prayer connection, the praise connection, all of it. But he can't do anything in this earth unless we go to him and take advantage of our covenant and bring prayer before him, because he's already in the future. He's in the future.

But prayer brings what he already is in the future and what he has already done. Prayer in faith brings it back into the now and brings it into our homes and into our bodies and into our brains. Hallelujah. This book of Hebrews is just so magnificent. Now, I want to get down to the close of this 11th chapter and we're done. Notice he said all of this in this 11th chapter of Hebrews.

"Through faith subdued kingdoms, wrought righteousness, obtained promises, stopped the mouths of lions. Quenched the violence of fire, escaped the edge of the sword, out of weakness were made strong, waxed valiant in fight, turned to flight the armies of the aliens. Women received their dead raised to life again: and others were tortured, not accepting deliverance; that they might obtain a better resurrection: And others had trial of cruel mockings and scourgings, yea, moreover of bonds and imprisonment: They were stoned, they were sawn asunder, were tempted, were slain with the sword", some of them were put on a block and sawed in half, "of whom the world was not worthy: they wandered in deserts, and in mountains, and in dens and caves of the earth. And these all, having obtained a good report through faith, received not the promise: God having provided some better thing for us, that they without us should not be made perfect". Not finished until we came on the scene. We are part of this covenant family.